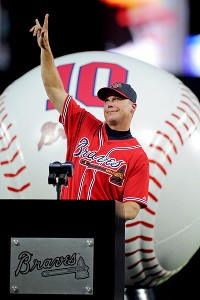 ESPN.com
Updated Sep 28, 2012
Former Atlanta manager Bobby Cox and Hall of Famer Hank Aaron participated as the Braves paid tribute to Chipper Jones before Friday night's game against the Mets.
Share
Tweet
MLB.com deadspin.com nydailynews.com

Sep 28, 2012

The afterglow of a 20-win season stuck with R.A. Dickey from New York to Atlanta, where the knuckleballer met his wife and four children upon their arrival from Nashville, Tenn. Barely 24 hours after becoming the Mets' first 20-game winner in nearly a q…

Share Tweet

Mets Post Third Consecutive Decline in Attendance

nytimes.com

Sep 28, 2012

The Mets sold 2,242,803 tickets in 2012, 109,793 fewer than in 2011.

Share Tweet

Duda's 3-Run Homer Powers Mets

Sep 28

Lucas Duda hit a three-run homer in the 7th inning to lift the Mets to a 3-1 victory.

Sports Columnists

Peter King: Seahawks defense playing bigger than reputation

Sep 28

Defensive end Chris Clemons has much in common with his peers on the Seattle defense: They're good, they're unknown, and they don't care.

John Clayton's Last Call

Sep 28

The Texans and Falcons appear to be the class of their respective conferences, writes John Clayton.