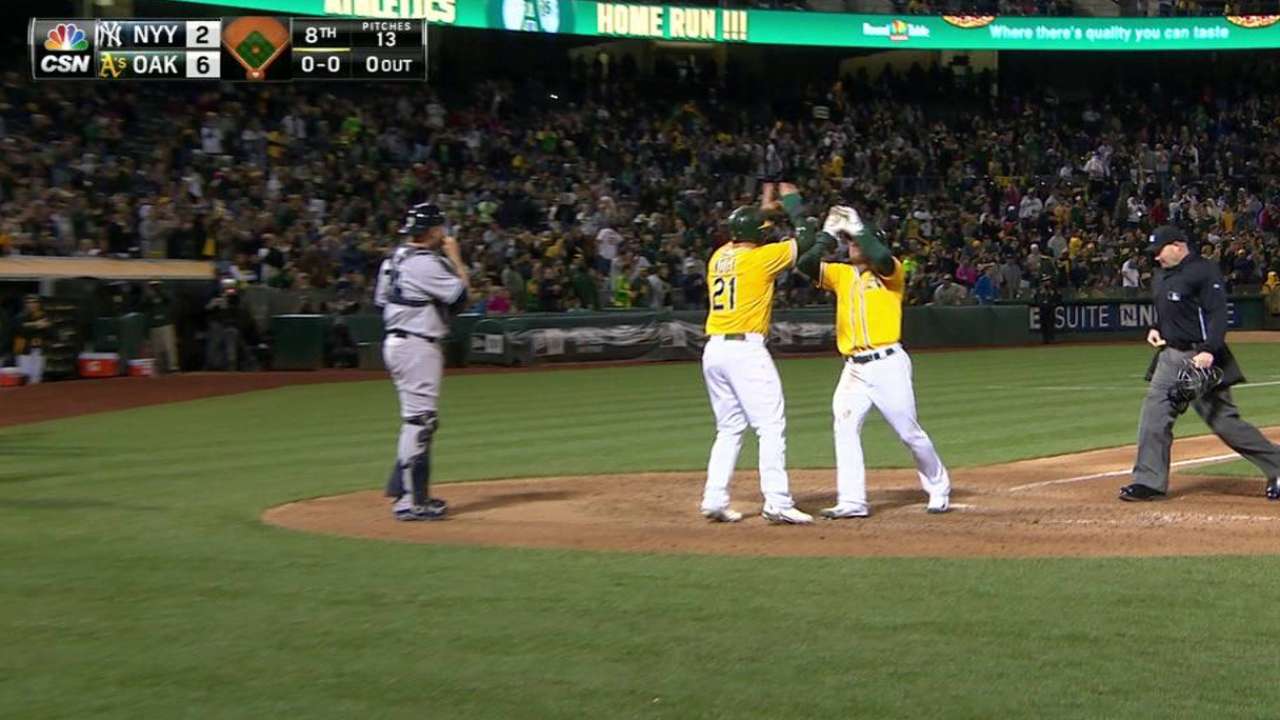 MLB.com
nytimes.com
Updated 45 minutes ago
A four-run third inning backed A's ace Sonny Gray, who did his part by completing eight solid innings in a 6-2 victory over the Yankees at the Coliseum on Friday night, securing Oakland its second straight win.
Share
Tweet
NEW YORK -- Tampa Bay Lightning forwards Brian Boyle and Ryan Callahan and defenseman Anton Stralman played for the New York Rangers last season. Boyle and Stralman made it to the Stanley Cup Final against the Los Angeles Kings, losing in five gam...

Share Tweet

St. Louis has much to ponder after Rangers' elimination

ESPN.com

1 hour ago

St. Louis has much to ponder after Rangers' elimination

Share Tweet

yahoo.com

1 hour ago

Food for thought: If the actual Prince of Wales came out and presented the Prince of Wales trophy to the Eastern Conference champion, would the captain of the team feel more obligated to lay a hand on it? It's definitely something the NHL should conside…

Share Tweet

thehockeynews.com yahoo.com

1 hour ago

In the final minutes of Game 7 of the Eastern Conference Final Friday, New York Rangers goalie Henrik Lundqvist sat on his team's bench, a thousand-yard stare having settled in behind his eyes, his head occasionally hanging down. You felt for him, becau…

Share Tweet

Giants host Tom Coughlin Jay Fund Sundae Blitz event

nydailynews.com

2 hours ago

There Damontre Moore was, playing on the gigantic bouncy slide in the field house at the Giants' Qwest Diagnostics practice facility.

Share Tweet

NFL Cold Hard Facts

May 28

Cold Hard Facts looks at the quarterback situation for the Eagles and Jets and what will happen with Adrian Peterson's contract.

Jets will have QB competition

May 27

Rich Cimini discusses the news that Jets coach Todd Bowles said QB Geno Smith is the No. 1 quarterback, but will face competition from Ryan Fitzpatrick and Bryce Petty.

Is Ereck Flowers a Giants solution at left tackle?

May 22

ESPN Giants reporter Dan Graziano says that in the wake of Will Beatty's injury, the Giants want to determine if first-round pick Ereck Flowers can develop more quickly than expected, but they won't force him into the left tackle job if he's not read

What is Chan Gailey's plan for Geno Smith?

May 22

ESPN Jets reporter Rich Cimini explains how offensive coordinator Chan Gailey can put starting quarterback Geno Smith in a position to succeed.