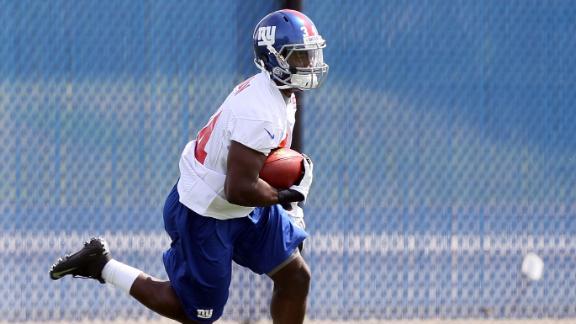 ESPN.com
profootballtalk.com
Updated 22 minutes ago
David Wilson's latest neck injury has raised significant concerns for the New York Giants as a source close to the situation told ESPN.com on Thursday that the team would be very surprised if Wilson played for the them again.
Upvote
Share
Tweet
The Daily Westhoff – Thursday 7.31.14

thejetsblog.com

32 minutes ago

SNY's Leonard Orman talks to former Jets special teams coach and current SNY Analyst Mike Westhoff about a very hard-hitting Thursday Jets practice in Cortland – including improvements for the offense in short yardage plays, and more defensive dominatio…

Upvote Share Tweet

David Wilson injury opens door for 2nd-year Giants RB Michael Cox

nydailynews.com

40 minutes ago

With David Wilson's availability in question, the rest of the Giants' running backs are using training camp to prove themselves as they volley for an available starting spot.

Upvote Share Tweet

thejetsblog.com

53 minutes ago

SNY's Andrew Johnston and Leonard Orman are at Jets Training Camp, and here's their dispatch of what they saw and heard from Tuesday's camp… Johnston: Offense Jace Amaro showing no ill signs of knee strain. Zach Sudfeld really looks good, but needs to t…

Upvote Share Tweet

Bob Clarke didn't want Russians in the NHL…and he wasn't alone

thehockeynews.com

2 hours ago

Russians have had a huge impact on the NHL and the way the game is played, but their arrival in North America wasn't without controversy. In the August, 1989, edition of The Hockey News, a wave of Soviet stars, riding the crest of glasnost, broke down b…

Upvote Share Tweet

Michael Strahan makes great open-field tackle on a shark in Sharknado 2

yahoo.com

3 hours ago

Former New York Giants defensive end Michael Strahan is entering the Pro Football Hall of Fame this weekend. Is it too late to add a highlight to his already impressive reel? In case you missed it — and judging by my Twitter feed, you did not — Strahan …

Upvote Share Tweet

profootballtalk.com

4 hours ago

There haven't been many situations in the last few years when the Jets offense was compared favorably to that of any other team, but running back Chris Johnson doesn't seem that interested in the past. That goes for his own results as well. Johnson's pr…

Upvote Share Tweet

yahoo.com

4 hours ago

Why did the New Jersey Devils fail to make the playoffs last season? Many would point to how they catered to a 41-year-old goalie with a .906 even-strength save percentage in 39 starts. And they'd have a point. But the bigger points are the ones the tea…

Upvote Share Tweet

yahoo.com

5 hours ago

You might notice something interesting the first time either the Buffalo Bills or New York Giants score a touchdown in Sunday's Hall Of Fame Game. The extra points will be just a little harder. As Pro Football Talk wrote, the NFL is experimenting with t…

Upvote Share Tweet

profootballtalk.com

5 hours ago

Bills LB Nigel Bradham's suspension stemmed from a dropped charge of marijuana possession. The Dolphins are apparently moving on from the Shelley Smith experiment at C. The Patriots like being able to go to the bullpen for FB James Develin. Jets rookie …

Upvote Share Tweet

nydailynews.com

13 hours ago

Rookie tight end Jace Amaro may have caught 106 passes last season for Texas Tech, but he's having a tough time making catches in training-camp practices with the Jets. Amaro has had some issues with drops early in camp, which continued in his rough out…

Upvote Share Tweet

nydailynews.com

13 hours ago

Mark Sanchez was in Brazil for the World Cup trying to make plans to get together with an old friend. Sanchez, who went from being the Jets' franchise quarterback to the Eagles' backup faster than you can say "Butt Fumble," was watching the soccer match…

Upvote Share Tweet

Lewis solves Yankees as Rangers earn series victory

MLB.com

14 hours ago

Colby Lewis held the Yankees to two runs over seven innings and the Rangers held on for a 3-2 victory in the final of a three-game series. Lewis allowed four hits and two walks while striking out four in his first regular-season win vs. New York.

Upvote Share Tweet

New York Giants' training camp: Latest on running back David Wilson

Jul 31

Kimberly Jones stops by New York Giants' training camp and gives an update on running back David Wilson's neck.

Mets Blow Out Phillies

Jul 30

Daniel Murphy and Lucas Duda each homered in the Mets' 11-2 win over the Phillies.

New York Jets defensive end Muhammad Wilkerson: 'I let my game do the talking'

Jul 30

NFL Media's Brian Billick catches up with defensive tackle Sheldon Richardson and defensive end Muhammad Wilkerson at New York Jets training camp to talk about playing on a Rex Ryan defense.

Can the New York Jets defense back up their talk?

Jul 30

NFL Media's Brian Billick talks to New York Jets defensive linemen Sheldon Richardson and Muhammad Wilkerson about how the defensive scheme allows them to showcase their full potential.