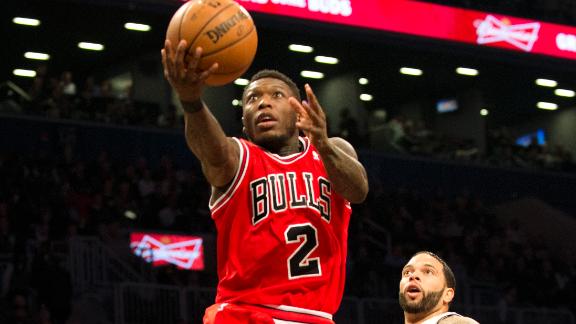 ESPN.com
Updated Apr 22, 2013
Carlos Boozer had 13 points and 12 rebounds, Joakim Noah gutted his way through a foot injury to make three fourth-quarter baskets, and the Chicago Bulls beat the Brooklyn Nets 90-82 on Monday night to even their first-round series at one game apiece.
Share
Tweet
nydailynews.com nba.com ESPN.com yahoo.com nytimes.com dimemag.com

Apr 22, 2013

Kudos to J.R. Smith and now we pretty much know the Knicks are not winning the title. Of course they weren't going to win it, anyway, not as long as LeBron James continues to take the floor for the Miami Heat.

Share Tweet

Matt Moore became the first Rays pitcher to win his first four starts of a season, Ryan Roberts homered twice and Tampa Bay beat CC Sabathia and the New York Yankees 5-1 on Monday night.

Share Tweet

An optimistic John Mara believes a long-term extension with Victor Cruz will be reached "at some point."

Share Tweet

Mets Add to Pitching Corps

nytimes.com

Apr 22, 2013

The Mets signed the right-hander D.J. Mitchell to a minor league contract, the team announced Monday.

Share Tweet

nba.com

Apr 22, 2013

The New York Knicks not only expect a Boston adjustment, they can guess what it is.

Share Tweet

Section 15: The Usher

nytimes.com

Apr 22, 2013

With the regular season coming to an end, The Times paid its final visit to Section 15 and talked with Jerome Dixon, the section's usher.

Share Tweet

Tight back forces Yanks to scratch Youkilis

MLB.com

Apr 22, 2013

Yankees first baseman Kevin Youkilis was a late scratch from the team's lineup against the Rays on Monday at Tropicana Field after his back tightened following batting practice.

Share Tweet

Yankees second baseman Robinson Cano said on Monday that he was surprised to hear of an ESPN report that linked a spokesperson for his foundation to the ongoing investigation into the Biogenesis clinic.

Share Tweet

ESPN.com nydailynews.com yahoo.com profootballtalk.com thejetsblog.com nytimes.com CNNSI.com

Apr 22, 2013

The New York Jets pulled off a blockbuster trade over the weekend by shipping star cornerback Darrelle Revis to the Tampa Bay Buccaneers for a first-round pick this year and a conditional third-rounder in 2014. The natural train of thought is New York a…

Share Tweet

Nike pulls 'Massacre' shirts from outlet stores

Nike says T-shirts made for New York Yankees fans that had the words "Boston Massacre" on them have been pulled from outlet stores following the Boston Marathon bombings of last Monday.

Share Tweet

Giants could look to defensive line in draft

The mock-draft dilemma with the New York Giants is consistent. Their greatest needs are at offensive line and linebacker, but they haven't taken an offensive lineman in the first round since 1999 and they haven't taken a linebacker in the first round si…

Share Tweet

ESPN draft analyst Todd McShay provided his latest mock draft just days before the real thing takes place in New York City on Thursday. A blockbuster trade also took place involving New York Jets cornerback Darrelle Revis in exchange for the No. 13 over…

Share Tweet

2013 NFL Draft: First Round Breakdown

giantsfootballblog.com

Apr 22, 2013

From Matthew Cohen, SNYGiants contributor: I've never been a fan of guessing a single player that the Giants will pick on the grounds that it's impossible to know who will be available when they pick. As I've noted previously, I believe that the Gia

Share Tweet

As NFL Draft nears, signs point to Giants focused on D in Round 1

giantsfootballblog.com

Apr 22, 2013

The NFL Draft is a mere three days away, so of course, all the rumors swirling around who is going to land where are beginning to heat up. Numerous mock drafts have the Giants looking to bolster a couple different directions, including linebacker, offen…

Share Tweet

New York Yankees' traveling private security helps to eject fans at Toronto's Rogers Centre

yahoo.com

Apr 22, 2013

The New York Yankees do not trust another team's ballpark security alone to handle potentially unruly fans, so they bring their own private guards on the road with them. One ticket holder at a recent Toronto Blue Jays game said he witnessed Yankees trav…

Share Tweet

Buck helps develop Mets staff, blasts homers

MLB.com

Apr 22, 2013

Odds are John Buck will not lead the Majors in RBIs all season, as he has through three weeks. But the Mets do believe he can serve a critical role in developing this young pitching staff.

Share Tweet

ESPN.com grantland.com

Apr 22, 2013

The New York Jets completed a blockbuster trade with the Tampa Bay Buccaneers on Sunday. New York shipped star cornerback Darrelle Revis to the Buccaneers for a first-round pick in this week's NFL draft and a conditional third- or fourth-round pick in 2…

Share Tweet

Opinion: Addition By Subtraction

thejetsblog.com

Apr 22, 2013

This will assuredly be among the seemingly interminable stream of Revis-related articles but this is a pretty momentous day in Jets history that will undoubtedly define John Idzik's tenure as General Manager and the identity of this team going forward.

Share Tweet

Jets can now focus on fixing Sanchez (or at least playing out the string)

profootballtalk.com

Apr 22, 2013

Now that the New York Jets have exorcised Darrelle Revis, they can focus on the "demons" that have haunted quarterback Mark Sanchez. Or they can watch the clock until the time comes that they can get rid of him. The "D" word came from ESPN analyst

Share Tweet

Moving back seems less likely

buffalobills.com

Apr 22, 2013

The Bills spend the last few days prior to the draft mapping out potential scenarios of what could happen in front and behind them in the draft. Those exercises will have a different look to them following the Jets trade of Darrelle Revis over the weeke…

Share Tweet

thejetsblog.com

Apr 22, 2013

On Total Access Sunday, the NFL Network's Ian Rapoport reported that despite their attention to the Darrelle Revis trade on Sunday, the Jets remain interested in trading their fifth-round draft pick for Saints running back Chris Ivory. Brian Bassett, th

Share Tweet

Knicks Insider: Woodson saves Amar'e a spot

nydailynews.com

Apr 22, 2013

The Knicks still can't be sure when - if - Amar'e Stoudemire will be available in the playoffs following March knee surgery, but Mike Woodson is certain he will put the $100 million forward right back into the rotation upon his return.

Share Tweet

Bulls Even Series With Nets

Apr 22

Chicago avenges it's 17-point loss in Game 1 behind double-doubles from Luol Deng, Carlos Boozer and Joakim Noah in a 90-82 win over Brooklyn.

Darrelle Revis: 'New Chapter For Both Of Us'

Apr 22

Sal Paolantonio sits down with CB Darrelle Revis to talk about the Jets trading him to the Buccaneers.

Cano Associate Linked To Biogenesis

Apr 22

T.J. Quinn discusses MLB investigating the connection between an associate of Robinson Cano and Biogenesis.

Smith Wins Sixth Man Award

Apr 22

ESPNNewYork.com's Ian Begley discusses Knicks guard J.R. Smith winning the NBA's Sixth Man of the Year award.