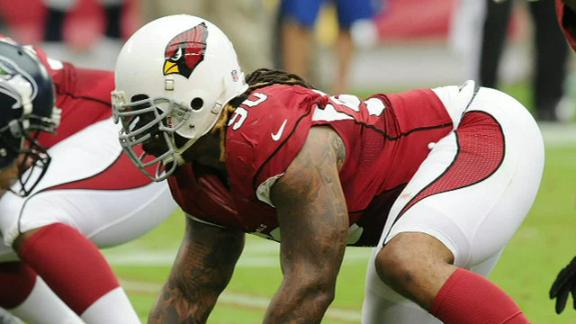 ESPN.com
CNNSI.com
profootballtalk.com
Updated Dec 7, 2012
Arizona Cardinals defensive end Darnell Dockett has been fined a "six-figures" amount for allegedly spitting at teammate Kerry Rhodes and disobeying the team's plan to let the Jets score, a source told ESPN.
Share
Tweet
New York Jets Head Coach Rex Ryan 12.7

 Opening Statement… We'll start with injuries because nobody likes to do that. Clyde Gates will be out, obviously with the concussion. He's still wearing sunglasses. He's out. "Snacks" Damon Harrison, he is doubtful. He had an ankle injury ye

Share Tweet

Giants vow to be winners against Saints

Mathias Kiwanuka does not chase vengeance. But he does know when his team has something to prove. And when the Giants linebacker reflects on the beatdown his squad received from the Saints last season, he knows what must be done.

Share Tweet

Knicks star Carmelo question-a-Bull

If Carmelo Anthony takes the advice of Tyson Chandler, the Knicks' defensive leader and pseudo physician, he will miss at least one more game to allow the cut on his left middle finger to heal.

Share Tweet

Maybe one of these days James Dolan will get around to explaining his reasons for waving goodbye to Jeremy Lin and signing off on acquiring Raymond Felton.

Share Tweet

David Lee had 30 points and 15 rebounds, Stephen Curry scored 28 points, and the Golden State Warriors gave coach Mark Jackson a winning return to Brooklyn by beating the Nets 109-102 on Friday night.

Share Tweet

NEW YORK (AP) -- Speedy outfielder Brett Gardner and the New York Yankees have agreed to a $2.85 million, one-year contract that avoids salary arbitration.

Share Tweet

Tom Coughlin Friday Comments

Giants coach Tom Coughlin addressed the media this afternoon at TIMEX: Q: How did Nicks look? A: He was limited. Q: Was the fact that he was able to get out there encouraging for him to be able to play Sunday? A: I hope so. Q: What does a guy like Jacqu…

Share Tweet

Here's three players that the Jets will have to take special attention of come Sunday's game against Jacksonville. Chad Henne — Henne is playing well in relief of Blaine Gabbert, but he's still only connecting with his targets at a 52% completion

Share Tweet

CNNSI.com ESPN.com profootballtalk.com

Dec 7, 2012

FLORHAM PARK, N.J. (AP) -- Rex Ryan says he'll make a game-time decision on whether Tim Tebow plays in the New York Jets' game in Jacksonville against the Jaguars on Sunday.

Share Tweet

MLB.com profootballtalk.com

Dec 7, 2012

Remember the name Mark Montgomery. Many have not yet heard of the Yankees' pitching prospect. I believe the 22-year-old right-handed reliever will soon become a household name.

Share Tweet

Anthony's Pick-and-Roll Scoring Is Effective but Infrequent

Carmelo Anthony of the Knicks is having a career year as a shooter, even without exploiting his elite ability as a pick-and-roll scorer.

Share Tweet

Rasheed Wallace, Captured In One 56-Second Sequence

deadspin.com

Dec 7, 2012

Perhaps lost in the action of last night's Knicks-Heat game was the sequence you see above. Nothing all that exciting happens in these 56 seconds, but they do offer a glimpse at just how wonderfully out of shape and unable to give a fuck Rasheed Wallace…

Share Tweet

giantsgab.com ESPN.com profootballtalk.com

Dec 7, 2012

Two of the NY Giants' key offensive weapons are back on the practice field today. Wide receiver Hakeem Nicks (knee) and running back Ahmad Bradshaw (foot) are practicing after each didn't participate yesterday, Jorge Castillo of the Newark Star-Ledger

Share Tweet

New York Jets quarterback Mark Sanchez will be back under center this weekend, but he most likely will be without his most reliable weapon. The Jets listed starting tight end Dustin Keller (ankle) as "doubtful" for Sunday's game against the Jacksonville

Share Tweet

Quirks of the Game: The Roster Challenge

When an N.F.L. player is injured, teams looking to fill a roster spot have to look to the practice squad or to someone sitting at home waiting for a call. Are bigger rosters the answer?

Share Tweet

Melo questionable for Saturday against Chicago

Carmelo Anthony's status for the New York Knicks' game against the Chicago Bulls on Saturday is uncertain due to a laceration on the middle finger of his left hand.

Share Tweet

ESPN.com profootballtalk.com CNNSI.com

Dec 7, 2012

The Jaguars have ruled wide receiver Cecil Shorts out for Sunday's game against the New York Jets due to concussion symptoms.

Share Tweet

WR Hakeem Nicks was back practicing today with the Giants. He is questionable for Sunday's game vs the Saints. S Kenny Phillips sat out practice again and is listed as doubtful this week. Giants Injury Report Out: TE Travis Beckum (knee), S Tyler Sash (

Share Tweet

Section 15: A Midwesterner Visits Brooklyn

The Off the Dribble team was interested in learning about Nets fans now that the team is in Brooklyn. David Ison, a Kansas City transplant living in Yonkers, took his future stepson to Section 15.

Share Tweet

Great Gains in the Run?

While there's lots of problems with the Jets, one of the areas of marked improvement has been the team's ability to run the ball over the last month. Ryan told reporters yesterday that keeping players healthy is paramount. The key, Ryan says, is the v

Share Tweet

A bit of controversy this Friday about a comment by New York Giants punter Steve Weatherford in this New York Times story about the difficulty of trying to ensure that suspended New Orleans Saints coach Sean Payton isn't communicating with his team. The…

Share Tweet

CNNSI.com

Dec 7, 2012

While there were no blockbuster trades or nine-figure deals handed out at the Winter Meetings in Nashville, there were several clear winners and losers this week, explains Jay Jaffe.

Share Tweet

deadspin.com yahoo.com nydailynews.com CNNSI.com

Dec 7, 2012

There were two things that were remarkable about last night's New York-Miami game, a 112-92 victory for the antique Knicks. The first, predictably, was LeBron James, who put up 18 points, five rebounds, and seven assists in the first two quarters-a perf

Share Tweet

Steelers, Broncos, Giants and Jets: Answers to Readers' Questions

Judy Battista, the N.F.L. reporter for The Times, answers questions from readers.

Share Tweet

At Least It's Not For Granted Anymore

Jane McManus chronicles Sparano's thoughts on Mark Sanchez and how he's responded this week to being benched last weekend to the lusty cheers of the home crowd. Mark Sanchez and his return from the Jets bench has gone well this week, offensive coordin

Share Tweet

A Breath of Fresh Air?

Mike Kurlyo writes for Fifth Down that sometimes the best thing for a player who has struggled in one environment is to try their luck in another city.  Of course in the case of the Jets, getting rid of Mark Sanchez is easier said than done with the con…

Share Tweet

Authorities who raided Indiana properties owned by former New York Jets offensive lineman Jason Fabini and his brother have searched three more Fort Wayne sites.

Share Tweet

Penalties plague Giants' offense, may lead to changes on special teams

Earlier this week, I explained in the Giants' loss to the Redskins. Here's a sampling of what I wrote … The big issue last night: penalties. The Giants matched a season-high six penalties in the first half and finished with nine on the night. All bu

Share Tweet

Earlier this week, Giants safety Antrel Rolle said that his teammates on the Giants defense should stop saying positive things about opponents before games because it gets in the way of developing the "nasty attitude" Rolle believes is necessary for a

Share Tweet

BGA Extra: Cardinals at Jets

This analysis is based on watching and re-watching TV footage. As such, it is not always possible to accurately determine everything that was going on. However, every effort has been made to ensure that the information below is as complete and correct a…

Share Tweet

Giants-Saints: Some Early Perspectives

Regardless of the Giants problems, they are still 5-point favorites over the visiting Saints this Sunday. The over/under is 53. We will give our analysis shortly, but until then here are some outside opinions on this week's game. From CBSSports.com…Af

Share Tweet

Coordinator Corner: Gilbride Familiar with Saints Defensive Scheme

Giants' offensive coordinator Kevin Gilbride has been an NFL coach for nearly 24 years. During the majority of that span, the late Jim Johnson, renowned for his time with the Philadelphia Eagles, served as the epitome of defensive coordinators in the le

Share Tweet

TNT's Marv Albert gave us a shoutout while talking about Rasheed Wallace's technicals (VIDEO)

yahoo.com

Dec 7, 2012

We loved it when Rasheed Wallace dusted off his time-honored catchphrase against the New Orleans Hornets a couple of weeks back. We thought it a little absurd - but perhaps appropriately so; it's Sheed, after all - when the New York Knicks big man was

Share Tweet

G Andy Levitre is the iron man of an injury-ravaged Bills offensive line. Dolphins T Jonathan Martin isn't getting an easy task in his first start at left tackle. CB Kyle Arrington has adjusted well to his role as the Patriots' nickel corner. The Jets

Share Tweet

Memories of Saints beatings haven't faded for Giants

Last year's loss to the Saints wasn't the last one before they went on their Super Bowl run. It was just the worst. Giants players winced this week recalling last year's 49-24 thrashing at the hands of the Saints. "It was definitely embarrassing,â

Share Tweet

Friday Morning Report: Fork in the Road Time for Jints

This season can turn out one of three ways right now: the Giants can win the majority or all of their remaining games, win the NFC East and proceed to the NFC playoffs. They can wallow, split their games, and fight for a playoff spot. Or they can just f…

Share Tweet

New York Giants News and Links for Dec 7

December 7th. A day that will live in infamy. To this day, FDR has remained correct about that. 71 years and counting… The Giants are two days away from their next game against the 5-7 New Orleans Saints. Not a lot of confidence emanating from both the

Share Tweet

Raymond Felton And Steve Novak Deep-Six The Heat; Latest Pau Gasol Trade Rumors Pair Him With Kevin Love

dimemag.com

Dec 7, 2012

Holy three-point shooting, Knicks. Of all the places to go on a heat check that lasted a whole half, the Heat's own court was the backdrop of New York's statement win Thursday night by handing LeBron, Wade and Bosh their worst home loss together, 112-

Share Tweet

Yankees 'budgetary constraints' surprise YES Network, as Bob Klapisch says: 'George [Steinbrenner] would have bought his way out

Even on the Yankees Entertainment & Sports Network, they were scratching their heads. The other night on YES' hot stove show, the subject was what politely is called "budgetary constraints."

Share Tweet

We Went There: Knicks-Heat in Miami

grantland.com

Dec 7, 2012

For most of the year, Miami is for Lamborghini-driving Argentines and frat bros with barbed-wire tats at Wet Willie's. But for a brief, fragile window...

Share Tweet

Warriors Hand Nets Their Third Straight Loss

Dec 7

David Lee and Stephen Curry combine for 58 points in Warriors' 109-102 win over Nets.

NFL32OT: Wilson Makes His Case For Rookie Of The Year

Dec 7

Episode 233: Suzy Kolber and Damien Woody discuss Russell Wilson's impressive season. Steve Young breaks down the matchup between RGIII and Ed Reed. The NFL32 crew discuss the quarterback matchup between the Saints and the Giants.

'Playbook': New York Jets vs. Jacksonville Jaguars

Dec 7

Can the New York Jets win with Mark Sanchez as their quarterback? The "Playbook" guys discuss if the Jets' offense can provide enough to get past the Jacksonville Jaguars.

Three Keys For The Jets

Dec 7

Rich Cimini with his three keys for the Jets Sunday versus the Jaguars and a preview.