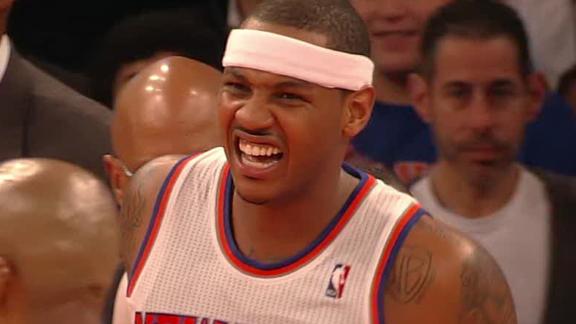 ESPN.com
nydailynews.com
Updated Dec 13, 2012
Carmelo Anthony scored 22 of his 30 points in the first quarter, and the New York Knicks held on after he departed with a sprained left ankle to beat the Los Angeles Lakers 116-107 in coach Mike D'Antoni's return to Madison Square Garden.
Share
Tweet
giantsgab.com

Dec 13, 2012

The New York Giants will face the Atlanta Falcons in another must win game. If the Giants can win, they will continue to hold a one game lead in the division with just two games left to play. If they can't, there's a very good possibility that they wi

Share Tweet

Jets Insider: Gang Green leads NFL in fake Twitter followers

The Jets (@nyjets) have many more fake twitter followers compared to other NFL teams, according to a report at The Big Lead. According to StatusPeople.com, 38% of the Jets' followers are fake, compared with just 13% of the Giants' (@giants) followers.

Share Tweet

Knicks forward Carmelo Anthony sprained his left ankle in the third quarter and was not expected to return to the game against the Los Angeles Lakers.

Share Tweet

The Giants believed last season that the Falcons were taught by their offensive line coach, Paul Boudreau, to cut block. And many defensive players around the league agreed.

Share Tweet

Vacchiano: Giants' Wilson speeds out of doghouse

David Wilson didn't exactly come out of nowhere. Behind the closed doors at practice, the rookie had long been flashing his uncommon speed. He was combining that with moves that Victor Cruz said, "we only see guys that are Hall of Famers make."

Share Tweet

nydailynews.com giantsfootballblog.com

Dec 13, 2012

Nobody seems to fear the Giants' pass rush as much as they did in previous seasons, but maybe they should. Even though they've slipped to 12th this season with just 31 sacks, several of them insisted that those numbers don't tell the whole story.

Share Tweet

Ichiro Suzuki and the New York Yankees are closing in on a contract that would guarantee the outfielder between $12 million and $13 million.

Share Tweet

LeBron James and Kobe Bryant are the leading vote-getters, while Jeremy Lin has a chance to bring Linsanity to the NBA All-Star game.

Share Tweet

The Houston Rockets Singing "The Dreidel Song" Is Simply Fantastic

When paraded one after the other, it's really easy to see which Houston Rockets were ready to bring the Hanukkah spirit and which ones were sorely lacking. (Good job, good effort there, Jeremy Lin.) More »

Share Tweet

BGA Extra: Jets at Jaguars

This analysis is based on watching and re-watching TV footage. As such, it is not always possible to accurately determine everything that was going on. However, every effort has been made to ensure that the information below is as complete and correct a…

Share Tweet

Wheelhouse: Michael Boley on Facing His Old Team

Michael Boley is in the WheelHouse to discuss the Giants preparation for their match-up against the Falcons on Sunday. Sorry, this video could not be loaded…

Share Tweet

nydailynews.com ESPN.com profootballtalk.com

Dec 13, 2012

A week and a half after Edwards criticized the organization's braintrust by calling them "idiots" for the handling of Mark Sanchez, the wide receiver admitted that he didn't think he'd ever come back. "After the tweet," Edwards admitted, "

Share Tweet

James Dolan, according to Madison Square Garden lore, had to be told who Fmr. Attorney General John Ashcroft was

yahoo.com

Dec 13, 2012

It is incredibly easy to feel good for New York Knicks fans, as their team races out to a superb 16-5 record as they prepare to take on the Los Angeles Lakers Thursday night at Madison Square Garden. Not only did Knicks fans have to sit through the unea…

Share Tweet

ESPN.com nydailynews.com

Dec 13, 2012

Mike D'Antoni says coming to New York in 2008 to coach the New York Knicks wasn't a bad thing -- but leaving Steve Nash and the Phoenix Suns was.

Share Tweet

The Yankees' Lineup Is Going To Be Very Sad And Old This Season

The Yankees finally made their big free-agent splash this week, when they signed Kevin Youkilis, an aging third basemen with bad hips, to fill in for Alex Rodriguez, their incumbent aging third basemen with bad hips. OK, maybe it was less a "splash…

Share Tweet

Section 15: Four Blocks Away

The Off the Dribble team was interested in learning about Nets fans now that the team is in Brooklyn. David and Jen Gordon waited three years to get their tickets in Section 15.

Share Tweet

J. R. Smith is giving the Knicks some quality minutes.

Share Tweet

AccuScore: Jets-Titans preview

Prim Siripipat goes inside the numbers for the New York Jets-Tennessee matchup.

Share Tweet

CNNSI.com

Dec 13, 2012

FLORHAM PARK, N.J. (AP) Tim Tebow's days of running the New York Jets' wildcat-style offense appear over for now.

Share Tweet

Giants not sure how long Kenny Phillips will be out

profootballtalk.com

Dec 13, 2012

Giants coach Tom Coughlin had the status of several injured players to update on Thursday and there wasn't much good news for three of the team's starters. Ohm Youngmisuk of ESPNNewYork.com reports that Coughlin said safety Kenny Phillips did suffer a

Share Tweet

Happy Birthday, Ryan Boys! Looking Back At 100 Combined Years Of Rex and Rob

Rex and Rob Ryan turn 50 today. That's 100 years of Oklahoma-born, Ontario-raised, Illinois-and-Oklahoma-schooled, good-ole-boy-defensive-mastermindedness. We take this moment to look back fondly on all the joy the two-seen here in their college days-

Share Tweet

Jet QB the butt of jokes during 12-12-12 concert

Mark Sanchez made a surprise appearance (of sorts) at Wednesday night's 12-12-12 concert for Hurricane Sandy victims, although it probably wasn't the kind he would have preferred.

Share Tweet

Injury Updates: WR Clyde Gates (concussion) has not resumed pract…

WR Clyde Gates (concussion) has not resumed practicing Dustin Keller (ankle) will not practice today The Jets revealed Thursday that Bilal Powell has a fractured toe. Rex Ryan believes Bilal Powell has "a chance to go" vs Titans despite his fractured

Share Tweet

Of course, the week I pick against the Giants, they come up with a blow out win. I guess that's most important anyway. Here are this week's picks. I'll be using the point spreads from . Feel free to include your picks for these or any other of the w

Share Tweet

Mark Sanchez struggling vs. blitz

Mark Sanchez needs to work on several areas of his game in order to remain the starting quarterback of the New York Jets after this season. But perhaps the biggest hole in Sanchez's game is his inability to handle the blitz. According to ESPN Stats &amp…

Share Tweet

Defenses will decide the NFC East

Can the New York Giants' pass rush perk up and help a Big Blue defense that held the Falcons offense scoreless during the playoffs last season repeat that performance Sunday in Atlanta? Can the two men the Dallas Cowboys brought in to be shutdown corner…

Share Tweet

MLB.com

Dec 13, 2012

The Giants have signed free-agent outfielder Andres Torres, a member of the 2010 World Series championship team who was traded to the Mets last winter, to a one-year deal pending a physical.

Share Tweet

Outsider's Look: Tennessee Titans

We try to look at the Jets opponents every week and take some of the statistical numbers from Football Outsiders to better understand what the Jets will be facing on Sunday.  Reminder, positive percentages are good on offense and specials, bad on defen

Share Tweet

A Battle of Quarterbacks: Eli Manning vs. Matt Ryan

Two of the NFL's top quarterbacks will square off Sunday in Atlanta: Eli Manning and Matt Ryan. Both players addressed the media in anticipation of the game. Manning acknowledged that the Falcons are a tough team to beat at home, having won 10 straight

Share Tweet

profootballtalk.com

Dec 13, 2012

While many people are flipping out about about his celebration, Giants rookie running back David Wilson just wants everyone to "relax." Wilson's post-touchdown backflip drew some cross looks from the normally buttoned-down Giants. "I told him seve

Share Tweet

SNYGiants Video Corner: RB Situation; David Diehl

GEICO SportsNite covers the Giants' running-back situation. Sorry, this video could not be loaded… GEICO SportsNite talks to David Diehl about the Giants' upcoming game against the Falcons. Sorry, this video could not be loaded…

Share Tweet

The New York Jets (6-7) will be rooting hard for another team in green Thursday night. The Philadelphia Eagles will host the Cincinnati Bengals (7-6), who lead the Jets by one game for the final playoff seed in the AFC. The Jets, Bengals and Pittsburgh …

Share Tweet

Giants wary of Falcons' receiving corps

Earlier this year, Falcons wide receiver Roddy White Victor Cruz when he called the Giants wide receiver … a bit soft. White went on to call himself and Julio Jones to best receiving tandem in the National Football League. Fast forward about three month

Share Tweet

Fact: Tom Coughlin uses PowerPoint, catch phrases

The hard-nosed disciplinarian we know as Tom Coughlin uses a tactical approach to reach his players - in the form of PowerPoint slides and catch phases. The Giants head coach has made a slogan out of each of the team's goals over the past couple of ye

Share Tweet

Breakfast links: RG III on race

New York Giants Justin Tuck, who is apparently something of a Nervous Nellie, would like David Wilson to stop doing backflips after he scores touchdowns. Eli Manning, who's more of a bottom-line kind of guy, likes the backflips because it means there's …

Share Tweet

Week 14 N.F.L. Film Review

Among the impressive players in Week 14 were Jets cornerback Antonio Cromartie and resurgent Chargers quarterback Philip Rivers.

Share Tweet

The Giants are dealing with injury and inconsistency and no one can figure them out. But that can be said for all NFL teams these days. Yesterday, they had seven players miss practice due to injury. Looks like they're saving guys for the games. At this

Share Tweet

MLB.com

Dec 13, 2012

R.A. Dickey's story of triumph over personal adversity and later, professional adversity has a new storyline, as the Mets face a decision on moving the knuckler and building for the future, or keeping him with an extension.

Share Tweet

The WheelHouse discuss whether Giants running back David Wilson can be an every-down back in the NFL. Sorry, this video could not be loaded… Giants' RB David Wilson has gone from the depths of the Giants' bench (doghouse) to their latest and most ex

Share Tweet

Mariano Rivera said Wednesday he'll be ready to pitch for the New York Yankees on Opening Day.

Share Tweet

Carmelo Injured In Knicks' Win

Dec 13

Knicks hold off Lakers, 116-107.

NFL Cold Hard Facts

Dec 13

Cold Hard Facts looks at the top games of the week.

Countdown Daily Prediction: Jets-Titans

Dec 13

The NFL Live crew makes their picks for the New York Jets at Tennessee

Preview: New York Jets vs. Tennessee Titans

Dec 13

NFL Films previews the Week 15 matchup between the New York Jets and the Tennessee Titans.