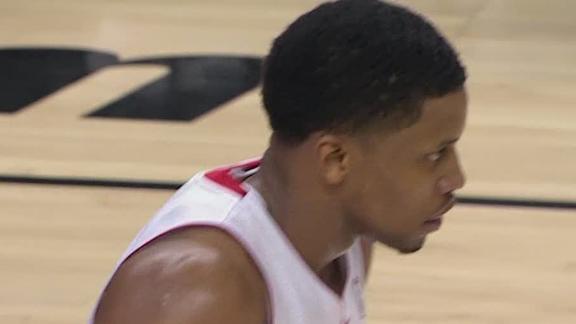 ESPN.com
CNNSI.com
nydailynews.com
Updated Feb 22, 2013
Rudy Gay scored a season-high 32 points, DeMar DeRozan had 18 and the Toronto Raptors beat New York 100-98 on Friday night, handing the slumping Knicks their season-worst fourth straight loss.
Share
Tweet
James Harden and Carlos Delfino each scored 22 points, and the Houston Rockets tied their longest winning streak against any opponent by beating the Brooklyn Nets for the 13th straight time, 106-96 on Friday night.

Share Tweet

nydailynews.com profootballtalk.com giantsfootballblog.com

Feb 22, 2013

He still gets up at 5:15 every morning to hit the weight room. He still comes back for cardio every afternoon. The "energy's still flowing good," he says, and he can't imagine a time when that won't be true.

Share Tweet

nydailynews.com nytimes.com CNNSI.com ESPN.com MLB.com

Feb 22, 2013

The Mets are being careful to call this a conditioning issue for Johan Santana, not a medical or, in their words, "structural'' issue. But they can call it anything they want - it's clear that something isn't right with his left shoulder.

Share Tweet

Omer Asik Stops, Spins and Slams

dimemag.com

Feb 22, 2013

Omer Asik shows off some fancy footwork as he stops, spins and slams.The post Omer Asik Stops, Spins and Slams appeared first on Dime Magazine (dimemag.com) : Daily NBA News, NBA Trades, NBA Rumors, Basketball Videos, Sneakers.

Share Tweet

Chris Canty set for visits with Packers and Jaguars

Defensive lineman Chris Canty has gotten an offer from the Titans since his release from the Giants, but he's not ready to stop looking for a new team to call his own. Mike Garafolo of USA Today reports that Canty will visit with the Packers and Jaguars

Share Tweet

CNNSI.com

Feb 22, 2013

FAIRFIELD, Conn. (AP) -- Former Boston Red Sox manager Bobby Valentine has been hired as the athletics director at Sacred Heart University.

Share Tweet

nytimes.com

Feb 22, 2013

While his former battery-mate watched, the Yankees' closer threw his first live batting practice since injuring his knee.

Share Tweet

Salley Offers a Healthy Assist

nytimes.com

Feb 22, 2013

John Salley, a 6-foot-11 power forward and center, became a vegetarian in January 1991 after he felt he had to make changes in his lifestyle.

Share Tweet

Previewing AFC East draft picks

The Miami Dolphins are at the top, the New England Patriots are on the bottom, and the New York Jets and Buffalo Bills are somewhere in between. That pretty much sums up the 2013 draft capital in the AFC East. Here are the total draft picks for each div…

Share Tweet

Terrance Ganaway making sandwiches while Rams are off

Some NFL players own Jimmy John's outlets to help generate non-football income, but one player is working at one part-time in the offseason after his rookie year. Running back Terrance Ganaway played three games in St. Louis last season after the Jets w

Share Tweet

MLB.com

Feb 22, 2013

On the eve of the Yankees' first Grapefruit League game, Derek Jeter provided a brief update on his progress as he works his way back from offseason surgery on his left ankle.

Share Tweet

Girardi sets travel roster for Grapefruit opener

MLB.com

Feb 22, 2013

The Yankees have set their travel roster for Saturday's Grapefruit League opener, against the Braves in Lake Buena Vista. As manager Joe Girardi said on Thursday, the starting lineup will include first baseman Mark Teixeira, second baseman Robinson Cano…

Share Tweet

D-Will reveals 3rd round of shots, expects more

Brooklyn Nets point guard Deron Williams told reporters Friday he received his third set of cortisone shots in both of his ankles on Thursday, and said he'll "probably" receive another set before the playoffs begin.

Share Tweet

From the big leagues to the big screen: Movie appearances by all 30 MLB teams

yahoo.com

Feb 22, 2013

With the Academy Awards coming up on Sunday, the challenge posed to us was a simple one: Could we find a movie appearance or mention for all 30 Major League Baseball teams? A lot of the top teams would be easy. The Yankees, Red Sox and Cubs, for instanc…

Share Tweet

New Orleans Saints 2013 Offseason Preview

CNNSI.com

Feb 22, 2013

It was the D, not the bounty saga, that doomed the Saints in 2012. In comes Rob Ryan and his 3-4, but that won't be enough without upgrades to the roster, Matt Gagne says.

Share Tweet

Is Rex Ryan destined to fail?

Rex Ryan addressed the media at the NFL combine Thursday as only a shell of the brash, supremely confident coach he once was. Just two years ago, Ryan stepped to the podium and guaranteed the combine media in Indianapolis that the New York Jets would wi…

Share Tweet

Bills pick order round by round

buffalobills.com

Feb 22, 2013

The NFL released their round by round order prior to the addition of compensatory picks, which will be awarded some time next month. Buffalo has six total draft choices. They will be part of a three team rotation round by round with the Bills, Jets and …

Share Tweet

thejetsblog.com yahoo.com

Feb 22, 2013

Ian Rapoport writes for NFL.com that there's a lot of rumors circulating during the first few days of the Combine, one of which we are all too aware of revolving around the Jets. How serious are the New York Jets about trading star cornerback Darrelle R

Share Tweet

New York Yankees closer Mariano Rivera cleared another hurdle in his recovery from knee surgery Friday morning when he faced hitters for the first time since his injury in a live batting practice session.

Share Tweet

Giants guard Chris Snee put off hip surgery until after he played in the Pro Bowl and he finally got the operation done earlier this week. Ralph Vacchiano of the New York Daily News reports that Snee had a torn labrum and bone chips in his hip dealt wit…

Share Tweet

The Bills need to have a contingency plan if TE Scott Chandler isn't ready to go next season. A look at where the Dolphins will pick and how they acquired some of the picks. Will the Patriots be adding more help at tight end? Saying that you never know

Share Tweet

Draftniks Don't Understand Giants Draft Philosophy

giantsfootballblog.com

Feb 22, 2013

Reading all of this conjecture on the net about who the Giants will draft this spring and what they need in this draft to improve their roster has my head spinning. I think most "prognosticators" forget that these are the Giants, a team that builds th

Share Tweet

Former Indianapolis Colts defensive end Dwight Freeney says it would be great to play in New York, either as a member of the Giants or the Jets. "Big Blue" seems reasonable, considering the Giants' love for pass-rushers. But Freeney to the Jets is nothi

Share Tweet

Spring headlines: Exhibition games begin; A-Rod issues statement; Yankees shake up outfield

yahoo.com

Feb 22, 2013

Here is Friday's top headline for any baseball fan: It's game day. Professional teams are playing against each other! You've waited so long for this to be here again, and now it is. It's like you've been on a diet for five months and today you get to ea…

Share Tweet

Yankees great Yogi Berra says Bombers need to find a way to get Eduardo Nunez's bat in the lineup in 2013

nydailynews.com

Feb 22, 2013

Though he is not at Yankee spring training for the first time since his reconciliation with George Steinbrenner in 1999, Yogi Berra is said to check in frequently with Ron Guidry and his loyal posse of camp instructor pals, offering opinions and observa…

Share Tweet

David Wright, who has NY Mets mega-contract, more assertive with age and speaking his mind

nydailynews.com

Feb 22, 2013

David Wright is 30 now, engaged, in possession of what amounts to a Met-for-life contract, and suddenly he is sounding like a man who is becoming more assertive with age, willing to speak his mind for the good of baseball as well as his ballclub.

Share Tweet

Rockets Take Down Nets For 13th Straight Time

Feb 22

James Harden, Carlos Delfino help Rockets top Nets.

Rudy Gay Leads Raptors With 32 Points

Feb 22

Raptors hold off Knicks, 100-98.

New York Giants head coach Tom Coughlin addresses his future

Feb 22

New York Giants head coach Tom Coughlin speaks to the media about his player's injuries, a rumor that he only has one year left and the difficulty of cutting running back Ahmad Bradshaw.

Giants Combine Report

Feb 22

Rich Cimini and Ohm Youngmisuk deliver the latest news from the 2013 NFL Combine

Sports Columnists

Don Banks: Traditional pocket passers becoming extinct? Don't tell this QB…

Feb 22

INDIANAPOLIS -- Perhaps the irony of the NFL's incoming quarterback class on display here at the scouting combine is that while the read-option trend seems to be the wave of the future within the league, the future clearly isn't now. At least not in ter…

2013 NFL combine -- Friday observations about offseason, Weeden and more

Feb 22

Will the NFL push back the dates on the offseason? Not if the players' union has anything to say about it, writes John Clayton.

Don Banks: Baltimore Ravens 2013 Offseason Preview

Feb 22

SI.com is laying out offseason road maps for all 32 teams as they start their journey for the Lombardi Trophy -- two teams per day, from the teams that need the most work to contend in 2013 to the ones that are in pretty good shape. See them all.