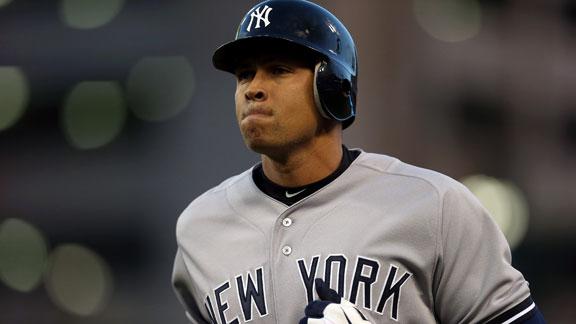 nydailynews.com
ESPN.com
Updated Jan 31, 2013
If the Bombers were a prizefighter, they would most resemble Mike Tyson rolling around on the canvas after being hammered by Buster Douglas. Unlike Tyson, the Yankees have a savior to pick them up off the canvas: The organization has Derek Jeter to lead…
Share
Tweet
Confessions of a NY Giants Football Junkie

giantsgab.com

Jan 31, 2013

Scrunched down in the recliner last night, in front of the TV, bored out of my skull, like a few million other football addicts, watching a make-believe football game called the NFL Pro Bowl; I had this epiphany! Yeah, honest! An epiphany! And it hit me…

Share Tweet

CNNSI.com nydailynews.com profootballtalk.com giantsfootballblog.com giantsgab.com thejetsblog.com ESPN.com

Jan 31, 2013

Report: Osi says if Giants pass, Jets a 'good fit'

Share Tweet

Stoudemire, With a Reshaped Game, Is Fitting in Nicely

nytimes.com

Jan 31, 2013

After struggling last season, the Knicks' front-line stars - Carmelo Anthony, Amar'e Stoudemire and Tyson Chandler - are now dominating together on offense.

Share Tweet

ESPN.com nydailynews.com

Jan 31, 2013

New York Knicks point guard Jason Kidd will sit out of Wednesday's game against the Orlando Magic with a sore lower back.

Share Tweet

giantsfootballblog.com ESPN.com nydailynews.com profootballtalk.com

Jan 31, 2013

Giants' WR Victor Cruz appeared on the air with WFAN's Boomer and Carton this morning to shoot the breeze. He ended up talking some football and some turkey as well. Cruz revealed his contract negotiations were still ongoing but had nothing new to rep

Share Tweet

By way of The New York Post (with a hat tip to Nets blog The Brooklyn Game, Brooklyn point guard Deron Williams has just bought a $15.8 million penthouse loft in Manhattan's TriBeCa. As you might expect from a living space with that kind of price tag, t

Share Tweet

Vernon Carey planning a comeback

profootballtalk.com

Jan 31, 2013

When the Jets were casting around to find a replacement for tackle Wayne Hunter last summer, they reached out to former Dolphin Vernon Carey. Carey told them he was happy coaching high school and didn't plan to play football anymore. The Jets moved on a

Share Tweet

CNNSI.com nytimes.com MLB.com ESPN.com

Jan 31, 2013

NEW YORK (AP) -- The New York Mets have signed right-hander LaTroy Hawkins to a minor league contract with an invitation to spring training.

Share Tweet

Section 15: Shifting Loyalties

nytimes.com

Jan 31, 2013

Michael Marcus and David Ramos, longtime Knicks fans, are starting to fall in love with the Nets.

Share Tweet

Osi and Tuck see Strahan as a Hall shoo-in

nydailynews.com

Jan 31, 2013

On Saturday morning, 46 members of the Pro Football Hall of Fame selection committee will meet and pick the Class of 2013. And that class better include Michael Strahan. If it doesn't, two of his former teammates are going to be very upset.

Share Tweet

Evans: Heat comments were misinterpreted

Brooklyn Nets power forward Reggie Evans said Thursday he never downplayed the Miami Heat's championship from the lockout-shortened 2011-12 season, and his comments were blown out of proportion.

Share Tweet

Must-see: Freestyle Love Supreme performs Eli Manning rap

giantsfootballblog.com

Jan 31, 2013

, New Orleans-based rappers, Freestyle Love Supreme, jammed to the tune of their beloved hometown hero, Eli Manning, on ESPN's Sports Nation.     Follow Sam on Twitter

Share Tweet

yahoo.com

Jan 31, 2013

Amani Toomer had a very good career as a receiver for the New York Giants, and he has stayed in the media mostly on NBC SportsTalk through the years, so he has stayed relevant in the media landscape even though his last game was in 2008. And he made it …

Share Tweet

Can Giants fix their defense?

The New York Giants do love their stay-the-course reputation. While they were disappointed that this season's 9-7 record wasn't good enough to get them into the playoffs after 2011's 9-7 record had been, the Giants' first instinct is to stick with their…

Share Tweet

Jim Trotter: In Trent Baalke, the 49ers have a GM whose foundation is built on selflessness and toughness

CNNSI.com

Jan 31, 2013

NEW ORLEANS -- After receiving his first NFL scouting job with the Cleveland Browns in 1991, Lionel Vital was told he should take college coaches to lunch when visiting their schools. Scouts want as much background as possible on draft-eligible prospect…

Share Tweet

For a while last night, Brooklyn was giving it to the defending champs as often as they were getting it. Eventually, LeBron put a stop to all that, but not before Joe Johnson hit Chris Bosh with a nasty behind-the-back step-back that nearly had the big …

Share Tweet

Eli: Please Ask Me the Elite Question Again

giantsfootballblog.com

Jan 31, 2013

Giants QB Eli Manning has two Super Bowl titles to his credit. He sat down with the NFL Network's Rich Eisen to discuss the Super Bowl experience and gaining an elite status as a quarterback. He jokingly answered the below…. Eisen: Do you think he (Ba

Share Tweet

So, when exactly is the latest "new" Lakers season starting? At the end of the third quarter last night in Phoenix's unbelievable 92-86 win, all was right in L.A. The Lakers shot 65 percent in the third quarter, Kobe was dishing (17 points, nine ass

Share Tweet

Wallace vents after Nets' latest lopsided loss

Following his team's third embarrassing performance in its past four games, Brooklyn Nets small forward Gerald Wallace didn't mince words.

Share Tweet

LeBron James was not amused with Reggie Evans' comments that devalued the NBA title won by the Miami Heat last season. So James dominated the Brooklyn Nets on Wednesday night, and then directly ripped Evans after the game.

Share Tweet

NFL32OT: Cowboys Look For Improvement

Jan 31

Episode 260: Suzy Kolber and Chris Mortensen discuss what changes the Cowboys should make in the offseason. Eric Mangini breaks down how the 49ers can defend against Joe Flacco. The NFL32 crew discuss who they would rather have Eli or Peyton.

Osi Keeping Options Open

Jan 31

Giants DE Osi Umenyiora joins "First Take" to discuss the disappointing end to New York's season, the NFC East, and his options as he hits free agency.

LeBron James Rips Reggie Evans

Jan 31

Stephen A. Smith and Skip Bayless discuss LeBron James' reaction to Reggie Evans, who questioned the Heat's NBA title because it came in a lockout season.

A-Rod Has No Plans To Retire

Jan 31

Jerry Crasnick reacts to the report that Alex Rodriguez has no plans to retire and discusses New York's season outlook.