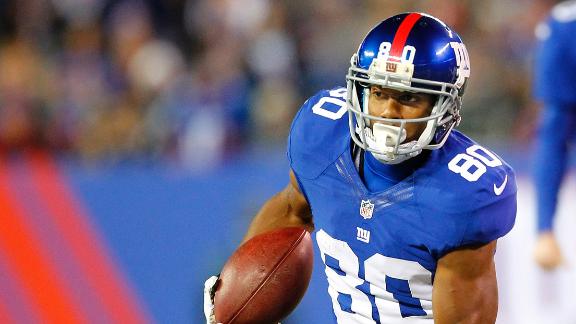 profootballtalk.com
ESPN.com
giantsfootballblog.com
CNNSI.com
nytimes.com
yahoo.com
nydailynews.com
Updated Jul 8, 2013
Did Giants receiver Victor Cruz break the bank on his new contract? No. Did he end up with far more money than he ever should have earned in the NFL after being passed over 255 times in the 2010 draft? Absolutely. Cruz has made the ultimate climb from u…
Share
Tweet
nydailynews.com

Jul 8, 2013

Pistons assistant coach Rasheed Wallace turned down an opportunity to work on Mike Woodson's staff, citing family reasons. "To me, what signed, sealed and delivered it, and made it more sweet, was the fact that my kids are still in Detroit," Wallace tol…

Share Tweet

deadspin.com

Jul 8, 2013

The Yankees and Kansas City Royals just got out of 59-minute rain delay and at least a portion of the infield may be a little soggier than usual. Read more...

Share Tweet

New York Yankees shortstop Derek Jeter said on Monday that he talked to general manager Brian Cashman to plead his case for returning to the big leagues ahead of the team's timetable.

Share Tweet

The New York Knicks signed first-round draft pick Tim Hardaway Jr. to a contract on Monday.

Share Tweet

CNNSI.com yahoo.com ESPN.com profootballtalk.com

Jul 8, 2013

NEW YORK (AP) -- Rex Ryan spent part of his summer vacation running from angry bulls.

Share Tweet

In his first experience as a Home Run Derby captain, Mets third baseman David Wright said he wanted to simplify the process of rounding out the rest of the National League squad as much possible.

Share Tweet

CNNSI.com profootballtalk.com nydailynews.com

Jul 8, 2013

POWDER SPRINGS, Ga. (AP) -- Police in suburban Atlanta say a man who identified himself as the son of NFL Hall of Famer Lawrence Taylor has been arrested on rape charges.

Share Tweet

Jason Zillo and the Yankees' public-relations staff found out that David Robertson was a candidate for the All-Star Game Final Vote sometime in the fifth or sixth inning of Saturday's game against the Orioles. Within hours, they had formulated a plan to…

Share Tweet

Free-agent roundup: Nets fill out the bench, Bucks bring back Delfino, Garcia stays in Houston, etc.

There's been plenty of free-agent activity since Dwight Howard made his decision late Friday to join the Houston Rockets, with point guard Jose Calderon heading south to Dallas, Chris Kaman leaving Texas in favor of sunny SoCal and a slew of other agree…

Share Tweet

nytimes.com

Jul 8, 2013

Manager Joe Girardi said that Curtis Granderson's broken pinkie was "not healing as quickly as" Girardi would like.

Share Tweet

Mets' Niese cleared to work toward return

Mets left-hander Jonathon Niese has been cleared to begin working toward a return from the disabled list. Niese had a favorable follow-up exam with team doctors at the Hospital for Special Surgery in Manhattan on Monday, a source told ESPNNewYork.com.

Share Tweet

Locke unable to pitch in All-Star Game

Pirates manager Clint Hurdle will keep the rotation the same heading into the All-Star break, meaning Jeff Locke will not be available for the All-Star Game two days after his Sunday start against the Mets.

Share Tweet

There Is Now Video Of Rex Ryan Escaping A Charging Bull

deadspin.com

Jul 8, 2013

After photos emerged of the Jets coach taking part the annual Running of the Bulls, it was only a matter of time before video surfaced. Reader John was in Pamplona, and after realizing Ryan was there too, reviewed his footage.Read more...

Share Tweet

Larry Bird believes that Paul Pierce and Kevin Garnett will be more than productive with the Brooklyn Nets.

Share Tweet

Anna Benson used to be "baseball's hottest housewife" — or so said the magazine covers. Now she's an estranged baseball wife who was arrested and booked on trespassing, assault and gun-possession charges.Her husband Kris Benson — who pitched f…

Share Tweet

Brooklyn Nets coach Jason Kidd will not have to leave the Orlando Summer League later this week to appear in court for a misdemeanor charge of driving while intoxicated last summer, his attorney, Edward Burke Jr., told ESPNNewYork.com.

Share Tweet

Former NBA player Washington sentenced for hit-and-run

nba.com

Jul 8, 2013

Former New Jersey Nets and Los Angeles Clippers player Duane Washington has been sentenced to 60 days in jail for hitting a pedestrian and then leaving the scene in western Michigan.

Share Tweet

CNNSI.com

Jul 8, 2013

CHICAGO (AP) -- The Washington Nationals have acquired outfielder Scott Hairston from the Chicago Cubs for minor league pitcher Ivan Pineyro.

Share Tweet

Report: Carmelo Anthony "50-50″ Chance To Join Lakers Next Year

dimemag.com

Jul 8, 2013

Carmelo Anthony has an early termination option next summer, where he can become a free agent if he declines the $24.352 million he's set to make from the Knicks for the 2014-15 season. Stephen A. Smith says 'Melo's future plans are still up in the air,…

Share Tweet

Brandon Myers excited about opportunity with Giants

profootballtalk.com

Jul 8, 2013

In recent years, the Giants have had a hard time holding onto their starting tight ends. Kevin Boss and Martellus Bennett both left as free agents after strong years as targets for Eli Manning and Jake Ballard got claimed by the Patriots on waivers last…

Share Tweet

Hall of Famers, Mets legends highlight FanFest lineup

Nine Hall of Famers, numerous Mets legends and other former Major League stars will make appearances at T-Mobile All-Star FanFest from July 12-16 at the Jacob K. Javits Center.

Share Tweet

profootballtalk.com CNNSI.com

Jul 8, 2013

On Saturday, Giants linebacker Dan Connor was arrested with a switchblade in his luggage at the Philadelphia International Airport. On Sunday, the Giants said Connor has spoken with the team about that situation, and that Connor is cooperating with auth…

Share Tweet

giantsfootballblog.com

Jul 8, 2013

The NFL will hold a supplemental draft this Thursday at 1pm to give teams an early shot at six players whose college eligibility ran out after the NFL Draft in April. Those players are….From CBSSports.com: DE James Boyd, UNLV DT Nate Holloway, UNLV DE T…

Share Tweet

Kuhn's Goals: Get Healthy, Then Make an Impact

giantsfootballblog.com

Jul 8, 2013

From Lou Musto of GiantsRush.com: This piece marks the beginning of a series that will analyze the New York Giants' 2012 draft picks and gauge what their outlook could be for the upcoming season. To begin this series, we'll kick off with seventh-round p…

Share Tweet

Dillon Gee tweets photo of Asiana flight 214 wreckage from Mets team plane

The New York Mets team charter landed one runway over Sunday night from the wreckage of a crashed 777 airplane, what's left of Asiana flight 214. Mets right-hander Dillon Gee took note and sent a tweet with a photo of the surreal scene at San Francisco …

Share Tweet

Larry Bird Praises Pierce, Garnett

Jul 8

J.A. Adande discusses the impact that Kevin Garnett and Paul Pierce can have for the Nets.

Home Run Derby Participants Announced

Jul 8

David Wright and Robinson Cano announced their selections, including Carlos Gonzalez and Chris Davis, for the 2013 Home Run Derby.

Cruz Signs 6-Year Deal With Giants

Jul 8

Ron Jaworski and Herm Edwards discuss WR Victor Cruz's six-year, $46M deal with the Giants.

Cruz Agrees To Extension

Jul 8

Herm Edwards discusses the importance of WR Victor Cruz to the Giants.