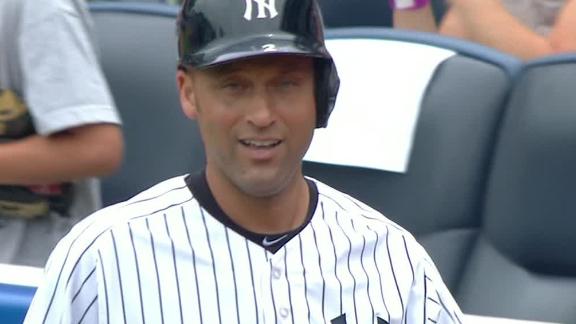 Updated Jul 11
Share
Tweet
What should have been a joyous occasion at Yankee Stadium Thursday instead ended with ominous overtones, and all because Derek Jeter, in his long-awaited return from nearly nine months of rehabbing a twice-broken ankle, did something he's never done bef…
Sources:
nydailynews.com
MLB.com
ESPN.com
CNNSI.com
yahoo.com
Updated Jul 11

Share Tweet

New York Jets fifth-round draft pick Oday Aboushi, the 22-year-old offensive lineman from the University of Virginia, is a physical freak. He's 6-foot-6 and weighs over 300 pounds, which is one of the main reasons why he's in the NFL. He's also a Palest…

Sources:

deadspin.com nydailynews.com

Bargnani hopes for la dolce vita

Updated Jul 11

Share Tweet

Andrea Bargnani is the Knicks' newest international man of mystery — as in can the Italian salvage his career with the Knicks or will he booed out of New York the way he was booed out of Toronto.

Updated Jul 11

Share Tweet

The Knicks passed on Ron Artest in the 1999 NBA draft and now all these years later the chance to sign Metta World Peace may be too good to turn down.

Alex Rodriguez and Biogenesis scandal center of attention for Yankees and MLB

Updated Jul 11

Share Tweet

The baseball season that everybody still wants at Yankee Stadium is the one we got on Thursday afternoon when Derek Jeter came back to the Yankees nine months after breaking his ankle in the playoffs, Game 1 against the Tigers, the night when the Yankee…

Updated Jul 11

Share Tweet

NEW YORK (AP) -- A person familiar with the situation tells The Associated Press that New York Jets rookie quarterback Geno Smith will not attend Mark Sanchez's camp for teammates in Southern California this week.

Sources:

CNNSI.com ESPN.com thejetsblog.com

Updated Jul 11

Share Tweet

NBA writer Peter Vecsey broke the news first today on Twitter, and it was soon confirmed that the Brooklyn Nets have bagged another excellent player by landing Andrei Kirilenko for substantially less than what he would have made if he opted-in for anoth…

Sources:

dimemag.com yahoo.com CNNSI.com nba.com deadspin.com ESPN.com

MLB, Mets donate mobile fun system to hospital

Updated Jul 11

Share Tweet

MLB and the Mets, along with the Starlight Children's Foundation, presented a Starlight Fun Center to the Coney Island Hospital on Thursday. A Starlight Fun Center is a mobile entertainment unit -- including a television, a Nintendo Wii game system and …

Source:

MLB.com

Rain shortens A-Rod's latest rehab game

Updated Jul 11

Share Tweet

Yankees third baseman Alex Rodriguez played a half-inning at third base on Thursday for Class A Advanced Tampa before rain washed out his seventh rehab game.

Source:

MLB.com

30 Seconds With Al Leiter

Updated Jul 11

Share Tweet

Al Leiter, a New Jersey native who pitched for the Yankees and the Mets in a 19-year major league career, reminisced about his All-Star experiences in a wide-ranging conversation.

Source:

nytimes.com

Updated Jul 11

Share Tweet

The Brooklyn Nets have re-signed Andray Blatche and signed guard Shaun Livingston.

Source:

nba.com

Updated Jul 11

Share Tweet

We should tread lightly here – Jason Kidd is a father and there's a very real chance that this was a call he needed to take – but in the interim we're all allowed to give a big "really?" to the Brooklyn Nets rookie head coach. Kidd, who was hired by Bro…

Source:

yahoo.com

Updated Jul 11

Share Tweet

Geno Smith is working out in Florida and will not be attending Jets West, which began in southern California Thursday, according to a source. Smith's presence at Mark Sanchez's annual Jets West was a point of much speculation during minicamp and the wee…

Who's Better: Tyreke Evans Or J.R. Smith?

Updated Jul 11

Share Tweet

If we're classifying NBA players by their offensive style of play, you couldn't find too many players further apart than Tyreke Evans and J.R. Smith. Take away the cliched responses that they're both offensive-happy players who only want to watch themse…

Source:

dimemag.com

Updated Jul 11

Share Tweet

Stop us if you've heard this one before, but an NFL player is reportedly ahead of schedule in his recovery from an injury. The player in question this time is Giants fullback Henry Hynoski, who injured the MCL and lateral plateau in his left knee during…

New York Jets salary cap outlook: David Harris is being paid like a Top 3 linebacker

Updated Jul 11

Share Tweet

The "Shutdown Countdown" is going full steam ahead. In addition to previewing each team, "Shutdown Corner" will be taking a brief look at each team's salary cap situation heading into the 2013 season and beyond. We continue the serie…

Source:

yahoo.com

Updated Jul 11

Share Tweet

Former No. 1 overall pick Andrea Bargnani is looking forward to a fresh start with the New York Knicks.

Updated Jul 11

Share Tweet

The proverbial ink had yet to dry on Victor Cruz's New York Giants contract extension and people were already asking about Hakeem Nicks, who will need a new contract himself before the 2014 season begins and is likely going to cost more. This time next …

Sources:

ESPN.com giantsfootballblog.com

Updated Jul 11

Share Tweet

The Bills think they have plentiful options in the passing game. The Dolphins released their training camp schedule. Taking a closer look at what Patriots QB Tim Tebow needs to do to make the roster. The Jets haven't had a 10-sack season from a player s…

Source:

profootballtalk.com

Giants' TE Myers Could Be Offense's Real 'Silent Killer'

Updated Jul 11

Share Tweet

TE Brandon Myers gets direction from QB Eli Manning (photo: Howard Simmons NY Daily News) John Fennelly, Executive Editor The Giants opening night offense will feature Hakeem Nicks and Rueben Randle at WR and Victor Cruz in the slot, the trio the front …

Source:

giantsfootballblog.com

As MLB suspension looms for Alex Rodriguez, Yankees third baseman still in race against time to get paid

Updated Jul 11

Share Tweet

It is now a frantic footrace with the MLB drug posse for Alex Rodriguez, who will never play another game for the Yankees but is desperately trying to make sure he doesn't lose a penny of the $100 million owed him on the last 4½ years of his contract.

Kidd, Nets Winless In Orlando

Jul 11

The Nets and Jason Kidd fall to 0-4 in summer league action with a 92-76 loss to the Rockets.

NFL Cold Hard Facts

Jul 11

Herm Edwards breaks down his rookies to watch in 2013.

Buster Posey Has Top-Selling Jersey

Jul 11

Darren Rovell discusses the list of MLB's top-selling jerseys, headlined by young players.

Does Mark Sanchez give New York Jets best chance to win?

Jul 11

NFL Network's Donovan McNabb says Mark Sanchez's mobility and experience make him the best man for the New York Jets' starting quarterback job.