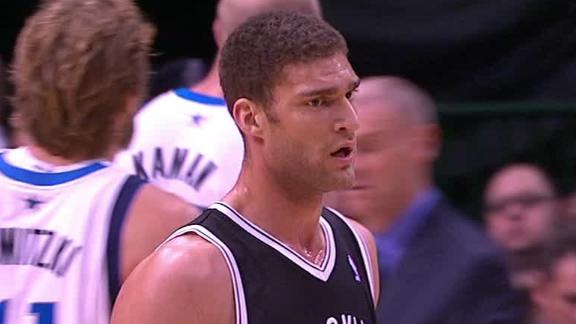 Now in Pinstripes, Youkilis Greets His Former Team

Kevin Youkilis, playing against the Red Sox for the first time as a Yankee, went 0 for 4 and striking out twice, while playing third base on Wednesday.

Share Tweet

nytimes.com ESPN.com nydailynews.com nba.com CNNSI.com

Mar 20, 2013

No matter how Knicks fans feel about their team's roster being affected by a rash of injuries, Coach Mike Woodson made it clear before Wednesday's game against the Orlando Magic that he and General Manager Glen Grunwald are not looking to sign free ag

Share Tweet

CNNSI.com ESPN.com nydailynews.com profootballtalk.com

Mar 20, 2013

Quarterback Eli Manning will consider reworking his contract if it will help keep leading receiver Victor Cruz on the New York Giants.

Share Tweet

Melo back in big way as Knicks bounce Magic

nydailynews.com

Mar 20, 2013

Carmelo Anthony erased concern about his knee within the first 30 seconds, nailing an open three with the type of jump he could not have managed just a week earlier. It was the first of his seven buckets as Anthony returned in style Wednesday night at t…

Share Tweet

Carmelo returns, nets 21 to lift Knicks past Magic

Carmelo returns, nets 21 to lift Knicks past Magic

Share Tweet

BGA: Scouting Antonio Garay

thejetsblog.com

Mar 20, 2013

Free agency is underway and the Jets have already signed a few guys that Jets fans might not know too much about. Over the next week or so (and throughout the free agent signing window), I'll be taking a closer look at each of the new signings and tryin

Share Tweet

Yankees' Aces Under Watchful Eyes

The Yankees are considering signing former pitcher Chien-Ming Wang, while their current pitcher, C. C. Sabathia, pitched in a minor league game.

Share Tweet

New Arizona Cardinals coach Bruce Arians says his team isn't looking for a quarterback.

Share Tweet

nytimes.com yahoo.com

Mar 20, 2013

Health concerns continued to pile up for the Mets, as they announced that right-hander Shaun Marcum had flown to New York on Tuesday to receive a cortisone shot for a shoulder impingement.

Share Tweet

Quentin optimistic after testing knee in field

Padres left fielder Carlos Quentin tested his sore right knee in the field for the first time on Wednesday. Quentin, who has had soreness in his surgically repaired knee for 10 days, was asked if he'll be ready to be in the Opening Day lineup on April 1…

Share Tweet

David Wright was prescribed five days of rest and treatment Friday when he was diagnosed with a strained intercostal muscle in his left rib cage. Five days have passed, and Wright still cannot do much more than rest and receive treatment.

Share Tweet

yahoo.com

Mar 20, 2013

Despite his Tuesday MRI showing only mild inflammation in his ailing left ankle, there's a possibility Derek Jeter could miss opening day and beyond as he attempts to return from breaking the ankle in Game 1 of the ALCS last October. Yankees general man…

Share Tweet

thejetsblog.com nydailynews.com

Mar 20, 2013

Sources tell the New York Daily News the parameters of a long-term deal are not the hang-up in talks between the Jets and Buccaneers about Darrelle Revis, and that the Bucs would pay Revis between $12-$13 million annually. Rotoworld: Per reporter Manish…

Share Tweet

ESPN.com

Mar 20, 2013

The Buffalo Bills and New York Jets both have huge needs at quarterback. Therefore, fans of those teams may want to read Wednesday's tremendous profile by ESPN.com's Elizabeth Merrill on West Virginia quarterback Geno Smith. The story gets into the ps

Share Tweet

So the Toronto Blue Jays took a lot of talent from the Miami Marlins during the last MLB offseason. One could probably find lots of words to describe the trade effectively. "Raided." "Pillaged." "Ravaged." "Pilfered.&q…

Share Tweet

giantsgab.com profootballtalk.com

Mar 20, 2013

Giants free agent defensive end Osi Umenyiora sat with one of their NFC rivals today, the Atlanta Falcons. No word on if a deal between the two was met. Umenyiora's visit marks the start of a couple for some big free agent defensive players, as also on

Share Tweet

Nuno fires five shutout frames in Yanks' win

Vidal Nuno turned in an impressive start as the Yankees defeated the Red Sox, 4-0, on Wednesday at George M. Steinbrenner Field.

Share Tweet

Good afternoon all. It's drivetime and we know you're busy. Let us update you with the news of the day… Giants QB Eli Manning is worried his favorite target from 2012 will be employed elsewhere in 2013 "I check the papers every morning to make sur

Share Tweet

Eli Manning, wife Abby expecting second child

nydailynews.com

Mar 20, 2013

Eli's home team is growing! New York Giants Quarterback Eli Manning revealed Wednesday that his wife Abby is expecting their second child.

Share Tweet

nytimes.com ESPN.com

Mar 20, 2013

Giants Coach Tom Coughlin once tried to hire Chip Kelly, the new coach of the Eagles, but was turned down.

Share Tweet

nytimes.com CNNSI.com ESPN.com MLB.com nydailynews.com

Mar 20, 2013

Derek Jeter received a cortisone shot after complaining of ankle stiffness, and General Manager Brian Cashman acknowledged he could begin the season on the disabled list.

Share Tweet

CC tunes up for Opening Day against Minor Leaguers

CC Sabathia threw 90 pitches in a tuneup for his Opening Day start on Wednesday, taking on a lineup of Yankees Minor League hitters at the club's Himes Avenue training complex.

Share Tweet

profootballtalk.com

Mar 20, 2013

Add NFL Network analyst Mike Mayock to the list of football observers who don't like the NFL's new rule banning running backs from lowering their heads into tacklers. Mayock, who played defensive back for the Giants in the 1980s and is now the top ana

Share Tweet

Eli Manning at a Samsung event earlier today, via Gizmodo's Leslie Horn.

Eli Manning at a Samsung event earlier today, via Gizmodo's Leslie Horn. He hasn't been seen since.Read more...

Share Tweet

thejetsblog.com ESPN.com profootballtalk.com nydailynews.com

Mar 20, 2013

Jets coach Rex Ryan says that he will assume the defensive play-calling duties in 2013, Manish Mehta of the New York Daily News reports. New defensive coordinator Dennis Thurman will have input, but Ryan will be the triggerman after relinquishing those …

Share Tweet

dimemag.com

Mar 20, 2013

The playoffs are getting close, and that means playoff seedings, which are as jumbled as ever this year after more than two thirds of the regular season has elapsed. The East, especially, has bunched up just below the winning streak that's catapulted th

Share Tweet

Giants Free Agency Scorecard: Moves Both Pound and Pennywise

From Jimmy Kempski…… The Giants, like the Redskins and Cowboys, didn't have much room to work with under the salary cap, so they were limited in what they could do in free agency, but here's a roundup of the roster moves they made, with analysis.

Share Tweet

Ian Thomsen: In season full of injuries, Parker's may prove most crucial

We've seen several injuries over the last week, with Carmelo Anthony, Tyson Chandler and Kobe Bryant going down. Which injury situation, including the injuries to Tony Parker, Derrick Rose and the recovering Pau Gasol, will affect the postseason the mos…

Share Tweet

Yanks, Sox dedicating Opening Day to Newtown

On Opening Day at Yankee Stadium on April 1, the Yankees and Red Sox will stand together in dedicating the game to the victims of the Sandy Hook school shooting, their families and the greater community of Newtown.

Share Tweet

ESPN.com

Mar 20, 2013

PHOENIX -- Rich Campbell of The Washington Times asked New York Giants owner John Mara about his status as Public Enemy No. 1 among Washington Redskins fans since the management council (of which he's the chair) imposed $36 million in salary-cap penalti…

Share Tweet

Spring training, breezy and noncompetitive, tends to present certain spectacles that would have no business in regular season baseball. Hooters ball girls. Life-sized Al Roker Yankees Weebles. The Royals in first place. But in yesterday's Angels-Brewers…

Share Tweet

New York Giants Headlines for March 20

Free agency frenzy has hit the wall. Only minor signings these days. There are still a few things that can happen, so stick with us for the latest. Here is what's happening….

Share Tweet

The Dominican Republic beat Puerto Rico 3-0 to take the WBC title. It was their actions after the final out though, writes Tom Verducci, that could prove even more significant.

Share Tweet

PHOENIX (AP) -- Concerned with how it will be officiated, NFL owners delayed voting Tuesday on a rule change that would ban offensive players from using the crown of their helmets against defenders in the open field.

Share Tweet

Lopez dominates with season high 38 points

Mar 20

Brook Lopez grabs the rebound and dunks it as the Nets beat the Mavericks 113-96

Manning Willing To Rework Deal To Keep Cruz

Mar 20

Eli Manning is willing to consider restructuring his contract if it helps to keep Victor Cruz.

Opening Day In Doubt For Derek Jeter

Mar 20

Yankees GM Brian Cashman says he doesn't know if Derek Jeter will be available on Opening Day.

Latin Players Take Incredible Pride In WBC

Mar 20

Colin Cowherd sounds off on the disconnect between the fans' and players' perspectives on the World Baseball Classic, and the pride and passion Latin players take in the WBC.