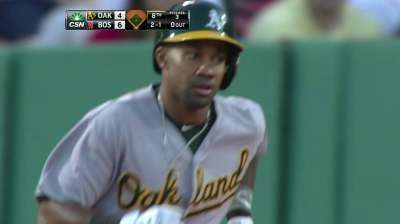 MLB.com
Updated May 3, 2013
Chris Young, sidelined by a strained left quad, didn't have a pain-free running session Friday, making him not only unavailable in his club's 2-0 win over the Yankees, but questionable for Saturday.
Share
Tweet
A.J. Griffin pitched seven-plus shutout innings against the Yankees, allowing six hits with one walk and four strikeouts to guide his club to a 2-0 series-opening victory in New York on Friday.

Share Tweet

David Wright hit the tying home run in the ninth inning off closer Craig Kimbrel and the New York Mets scored twice in the 10th to rally for a 7-5 victory over the Atlanta Braves on Friday night.

Share Tweet

yahoo.com ESPN.com dimemag.com nydailynews.com

May 3, 2013

For 38 1/2 minutes on Friday, the New York Knicks handcuffed and hamstrung a tired, old, injured and shorthanded Boston Celtics squad, holding them to 49 points on 30.6 percent shooting and leading by 26 points with 9 1/2 minutes to go.Naturally, the Ce…

Share Tweet

Boston Fans Chant "Honey Nut Cheerios" At Carmelo Anthony

dimemag.com

May 3, 2013

On the heels of the latest installment of the Carmelo Anthony/Kevin Garnett/Boston Celtics saga, in the first quarter of tonight's game, the Celtics fans chanted "Honey Nut Cheerios" when 'Melo checked out the game. Watch the clip: For breaking ne

Share Tweet

Francisco day to day with mild right ankle sprain

MLB.com

May 3, 2013

Braves third baseman Juan Francisco limped off the field with a mild right ankle sprain in the third inning of Friday night's game against the Mets at Turner Field. The Braves said Francisco is day to day.

Share Tweet

jetsgab.com nydailynews.com thejetsblog.com profootballtalk.com

May 3, 2013

Rex Ryan has dealt with great adversity on the field with his team the past year but told WLNY-TV he would like to coach the Jets another 20 years. Of course the vultures are circling after the Jets 6-10 season in 2012. "Obviously the results weren't

Share Tweet

MLB.com nytimes.com

May 3, 2013

Seeking to shake up their stagnant offense, the Mets on Friday optioned struggling outfielder Collin Cowgill to Triple-A Las Vegas, promoting Andrew Brown.

Share Tweet

Yanks' setup man Robertson out for series vs. A's

NEW YORK -- The Yankees' injury bug has moved to the bullpen.

Share Tweet

The hits keep coming for Geno Smith

profootballtalk.com

May 3, 2013

Another day, another round of anonymous sources ripping new Jets quarterback Geno Smith. This time the anonymous sources talked to ESPN.com, which quotes two people who work for NFL teams and who think Smith has character issues that will make life roug…

Share Tweet

Age Before Beauty?: Once down 3-0, the Celtics have a chance to tie u…

Once down 3-0, the Celtics have a chance to tie up their first-round series with the Knicks in front of a hometown crowd Friday night. Can KG and Co. do it? Follow along here.

Share Tweet

During Thursday night's Chicago Bulls loss to the Brooklyn Nets, a CSNChicago.com report surfaced that turned Luol Deng's "he's sick and missed practice"-diagnosis to something altogether more severe. Aggrey Sam reported that Deng had undergone

Share Tweet

The Geno Smith Smear Campaign Is Turning Into Junior-High Gossip

deadspin.com

May 3, 2013

It's been nearly a week since the Jets selected Geno Smith in the second round of the draft. I bet it's been a sleepy seven days for him, as it would be for any other quarterback who joined the Jets. Let's check today's press clippings:Read more...

Share Tweet

Scout: Jets' Smith a 'spoiled, pampered brat'

ESPN.com

May 3, 2013

One week removed from his infamous draft-day slide New York Jets quarterback Geno Smith has remained in the spotlight for all the wrong reasons.

Share Tweet

thejetsblog.com jetsgab.com

May 3, 2013

Ex-Jets Claude Davis + Cliff Harris arrested Mon, charged w/ poss of marijuana, Morris Cty police confirm to Sal Pal. Both plyrs waived.- Rich Cimini (@RichCimini) May 02, 2013 Brian Bassett, theJetsBlog.comHarris is considered a talented player who had

Share Tweet

Knicks, Thunder facing similar pressure

As the Knicks and Thunder head into Game 6 of their respective series, the two teams are experiencing similar pressure.

Share Tweet

profootballtalk.com giantsfootballblog.com

May 3, 2013

On Thursday, reports surfaced that former Giants linebacker Michael Boley pleaded guilty to felony child abuse in Alabama three days after being released. Boley has addressed the situation, via a statement issued by his agents. Here's the full text of i

Share Tweet

jetsgab.com nydailynews.com

May 3, 2013

Mark Sanchez spoke to the media for the first time since New York drafted QB Geno Smith and vows to be the opening-day starter.

Share Tweet

Is Clay Buchholz cheating? After allegations arose, Tom Verducci checked out the video to try and find what really happened and says this is nothing new for the grand old game.

Share Tweet

dimemag.com ESPN.com

May 3, 2013

It would be weird if Joakim Noah (or any other player worth his weight) didn't believe he was going win the big one. Noah though is just a little more brash in the way he goes about things. A few minutes after a tough Game 6 loss to the Nets, Joakim was

Share Tweet

Two rookies poised to start Week 1?

Both Johnathan Hankins and Justin Pugh are poised to start for the New York Giants at the start of the season, . Pugh and Hankins were the Giants' first and second-round selections in the 2013 NFL Draft, respectively. Pugh, the offensive tackle out of S

Share Tweet

Number of exciting AL shortstops deserve votes

MLB.com

May 3, 2013

Derek Jeter is a 13-time All-Star who probably has one or two more trips to the Midsummer Classic left before he's done. But the Yankees captain is not an All-Star this year. There are presently better candidates.

Share Tweet

Giants' Roster Snapshot: Offensive Line

The Giants hope to entrust OT James Brewer with more than the team's good-luck teddy bear this season. We will be publishing short previews of each unit over the next few weeks. We'll start with the offensive line since the Giants spent their top sele

Share Tweet

Friday morning one-liners

profootballtalk.com

May 3, 2013

Former Bills WR Andre Reed is pursuing a coaching career. The Dolphins have landed productive undrafted free agents in the past. Football isn't the only sport Patriots LB Jamie Collins excelled at while growing up. Someone started a Twitter feed for the

Share Tweet

Giants UDFA Profile: Marcus Davis, WR Virginia Tech

One of the interesting UDFAs that will be coming into TPC next week will be Virginia Tech WR Marcus Davis, a 6'4"³, 232 lb former QB who registered the highest vertical jump of any wideout at the NFL Combine in March. Davis was projected by some to be

Share Tweet

Nate Robinson Embarrasses Kris Humphries

dimemag.com

May 3, 2013

With Marco Belinelli playing out of his mind, and the rest of the Bulls desperate for a win, the Nets leaned on an unlikely source late to take Game 6 and tie the series up, 95-92. Andray Blatche had just 10 points and seven boards, but he made them cou…

Share Tweet

With all those microphones positioned courtside at the Gulag, James (Guitar Jimmy) Dolan has likely ordered his designated lackey to listen to the audio and find out what Jordan Crawford really said to Carmelo Anthony.

Share Tweet

Yankees rising, Mets stumbling early in season

Ordinarily, the one-sixth pole of the baseball season is not nearly enough of a sampling to make any definitive judgments about our local nines. Forgive me then for declaring I've already seen enough. The Yankees are a lot better than a lot of people th

Share Tweet

The Nets may have survived with a 95-92 Game 6 win on Chicago's home floor, but the Bulls may have more reason to think Game 7 will go their way, writes Ian Thomsen.

Share Tweet

nytimes.com

May 3, 2013

If the Celtics can win at home on Friday night, they will be one victory from matching what their baseball brethren accomplished nearly a decade ago, as unthinkable as that feat was.

Share Tweet

As the elder of the quarterback competition, David Garrard said he has no issue giving guidance to his fellow QBs. "I'm a guy that does not mind helping guys out. That's what being a teammate is all about," Garrard said

Share Tweet

A's Blank Yankees

May 3

A.J. Griffin tossed seven scoreless innings in the Athletics' 2-0 win over the Yankees.

Knicks Finish Off Celtics

May 3

The Knicks withstood a 20-0 run from the Celtics to advance to the second round of the playoffs for the first time since 2000.

Carmelo Anthony After The Knicks Advance

May 3

The Knicks won a playoff series for the first time in 13 years.

Drafting need vs. value

May 3

Daniel Jeremiah and Charles Davis break down the Dallas Cowboys, New York Giants and Green Bay Packers' drafts based on their draft needs versus value.