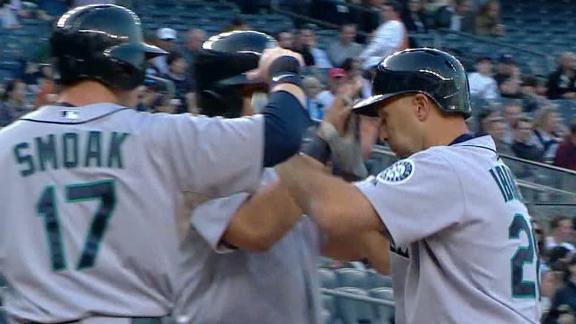 Raul Ibanez continued his torrid hitting at Yankee Stadium, and this time his Mariners teammates jumped on board, as Seattle swamped New York, 12-2, on Wednesday.
Share
Tweet
In need of an arm, Yanks call on shortstop

MLB.com

May 15, 2013

Shortstop Alberto Gonzalez came on to save the Yankees' bullpen in a blowout on Wednesday, when he relieved Brett Marshall and coaxed a fly ball in the ninth inning of New York's 12-2 loss to Seattle.

Share Tweet

A Major League Debut on His 26th Birthday

nytimes.com

May 15, 2013

David Adams, whose fractured ankle prevented him from being a part of a proposed Yankees trade for Cliff Lee in 2010, started at third base Wednesday night.

Share Tweet

nytimes.com profootballtalk.com

May 15, 2013

John Idzik, the general manager of the Jets, will not retain Scott Cohen, the assistant general manager. Ari Nissim, another high-ranking executive, also will depart.

Share Tweet

Jay-Z, Geno Smith link intensifies

Jets quarterback Geno Smith still hasn't hired a new agent. One of Smith's advisers, former West Virginia and NFL defensive lineman John Thornton, says Smith hopes to make a decision soon, likely after attending the NFLPA's Rookie Premiere in L.A. t

Share Tweet

nytimes.com ESPN.com profootballtalk.com nydailynews.com deadspin.com CNNSI.com thejetsblog.com

May 15, 2013

The Jets' quarterback situation took another strange turn Wednesday, when the veteran David Garrard called it quits because of his left knee.

Share Tweet

Teixeira plans to return before May ends

MLB.com

May 15, 2013

Yankees first baseman Mark Teixeira is pleased by his progress as he works his way back from a torn tendon sheath in his right wrist, and he hopes to rejoin the big league squad by the end of the month.

Share Tweet

Justice Dept. drops fraud charges against sports memorabilia dealer

The Justice Department dropped fraud charges against a New Jersey sports memorabilia dealer earlier this month after defense attorneys claimed witnesses — including three employees of the New York Giants -- lied to federal agents and the grand jury that

Share Tweet

Cueto set to return from DL for Reds next week

CNNSI.com

May 15, 2013

MIAMI (AP) Cincinnati Reds ace Johnny Cueto is on target to rejoin the rotation next week after making his second injury rehabilitation start.

Share Tweet

Rotoworld: Giants O-line ranks 4th in NFL

giantsfootballblog.com

May 15, 2013

Sam Spiegelman, ContributorIn Rotoworld's rankings of , the New York Giants' revamped unit took the fourth spot. Last year, the Giants' offensive line ranked fourth and second in terms of run blocking rankings, according to Pro Football Focus and Fo

Share Tweet

Post-Garrard, Jets must keep Mark Sanchez

ESPN.com

May 15, 2013

If there was any doubt about the immediate future of quarterback Mark Sanchez with the New York Jets, all questions should have been answered Wednesday. Sanchez and his $8.25 million guaranteed salary will remain in New York through the entire 2013 seas…

Share Tweet

giantsfootballblog.com thejetsblog.com

May 15, 2013

John Fennelly, Executive EditorKR Josh Cribbs, who visited the Giants last week, has decided to sign with the Raiders. After leaving meetings with the Giants, Jets and Lions without an offer, Cribbs circled back to Oakland and accepted their offer of a …

Share Tweet

Carmelo Anthony may have called Game 4 a "gut-check" for the Knicks, but Game 5 is something quite different. They will be facing elimination when they take on the Pacers Thursday at the Garden with a 54-win season potentially going to waste.

Share Tweet

Marty Mornhinweg hopes starting quarterback emerges quickly

If you're the sort of person who dreads the idea of hearing story after story about the Jets quarterback competition deep into August, you might be in luck. On a conference call with season ticket holders Wednesday, offensive coordinator Marty Mornhinwe

Share Tweet

Here's A Sad Picture Of James Dolan Watching Last Night's Game

deadspin.com

May 15, 2013

So the picture's a little out of focus, but that just adds to the hilarity. Look at how sad he is! Just sittin' there, mid-facepalm, watching his team get torched by the Pacers while struggling to digest whatever used to be on that sad, empty plate. For…

Share Tweet

The Top 10 Point Guards In The NBA This Season; Everyone Is Now Gunning For Russell Westbrook

dimemag.com

May 15, 2013

The point guard position in the NBA has quickly become one of the most competitive spots in all of sports. There are so many good lead guards in the NBA that it's impossible for any player at the position to take a night off. The position has seen a maj

Share Tweet

ESPN.com thejetsblog.com

May 15, 2013

Now that the 2013 NFL draft is in the books, the New York Jets are undergoing a major makeover in their front office. The latest report comes from Jason La Canfora of CBSSports.com, who reports New York will hire former Arizona Cardinals general manager…

Share Tweet

yahoo.com dimemag.com nydailynews.com ESPN.com

May 15, 2013

It's no secret that J.R. Smith can't buy a bucket these days - I mean, we've now even got a Twitter account mockumenting his every misfire. He's seemed lost for the last six games, and while he found a bit of rhythm in the fourth quarter of the New York

Share Tweet

Quirks of the Game: Should Baseball Right Umpire Wrongs?

nytimes.com

May 15, 2013

Quirks of the game: If an umpire is clearly wrong, should baseball do more to make it right?

Share Tweet

giantsfootballblog.com

May 15, 2013

Sam Spiegelman, Contributor, Victor Cruz has not yet made an appearance at Giants camp. That means there is a slot to fill. In Cruz's absence, third-year wideout Jerrel Jernigan . Though offensive coordinator Kevin Gilbride expects Cruz to return to the

Share Tweet

The Latest Mets Scandal Is So Stupid Even By Mets Scandal Standards

deadspin.com

May 15, 2013

Jordany "Took a Spring Training Fastball Right To The Dick" Valdespin doesn't do a whole lot on the Mets. He doesn't walk, he can't play much defense, and he's hitting .235. He pinch-hits, with a start in center or at second every so often. He…

Share Tweet

giantsfootballblog.com CNNSI.com profootballtalk.com

May 15, 2013

Restricted free agent Victor Cruz has lowered his contract demands, . Cruz, who was seeking No. 1 receiver-type of money, originally sought a deal worth $10-11 million per season. According to the report, Cruz has lowered his demands to the $8 million p…

Share Tweet

Chat wrap: Can Jones learn from Snyder?

ESPN.com

May 15, 2013

Some highlights from our regular weekly NFC East chat, which took place Tuesday: Les (East Windsor, NJ): Assuming Victor Cruz returns to the Giants, what do you see as the pecking order behind him and Hakeem Nicks? Dan Graziano: I think they'd like Rueb…

Share Tweet

Former Jets and Browns coach Eric Mangini, out of the NFL since the conclusion of the 2010 season, could be getting back in. Mangini is in talks with the 49ers about joining the team as a consultant, according to Jason La Canfora of CBS. The man who vau…

Share Tweet

ESPN.com thejetsblog.com nydailynews.com profootballtalk.com

May 15, 2013

Two more members of the New York Jets front office have been let go, as new general manager John Idzik continues his makeover of the franchise.

Share Tweet

thejetsblog.com profootballtalk.com

May 15, 2013

This week, John Idzik made it clear that the Jets would look to field roster spots this season through undrafted rookie free agents. Former Virginia Tech WR Marcus Davis went undrafted, and was cut less than a month after signing with the Giants. Even s…

Share Tweet

yahoo.com

May 15, 2013

The Juice returns for season No. 6! It's almost eligible for free-agency! Stop by daily for news from the action, along with great photos, stats, video highlights and more. Not counting Game 3 of the 2012 ALDS against the Yankees (which counts but ... y…

Share Tweet

Lyle Overbay, Yankees fill-ins overly impressive 

This season already has a bit of a storybook feel to it, the gutty, gritty, replacement Yankees defying predictions of doom and all that. So you figured Curtis Granderson would step right in and play a heroic role in his return to action on Tuesday.

Share Tweet

nydailynews.com ESPN.com

May 15, 2013

J.R. Smith has done nothing to live up to that 'Swish' moniker throughout these playoffs. His constant misfiring continues to be among the biggest reasons the Knicks trail 3-1 in the Eastern Conference semifinals after their 93-82 loss to the Pacers Tue…

Share Tweet

About Last Night: Knicks Can't Keep Pace

grantland.com

May 15, 2013

In case you were out looking at buffalo and thanking the heavens that you never had to actually traverse the Oregon Trail by wagon, here's what you mi...

Share Tweet

Derek Jeter's Diary: The Secret Advisory Council of Ghosts of True Yankees Past

grantland.com

May 15, 2013

The baseball season is a long and lonely road. To preserve his sanity, Yankees shortstop Derek Jeter keeps a diary. These are excerpts from The Captai...

Share Tweet

Ibanez Powers M's Past Yankees

May 15

Phil Hughes was chased in the first inning, and Raul Ibanez hit two home runs and drove in six runs in the Mariners' 12-2 win over the Yankees.

Knicks Finished?

May 15

Ian Begley and Jared Zwerling on the what the Knicks have to do to win Game 5 and avoid elimination.

Pacers-Knicks Game 5 Preview

May 15

Tim Legler breaks down the adjustments the Knicks need to make Thursday in Game 5.

Garrard Says He Is Leaving Jets

May 15

Mark Schlereth and Jason Taylor react to the news that QB David Garrard told his teammates he is leaving the Jets.