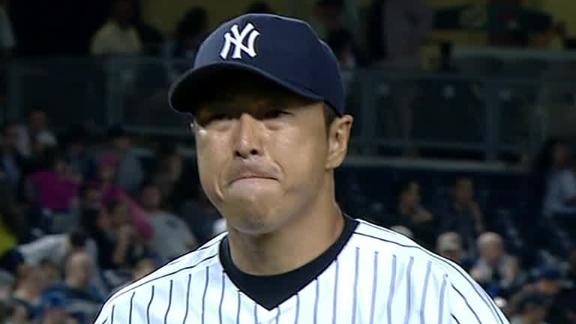 Hiroki Kuroda pitched two-hit ball for eight dominant innings and the New York Yankees again beat Mark Buehrle and the Toronto Blue Jays, 5-0 on Friday night.
Share
Tweet
nba.com yahoo.com nydailynews.com

May 17, 2013

The Indiana Pacers head into Game 6 against the New York Knicks in unfamiliar territory.

Share Tweet

CNNSI.com ESPN.com nydailynews.com

May 17, 2013

Yankees pitcher Andy Pettitte is being put on the 15-day disabled list because of a strained left trapezius muscle in his upper back.

Share Tweet

Matt Harvey won his fifth straight decision, allowing five hits in 7 1/3 innings and singling in the go-ahead run in the seventh inning to lead the New York Mets over the Chicago Cubs 5-0 Friday.

Share Tweet

profootballtalk.com ESPN.com nytimes.com nydailynews.com deadspin.com yahoo.com thejetsblog.com

May 17, 2013

Jets running back Mike Goodson was just the passenger this morning, but he's far from off the hook. Goodson was charged with five gun and drug counts Friday morning, after New Jersey State Police found the car he was riding in parked in the middle of Ro

Share Tweet

New York Knicks Block Party, Kawhi Leonard Dunks and the NBA Plays of the Night

dimemag.com

May 17, 2013

Check out the NBA's picks for the Top 5 Plays from last night's two playoff games. Various Knicks' swats make it in, but curiously not this beast Tyson Chandler destruction of a Tyler Hansbrough sure bucket. Check out huge dunks from Paul George, Ka

Share Tweet

ESPN.com

May 17, 2013

New York Jets quarterback Geno Smith has been a lightning rod before, during and after the NFL draft. The media is following Smith's every move and analyzing. The latest will be Smith's decision to hire a new agent. I was among several reporters who c

Share Tweet

thejetsblog.com

May 17, 2013

The Jets top draft pick, former Alabama cornerback Dee Milliner fired Impact Sports, his former agency of record, after not being selected in the top five of last month's 2013 NFL Draft. Milliner is now the second Jets rookie fire his agency in the wake

Share Tweet

giantsfootballblog.com

May 17, 2013

Free agent DE Dwight Freeney left San Diego without a contract this week. The market has been thin for the former Colts' star and now his father has take to the airwaves to lobby for his son. From PFT: "He'd love to be with the Giants, but the Giant

Share Tweet

Tracing Doug Whaley's move from Wall Street to Bills G.M. The Dolphins signed undrafted rookie T Rupert Bryan and plan to move him to fullback. Do the changes on the defensive line foreshadow scheme changes for the Patriots? Jets G Vladimir Ducasse know

Share Tweet

nytimes.com

May 17, 2013

The Jets receiver became a critic of the game and its role in American society. But the decision to walk away was also personal.

Share Tweet

Jets General Manager John Idzik said this week that when his team took a look at Josh Cribbs, they found that his knee "isn't quite there yet." Cribbs, who subsequently signed with the Raiders, thinks Idzik was just trying to bring Cribbs' price d

Share Tweet

Cope springs into action in Knick of time

Chris Copeland has known his place on the veteran-laden Knicks throughout his long-awaited first NBA season. The dreadlocked 29-year-old rookie carries around a reminder of that status every day - a pink Disney princesses backpack.

Share Tweet

Knicks grind out Game 5 win, but not all is cured

CNNSI.com

May 17, 2013

The Knicks were far from perfect in Game 5, but an 85-75 win over the Pacers kept their season alive ... for now. Ben Glicksman explains New York is still figuring its problems out.

Share Tweet

Smith rebounds with sixth sense

J.R. Smith played a solid, even-keeled game Thursday night against the Pacers at the Garden, scoring 13 points with six rebounds and three steals in an 85-75 victory that kept the Knicks' season alive in Game 5 of the Eastern Conference semifinals.

Share Tweet

Lawrence: Knicks pounce on playmaker-less Indy

An elbow from Game 4 out in Indianapolis went a long way toward getting the Knicks back to the Circle City for one more basketball game on Saturday. Tyson Chandler threw it, George Hill caught it with his noggin and the Knicks used Hill's absence on Thu

Share Tweet

The New York Giants made a change at the tight end position on Thursday. The Giants signed former Kentucky quarterback-turned-tight end Morgan Newton after having him in for a tryout during the team's rookie mini-camp last week. Newton replaces former A

Share Tweet

Knicks Insider: No Kidd-ing! Jason & Amar'e bench mates

Mike Woodson left no doubt that he was in full "win-or-go home" mode in Thursday's elimination-avoiding Game 5 victory over Indiana. Woodson benched two of his most accomplished players, returning big man Amar'e Stoudemire and slumping guard Jason

Share Tweet

Thomas won't rule out returning next year at age 41

Kurt Thomas is undecided about whether to regain his title as the NBA's oldest player next season. Thomas is recovering from right foot surgery and is two weeks from being off crutches. The 40-year-old is a free agent after the Knicks released him last

Share Tweet

Kuroda, Yankees Blank Blue Jays

May 17

Hiroki Kuroda struck out five batters over eight innings to lead the Yankees past the Blue Jays 5-0.

Knicks-Pacers Game Six Preview

May 17

Antonio Davis discusses his X factor in Game 6 of the Knicks-Pacers matchup.

Harvey Earns Win, Drives In Winning Run

May 17

Mets pitcher Matt Harvey struck out six batters in 7 1/3 innings and drove in the winning run to lift the Mets to a 3-2 win against the Cubs.

E:60 - Mariano Rivera

May 17

E:60 reporter Tom Rinaldi accompanies Rivera to the small fishing village in Panama where he grew up and gets the future Hall-of-Famer to open up about his final season, the injury that almost ended his career, and his place in baseball history.