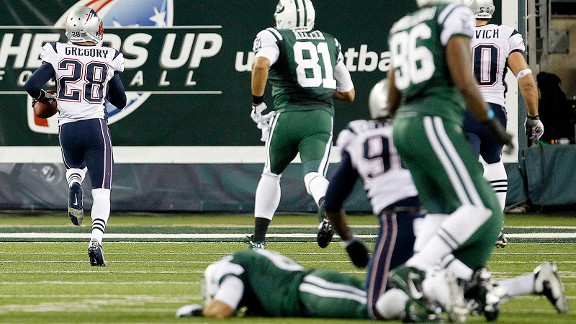 nydailynews.com
ESPN.com
Updated Nov 22, 2012
Five days after the Jets resuscitated their flickering playoff hopes with a rout over the Rams, Rex Ryan's team suffered an epic meltdown at the worst possible time to the worst possible team. The Patriots embarrassed the Jets, 49-19, in a Thanksgiving
Share
Tweet
thejetsblog.com CNNSI.com profootballtalk.com

Nov 22, 2012

That game was a total disaster.  What is there to say that needs to be said? There were fans dressed up in turkey outfits and pilgrim hats in the stands who looked less bizarre than the Jets players did.  Jets fans, take the weekend off because the Jets

Share Tweet

When the Patriots lost to the Seahawks in Week Six, they were 3-3 and hearing questions about whether they would be able to mount a challenge for the AFC crown once again this season. They've played five games since then and won them all. With Thursdayâ

Share Tweet

Pats embarrass Jets; Belichick nets 200th win

ESPN.com

Nov 22, 2012

Tom Brady threw three touchdown passes and ran for a score as the New England Patriots embarrassed the New York Jets with a 35-point second quarter in a 49-19 victory Thursday night.

Share Tweet

nydailynews.com

Nov 22, 2012

The Giants love to play big in big games. And even though they got an early holiday gift Thursday when Dallas lost to Washington, Sunday night's showdown with the Green Bay Packers still looms large for Big Blue.

Share Tweet

Jets' Tebow edges President as preferred T-Day guest

CNNSI.com

Nov 22, 2012

Jets' Tebow edges President as preferred T-Day guest

Share Tweet

The Jetsiest Jets Play Ever: Mark Sanchez Fumbles After Getting Floored By His Lineman's Ass

deadspin.com

Nov 22, 2012

A Mark Sanchez fumble, caused by a teammate's ass in mid-pratfall, returned for a touchdown. God bless you, New York Jets. You're one of life's inherently funny things, like words with "k" sounds or Millard Fillmore or talking bears. More »

Share Tweet

nydailynews.com

Nov 22, 2012

Jeremy Lin will greet his former teammates on Friday with a fist bump and perhaps a quick embrace, which is standard NBA protocol before the jump ball.

Share Tweet

profootballtalk.com giantsfootballblog.com

Nov 22, 2012

Beating the Patriots was going to take something close to a flawless game from the Jets. They haven't gotten it. Four first half turnovers have become 28 Patriots points and New England leads 28-0 with about eight minutes to play in the first half at th

Share Tweet

ESPN.com profootballtalk.com

Nov 22, 2012

New England tight end Aaron Hernandez is active for the Patriots' game against the New York Jets after missing the last three because of a sprained right ankle.

Share Tweet

Thanksgiving night may be Tebow-free. When the Jets turn in their inactives for Thursday night's game, quarterback Tim Tebow may be on the list. He's questionable with a rib injury.  A league source tells PFT that his availability will be determined

Share Tweet

thejetsblog.com profootballtalk.com

Nov 22, 2012

Just a few hours before kickoff against the New England Patriots, the Jets have announced the promotions of wide receiver Jordan White and cornerbacks Donnie Fletcher and Darrin Walls from the practice squad. White's promotion was a foregone conclusion

Share Tweet

In or Out: The Playoffs Start Now

For the Jets, the situation is dire.  On a short week against their long-time divisional rivals, the Jets need a win more than ever and this game is their biggest hurdle between now and the end of the season. Can they get the win?  If they do, then the

Share Tweet

Jets Receivers Questionable Going Into Game

With Gronk and Chandler Jones out of tonight's game for the Pats, New England isn't the only ones dealing with injuries heading into tonight's game. Jeremy Kerley will be a game time decision, among others. Plus, Jordan White gets bumped up to the a

Share Tweet

Thursday morning one-liners

Various members of the Bills tried to identify the football equivalent of Jack Taylor's 138-point game. Though Jets S LaRon Landry visited the Patriots before signing in New York, Landry says he wants to remain a Jet. The Dolphins, though not fishes, ca

Share Tweet

dimemag.com ESPN.com

Nov 22, 2012

Today you probably woke up with excitement in your eyes because of the amazing dinner selection that will await most of us later in the day. Thanksgiving is famous because of the turkey, ham and stuffing that we all love to engulf over the holiday. But …

Share Tweet

Bold Predictions: Patriots at Jets 11/22/12

In big mismatched games, we like to throw out some crazy predictions.  Sometimes they work, most times they don't.  You can fully expect us to crow about the ones we get right while never mentioning the ones we totally blew.  Add your bold prediction

Share Tweet

SNYGiants Week 12 NFL Picks

The Giants are back in action this week against the Packers in search of a win. Here are this week's picks. The Giants will have their bye this week. I'll be using the point spreads from . Feel free to include your picks for these or any other of the

Share Tweet

Accorsi could be going young with his G.M. recommendation in Carolina

Former Giants and Colts G.M. Ernie Accorsi has been hired to help Panthers owner Jerry Richardson find the franchise's next General Manager.  The buzz in league circles is that Accorsi will recommend going with a younger option. So far, three names hav

Share Tweet

No, the G-Men don't suit up today. But that doesn't mean today's NFC East bout between the suddenly surging Cowboys and Redskins doesn't have playoff ramifications for those teams and the Giants. The Giants, currently sitting at 6-4, have a Sunday

Share Tweet

Bellore's Beard > Mangold's Beard ?

FLORHAM PARK, N.J. — The affable, somewhat sarcastic, always approachable Nick Bellore is a marked man in the Jets locker room. Bellore and his beard For 22 days now, the Jets linebacker has been the target of his teammates as part of the "No Shave No

Share Tweet

Giants-Packers: Each Team Looking For Revenge This Week

The Giants dusted off the 15-1 Packers last January in the NFC Playoffs en route to the Super Bowl. Green Bay called that win lucky. This past summer, in an interview with YaHoo Sports, Packers LB Clay Matthews said: "We picked the most inopportune time

Share Tweet

Thanksgiving Morning Report: All Aboard for the Six-Game Season

The Giants will convene early today and then break for Thanksgiving dinner with their families. With a late game this week, the bulk of the practicing has been pushed to Friday. The team is on a two-game losing streak and there have been rumblings of ov…

Share Tweet

New York Giants safety Kenny Phillips has missed the Giants last six games after suffering an MCL injury in late September. That could all change this week as Phillips hopes to play on Sunday night against the Green Bay Packers. According to Ebenezer Sa…

Share Tweet

CNNSI.com

Nov 22, 2012

On the same day he declined to publicly name a starting quarterback, 49ers coach Jim Harbaugh informed incumbent Alex Smith that Colin Kaepernick would get the nod Sunday at New Orleans, a source told SI.com.

Share Tweet

New York Jets running back Bilal Powell 4-yard TD run

Nov 22

New York running back Bilal Powell bursts through the New England defensive unit for a 4-yard touchdown run, giving the Jets their first touchdown of the game.

New York Jets honor Superstorm Sandy victims

Nov 22

Melissa Stark tells the story of two Jets fans tragically killed in Superstorm Sandy and how the New York Jets plan to honor them at Thursday night's game.

Double Coverage: Which Ryan brother is under more pressure?

Nov 22

Is New York Jets head coach Rex Ryan or Dallas Cowboys defensive coordinator Rob Ryan under more pressure? Steve Wyche and Mark Kriegel discuss which Ryan brother is under more pressure.

Opening Drive: Which team will pull off the upset?

Nov 22

Which team is hungry enough to surprise us on Thanksgiving Day? Find out why one analyst has faith in a team that many have already written off.