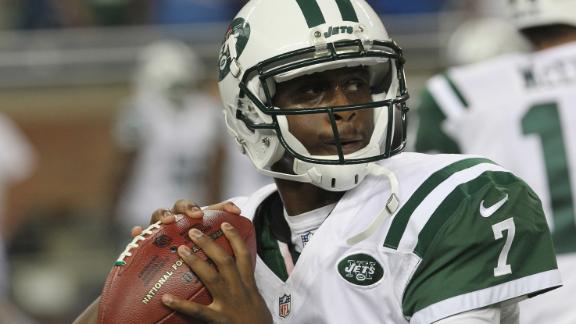 Updated Sep 4
Share
Tweet
Woody Johnson spoke with appalling carelessness Wednesday morning that revealed just how much the Jets have distanced themselves from Mark Sanchez. The owner stood on the corner of 57th St. and Fifth Ave. and delivered a bizarre take on Rex Ryan's ill-a…
Sources:
nydailynews.com
ESPN.com
profootballtalk.com
Updated Sep 4

Share Tweet

Finally it's official– The New York Jets announced on Wednesday that rookie Geno Smith will be the starting quarterback for this Sunday's game against the Tampa Bay Buccaneers. "We're very comfortable with Geno," Rex Ryan said. "I think we're confident …

Sources:

jetsgab.com ESPN.com profootballtalk.com nytimes.com yahoo.com nydailynews.com thejetsblog.com

Updated Sep 4

Share Tweet

Struggling ace CC Sabathia pitched effectively into the eighth inning before Mariano Rivera earned his first four-out save in more than two years, helping the New York Yankees hold off the Chicago White Sox 6-5 on Wednesday night for a three-game sweep.

Result Is Often Sour, for a Week, Anyway

Updated Sep 4

Share Tweet

Beginning in 1965, the Giants have stumbled out of the gate whenever they've faced the Cowboys. Twice, though, the Giants have recovered to win the Super Bowl.

Source:

nytimes.com

Scouting the Jets: Playoffs a pipe dream for Gang Green

Updated Sep 4

Share Tweet

The Jets enter the 2013 season with the lowest expectations since the Rex Ryan era began five seasons ago. Last season was a mess and things don't look to be getting better. Gang Green is hoping the youth movement new GM John Idzik has initiated can tur…

Scouting the Giants: Big Blue looks for Super win in own building

Updated Sep 4

Share Tweet

Every team starts the season with Super Bowl aspirations, but the Giants have a bigger dream: winning the Lombardi Trophy in their own building. The goal is the reason GM Jerry Reese had a Super Bowl countdown clock installed in Big Blue's locker room.

AFC East preview: Pats lead underwhelming crop

Updated Sep 4

Share Tweet

The division that has put a representative in six of the last seven AFC title games could be the worst in football, given the travails of the Jets and the growing pains of the Dolphins and Bills.

Simms named Jets' backup QB for Sunday

Updated Sep 4

Share Tweet

New York Jets coach Rex Ryan announced Wednesday that Matt Simms is the team's backup quarterback for Sunday's game against Tampa Bay, ahead of recently signed veteran Brady Quinn. The Jets have clearly been impressed with Simms as the Jets kept him ove…

Updated Sep 4

Share Tweet

FLORHAM PARK, N.J. (AP) Santonio Holmes will likely be on the field for the New York Jets in their season opener.

NFC East Preview: Redskins have slight edge in wide-open division

Updated Sep 4

Share Tweet

The division is the most wide-open in football, with so many variables. Can Robert Griffin III stay on the field for the Redskins? Will the Giants find a pass rush? Can the Cowboys find mental toughness? Can Chip Kelly's up-tempo Oregon offense work in …

Updated Sep 4

Share Tweet

The NY Giants starting offense and defense has been released to the media and there really aren't too many surprises. via the Star-Ledger: OFFENSE: WR Hakeem Nicks LT Will Beatty LG Kevin Boothe C David Baas RG Chris Snee RT Justin Pugh TE Brandon Myers…

Updated Sep 4

Share Tweet

When the New York Jets traded top cornerback and fan favorite Darrelle Revis to the Tampa Bay Buccaneers this offseason, they opened themselves up to plenty of scrutiny. On Sunday, when Revis returns to MetLife Stadium to face the Jets, it could provide…

Jets injury report: Coples, Douzable, Sanchez, Winslow miss practice

Updated Sep 4

Share Tweet

The first Jets injury report was released today, and Quentin Coples, Leger Douzable, Kellen Winslow and Mark Sanchez did not participate in practice. Antonio Cromartie, Kenrick Ellie and Santonio Holmes were all limited on Wednesday. Here's the full lis…

Updated Sep 4

Share Tweet

Well, this could get awkward. Mariano Rivera has been fawned over all season as he heads toward retirement. There have been all the gifts, the farewells at each visiting stadium, the All-Star Game moment, that special cap, the jet. And now New York Yank…

Updated Sep 4

Share Tweet

Could Leon Washington be returning to the Jets? According to sources close to the team, Leon Washington and the Jets might be in discussions about a return to play for New York. Per Jake Steinberg on Twitter. The #Jets are showing a lot of interest in L…

Updated Sep 4

Share Tweet

Giants coach Tom Coughlin sounded an optimistic note when describing two of his injured stars today, saying that defensive end Jason Pierre-Paul and receiver Victor Cruz are "full speed ahead." However, PFT's Mike Florio is reporting that Pierre-Paul, w…

Updated Sep 4

Share Tweet

Earlier this week, the Jets signed Brady Quinn to their active roster so they had a little more experience in terms of their depth at the quarterback position. Unlike most of the pickups this year, most Jets fans probably are pretty familiar with Quinn,…

YES Network in talks to land 'Boomer and Carton' show from MSG 

Updated Sep 4

Share Tweet

Norman Julius Esiason and Craig Carton could be on the verge of leaving the Madison Square Garden Network and heading for the Yankees Entertainment & Sports Network, according to industry sources.

Updated Sep 4

Share Tweet

IRVING, Texas -- Tony Romo swears things will be different in 2013. After a three-interception game against Detroit in 2011, Romo said he had to stop trying to do too much. After a five-interception game against the New York Giants in 2012 -- a month af…

Updated Sep 4

Share Tweet

EAST RUTHERFORD, N.J. -- Antrel Rolle vowed that Jason Witten will not torch the New York Giants defense for 18 receptions again. The last time the Giants faced Witten, Tony Romo's favorite tight end had 18 catches for 167 yards -- an NFL record for a t…

Sources:

ESPN.com nydailynews.com

Infographic: Which MLB Team Has The Most Expensive Beer, Per Ounce?

Updated Sep 4

Share Tweet

We've given plenty of grief to the Yankees for their misleading advertising, but new data from the Team Marketing Report–which tracks sports attendance costs for its annual fan index–show that Boston has the most expensive beer at $0.60 an ounce, follow…

Source:

deadspin.com

Updated Sep 4

Share Tweet

EAST RUTHERFORD, N.J. -- A year ago, Will Beatty was one of the main question marks on the New York Giants' offensive line. Now, he's its reliable constant. The right tackle's a rookie, the veteran right guard is coming off of hip surgery. The center wa…

Nova is AL Pitcher of the Month

Updated Sep 4

Share Tweet

Yankees starter Ivan Nova's perfect August has earned him American League Pitcher of the Month honors.

Quote: Woody Johnson on QBs

Updated Sep 4

Share Tweet

"The competition is not finished. The competition is ongoing." -Jets owner Woody Johnson on the Jets quarterbacks

Two homers back solid Gee as Mets roll

Updated Sep 4

Share Tweet

Andrew Brown and Lucas Duda went deep in a 5-2 win over the Braves to back Dillon Gee, who cruised to his 11th victory amid a hot streak that has seen him prevail against injuries and adversity.

SI Now: Revived Yankees

Updated Sep 4

Share Tweet

On Wednesday's SI Now, Sports Illustrated staff writer Ben Reiter and SNY anchor Kirk Gimenez discuss the Yankees' push to make the MLB postseason, the impact Alfonso Soriano has made, and how important staying healthy is to the team's playoff dreams

Updated Sep 4

Share Tweet

The New York Giants on Wednesday placed injured running back Andre Brown on injured reserve with a designation for a possible return.

Sources:

ESPN.com profootballtalk.com giantsgab.com

Mike Goodson restructures contract, takes paycut

Updated Sep 4

Share Tweet

Mike Goodson restructures his deal with the Jets and took a paycut, according to Over The Cap. Due to his arrest, Goodson could have been fined for practices and preseason games he missed, but the two sides worked on the deal to help alleviate some of t…

Channing Frye has been cleared by doctors to resume playing, is waiting on the Suns to bring him back

Updated Sep 4

Share Tweet

Phoenix Suns forward Channing Frye burst onto the scene as an aggressive, sweet-shooting rookie back in 2005, working with the New York Knicks during the depths of the Isiah Thomas era. His production has tailed off a bit in the years since that impress…

Source:

yahoo.com

Updated Sep 4

Share Tweet

The history of "wink wink" injuries suffered by defensive players when no-huddle offenses are streaming down the field is a long one in the NFL, but it is usually accompanied by the kinds of denials we heard from former Giants safety Deon Grant in 2011 …

Collins doesn't expect Davis to return in '13

Updated Sep 4

Share Tweet

Ike Davis received a cortisone injection in his right side Tuesday at the Hospital for Special Surgery in Manhattan, and neither the New York Mets first baseman nor manager Terry Collins expects him to return this season.

Updated Sep 4

Share Tweet

Coach Jason Kidd is buying a portion of Jay-Z's minority share of the Brooklyn Nets, a source confirmed for ESPN.com's Darren Rovell.

Sources:

ESPN.com yahoo.com dimemag.com

Updated Sep 4

Share Tweet

IRVING, Texas -- Now that Brian Waters is a member of the Dallas Cowboys, how long will it take the veteran guard to be ready to play in a game? Coach Jason Garrett was non-committal about Waters playing Sunday against the New York Giants. "He's been a …

Study Ranks Charlotte Bobcats 4th In NBA Social Media Equity

Updated Sep 4

Share Tweet

Before they signed Al Jefferson this summer, the Charlotte Bobcats (soon to be Hornets again) were the laughingstock of the NBA. Majority owner and Oz behind the curtain Michael Jordan fired another one-year coach Mike Dunlap this offseason and hired St…

Source:

dimemag.com

Upton replaces Schafer (quad) for Braves

Updated Sep 4

Share Tweet

Jordan Schafer has been removed from the Braves' lineup against the Mets due to a left quadriceps contusion.

Updated Sep 4

Share Tweet

Rex Ryan has taken some criticism for taking the day off on Saturday to attend his son's game at Clemson. But his boss isn't among those criticizing him. Jets owner Woody Johnson supported Ryan's decision to go to Clemson and had no problem with it, Joh…

Sources:

profootballtalk.com nydailynews.com

Updated Sep 4

Share Tweet

Some people are fans of the New York Giants. But many, many more people are NOT fans of the New York Giants. This 2013 Deadspin NFL team preview is for those in the latter group. Read all the 2013 NFL previews so far right here.Read more...

Source:

deadspin.com

Updated Sep 4

Share Tweet

He hasn't faced the Bills defense under Mike Pettine yet, but Patriots head coach Bill Belichick has seen the Pettine scheme in action before with the Jets. That's why he's expecting blitz and a good deal of it Sunday. "Quite a bit, percentage-wise," sa…

Source:

buffalobills.com

Updated Sep 4

Share Tweet

In the final 20 days before the start of the regular season, we are counting down the top 20 players in the NFC East. For a full explanation, see this post. And if you want to read any of the other posts that have run since we started this series, you c…

Sources:

ESPN.com giantsgab.com

More Workouts for the NY Giants

Updated Sep 4

Share Tweet

Via the National Football Post: (Share Clip) The post More Workouts for the NY Giants appeared first on Giants Gab.

Deadline to get under the salary cap is 4pm EST today

Updated Sep 4

Share Tweet

Teams under real sal cap today-53players,IR, PSQD,,settlements, dead$$ all counts-more cuts. reneogiations,extensions today. — Pat Kirwan (@PatKirwanCBS) September 4, 2013 All preseason we've known the Giants are just barely under the cap. However, toda…

Officials breakdown: Tony Corrente

Updated Sep 4

Share Tweet

IRVING, Texas -- Tony Corrente's officiating crew will call Sunday's game between the Dallas Cowboys and New York Giants. The Cowboys have not had Corrente since the 2010 season finale at Philadelphia, a 14-13 win directed by Stephen McGee. In that game…

Lakers sign former Nets, Knicks 3-point marksman Williams

Updated Sep 4

Share Tweet

Shawne Williams has signed with the Los Angeles Lakers, reuniting the journeyman forward with coach Mike D'Antoni.

Source:

nba.com

Updated Sep 4

Share Tweet

Belichick Catching the Leader; Meet Jameis Winston

Terrell Thomas: We're not worrying about Week One

Updated Sep 4

Share Tweet

Patience is a virtue near and dear to Giants cornerback Terrell Thomas' heart. The Giants have shown tremendous patience with a player that hasn't played since the end of the 2010 season because of a pair of torn ACLs and Thomas wants fans of the team t…

Updated Sep 4

Share Tweet

The Giants haven't done the paperwork with injured running back Andre Brown yet, but they're still expected to put him on the injured reserve/designated for return list, which would knock him out for eight games. And they're taking a look at possible re…

Yanks demote Hughes to bullpen; Huff to start

Updated Sep 4

Share Tweet

New York Yankees manager Joe Girardi has demoted the struggling Phil Hughes to the bullpen and will instead start lefty David Huff during this weekend's series against the Boston Red Sox.

Updated Sep 4

Share Tweet

Evan Gattis and Andrelton Simmons hit a pair of seventh-inning home runs that supported Kris Medlen's stellar effort and gave the Braves a 3-1 win over the Mets on Tuesday night, reducing their magic number to clinch the National East to 10.

Jets Insider: No Revis in tale of the tape

Updated Sep 4

Share Tweet

Geno Smith said he took the initiative and began studying film on the Buccaneers last week in preparation for starting against them in the season opener, even though he didn't know at the time whether he would be the No. 1 quarterback.

Victor bulks up to gain Cruz control

Updated Sep 4

Share Tweet

Congratulations to the 2012 Cowboy defense, which did such a good job shutting down Victor Cruz with physical bumping and jostling that he was motivated to come back bigger and stronger in 2013.

Updated Sep 4

Share Tweet

The Yankees were shut down by hard-throwing left-hander Chris Sale for 7 1/3 innings, but they turned a five-run eighth inning into a 6-4 victory over the White Sox on Tuesday night.

Revis Says He'll Share Jets' Secrets

Sep 4

ESPN.com Buccaneers' reporter Pat Yasinskas assesses Darrelle Revis sharing the Jets' secrets before the opener in New York.

Inside Edge: Giants-Cowboys

Sep 4

ESPN Insider Mike Sando delivers some key stats to help you decide a winner between the New York Giants and Dallas Cowboys.

Rookie Starting QB's

Sep 4

NFL Live breaks down their expectations for EJ Manuel and Geno Smith.

More likely to succeed: Buffalo Bills quarterback EJ Manuel or New York Jets QB Smith?

Sep 4

Geno Smith and EJ Manuel are set to start in Week 1 for the New York Jets and Buffalo Bills, respectively, but are they ready? A panel of experts weighs in on "Around the League Live."