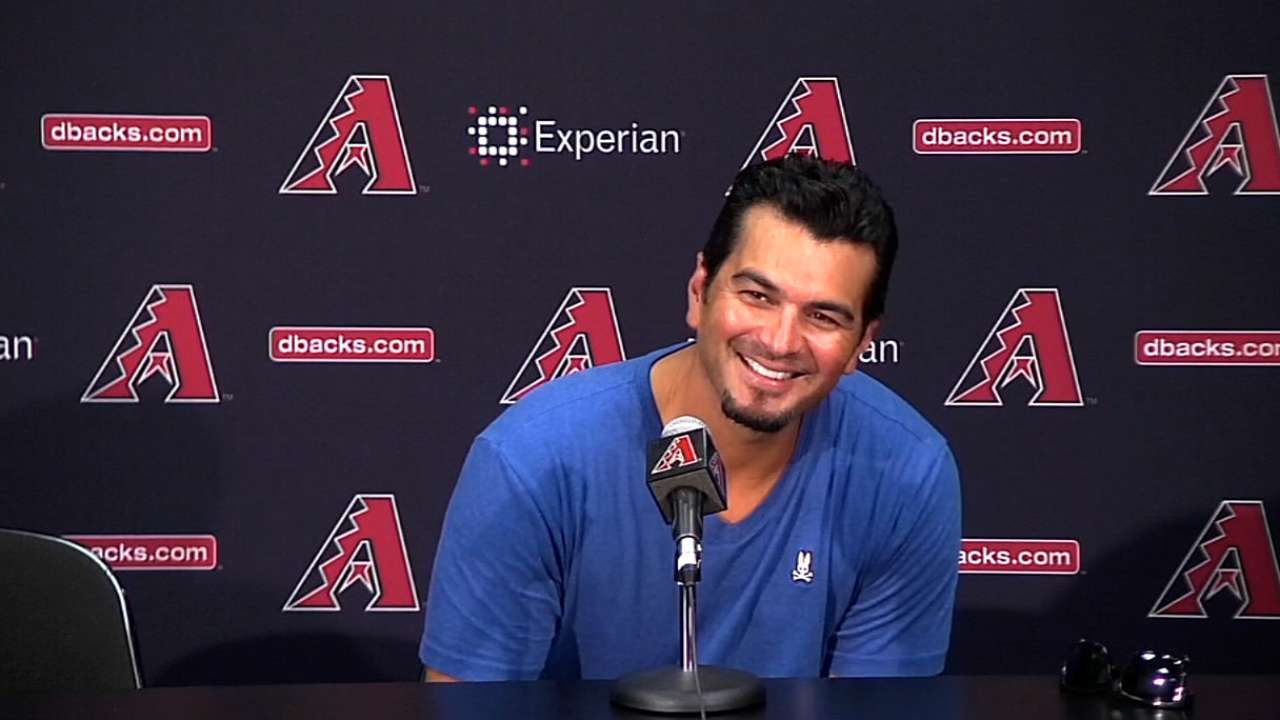 Revisions made to Yankees' spring schedule

MLB.com

15 hours ago

The Yankees announced on Friday that four revisions have been made to their 2015 Spring Training schedule.

Upvote Share Tweet

nydailynews.com

Oct 31 (yesterday)

The Jets once brought in Joe Girardi to teach Mark Sanchez how to slide. Now they should bring in Brian Cashman to teach John Idzik how to deal with the media. When it comes to maneuvering and manipulating, when it comes to either answering questions ca…

Upvote Share Tweet

Bird, Mondesi added to Fall Stars Game rosters

MLB.com

Oct 30 (yesterday)

The Arizona Fall League announced Wednesday six players have been added to the rosters for Saturday's Fall Stars Game, including Scottsdale first baseman Greg Bird, the circuit's home run leader and Yankees' No. 11 prospect, and Peoria shortstop Raul Mo…

Upvote Share Tweet

Imagine if the SF Giants could turn to Zack Wheeler in World Series Game 7 vs. the Royals 

nydailynews.com

Oct 29 (3 days ago)

The Giants are proof of what great scouting and some good fortune can produce with high draft picks, the type the Yankees haven't had in 20-some years.

Upvote Share Tweet

Yanks, Mets donate Berra replicas to museum

ESPN.com

Oct 27 (5 days ago)

According to a statement on the website of the Yogi Berra Museum and Learning Center in Little Falls, New Jersey, Berra's two former teams, the Yankees and Mets, will donate replicas of the priceless items stolen from the museum in an Oct. 9th burglary.

Upvote Share Tweet

Sports Briefing | Baseball: High School Star Is Top Pick in Japan

nytimes.com

Oct 24

A high school pitching star, Tomohiro Anraku, was chosen first over all in Nippon Professional Baseball's amateur draft by the Rakuten Eagles, the former team of Yankees pitcher Masahiro Tanaka.

Upvote Share Tweet

nydailynews.com

Oct 23

Sometimes you get the idea the Knicks don't need Phil Jackson around, even using him for cover until they get enough good players one of these days, nearly as much as we do in the big city. You can make a case, and it's not really that hard now that the…

Upvote Share Tweet

nytimes.com MLB.com

Oct 23

It came as little surprise that the Mets hired Long, the hitting coach the Yankees dismissed this month, given the struggles of Curtis Granderson, the former Yankee who became the Mets' most expensive free-agent signing in years.

Upvote Share Tweet

Sabathia nearly '100 percent,' ready to anchor rotation

MLB.com

Oct 21

Three months removed from season-ending right knee surgery, Yankees left-hander CC Sabathia said on Tuesday that he feels "pretty much back to 100 percent" and expects to be ready for a full workload of 32 starts and 200 innings in 2015.

Upvote Share Tweet

Could the Yankees ever be Royals? Young and athletic K.C. is everything that Bombers are not

nydailynews.com

Oct 18

This was after Game 2 of the ALCS in Baltimore, in which the resurgent Royals had just beaten the Orioles at their own game again, and a couple of scouts were discussing the way the series was going.

Upvote Share Tweet

Second baseman Brian Roberts is retiring, according to The Baltimore Sun. The 37-year-old Roberts spent 13 of his 14 Major League seasons with the Orioles and played his last year with the Yankees.

Upvote Share Tweet

Sports of The Times: Steinbrenner's Revolving Door Sent a Champion to the Royals

nytimes.com

Oct 18

Manager Dick Howser, spurned by the Yankees owner George Steinbrenner, led the Royals to their 1985 World Series title.

Upvote Share Tweet

Young Mets Discover Unlikely Pals: Yankees

nytimes.com

Oct 18

The prospects for the Yankees and Mets find themselves mingling as teammates in the Arizona Fall League.

Upvote Share Tweet

Yankees, Mets can't match Giants shortstop Brandon Crawford

nydailynews.com

Oct 17

Friday's San Francisco Chronicle devoted six full pages to the Giants' series-clinching win over the Cardinals, and I couldn't find a single mention of the brilliant and potentially game-saving play by shortstop Brandon Crawford.

Upvote Share Tweet

nytimes.com

Oct 17

The former owner of a South Florida anti-aging clinic pleaded guilty Thursday to charges of illegally providing performance-enhancing drugs to athletes including high-profile Major League Baseball players, most notably Alex Rodriguez of the Yankees.

Upvote Share Tweet

A's hitting coach Davis to interview with Yanks

MLB.com

Oct 15

A's hitting coach Chili Davis has reportedly granted both the Yankees and Rangers permission to interview him for the same position. A source confirmed to MLB.com that Davis has already committed to a trip to New York for an interview, as first reported…

Upvote Share Tweet

Yanks huddle up to draw offseason game plan

MLB.com

Oct 13

The Yankees started meetings with their professional scouts on Monday in New York, with general manager Brian Cashman's staff entering the beginning stages of outlining what must be done to get the team back to the postseason in 2015.

Upvote Share Tweet

Somehow Yankees continue to perpetuate Bronx tale that they are close to winning World Series every year — they're not

nydailynews.com

Oct 11

The Final Four in baseball this year is Orioles, Royals, Cardinals, Giants. Right now, because of the way they begin the playoffs, the big story is the Royals, who haven't been in the playoffs since 1985.

Upvote Share Tweet

nytimes.com yahoo.com ESPN.com

Oct 11

New York Yankees general manager Brian Cashman said that manager Joe Girardi recently spoke to Alex Rodriguez about playing first base next season.

Upvote Share Tweet

Youkilis To Retire From Baseball

Oct 30

ESPN senior baseball writer Jerry Crasnick discusses Kevin Youkilis retiring from baseball.

30 for 30: Brothers in Exile - Temptation

Oct 29

Players are often tempted by outside influence while playing for The Cuban National Team. 30 for 30: Brothers in Exile premieres Tuesday November 4th at 9pm ET on ESPN.

Teixeira Ready For 2015

Oct 22

Yankees 1B Mark Teixeira talks about Derek Jeter's retirement, Alex Rodriguez's return and his expectations for the 2015 season.

Yanks Re-Sign GM Cashman

Oct 10

Andrew Marchand discusses the three-year deal reached between the Yankees and general manager Brian Cashman, as well as what the team's priorities are for the offseason.