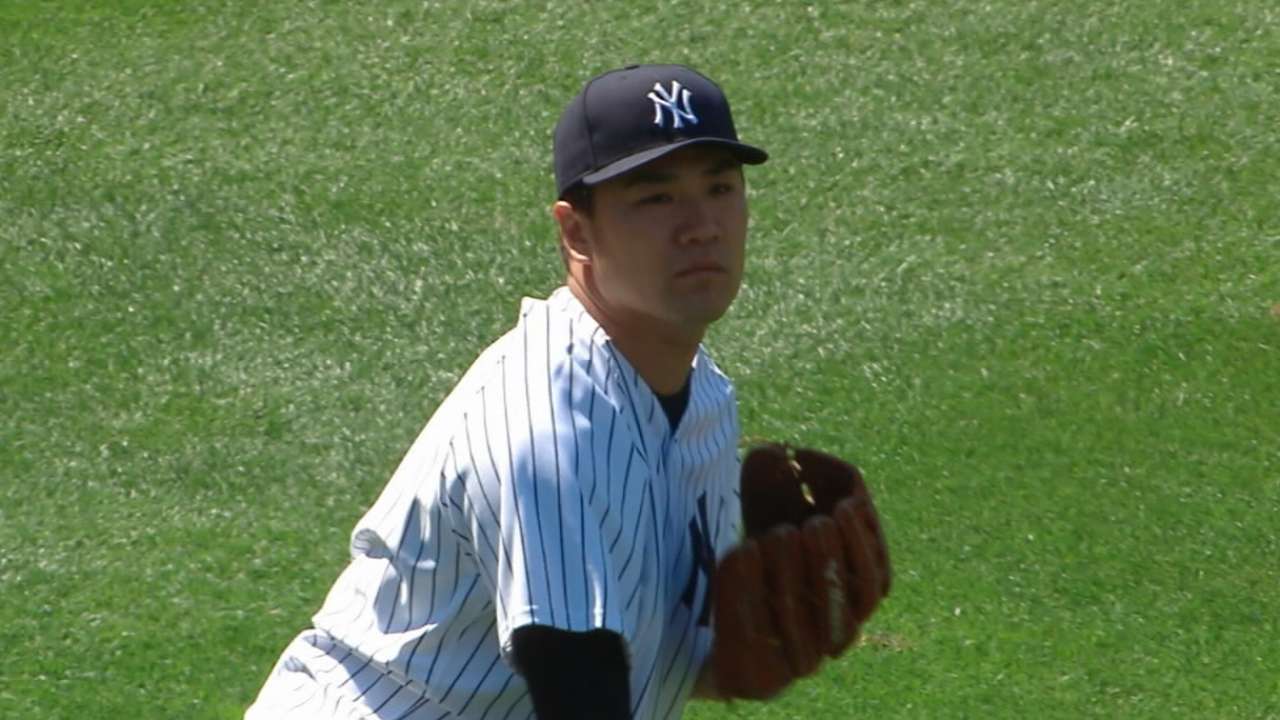 nytimes.com
MLB.com
Updated 11 hours ago
Tanaka, who had arthroscopic surgery to remove a bone spur from his right elbow in October, threw off a bullpen mound.
Share
Tweet
Yankees counting on return to form for several

MLB.com

Feb 8 (yesterday)

In the first installment of our Spring Training preview package, "On the Rebound," MLB.com will take a look at the Yankees players who are coming into camp eyeing bounce-back campaigns for one reason or another.

Share Tweet

nytimes.com

Feb 4 (6 days ago)

A New York City Council member is set to introduce a bill that that would ban smokeless tobacco from public arenas in the five boroughs.

Share Tweet

Miller all for Chapman closing if it helps Yanks

MLB.com

Feb 4 (6 days ago)

When Aroldis Chapman puts on his Yankees uniform and steps on a bullpen mound for the first time, Andrew Miller plans to be close by. He wants to see -- and hear -- how that 104 mph fastball hits the catcher's glove.

Share Tweet

Kimbrel has a slight edge on Chapman

This offseason, after the Red Sox obtained Craig Kimbrel, the Yankees answered by adding Aroldis Chapman. And now, arguably, baseball's two top closers are in the American League East.

Share Tweet

Bird updates status from hospital bed

Greg Bird's year ended before it even had a chance to begin, but the Yankees first baseman's social media game seems to be in midseason form. Bird posted a photo to Instagram and Twitter from his bed at the Hospital for Special Surgery in New York on We…

Share Tweet

Around the Horn: Outfield and DH

With the start of Spring Training almost here, anticipation is building for the 2016 season. MLB.com is going around the horn to break down each area of the Yankees' roster, continuing with the outfield and DH spots.

Share Tweet

Sports Briefing | Baseball: Brendan Ryan Agrees to Contract With Nationals

nytimes.com

Feb 2

Ryan was a Yankee from September 2013 through last season.

Share Tweet

If all goes well for Mark Teixeira in 2016, it really shouldn't matter that Greg Bird needs season-ending shoulder surgery.

Share Tweet

Sports Briefing | Baseball: Yanks and Ivan Nova Have Deal

nytimes.com

Jan 28

Nova and the Yankees agreed to a $4.1 million, one-year contract and avoided salary arbitration.

Share Tweet

SoE: 10 best under-the-radar pickups

MLB.com

Jan 28

Aaron Hicks (Yankees), John Jaso (Pirates) and Rich Hill (A's) are among the best offseason moves getting little attention.

Share Tweet

Castro provides flexibility for batting order

MLB.com

Jan 26

Starlin Castro has spent the majority of his career residing in the top half of the batting order,sometimes out of necessity. He recalls entire seasons where it felt like if he and Anthony Rizzo didn't hit, his Cubs wouldn't win. With the Yankees, that …

Share Tweet

For Yankees, replacing Adam Warren -- on and off the mound -- won't be easy

ESPN.com

Jan 26

For Yankees, replacing Adam Warren -- on and off the mound -- won't be easy

Share Tweet

Quietly efficient offseason helps 3 teams cement contender status

MLB.com

Jan 24

With much of the attention being doled out to the teams who spent the most money, several clubs have had really good below-the-radar winters. While the Yankees, Mariners and Blue Jays have refrained from chasing big-name free agents this offseason, they…

Share Tweet

nytimes.com deadspin.com yahoo.com MLB.com

Jan 21

Chapman's case is one of three that are being scrutinized as baseball implements its policy on domestic abuse cases.

Share Tweet

The Yoenis Cespedes Guessing Game: From the White Sox to the Mets & Yankees, breaking down slugger's final landing spot 

nydailynews.com

Jan 21

So now it's a real guessing game regarding Yoenis Cespedes. Just ask Fred Wilpon.

Share Tweet

nytimes.com

Jan 21

Closer Aroldis Chapman is "innocent until proven otherwise," Hal Steinbrenner, the Yankees' principal owner, said at the owners' meeting in Coral Gables, Fla.

Share Tweet

Ellsbury Confident He'll Be Ready For Opener

Mar 19

Wallace Matthews discusses Jacoby Ellsbury's oblique injury and when he could return to the Yankees.

Sabathia Discusses Spring Debut

Mar 17

Buster Olney speaks with Yankees pitcher CC Sabathia about his first pitching outing since May. He allowed two runs in two innings Tuesday against the Blue Jays.

A-Rod Homers

Mar 11

Alex Rodriguez hit a home run in the Yankees' 10-6 loss to the Red Sox.

A-Rod Has RBI Single In Win Over Rays

Mar 9

Alex Rodriguez went 2-for-3 with an RBI single and Michael Pineda allowed one hit and struck out two over two scoreless inning as the Yankees beat the Rays 4-3.