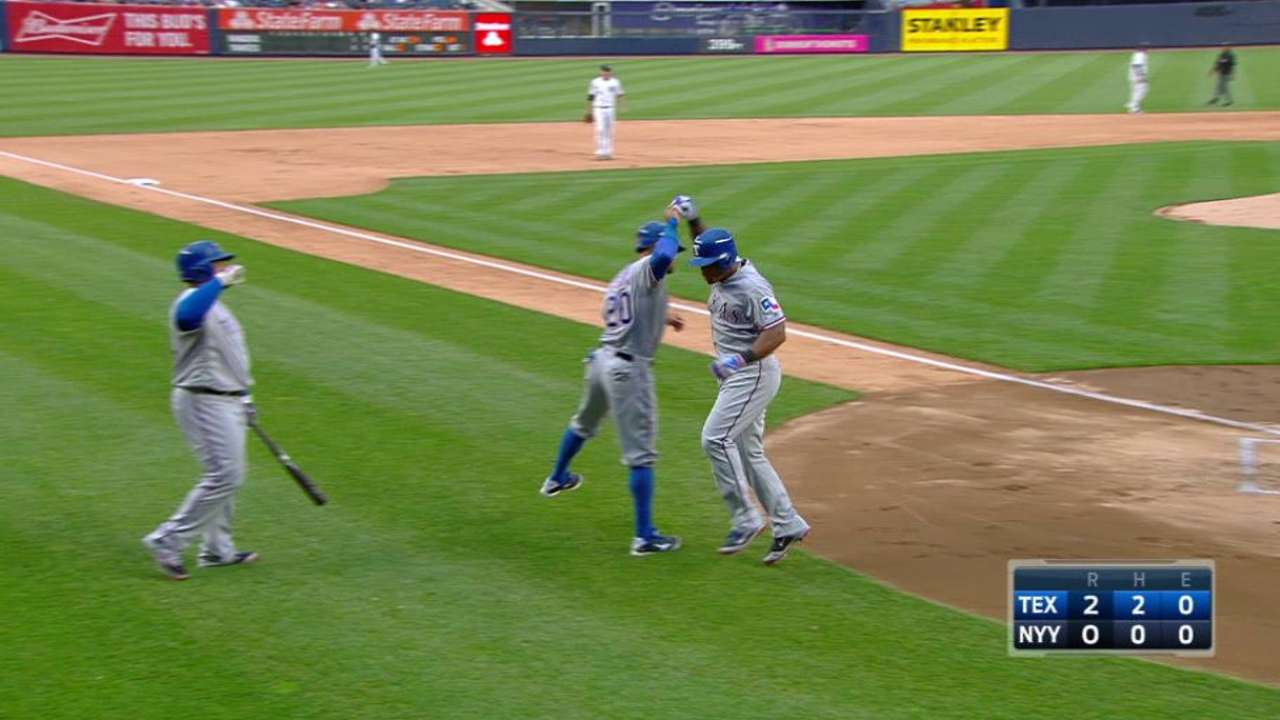 MLB.com
nytimes.com
Updated 1 hour ago
Adrian Beltre homered and drove in three runs to support Cole Hamels' strong effort as the Rangers defeated the Yankees, 7-1, on Tuesday night at Yankee Stadium.
Share
Tweet
Top Yankees prospect Aaron Judge is making a case for the majors

ESPN.com

5 minutes ago

Top Yankees prospect Aaron Judge is making a case for the majors

Share Tweet

Rangers 7, Yankees 1: Carlos Beltran Is Injured as Rangers Rout Yankees

nytimes.com

47 minutes ago

Beltran, the Yankees' home run leader, left with a hamstring injury, and Alex Rodriguez, hoping to prove he is worthy of more playing time, went 0 for 3.

Share Tweet

Exasperated Yankees Lament a Long, Losing Night

nytimes.com

1 hour ago

Manager Joe Girardi was in no mood to talk about Monday night's game against the Rangers, which ended at 2:45 a.m. after a long rain delay.

Share Tweet

MLB.com

1 hour ago

Carlos Beltran, the most productive hitter in the Yankees' lineup, exited Tuesday's 7-1 loss against the Rangers with a tight right hamstring and underwent an MRI. According to manager Joe Girardi, the MRI came back negative, but that doesn't necessaril…

Share Tweet

MLB.com

9 hours ago

Johnny Babich learned something about Joe DiMaggio on Saturday afternoon, and he learned it the hard way. The lesson taught by the sensational Yankees center fielder? Don't get me angry.

Share Tweet

Joe Girardi Played Himself

deadspin.com

13 hours ago

There was a very weird baseball game in New York last night. The Yankees led the Rangers 6-5 heading into the ninth inning of a game that had been waterlogged by rainstorms since the fifth. Yankees closer Aroldis Chapman entered the storm to try and clo…

Share Tweet

Rain-gers weather the storm against Yanks

MLB.com

19 hours ago

The Rangers pulled off another come-from-behind win on Monday night. They just had to sit through a three-hour, 35-minute rain delay in the ninth inning to complete their comeback and pull off a 9-6 victory over the Yankees.

Share Tweet

Rangers-Yankees Game Delayed in 9th by Rain, Teams Wait

nytimes.com

22 hours ago

A rain delay in the ninth inning at Yankee Stadium has kept Texas and New York waiting well past 1 a.m., with no word on when the game might resume.

Share Tweet

Alex Rodriguez Takes a Seat Again as the Yankees Cite His Anemic Numbers

General Manager Brian Cashman pointed to Rodriguez's poor performance against right-handed pitching and said he wants to see the Yankees contend before the trade deadline.

Share Tweet

Buyers or Sellers? Yankees Will Let Us Know

The team's president, Randy Levine, said he was not frustrated with its performance, and that there was a lot of baseball still to be played.

Share Tweet

A-Rod sitting or starting a day-to-day decision

MLB.com

Jun 27 (yesterday)

For the second straight day, Yankees manager Joe Girardi elected not to start Alex Rodriguez as his designated hitter for Monday's series opener against the Rangers. But that isn't likely to be the case moving forward.

Share Tweet

The Yankees and StubHub announced an agreement under which the company next month will replace the Yankees Ticket Exchange, which was offered through Ticketmaster.

Share Tweet

yahoo.com

Jun 27 (yesterday)

Since many contenders around baseball are already dreaming of adding either Andrew Miller or Aroldis Chapman to their bullpens, it's safe to say a good chunk of the league thinks of the New York Yankees as trade-deadline sellers as we getting closer to …

Share Tweet

ESPN.com nytimes.com

Jun 26 (2 days ago)

For fading Yankees, it doesn't get any easier from here

Share Tweet

MLB.com nytimes.com

Jun 26 (2 days ago)

Tyler Duffey carried a perfect game into the sixth inning, supported by consecutive home runs off the bats of Brian Dozier, Trevor Plouffe and Max Kepler, leading the Twins to a 7-1 victory over the Yankees on Sunday at Yankee Stadium.

Share Tweet

Twins club 3 straight homers in Bronx

MLB.com

Jun 26 (2 days ago)

The Twins briefly turned Yankee Stadium into a launchpad in the sixth inning of Sunday's series finale against the Yankees, with Brian Dozier, Trevor Plouffe and Max Kepler hitting back-to-back-to-back homers off right-hander Nathan Eovaldi.

Share Tweet

Yankees recall Cessa, send down Goody

MLB.com

Jun 26 (2 days ago)

Right-hander Luis Cessa, who opened the season in the big leagues and made a brief return to the squad toward the end of May, was recalled Sunday to bolster the bullpen in a wide variety of roles. As a countering move, the Yankees optioned Nick Goody to…

Share Tweet

Yanks pounce on error as arms baffle Twins

MLB.com

Jun 25 (3 days ago)

Though the Yankees struggled to cobble together offense against the Twins on Saturday afternoon, they came away with a 2-1 win at Yankee Stadium after Eduardo Escobar booted a grounder off the bat of Starlin Castro in the eighth inning, allowing Aaron H…

Share Tweet

nytimes.com deadspin.com

Jun 25 (3 days ago)

Starlin Castro drove home the tiebreaking run in the eighth inning with a sharp one-hopper scored an error on shortstop Eduardo Escobar, and the New York Yankees edged the Minnesota Twins 2-1 Saturday with more dominant pitching from the back end of the…

Share Tweet

nytimes.com MLB.com

Jun 25 (3 days ago)

The first baseman, who tore cartilage in his right knee earlier this month, returned from the disabled list, going 0 for 3 in the Yankees' win.

Share Tweet

Ellsbury Confident He'll Be Ready For Opener

Mar 19

Wallace Matthews discusses Jacoby Ellsbury's oblique injury and when he could return to the Yankees.

Sabathia Discusses Spring Debut

Mar 17

Buster Olney speaks with Yankees pitcher CC Sabathia about his first pitching outing since May. He allowed two runs in two innings Tuesday against the Blue Jays.

A-Rod Homers

Mar 11

Alex Rodriguez hit a home run in the Yankees' 10-6 loss to the Red Sox.

A-Rod Has RBI Single In Win Over Rays

Mar 9

Alex Rodriguez went 2-for-3 with an RBI single and Michael Pineda allowed one hit and struck out two over two scoreless inning as the Yankees beat the Rays 4-3.