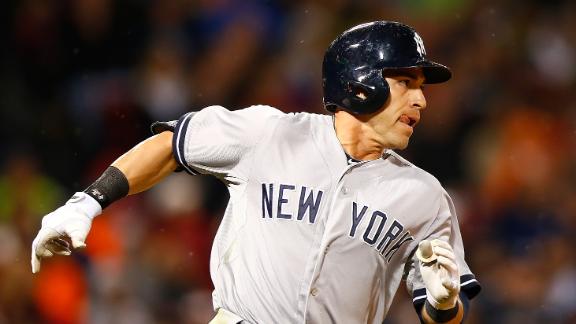 nydailynews.com
MLB.com
ESPN.com
nytimes.com
Updated 10 hours ago
The old brick place on Lansdowne St. isn't his office anymore, and it didn't take the center fielder for the New York Yankees long to find that out. At 10 minutes after 7 p.m. Tuesday night, Jacoby Ellsbury, No. 22 in road grays, came to the plate for t…
Upvote
Share
Tweet
MLB.com nytimes.com deadspin.com

11 hours ago

Masahiro Tanaka may be just four starts into his Major League career, but the Yankees right-hander has shown just how impressive he can be.

Upvote Share Tweet

The Yankees activated closer David Robertson from the disabled list on Tuesday, completing the right-hander's two-week recovery from a strained left groin.

Upvote Share Tweet

Gomes gets nod in left vs. Tanaka over struggling Nava

MLB.com

17 hours ago

In a lineup move reminiscent of last October, Jonny Gomes started in left field on Tuesday night against the Yankees, even though right-hander Masahiro Tanaka was on the mound.

Upvote Share Tweet

Ivan Nova's season appears to be over. The Yankees right-hander has been advised to have Tommy John surgery to repair a partially torn right ulnar collateral ligament.

Upvote Share Tweet

Josh Lueke Is A Rapist, You Say? Keep Saying It.

deadspin.com

21 hours ago

Late Saturday night, during the Yankees-Rays game, I stumbled onto an online conversation among baseball writers and fans regarding the propriety of tweeting about Rays pitcher Josh Lueke's criminal history every time he's on the mound.Read more...

Upvote Share Tweet

SI Now: How Yankee Stadium will host MLS

CNNSI.com

Apr 21 (yesterday)

On Monday's SI Now, head coach of the NYCFC Jason Kreis discusses the club playing at Yankees Stadium and the expectations going into the first season.

Upvote Share Tweet

Yankees Cruise Past Red Sox

Apr 22

In his first game back in Boston since signing in New York, Jacoby Ellsbury drove in two runs as the Yankees defeated the Red Sox 9-3.

Closer Robertson Activated By Yankees

Apr 22

Doug Glanville discusses what the return of closer David Robertson means for the Yankees' bullpen.

Yanks' Nova Advised To Have Surgery

Apr 22

Doug Glanville discusses how much of a loss the Yankees' rotation will take if P Ivan Nova has season-ending Tommy John surgery.

SweetSpot TV: Rapid Fire

Apr 22

Eric Karabell and David Schoenfield go around the league with a game of rapid fire.

Sports Columnists

2014 NBA playoffs - Chicago Bulls couldn't buy a basket in Game 2, need to…

Apr 23

Joakim Noah is a very worthy defensive player of the year, but he still needs to play alongside a true offensive star.

2014 NBA draft - ESPN Insider's 360-degree NBA draft prospect profiles

Apr 22

ESPN Insider's NBA draft experts offer a guide to their 20-plus prospect draft profiles.

NFL schedule to be released Wednesday night

Apr 22

The NFL schedule is going to be officially announced and released at 8 p.m. ET Wednesday.