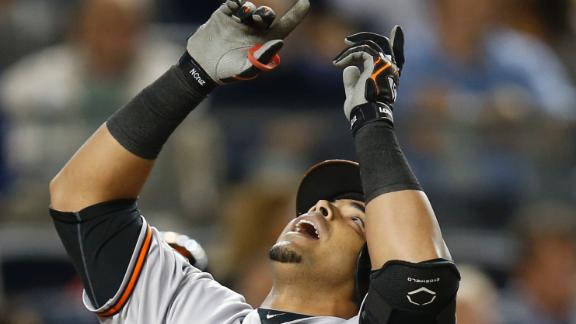 ESPN.com
nytimes.com
MLB.com
yahoo.com
nydailynews.com
Updated 1 hour ago
Nelson Cruz hit his major league-leading 40th home run and the Baltimore Orioles pushed Derek Jeter and the Yankees to the brink of playoff elimination, beating New York 5-4 Tuesday night.
Upvote
Share
Tweet
Orioles 5, Yankees 4: Orioles' Power Surge Pushes Yankees to the Brink of Elimination

nytimes.com

1 hour ago

The Yankees dropped five games back of the Royals for the A.L.'s second wild-card spot, meaning any Yankees loss or Kansas City victory will knock them from postseason contention.

Upvote Share Tweet

Yanks pitchers set club mark with 1,319th K

David Robertson fanned Jonathan Schoop in the top of the ninth inning of Tuesday's 5-4 Yankees loss to the Orioles, marking the 1,319th strikeout recorded this season by Yankees pitchers to establish a new single-season franchise mark.

Upvote Share Tweet

Nick Markakis, who returned to the O's lineup on Monday after missing four games following a hit-by-pitch to his right shoulder, had four hits out of the leadoff spot, including a two-run homer that highlighted Baltimore's 5-4 victory over the Yankees o…

Upvote Share Tweet

Last of O's three homers costs Yankees

Brandon McCarthy served up three home runs and surrendered a season-high 11 hits as the Yankees were dealt another blow to their faint American League Wild Card hopes, absorbing a 5-4 loss to the Orioles on Tuesday at Yankee Stadium.

Upvote Share Tweet

Cruz sixth in O's history with 40-homer season

MLB.com

4 hours ago

Orioles designated hitter Nelson Cruz continued his fabulous season with his 40th home run in the fifth inning of Tuesday's game against the Yankees at Yankee Stadium.

Upvote Share Tweet

MLB.com

5 hours ago

Mark Teixeira was back in the Yankees' starting lineup for Tuesday night's game against the Orioles after receiving a cortisone shot in his troublesome right wrist on Sunday.

Upvote Share Tweet

Derek Jeter's 10 best moments re-created by animated Oyo characters

yahoo.com

9 hours ago

The three best parts of Oyo Sports re-creating Derek Jeter's top 10 career highlights: One, hearing Hall of Famer Phil Rizzuto on the New York Yankees broadcast in 1995 call Jeter's first career home run. "Oh, he got around on that one. Holy cow, t…

Upvote Share Tweet

nydailynews.com

10 hours ago

So neither the Yankees nor Mets were good enough — again — to be October-worthy this season. OK, just for fun, what if we combined them, more or less as is, for 2015.

Upvote Share Tweet

Orioles Hold Off Yankees

Sep 23

Nelson Cruz hit his major league-leading 40th home run of the season in the Orioles' 5-4 win over the Yankees.

Cruz Hits 40th Home Run

Sep 23

Orioles batter Nelson Cruz gets his major league-leading 40th homer of the season.

Derek Jeter Isn't The Greatest Player Ever

Sep 23

Correction. Derek Jeter is not the greatest baseball player in the last 5 million years. Keith Olbermann explains.

Yankees Blank Orioles

Sep 22

Derek Jeter drove in three runs to lead the Yankees past the Orioles 5-0.