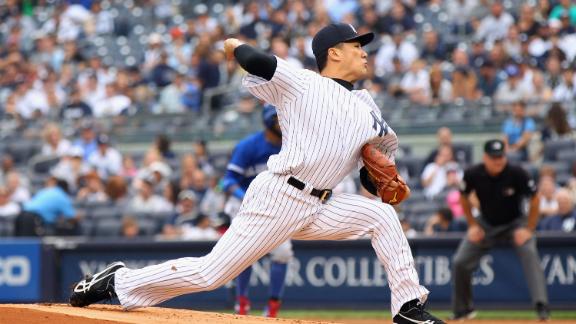 ESPN.com
MLB.com
nytimes.com
nydailynews.com
Updated 3 hours ago
Masahiro Tanaka made a triumphant return from an elbow injury that sidelined him for 2½ months to lead the New York Yankees over the Toronto Blue Jays 5-2 Sunday.
Upvote
Share
Tweet
For Yankees, Farewell May Not Mean Goodbye

nytimes.com

1 hour ago

The Yankees salute departing stars with days in their honor, sometimes on two or three occasions years apart.

Upvote Share Tweet

MLB.com nytimes.com ESPN.com

3 hours ago

As Derek Jeter embarks on his final week of baseball -- and final four games at Yankee Stadium -- manager Joe Girardi said Sunday that he expects to play the Yankees' captain in every game until the season's conclusion.

Upvote Share Tweet

Beltran to delay elbow surgery until offseason

MLB.com

9 hours ago

With the Yankees still mathematically alive for a playoff spot, Carlos Beltran, under the team's direction, has opted to delay surgery until the end of the season. Beltran, who has recently experienced more pain due to the bone spur in his right elbow, …

Upvote Share Tweet

yahoo.com

10 hours ago

You messed with the wrong group of fans, Jose Bautista. The fans who make up the right field bleachers at Yankee Stadium are a passionate bunch, and there's no doubt they're a little extra surly this September with the Yankees heading for an early vacat…

Upvote Share Tweet

MLB.com nytimes.com

Sep 20 (yesterday)

Facing the prospect of an impending six-game suspension from Major League Baseball, Marcus Stroman delivered another strong start in this impressive rookie season and led the Blue Jays to a 6-3 victory over the Yankees at Yankee Stadium on Saturday.

Upvote Share Tweet

MLB.com

Sep 20 (yesterday)

Yankees first baseman Mark Teixeira was removed from Saturday's game against the Blue Jays in the fifth inning with a sore right wrist.

Upvote Share Tweet

ESPN.com MLB.com nytimes.com

Sep 20 (yesterday)

Jacoby Ellsbury missed the New York Yankees' game a day after straining his right hamstring, and the team's most consistent player this year may be done for the season.

Upvote Share Tweet

Bonus Jeter: Yankees will open gates early for BP

MLB.com

Sep 20 (yesterday)

Fans hoping to get one more look at Derek Jeter will have the opportunity to arrive early and watch the Yankees captain and his teammates take batting practice during the team's final regular season homestand of the year.

Upvote Share Tweet

nytimes.com ESPN.com

Sep 19 (2 days ago)

Jacoby Ellsbury, Derek Jeter and the New York Yankees kept Mark Buehrle winless against them for more than a decade, sending the Toronto Blue Jays to their season-worst sixth straight loss, 5-3 Friday night.

Upvote Share Tweet

Derek Jeter, a Yankee Before the Pinstripes

nytimes.com

Sep 19 (3 days ago)

At 18, the shortstop could field, hit, run and throw – but he had a little something extra too.

Upvote Share Tweet

Tanaka Wins In Return

Sep 21

Masahiro Tanaka gave up one run in 5 1/3 innings of the Yankees' 5-2 win over the Blue Jays.

Yankees Walk Off For Second Straight Win

Sep 18

Derek Jeter homered at Yankee Stadium for the first time this season and the Yankees walked off on an error to defeat the Blue Jays 3-2.

Benches Clear In Rays' Win

Sep 16

After Derek Jeter was hit by a pitch in the top of the eighth, the Yankees retaliated by hitting Kevin Kiermaier and benches cleared in the Rays' 6-1 win.

Ellsbury Goes All Out

Sep 16

Does Jacoby Ellsbury's diving catch top Alex Avila's reigning Web Gem?