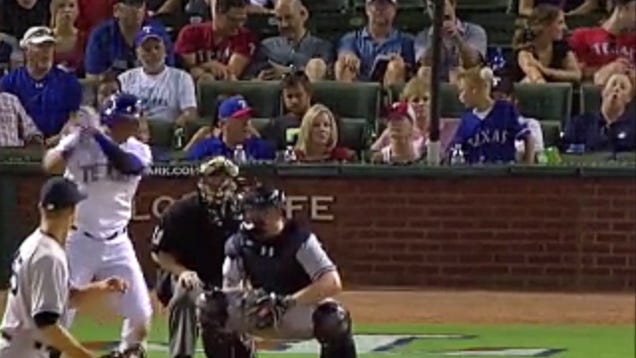 Heads-Up, Lil' Buddy!
deadspin.com
Updated 6 hours ago
This young Rangers fan got a good lesson in keeping his eyes on the game—and the value of reaction time—on this fouled-off pitch in tonight's game against the Yankees.Read more...
Share
Tweet
yahoo.com nytimes.com

4 hours ago

Hate him all you want — and, boy, some of you do — but Alex Rodriguez continues to make history in his surprising comeback season with the New York Yankees. As you know, he passed Willie Mays on the all-time home run list, joined the 3,000 hit club and …

Share Tweet

Martin robs Teixeira with leaping catch at wall

MLB.com

8 hours ago

Rangers center fielder Leonys Martin is sure to be seen on highlight reels everywhere after his second-inning catch Monday against the Yankees.

Share Tweet

Ellsbury out day after crashing into wall

MLB.com

8 hours ago

Jacoby Ellsbury was not in the Yankees' lineup on Monday, one day after he jammed his right shoulder crashing into an outfield wall while making a terrific catch, but he said that it was just a scheduled day off and he expected to be available off the b…

Share Tweet

What to watch for in today's games

MLB.com

Jul 27 (yesterday)

Action continues around Major League Baseball today as new series open and Friday's non-waiver Trade Deadline nears. The best team in baseball hosts one of the most-talked-about sellers, baseball's hottest team remains on the shores of McCovey Cove and …

Share Tweet

Yankees 7, Twins 2: Yankees' Nathan Eovaldi Beats the Twins; Now if Only He Could Pitch Tuesday ...

nytimes.com

Jul 26 (yesterday)

Eovaldi worked into the ninth inning, giving a break to a staff with a potentially fragile rotation, while Chase Headley added the key hits.

Share Tweet

nytimes.com MLB.com

Jul 26 (yesterday)

Nathan Eovaldi pitched impressively into the ninth inning, Chase Headley and Stephen Drew each homered, and the New York Yankees beat the Minnesota Twins 7-2 on Sunday for a series win.

Share Tweet

deadspin.com

Jul 26 (yesterday)

Pedro Martinez is being inducted into the Baseball Hall of Fame today, alongside Randy Johnson, John Smoltz, and Craig Biggio. As a tribute to one of the greatest, funniest, most dominant, most quote-worthy players of all time, let's watch him strike ou…

Share Tweet

yahoo.com nytimes.com MLB.com deadspin.com

Jul 26 (2 days ago)

The incredible comeback season of Alex Rodriguez reached a new level on Saturday. The New York Yankees designed hitter connected for three home runs in their come-from-behind 8-5 victory against the Minnesota Twins, including the game-tying solo shot of…

Share Tweet

For the first time in years, Yankees GM Brian Cashman loaded with prospects to deal

nydailynews.com

Jul 25 (2 days ago)

As he approaches his favorite time of year, Brian Cashman finds himself in a very unusual position.

Share Tweet

nytimes.com MLB.com

Jul 25 (3 days ago)

The Yankees' lineup is built to excel in the Bronx, with a short right field that rewards left-handed sluggers, but the team's hitters again struggled on the road in a loss to Minnesota.

Share Tweet

Yankees back efficient Tanaka to sweep O's

MLB.com

Jul 23 (4 days ago)

The Yankees enjoyed an offensive barrage to complete a three-game sweep of the O's with a 9-3 win on Thursday at Yankee Stadium. Jacoby Ellsbury had three of New York's 13 hits and finished a triple shy of the cycle, driving in four runs, and Chase Head…

Share Tweet

nytimes.com

Jul 23 (5 days ago)

Masahiro Tanaka allowed only four hits (but three were homers) and Jacoby Ellsbury, who had four R.B.I., was one of three Yankees to have three hits.

Share Tweet

nytimes.com MLB.com

Jul 22 (5 days ago)

Nova allowed two runs, both on a Ryan Flaherty home run in the second inning, as the Yankees relied on a familiar formula to beat the Orioles: first-inning offense and a lock-down bullpen.

Share Tweet

Andrew Miller Gives Yankees a Spark, a Year After His Jolting Trade

nytimes.com

Jul 22 (5 days ago)

Miller, who fortified Baltimore's bullpen during the latter part of last season and has given the Yankees a lift this year, illustrates how a move at the trading deadline can change a team's postseason trajectory.

Share Tweet

Ellsbury Confident He'll Be Ready For Opener

Mar 19

Wallace Matthews discusses Jacoby Ellsbury's oblique injury and when he could return to the Yankees.

Sabathia Discusses Spring Debut

Mar 17

Buster Olney speaks with Yankees pitcher CC Sabathia about his first pitching outing since May. He allowed two runs in two innings Tuesday against the Blue Jays.

A-Rod Homers

Mar 11

Alex Rodriguez hit a home run in the Yankees' 10-6 loss to the Red Sox.

A-Rod Has RBI Single In Win Over Rays

Mar 9

Alex Rodriguez went 2-for-3 with an RBI single and Michael Pineda allowed one hit and struck out two over two scoreless inning as the Yankees beat the Rays 4-3.