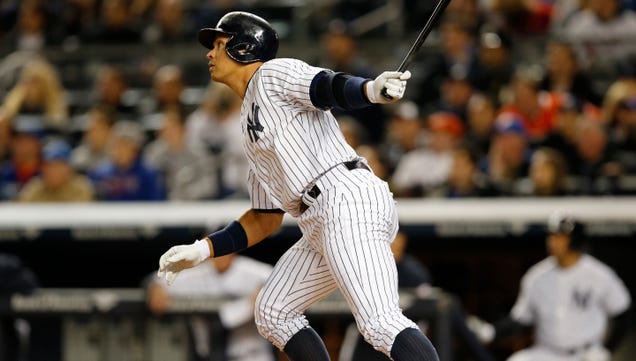 deadspin.com
nydailynews.com
Updated 1 hour ago
After homering in last night's 6-4 win over the Mets, Alex Rodriguez is now one home run away from tying Willie Mays for fourth all-time, one home run away from a legal battle with the Yankees over the $6 million they owe him and don't want to pay. A-Ro…
Share
Tweet
Rinaldo Ardizoia, the Oldest Living Yankee, Reflects on His Career

nytimes.com

3 hours ago

Ardizoia, 95, a pitcher who appeared in just one major league game, attended Joe DiMaggio's wedding, gave a helping hand to Babe Ruth and spent a season playing for Casey Stengel in the minors.

Share Tweet

What's Next: Giants-Dodgers, Yanks-Red Sox rivalries heat up

MLB.com

4 hours ago

Friday brings May Day, Saturday brings the Kentucky Derby, and the second month of the six-month horse race called Major League Baseball continues on the bumpy road to October. The Giants will meet their archrival Dodgers. The Yankees will meet their ar…

Share Tweet

yahoo.com nytimes.com nydailynews.com MLB.com

14 hours ago

Take a look around the league with Big League Stew's daily wrap up. We'll hit on all of the biggest moments from the day that you may have missed, while providing highlights, photos and interesting stats. New York Yankees infielder Alex Rodriguez moved …

Share Tweet

nytimes.com MLB.com

16 hours ago

Alex Rodriguez is one big swing from matching Willie Mays. Whether the New York Yankees would celebrate that achievement — or pay for it, for that matter — remains to be seen.

Share Tweet

Matt Harvey proves he is ace of city by dominating Yankees, getting Mets back on track

nydailynews.com

Apr 26 (yesterday)

This is what it is like, in all ways, to be the ace of the staff and of the city, and the biggest baseball star in New York.

Share Tweet

The Yankees' biggest surprise isn't Alex Rodriguez, it's the early success of their starting rotation

nydailynews.com

Apr 26 (yesterday)

You ask Brian Cashman what has surprised him about his baseball team in April and he says, "A-Rod would be the surprise."

Share Tweet

C. C. Sabathia's Troubles Continue

nytimes.com

Apr 25 (yesterday)

Sabathia's strikeout totals declined and his E.R.A. rose as his record fell to 0-4 on Saturday against the Mets.

Share Tweet

nytimes.com MLB.com

Apr 25 (yesterday)

The Mets starter Harvey, a Yankees fan as a child, stood on the mound at the beloved Yankee Stadium and dismantled his former favorite team.

Share Tweet

Mark Teixeira's New Diet Fuels a Resurgence With Yankees

nytimes.com

Apr 25 (yesterday)

Teixeira attributed his early success at the plate this season to a new eating regimen he adopted this off-season, which included abstaining from junk food and reducing foods that might cause inflammation.

Share Tweet

Extra Bases: What About Those Three Kingman Homers? Oops

nytimes.com

Apr 25 (2 days ago)

A question from Paul Olden, now the Yankees' public-address announcer, ignited a profane tirade by the Dodgers' manager in 1978.

Share Tweet

Bernie officially retires, will have plaque dedication May 24

MLB.com

Apr 24 (3 days ago)

Bernie Williams had been long excluded from the Yankees' proverbial "Core Four" of Derek Jeter, Jorge Posada, Andy Pettitte and Marino Rivera, even though Williams was an important part of their last championship era. So before Williams was se…

Share Tweet

MLB.com

Apr 24 (3 days ago)

Statcast, a state-of-the-art tracking technology, will return on Friday night at 7 ET for the first Mets-Yankees clash of the year in an MLB Network Showcase game.

Share Tweet

nydailynews.com

Apr 24 (4 days ago)

Joe Torre always hated the Subway Series, mostly because he saw it as a no-win situation for the Yankees.

Share Tweet

Ellsbury Confident He'll Be Ready For Opener

Mar 19

Wallace Matthews discusses Jacoby Ellsbury's oblique injury and when he could return to the Yankees.

Sabathia Discusses Spring Debut

Mar 17

Buster Olney speaks with Yankees pitcher CC Sabathia about his first pitching outing since May. He allowed two runs in two innings Tuesday against the Blue Jays.

A-Rod Homers

Mar 11

Alex Rodriguez hit a home run in the Yankees' 10-6 loss to the Red Sox.

A-Rod Has RBI Single In Win Over Rays

Mar 9

Alex Rodriguez went 2-for-3 with an RBI single and Michael Pineda allowed one hit and struck out two over two scoreless inning as the Yankees beat the Rays 4-3.

Sports Columnists

Rivers Trade Dead? Draft Intrigue Starts at No. 2

Apr 27

Three days before the 2015 draft, one thing is clear: The drama starts with the second pick. With Tampa Bay very likely to take quarterback Jameis Winston number one, Tennessee is in command with quarterback Marcus Mariota the likely target if anyone wa…

Mario Hezonja of FC Barcelona to declare for the NBA draft

Apr 23

FC Barcelona wing Mario Hezonja will declare for the 2015 NBA draft, his agent Arn Tellem told ESPN.com.

James Blackmon Jr. to return to Indiana Hoosiers, bypass NBA draft

Apr 23

Indiana Hoosiers freshman James Blackmon Jr. will return to school instead of entering the NBA draft.