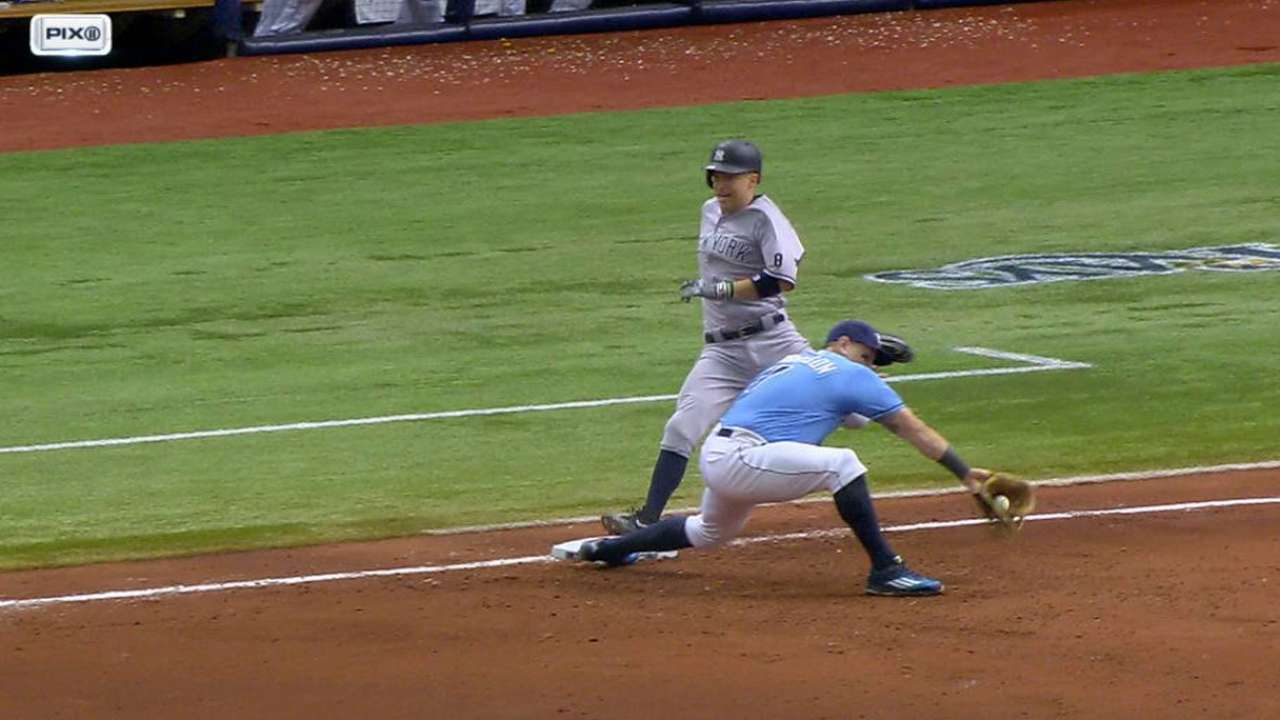 Ackley getting MRI on shoulder, likely to DL
MLB.com
Updated 3 hours ago
Dustin Ackley did not accompany the Yankees to their charter flight after Sunday's 2-1 victory over the Rays at Tropicana Field, instead preparing to receive an MRI to determine the severity of an injury to his right shoulder.
Share
Tweet
nytimes.com

5 hours ago

Castro's two-run shot off Jake Odorizzi in the seventh inning proved all the offense the Yankees needed to defeat the Rays.

Share Tweet

Yankees, Senators play to rain-shortened tie

MLB.com

6 hours ago

There were a few interesting developments at Griffith Stadium on Thursday afternoon, but none of those involved the Yankees winning or losing their game against the Washington Senators.

Share Tweet

MLB.com ESPN.com nytimes.com

7 hours ago

Michael Pineda will have at least one more chance to turn his troubled season around. Yankees manager Joe Girardi said that no changes have been discussed to the rotation, with Pineda set to take the ball for Thursday's makeup game against the Tigers in…

Share Tweet

Bluest of Baseball's Blue Bloods, the Yankees, Bow Slightly to Fashion

nytimes.com

20 hours ago

The team that has resisted the whims of designers that have swept up others across the sports landscape will wear matte-finish batting helmets for the rest of the season, but only on the road.

Share Tweet

Moore backed by Longo, Conger HRs in win

MLB.com

May 28 (yesterday)

Matt Moore pitched 6 2/3 innings of Tampa Bay's 9-5 win over the Yankees on Saturday afternoon at Tropicana Field, allowing three runs.

Share Tweet

A-Rod slugs 440-foot HR in Yankees' win

MLB.com

May 27 (yesterday)

Alex Rodriguez's two-run homer backed a solid start by Masahiro Tanaka to lead the Yankees to a 4-1 win over the Rays at Tropicana Field.

Share Tweet

A-Rod, Tanaka Lead Yankees Past Rays 4-1

nytimes.com

May 27 (yesterday)

Alex Rodriguez homered for the first time since coming off the disabled list, Masahiro Tanaka pitched seven shutout innings and the New York Yankees beat the Tampa Bay Rays 4-1 on Friday night.

Share Tweet

DiMaggio's 4 hits lift Yankees past reeling Senators

MLB.com

May 27 (2 days ago)

The Yankees embarked on a lengthy road trip, and they didn't forget to pack their bats. Joe DiMaggio continued his recent tear at the plate by leading the Yankees with four hits in five trips to the plate, including a three-run home run, his seventh rou…

Share Tweet

nytimes.com

May 26 (3 days ago)

Back in the lineup for the first time since May 4, Rodriguez went 0 for 4, and the Yankees fell to the Blue Jays.

Share Tweet

nytimes.com MLB.com

May 26 (3 days ago)

In between retiring Yankees hitters, Toronto starter J.A. Happ could appreciate the moment of dueling with CC Sabathia.

Share Tweet

nytimes.com

May 26 (3 days ago)

Yankees starter Ivan Nova gave up four runs in the loss, thanks in part to two homers by the former Yankee Russell Martin.

Share Tweet

yahoo.com

May 26 (3 days ago)

Retired New York Yankees shortstop Derek Jeter took a break from not playing baseball to give an interview with CNBC's Squak Box on Wednesday, and he had a lot to say about the game of baseball. Not surprisingly, Jeter loves baseball. And because he lov…

Share Tweet

yahoo.com

May 26 (3 days ago)

For some fans, baseball without Ichiro Suzuki just doesn't make sense. He's played for three teams in his 17-year MLB career, and most of those years were spent with the Seattle Mariners, with a two-and-a-half-year sojourn playing for the New York Yanke…

Share Tweet

Your browser does not support iframes.After missing three weeks with a hamstring injury, Alex Rodriguez is poised to rejoin the New York Yankees on Thursday after completing a successful rehab stint with the Double-A Trenton Thunder. Rodriguez, 40, went…

Share Tweet

Snapping personal drought, Martin sees positives

MLB.com

May 26 (4 days ago)

Russell Martin had been waiting a very, very long time for this. Forty-one games, to be exact. Martin's homerless drought finally came to an end at 124 at-bats on Wednesday night when he went deep twice in Toronto's 8-4 victory over the Yankees. It was …

Share Tweet

Jose Bautista Murders Beverage

deadspin.com

May 26 (4 days ago)

The Blue Jays beat the Yankees tonight and the Blue Jays' best slugger even had the nerve to take it out on Yankees fans, smashing a beverage (presumably beer?) showering the upper chunk of a section in suds (or maybe soda! who knows!). Read more...

Share Tweet

Ellsbury Confident He'll Be Ready For Opener

Mar 19

Wallace Matthews discusses Jacoby Ellsbury's oblique injury and when he could return to the Yankees.

Sabathia Discusses Spring Debut

Mar 17

Buster Olney speaks with Yankees pitcher CC Sabathia about his first pitching outing since May. He allowed two runs in two innings Tuesday against the Blue Jays.

A-Rod Homers

Mar 11

Alex Rodriguez hit a home run in the Yankees' 10-6 loss to the Red Sox.

A-Rod Has RBI Single In Win Over Rays

Mar 9

Alex Rodriguez went 2-for-3 with an RBI single and Michael Pineda allowed one hit and struck out two over two scoreless inning as the Yankees beat the Rays 4-3.