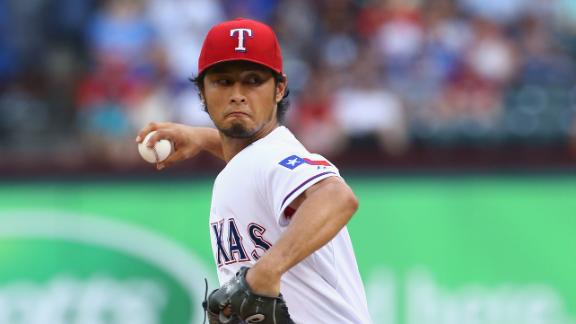 yahoo.com
ESPN.com
MLB.com
nytimes.com
Updated 4 hours ago
Your browser does not support iframes. By the most important measure, Yu Darvish had a good game Monday night. His Texas Rangers beat the New York Yankees. Darvish himself earned a win, pitching seven innings and striking out eight in Texas' 4-2 victory…
Upvote
Share
Tweet
yahoo.com nydailynews.com nytimes.com MLB.com

7 hours ago

Derek Jeter entered Monday night's New York Yankees game two hits behind Carl Yastrzemski for seventh place on baseball's all-time hit list. In other words, it was a good time for Jeter to crank out three hits and get his ascension over with. Jeter did …

Upvote Share Tweet

deadspin.com yahoo.com ESPN.com nytimes.com

11 hours ago

The Yankees fan in question is Luigi Militello, owner of Luke's Bar And Grill, and the Red Sox 2013 World Series ring belongs to Drew Weber, owner of Boston's single-A affiliate Lowell Spinners. On Thursday night, Weber wore the diamond-and-ruby encrust…

Upvote Share Tweet

Girardi gives Cashman space to work on deals

MLB.com

13 hours ago

Joe Girardi has more of an inside track to the Yankees' trade-rumor scene than the average observer, but the manager said that he prefers to give general manager Brian Cashman his space to work, rather than get excited about moves that might not happen.

Upvote Share Tweet

deadspin.com

22 hours ago

Troy Tulowitzki will be in another uniform next year. That's not to impress you with my predictive abilities, or to rub it in for Rockies fans, or to make some kind of observation about small-market teams' inability to keep their homegrown stars. It's j…

Upvote Share Tweet

Deadline roundup: Much ado about Tulo?

MLB.com

Jul 27 (yesterday)

The fact that injured Troy Tulowitzki attended the Yankees-Blue Jays game in New York on Sunday led to all sorts of Internet speculation. Tulowitzki, who has been reported as saying he wouldn't mind playing for a contender, didn't appear too concerned a…

Upvote Share Tweet

nydailynews.com yahoo.com

Jul 27 (yesterday)

Other Yankee managers of the past won more World Series than Torre did. No manager of the Yankees ever meant more, was more popular.

Upvote Share Tweet

Blue Jays 5, Yankees 4: Steal by Bautista Helps Blue Jays Overcome Three Yankees Rallies

nytimes.com

Jul 27 (yesterday)

The Yankees came back to tie the score at 2-2, 3-3 and 4-4, but in the ninth, they allowed Jose Bautista to steal second, and he soon scored the decisive run.

Upvote Share Tweet

nytimes.com MLB.com

Jul 27 (yesterday)

Dioner Navarro hit a go-ahead single with two outs in the ninth inning, and the Toronto Blue Jays rallied after wasting three leads to beat the New York Yankees 5-4 Sunday for their first series win in the Bronx in nearly two years.

Upvote Share Tweet

yahoo.com

Jul 27 (yesterday)

Let the speculation begin. Colorado Rockies shortstop Troy Tulowitzki — yes, he's still with the Rockies — is currently on the disabled list nursing a thigh injury. but he was still turning heads on Sunday afternoon. Not on the field, of course, but for…

Upvote Share Tweet

Derek Jeter and the Angels have almost perfected the 'silent treatment'

yahoo.com

Jul 27 (yesterday)

Lost in the craziness that has been Major League Baseball this weekend was a monumental occurrence for New York Yankees outfielder Ichiro Suzuki. Well, monumental relative to his recent production anyway. The 40-year-old veteran actually entered play on…

Upvote Share Tweet

The Toronto Blue Jays losing at Yankee Stadium was nearing a death and taxes level inevitability until they finally snapped their 17-game losing streak in New York with a 6-4 victory over the Yankees on Saturday afternoon. Had they lost the final two ga…

Upvote Share Tweet

On Baseball: Blemished Club's Playoff Bid Relies on a Mound Makeover

The Yankees have lost two aces this season, but additions like Chris Capuano and Brandon McCarthy have preserved their chances of making the postseason.

Upvote Share Tweet

On Hall's doorstep, Torre at peace with Bronx run

MLB.com

Jul 26 (3 days ago)

Joe Torre said on Saturday that his relationship with the Yankees right now is right where it's supposed to be.

Upvote Share Tweet

Blue Jays 6, Yankees 4: Defensive Lapses Send Yankees to Loss

The Blue Jays scored the go-ahead run in the seventh inning after shaky plays by Brian McCann, substituting for the injured Mark Teixeira at first, and second baseman Brian Roberts.

Upvote Share Tweet

Yankees, rest of MLB can stop dreaming about Rays ace David Price

nydailynews.com

Jul 26 (3 days ago)

It's a real trading deadline conundrum — too many teams that think they're still in contention for a berth in the postseason and, now that the Angels and Tigers have cleaned out the closer market, almost all of them are seeking the same commodities: sta…

Upvote Share Tweet

Ichiro Hits First Home Run Of The Season, Jeter Gives Him The Business

deadspin.com

Jul 26 (3 days ago)

Ichiro Suzuki hit his first home run of the season last night, a three-run homer that put the Yankees on top of the Blue Jays 6-4. It was Ichiro's first home run in almost a full calendar year, and as he approached the dugout, Jeter gave him the who are…

Upvote Share Tweet

Fresh faces and a hot streak have the Yankees in the playoff race after their 17th straight victory over the Blue Jays in the Bronx.

Upvote Share Tweet

Red Sox Championship Ring Returned By Yankees Fan

Jul 28

Restaurant owner Luigi Militello describes how he came across, and subsequently returned, a 2013 Red Sox championship ring that he discovered on a restroom sink.

Who Will Win The AL East?

Jul 28

The Baseball Tonight crew breaks down the top teams in the AL East and who could win the division.

Johnson Fuels Blue Jays

Jul 26

Dan Johnson drove in four runs to help the Blue Jays end their 17-game losing streak at Yankee Stadium with a 6-4 win over New York.

Yankees Win Fourth Straight

Jul 25

Carlos Beltran and Ichiro Suzuki both homered in the third inning of the Yankees' 6-4 win over the Blue Jays.