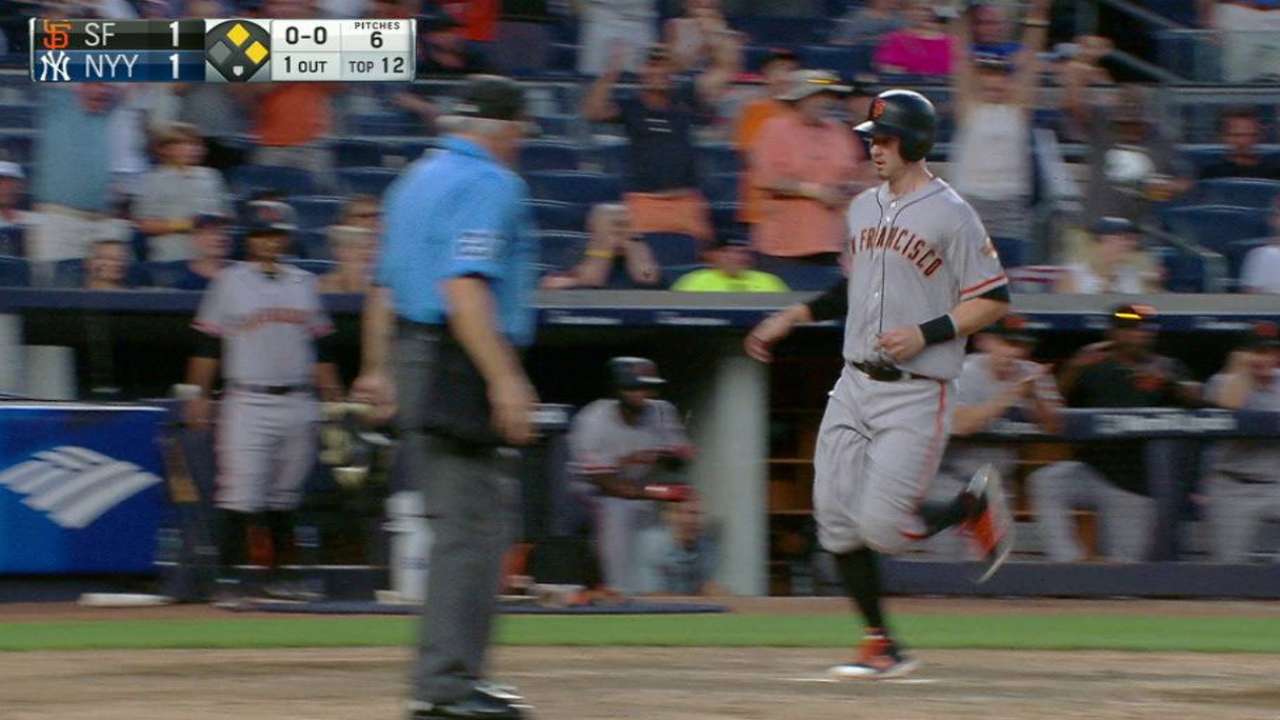 MLB.com
nytimes.com
Updated 3 hours ago
Mac Williamson capped an eventful Saturday by drilling a 12th-inning, tiebreaking RBI single that propelled the Giants past the New York Yankees, 2-1, and ended San Francisco's six-game losing streak.
Share
Tweet
Giants 2, Yankees 1, 12 innings: Giants Eventually Capitalize on an Opportunity to Beat the Yankees

nytimes.com

3 hours ago

Both teams squandered plenty of chances before Mac Williamson, who had an eventful day, drove in what proved to be the winning run.

Share Tweet

Shaughnessy accepts Spink Award at HOF

MLB.com

6 hours ago

It is of course apt that the man who popularized the phrase "Curse of the Bambino" would have a career colorized by the Yankees-Red Sox rivalry. That career became the focus of the Hall of Fame's Awards Presentation on Saturday, when longtime …

Share Tweet

nytimes.com

7 hours ago

In July 1999, Piazza stepped to the plate and unleashed a 482-foot sonic boom that brought his foes to their feet in the dugout — and looking skyward in awe in the field.

Share Tweet

nytimes.com yahoo.com

Jul 23 (yesterday)

Bumgarner, who batted in Oakland last month instead of the San Francisco Giants using a designated hitter, was limited to the mound at Yankee Stadium.

Share Tweet

Yankees send Giants to sixth straight loss

MLB.com

Jul 23 (yesterday)

The San Francisco Giants' losing streak reached a season-high six games Friday night as the National League West leaders endured an eighth-inning collapse in a 3-2 setback against the New York Yankees.

Share Tweet

Foul off foot forces Posey to leave game

MLB.com

Jul 22 (yesterday)

The Giants' luck continued to plummet as catcher Buster Posey left Friday night's 3-2 Interleague loss to the New York Yankees with a bruised right foot.

Share Tweet

Chapman Nats' top target before Trade Deadline

MLB.com

Jul 22 (yesterday)

The Nationals continue to have Yankees left-hander Aroldis Chapman as their top target before the Aug. 1 non-waiver Trade Deadline.

Share Tweet

Will The Yankees Get Out Of Their Own Way And Be Sellers?

deadspin.com

Jul 22 (yesterday)

The New York Yankees are a mediocre baseball team that also happens to employ a plethora of talented players that more competitive teams would gladly pay a decent price to acquire. If the Yankees were any other team, the path forward would be quite clea…

Share Tweet

nytimes.com ESPN.com

Jul 21 (2 days ago)

Three defensive miscues proved costly as the Yankees failed to complete a four-game sweep against their American League East rivals.

Share Tweet

deadspin.com

Jul 21 (2 days ago)

While throwing against the Orioles this afternoon, Yankees pitcher CC Sabathia caught his cleat in the dirt and took a little tumble. The fall resulted in a balk and advanced Chris Davis to second base.Read more...

Share Tweet

nytimes.com

Jul 21 (2 days ago)

Worn down and banged up, the Baltimore Orioles found the perfect remedy for all their ailments — a well-pitched game.

Share Tweet

Yankees' trade plans becoming less clear

MLB.com

Jul 21 (3 days ago)

Those hoping for the spectacle of a fire sale by the New York Yankees will have to take a deep breath and, at the very least, wait a while.

Share Tweet

Yankees grant Headley an 'excused absence'

MLB.com

Jul 20 (3 days ago)

Third baseman Chase Headley was scratched from the starting lineup in the Yankees' 5-0 win over the Orioles on Wednesday night for personal reasons, and he was not with the team. Ronald Torreyes started at third base in his place and batted ninth.

Share Tweet

nytimes.com MLB.com

Jul 20 (3 days ago)

Michael Pineda pitched six shutout innings, Mark Teixeira ended a career-worst home run drought, and Carlos Beltran drove in the Yankees' first and last runs against the Orioles.

Share Tweet

Showalter kept from Yankee Stadium with flu

MLB.com

Jul 20 (3 days ago)

The Orioles have been ravaged by injuries and illness, and Buck Showalter isn't immune. The manager was not at Yankee Stadium for Baltimore's 5-0 loss to the Yankees on Wednesday night because of the flu. Bench coach John Russell took his place as actin…

Share Tweet

Ellsbury Confident He'll Be Ready For Opener

Mar 19

Wallace Matthews discusses Jacoby Ellsbury's oblique injury and when he could return to the Yankees.

Sabathia Discusses Spring Debut

Mar 17

Buster Olney speaks with Yankees pitcher CC Sabathia about his first pitching outing since May. He allowed two runs in two innings Tuesday against the Blue Jays.

A-Rod Homers

Mar 11

Alex Rodriguez hit a home run in the Yankees' 10-6 loss to the Red Sox.

A-Rod Has RBI Single In Win Over Rays

Mar 9

Alex Rodriguez went 2-for-3 with an RBI single and Michael Pineda allowed one hit and struck out two over two scoreless inning as the Yankees beat the Rays 4-3.