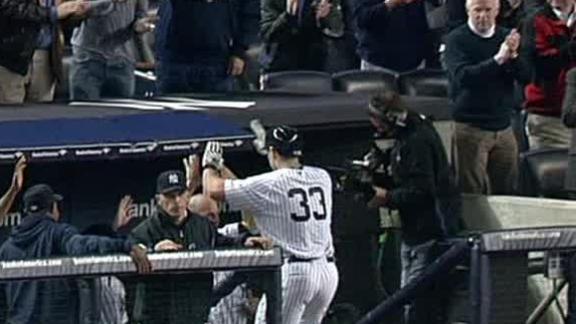 Travis Hafner had a pinch-hit homer in the eighth inning to make a winner of CC Sabathia, who settled down after a shaky start and helped the New York Yankees beat the Arizona Diamondbacks 4-3 Wednesday night.
Share
Tweet
Teixeira ramps up rehab, takes pool swings

ESPN.com

Apr 17, 2013

Yankees first baseman Mark Teixeira has taken his first swings -- in a pool -- as he ramps up his rehabilitation from a wrist injury.

Share Tweet

CNNSI.com

Apr 17, 2013

CLEVELAND (AP) -- The Cleveland Indians have placed center fielder Michael Bourn on the 15-day disabled list with a cut finger.

Share Tweet

Election Has Yankees' Cervelli Worried for Venezuela

nytimes.com

Apr 17, 2013

A disputed election in Venezuela has Yankees catcher Francisco Cervelli keeping an eye on the events in Venezuela.

Share Tweet

Dodgers facing big-money challenge

MLB.com

Apr 17, 2013

It's not how much money a baseball team spends. It's how the money is spent. The Dodgers have been on a spending spree that has them challenging the Yankees for the highest payroll in the game. Now, however, comes the hard part -- trying to translate th…

Share Tweet

deadspin.com

Apr 17, 2013

Even after the most routine, stressful workday, it's nice to come home and watch a baseball game and forget about everything else for a few hours. Last night, for the first time since Monday's marathon bombings, the people of Boston had the Red Sox.Read…

Share Tweet

MLB.com

Apr 17, 2013

Yes, Robinson Cano is 30 and will be 31 at the start of his next contract. Yes, he plays second base, a position that seems to see more than its share of drastic declines. Anything else? Because if those are the counterarguments, they shouldn't be enoug…

Share Tweet

Phils-Reds suspended due to rain; resume Wed.

CNNSI.com

Apr 17, 2013

CINCINNATI (AP) The Philadelphia Phillies and Cincinnati Reds managed only two singles apiece on Tuesday night, staying scoreless until their game was suspended because of heavy rain in the middle of the ninth inning.

Share Tweet

Derek Jeter's Diary: Alone in Tampa

grantland.com

Apr 17, 2013

The baseball season is a long and lonely road. To preserve his sanity, Yankees shortstop Derek Jeter keeps a diary. These are excerpts from The Captai...

Share Tweet

Yankees Rally Late To Top Diamondbacks

Apr 17

Travis Hafner's home run lifts Yankees to win.