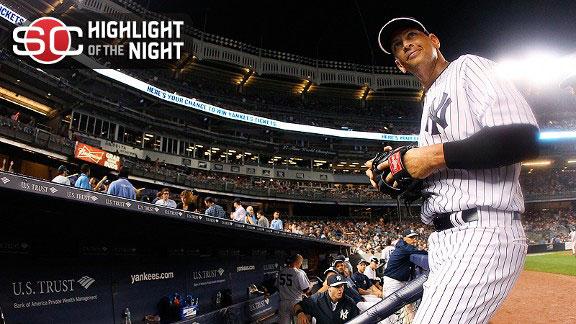 Cabrera, Hunter help Tigers pummel Yanks

ESPN.com

Aug 10, 2013

Miguel Cabrera homered against the Yankees again and had three hits while playing on a bandaged leg and Torii Hunter connected and drove in four runs, leading the Detroit Tigers to a 9-3 victory over New York on Saturday.

Share Tweet

A-Rod comments on fan reception in New York, gets Saturday off after three strikeout game

yahoo.com

Aug 10, 2013

Alex Rodriguez left Yankee Stadium on Friday night without talking to the media, but was available prior to Saturday afternoon's game to talk about the reception he received from Yankees fans in his return to New York. A response that in his mind was &q…

Share Tweet

A-Rod: Discipline from Yanks 'has not happened'

Alex Rodriguez said that he was unaware of a published report that stated he was issued a letter informing him of discipline by the Yankees before Friday's game.

Share Tweet

Alex Rodriguez received quite a welcome back to Yankee Stadium on Friday night, and that was before he even stepped on the field to a mixed response that turned into near unanimous boos following an 0 for 4 appearance with three strikeouts. According to…

Share Tweet

Batting with bases loaded and two outs in the bottom of the 10th, Brett Gardner played the hero, poking a single through the left side of the infield, scoring Jayson Nix and giving the Yankees a walk-off, 4-3 victory over the Tigers. Ivan Nova posted hi…

Share Tweet

Rivera rarity: Back-to-back blown saves

Miguel Cabrera launched a two-run homer off Mariano Rivera on Friday, marking just Rivera's fourth blown save in 39 chances this season. The 43-year-old expressed relief that the Yankees went on to win, 4-3, on Brett Gardner's RBI single in the 10th inn…

Share Tweet

Mixed reviews for A-Rod in 2013 Bronx debut

Yankees fans delivered a mixed message on the topic of Alex Rodriguez on Friday night. And when you think about it, that probably shouldn't have been a surprise for this extraordinarily talented but polarizing figure. And A-Rod's current situation is un…

Share Tweet

Hunter, Cabrera Fuel Tigers

Aug 10

Torii Hunter homered and drove in four runs and Miguel Cabrera added his 35th home run of the season as the Tigers pummeled the Yankees 9-3.