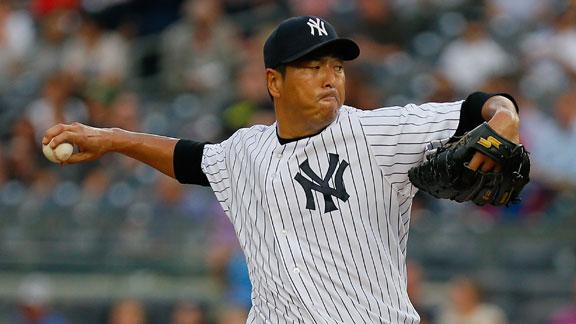 Updated Aug 12
Share
Tweet
Minus Mariano Rivera in the ninth inning, the New York Yankees used a pair of relievers to close out the Los Angeles Angels 2-1 Monday night and preserve the win for Hiroki Kuroda.
Jeter making progress in recovery from calf strain

Updated Aug 12

Share Tweet

Derek Jeter is eligible to return from the disabled list this weekend when the Yankees travel to Boston. Joe Girardi isn't sure if he'll be ready to come back that soon, though. The Yankees' manager said the shortstop is "making progress" in h…

Source:

MLB.com

Updated Aug 12

Share Tweet

Despite being the all-time leader in saves and being in his 19th and final Major League season, Mariano Rivera occasionally still needs to take a look at his mechanics. Not even Rivera is susceptible to having them get slightly out of line. Unfortunatel…

Source:

MLB.com

Alex Rodriguez can help spark Yankees offense, but Bombers need to pitch much better

Updated Aug 12

Share Tweet

OK, so who thought Alex Rodriguez would represent the good news for the Yankees at the moment, a week into his comeback? More to the point, is that really a recipe for success, something that will fuel the type of late-season run this team will need to …

Source:

nydailynews.com

Kuroda Impressive Against Angels

Aug 12

The "Baseball Tonight" crew discusses the stellar outing by Yankees pitcher Hiroki Kuroda in a win against the Angels.

Tim Kurkjian answers Fan Tweets Between Innings

Aug 12

Did he answer YOUR tweets?

Yankees Hold Off Angels

Aug 12

SportsCenter Highlight of the Night: Hiroki Kuroda struck out seven in the Yankees' 2-1 win over the Angels.