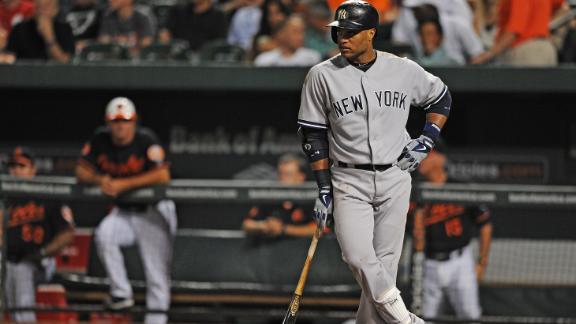 Updated Jul 1
Share
Tweet
We're entertained by stories that sprout like weeds around Yankees player
Source:
ESPN.com
Updated Jul 1

Share Tweet

With his 1,958th strikeout in a Yankees uniform, Andy Pettitte passed Hall of Famer and fellow left-hander Whitey Ford for the most in franchise history.

Source:

MLB.com

Updated Jul 1

Share Tweet

You didn't hear this on A-Rod's Twitter: The injured $28 million man will begin his rehab assignment on Tuesday, the New York Yankees announced.Mark Feinsand of the New York Daily News says Rodriguez, who is recovering from hip surgery, got the all-clea…

The Yankees Are Paying $95 Million For A Whole Lot Of Nothing

Updated Jul 1

Share Tweet

Or: why payroll size matters less than what you do with it.Read more...

Source:

deadspin.com

Pettitte Breaks Yankees' Strikeout Record

Jul 1

Baseball Tonight Spotlight: Andy Pettitte became the Yankees' all-time strikeout leader by passing Whitey Ford as New York snapped its five-game slide with a 10-4 win over Minnesota.