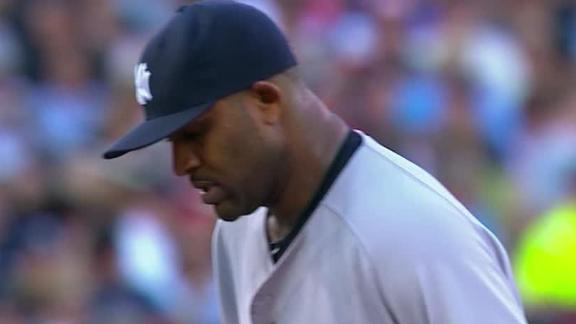 CC Sabathia won his 200th career game to stretch his winning streak over Minnesota to nearly six years, and Robinson Cano hit a tying two-run double to spark the New York Yankees in a 3-2 victory over the Twins on Wednesday night.
Share
Tweet
ESPN.com

Jul 3, 2013

It's no hits and no worries so far for Yankees slugger Alex Rodriguez.

Share Tweet

The Yankees Don't Have An A-Rod Problem; They Have A Yankees Problem

deadspin.com

Jul 3, 2013

Originally published in Bloomberg ViewRead more...

Share Tweet

Yanks' resurgent offense hands Hughes a win

MLB.com

Jul 3, 2013

Phil Hughes pitched seven innings of strong ball to log his first victory in four starts and Robinson Cano hit his fourth home run in the last three games, leading the Yankees to a 7-3 victory over the Twins on Tuesday.

Share Tweet

Twins give Mariano Rivera rocking chair made of broken bats

yahoo.com

Jul 3, 2013

The Minnesota Twins perfected the practice of giving a meaningful, personalized gift to a star player on a retirement tour with Mariano Rivera in town Tuesday. The Twins even named the rocking chair made of broken bats they gave to Rivera before playing…

Share Tweet

Sabathia Picks Up 200th Win

Jul 3

CC Sabathia struck out nine to lead the Yankees past the Twins and win his 200th game.

Sports Columnists

Clayton: Ravens travel new post-title road

Jul 3

It's unusual for a Super Bowl champion to retool its roster, but the Ravens' strategy makes sense in this era, writes John Clayton.

Kyle Korver agrees to four-year, $24 million deal with Atlanta Hawks, acco…

Jul 3

Sources close to the situation told ESPN.com on Wednesday night that Kyle Korver has agreed to terms on a four-year deal with the Atlanta Hawks worth an estimated $24 million.