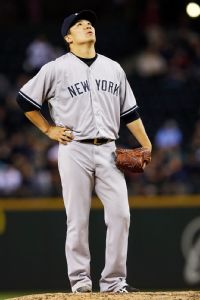 ESPN.com
Updated Jul 23, 2014
New York Yankees general manager Brian Cashman said Wednesday that Masahiro Tanaka, the ace of his pitching staff, is still feeling discomfort in his pitching elbow despite not having picked up a baseball since receiving a platelet-rich plasma injection…
Share
Tweet
nytimes.com

Jul 23, 2014

The Yankees put Kelly Johnson on the disabled list and took a rain-shortened game from the Texas Rangers.

Share Tweet

Yankees Ground Crew Struggles To Get Tarp On Field During Driving Rain

deadspin.com

Jul 23, 2014

After some very nearby flashes of lightning, the skies opened and dumped a whole mess of rain on the Bronx tonight. The Yankees ground crew struggled mightily to get the tarp on the field as the rain kept pouring and accumulating on the tarp, and the wi…

Share Tweet

yahoo.com

Jul 23, 2014

A day after trading away Chase Headley to the New York Yankees, the San Diego Padres have now lost outfielder Cameron Maybin. Although for an entirely different reason. Major League Baseball has suspended Maybin for 25 games effective Wednesday for usin…

Share Tweet

nydailynews.com

Jul 23, 2014

Troy Tulowitzki may be the holy grail for Mets' and Yankees' fans looking for a shortstop next season, but another trip to the disabled list this week is a reminder of why the oft-injured All-Star won't be coming to New York anytime soon.

Share Tweet

yahoo.com

Jul 23, 2014

Your browser does not support iframes. As the days count down toward the end of Derek Jeter's career in the major leagues, he continues to tick off career milestones. Jeter on Tuesday night broke a 79-year-old record held by Lou Gehrig, putting himself …

Share Tweet

yahoo.com nydailynews.com deadspin.com ESPN.com nytimes.com MLB.com

Jul 23, 2014

Your browser does not support iframes. Lots of FREE BASEBALL was played Tuesday night as three games went into extra innings, including the New York Yankees debut of Chase Headley, acquired in a trade earlier in the day from the San Diego Padres. Neithe…

Share Tweet

Mint Condition: Celebrity Wife Swap Or Moneyball?

Jul 23

Former MLB All-Star David Justice breaks down how excited he is to return to Cleveland for the National Sports Collectors Convention, his strangest autograph request and the off-field appearance he's most recognized for.

Yankees Win Rain-Shortened Game

Jul 23

Brett Cardner's home run in the third inning was the difference in the Yankees' 2-1 win over the Rangers in five innings.