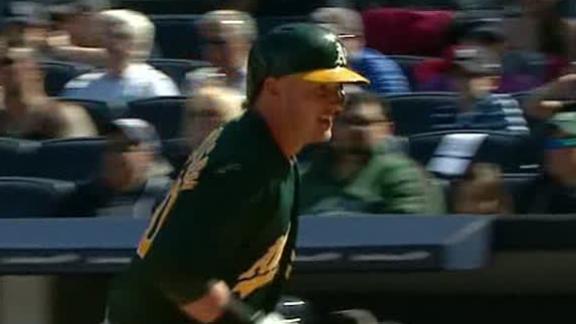 Donaldson's homer leads A's past Yankees

A's hitters came up empty nine times with runners in scoring position on Sunday afternoon, but they redeemed themselves by way of a trio of homers to edge the Yankees, 5-4, and claim the series victory.

Share Tweet

Starling Marte puts glove on throwing hand in desperate attempt to corral redirected baseball

yahoo.com

May 5, 2013

Your browser does not support iframes.Switch-hitters are common is baseball. We've even seen a switch-pitcher reach the professional ranks after the New York Yankees drafted Pat Venditte in 2008. Now we have Starling Marte, the Pittsburgh Pirates' switc…

Share Tweet

Granderson's role may vary upon return

With the Yankees suffering no shortage of production from Vernon Wells in left field, it is not a foregone conclusion in manager Joe Girardi's mind that Brett Gardner will be going back to left from center when Curtis Granderson comes off the DL.

Share Tweet

Smith gets nod in left against lefty Pettitte

The strikeouts are piling up for a suddenly struggling Seth Smith, but A's manager Bob Melvin lent his outfielder a vote of confidence on Sunday by placing him in the lineup as the only lefty against Yankees southpaw Andy Pettitte.

Share Tweet

Athletics Power Past Yankees

May 5

Josh Donaldson's third home run of the season gave the Athletics a 5-4 win over the Yankees.

Sports Columnists

Clayton's mailbag: Don't overlook AFC North

May 5

Don't overlook the strong offseasons put together in the AFC North by the Ravens, Steelers and Bengals, writes John Clayton.

Rogers sees 'good chance' he could play in MLS this year

May 5

Former U.S. national team winger Robbie Rogers, who stepped away from the sport in February after announcing he is gay, said Sunday that "there's a really good chance" he'll play in Major League Soccer this season.