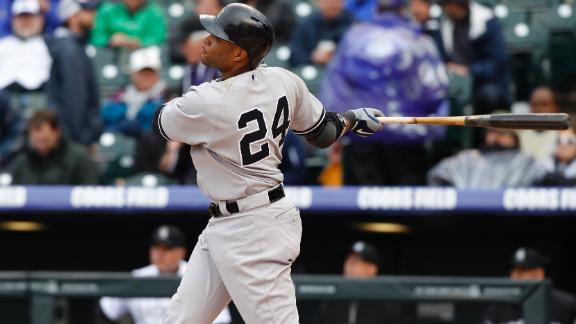 Updated May 9
Share
Tweet
CC Sabathia and five relievers held Colorado to four hits, Robinson Cano added a solo homer and the New York Yankees beat the Rockies 3-1 on Thursday in a game that was delayed more than two hours by rain.
Updated May 9

Share Tweet

A year after sustaining a season-ending injury shagging flies in the outfield in Kansas City, Mariano Rivera plans to revisit the scene and talk with the people who assisted him that night.

Source:

nytimes.com

Watch this adorable 18-month-old name famous New York Yankees

Updated May 9

Share Tweet

My 2-year-old watched a couple Vine videos the Los Angeles Dodgers posted the other night of their players in the on-deck circle. Then he said, "no more base-ball-ball" and went about his toddler business, carrying around sand in a dump truck.…

Source:

yahoo.com

Updated May 9

Share Tweet

To say the New York Yankees had a strange night on Wednesday would be an understatement. It started with manager Joe Girardi penciling his pitcher, David Phelps, into the eighth spot in his batting order despite the fact that Phelps had never taken an a…

Yanks snap Coors hex with infield hit in 9th

Updated May 9

Share Tweet

Brennan Boesch hit a tiebreaking infield single with the bases loaded in the ninth off closer Rafael Betancourt and the New York Yankees snapped a five-game skid at Coors Field with a 3-2 win over the Colorado Rockies on Wednesday night.

Source:

ESPN.com

Derek Jeter's Diary: Ducks Have No Place in Baseball

Updated May 9

Share Tweet

The baseball season is a long and lonely road. To preserve his sanity, Yankees shortstop Derek Jeter keeps a diary. These are excerpts from The Captai...

Source:

grantland.com

Yankees Win After Rain Delay At Coors Field

May 9

Robinson Cano hit an infield single in the third for his 1,500th hit and homered to lead the Yankees to a 3-1 win over the Rockies.