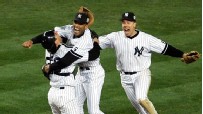 ESPN.com
Updated Nov 30, 2012
All-time saves leader Mariano Rivera and the New York Yankees have finalized their $10 million, one-year contract.
Upvote
Share
Tweet
Derek Jeter: Fatty Fatty Boombalatty (Or Something)

deadspin.com

Nov 30, 2012

That right there is Yankee shortstop Derek Jeter, fresh off the pancake buffet at a Miami hotel as he rehabs his surgically repaired ankle. Notice anything different? I mean, besides the layer after layer of disgusting subcutaneous fat, just bulging and…

Upvote Share Tweet

'Ambassador' Granderson to tour Korea, Japan

MLB.com

Nov 30, 2012

Yankees center fielder Curtis Granderson, as part of the MLB International Ambassador program, will spend three days in South Korea and eight more in Japan, making appearances and participating in grassroots initiatives.

Upvote Share Tweet

Cashman confident Yanks are offseason winners

CNNSI.com

Nov 30, 2012

STAMFORD, Conn. (AP) -- Brian Cashman feels so good about the Yankees' offseason, he decided to rapel down a building.

Upvote Share Tweet

Jeter's recovery from broken ankle going well

ESPN.com

Nov 30, 2012

New York Yankees general manager Brian Cashman said that Derek Jeter's recovery from a broken ankle is going well and he should be ready for Opening Day.

Upvote Share Tweet

MLB.com

Nov 30, 2012

Brian Cashman said that he was "sorry" to learn that Russell Martin has decided to depart for the Pirates, but the Yankees' general manager acknowledged that the club never made the catcher a contract offer after the season.

Upvote Share Tweet

New York Post Takes Shot At Derek Jeter

Nov 30

Tim Kurkjian talks about the New York Post headline "Derek Eater," which is based off a recent photo in which Jeter looks like he is sporting a gut.