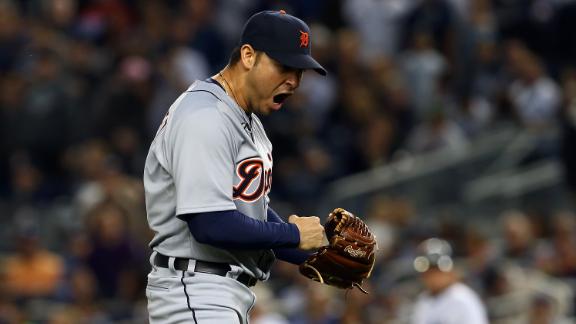 New York Yankees manager Joe Girardi strongly advocated for the implementation of expanded instant replay after he was ejected for arguing a blown call in the eighth inning of his team's 3-0 loss to the Detroit Tigers in Game 2 of the ALCS.
Share
Tweet
To give his team legitimate hope in the American League Championship Series, all Yankees right-hander Phil Hughes has to do in Tuesday night's Game 3 is outpitch the great Justin Verlander.

Share Tweet

Peralta known for bat, but 'D' is making mark in ALCS

Tigers shortstop Jhonny Peralta has quietly put his own stamp on the ALCS as Detroit has taken a 2-0 advantage over the Yankees.

Share Tweet

Scuffling bats holding back Yanks' strong pitching

The danger here is not only the New York Yankees losing the American League Championship Series. There is also the potential for the Yankees' pitchers to sustain hernias from carrying this entire operation all by themselves.

Share Tweet

ESPN.com yahoo.com CNNSI.com nytimes.com nydailynews.com

Oct 14, 2012

Anibal Sanchez shut down a Yankees lineup minus injured Derek Jeter, and the Detroit Tigers capitalized on a missed call by an umpire to beat New York 3-0 Sunday for a 2-0 lead in the AL championship series.

Share Tweet

ESPN.com nytimes.com MLB.com deadspin.com nydailynews.com yahoo.com

Oct 14, 2012

New York Yankees shortstop Derek Jeter will "likely" undergo surgery on his broken left ankle, according to a league source.

Share Tweet

There Is A Crack In The Yankees Mystique

The captain is sidelined. Poor regular season attendance has become a postseason reality. Even the Yankee Stadium parking lot is failing. More »

Share Tweet

A Peek Inside The Spiral Down To Madness

He's OK, he's OK. They're just giving him the day off, Jackie Rabbittson. They're just giving him the day off. Here, take some peanuts. I know how you like the peanuts. I don't, I don't know, Jackie Rabbittson. Maybe they think A-Rod's going to snap out…

Share Tweet

Jeter-less Yankees And McCarver Doing "Who's On First" By Himself: Your Championship Series Open Thread

It's the Tigers in the Bronx again at 4:00 p.m. on TBS, in a series that has so far been essentially bereft of story lines, and robbed of any dramatic potential. Oh here's a story line-why are there so many fat guys on the Tigers? The Cardinals play the

Share Tweet

Nix more than capable of taking over at shortstop

Jayson Nix started and hit ninth for New York against Detroit in Game 2 of the American League Championship Series on Sunday, a day after Derek Jeter fractured his left ankle diving for a ground ball that cost the Yankees Game 1 and Jeter three months.

Share Tweet

Yanks' president: World Series still within grasp

ESPN.com

Oct 14, 2012

Yankees president Randy Levine said Sunday he believes he Yankees can still win the World Series despite the loss of shortstop Derek Jeter to a fractured left ankle.

Share Tweet

Yanks tickets still for sale day of ALCS Game 2

ESPN.com

Oct 14, 2012

The Yankees still had tickets available and several thousand more were for sale on the secondary market Sunday for Game 2 of the ALCS, a development the team says doesn't reflect the market while one broker attributed it to prices and the schedule.

Share Tweet

MLB Notebook: ALCS off to a memorable start

After blowing a four-run lead in the ninth inning Saturday, the Tigers bounced back for a 6-4 win over the Yankees in 12 innings in the longest League Championship Game 1 since the first LCS game in 1969.

Share Tweet

Young sets Tigers' postseason HR record

With his solo homer Saturday in the Tigers' 6-4, 12-inning win over the Yankees in Game 1 of the American League Championship Series, Delmon Young has claimed one bit of Tigers history. He now owns the franchise career postseason home run record with si…

Share Tweet

nydailynews.com ESPN.com CNNSI.com deadspin.com

Oct 14, 2012

Such a shame. Such a waste. There was magic in the bat, in the moment, and rational physics was no longer in play. Everything had come together again for Raul Ibanez in mystical, serendipitous harmony. A 17-season journeyman was going to be mentioned, w…

Share Tweet

nydailynews.com

Oct 14, 2012

Let the whining begin. Just when Bombers fans stopped moaning over TBS using Cal Ripken Jr. during the Yankees-Orioles ALDS, sounds of discontent reverberated again Saturday night when Ron Darling entered the booth for Game 1 of the ALCS.

Share Tweet

Yankees gain some history, but lose their heart

Until Derek Jeter's ankle betrayed him in the 12th inning, Ibanez and the ghosts Jeter often references had put the Yankees in position to win Game 1. Not even Babe, Lou, Joe D., Yogi and Mick operated as Raul Ibanez has of late.

Share Tweet

ALCS Game 1: Tigers overcome late Yankees heroics, emerge with 6-4 win in extras

yahoo.com

Oct 14, 2012

Score and situation: The Detroit Tigers walked the tightrope early and then nearly saw the entire game slip away thanks to Jose Valverde's ninth inning meltdown. Yet somehow, someway, they averted a complete disaster escaped with a 6-4 win over the New …

Share Tweet

Girardi Still Has Faith In Yanks

Oct 14

Joe Girardi discusses the Yankees plan following Derek Jeter's injury.

Tigers Take 2-0 Series Lead

Oct 14

Baseball Tonight recaps the Tigers' shut out against the Yankees, and Anibal Sanchez's performance to help Detroit take a 2-0 series lead.

Baseball Tonight Spotlight

Oct 14

Anibal Sanchez struck out seven over seven strong innings to help the Tigers to a 2-0 series lead over the Yankees.