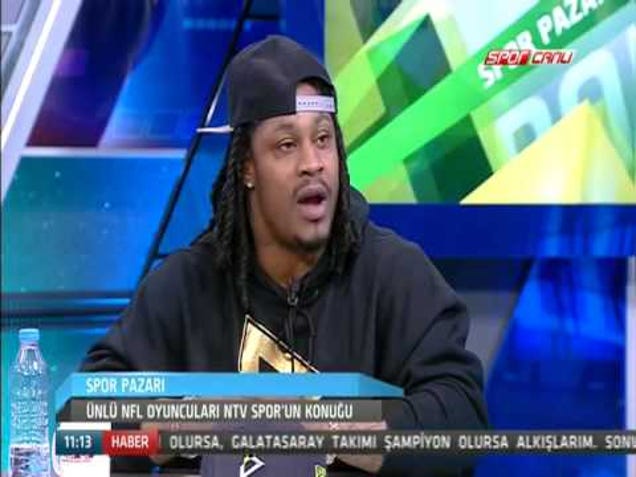 profootballtalk.com
deadspin.com
ESPN.com
yahoo.com
Updated 5 hours ago
One month to the day since the Seahawks opted not to give the football to running back Marshawn Lynch on the doorstep of the New England end zone in Super Bowl XLIX, a video has surfaced showing Lynch explaining his position on the most scrutinized play…
Upvote
Share
Tweet
Richard Dent among 2015 Black College Football Hall of Fame inductees

profootballtalk.com

1 hour ago

A Super Bowl MVP who went on to gain enshrinement in the Pro Football Hall of Fame is among seven members of the Black College Football Hall of Fame's Class of 2015. Former Bears, 49ers, Colts and Eagles defensive end Richard Dent, a Tennessee State pro…

Upvote Share Tweet

On Pro Football: In Los Angeles, Stadiums Battle Heats Up

nytimes.com

2 hours ago

With three N.F.L. teams vying to move to the same city, studies criticize one proposal for a stadium in Inglewood, Calif.

Upvote Share Tweet

ESPN.com profootballtalk.com

4 hours ago

The LaMarr Woodley era in Oakland is over after a year, as expected.

Upvote Share Tweet

Le'Veon Bell faces a maximum suspension of four games

The new substance-abuse policy imposes a two-game suspension for a first-offense DUI. By landing on probation for a July 2014 DUI arrest arising from marijuana use, Steelers running back Le'Veon Bell is expected to be suspended for two games. But there'…

Upvote Share Tweet

Key free agency date could move up a month

In addition to conversations about tinkering with roster size and getting rid of inactive lists for Thursday games, the NFL's Competition Committee is considering the acceleration of a key date on the free-agency calendar. Currently, players who become …

Upvote Share Tweet

Last month, the Ravens signed defensive back Victor Hampton, an undrafted free agent in 2014. He likely will be cut before he ever shows up for an offseason training session. According to WSOC-TV, Hampton has been arrested on charges of driving while in…

Upvote Share Tweet

New Cleveland quarterback Josh McCown says that if some people doubt he's the man to turn the Browns around, he understands that. The Buccaneers went 1-10 in games McCown started in 2014, and McCown realizes that some people think that means the Browns …

Upvote Share Tweet

Roger Goodell's absolute power over players is a myth

profootballtalk.com

7 hours ago

There's a popular view among some in the media that NFL Commissioner Roger Goodell enjoys complete and total power over the league's players, especially on matters of discipline. That popular view also is not accurate. Apart from the reality that all di…

Upvote Share Tweet

Howie Roseman doesn't like trading up (but it's not up to him)

profootballtalk.com

7 hours ago

Amid talk that Eagles coach Chip Kelly would like to trade up in the draft and select his former Oregon quarterback Marcus Mariota, Eagles Vice President of Football Operations Howie Roseman is saying that trading up isn't a good idea. Roseman said at t…

Upvote Share Tweet

profootballtalk.com

9 hours ago

As noted in the Sunday one-liners, former Eagles offensive lineman Todd Herremans has said farewell to the fans of Philadelphia in the aftermath of his release. But Herremans won't be saying farewell to football. Per a source with knowledge of Herreman'…

Upvote Share Tweet

Tulloch 'way ahead of schedule' in ACL rehab

ESPN.com

9 hours ago

Stephen Tulloch may not know about his status with the Detroit Lions for 2015, but the rehabilitation of his torn left ACL is something he is not worried about.

Upvote Share Tweet

Rosters could expand to 55

profootballtalk.com

9 hours ago

The Competition Committee's annual pre-league meeting get-together includes, for 2015, examination of roster size. Per a source with knowledge of the situation, the Competition Committee is considering expanding rosters from 53 to 55. Opposition to larg…

Upvote Share Tweet

Keeping secondary intact would cost the Pats a fortune

profootballtalk.com

10 hours ago

With free agency starting next week, the Patriots are in an interesting position: They can keep the three best players in their secondary but spend a fortune, or they could take the frugal route and risk losing Darrelle Revis, Devin McCourty and Brandon…

Upvote Share Tweet

A.J. Smith announces his retirement

profootballtalk.com

11 hours ago

When A.J. Smith announced that he wouldn't be back for a third season as a consultant in the Redskins front office, he said he and his family were going to discuss what was next after three decades in the NFL. Smith announced the result of those discuss…

Upvote Share Tweet

yahoo.com profootballtalk.com

11 hours ago

We are getting closer to figuring out the Dallas Cowboys' offseason strategy plans. Monday is the deadline for the Cowboys — and every other NFL team, for that matter — to receive the franchise tag. All indications point toward Dez Bryant being the reci…

Upvote Share Tweet

Rex's Bills need a quarterback, and Sanchez and Vick are available

profootballtalk.com

11 hours ago

When Josh McCown became available as a free agent, the first team to be linked to him was Buffalo, where the Bills are in need of a veteran quarterback. When McCown spurned the Bills and signed with the Browns, that left a hole that the Bills will need …

Upvote Share Tweet

Justin Forsett: I don't want to be a one-hit wonder

profootballtalk.com

12 hours ago

After six years of bouncing around the league as a backup running back, Justin Forsett made the most of his extended shot in the top job for the Ravens in 2014. Forsett ran for 1,266 yards, caught 44 passes and scored eight touchdowns as Baltimore advan…

Upvote Share Tweet

profootballtalk.com

12 hours ago

Eagles wide receiver Jeremy Maclin is coming up on the point when he's going to have to make some big decisions about his future, but he didn't sound like a man feeling too pressured by that predicament on Saturday. Maclin said he felt "no rush" to get …

Upvote Share Tweet

Competition Committee considers dumping inactive lists for Thursday games

NFL executive V.P. of football operations Troy Vincent said Saturday that the Competition Committee considered the proper handling of rosters for Thursday games. Per a league source, the possible solution is the removal of the inactive list for Thursday…

Upvote Share Tweet

Jonas Gray determined to avoid inactive list in future

Patriots running back Jonas Gray experienced highs, lows and everything in between during the 2014 season. Gray started the year on the practice squad, but was bumped to the active roster in October and became an overnight sensation by running for 201 y…

Upvote Share Tweet

Dan Quinn: Hopefully Sean Weatherspoon will be "big part" of our defense

Injuries have limited linebacker Sean Weatherspoon to seven games in the last two seasons, but that didn't stop General Manager Thomas Dimitroff from calling him "an important part" of the Falcons earlier this month. Dimitroff's comments came just after…

Upvote Share Tweet

Competition Committee explores banning chop block

profootballtalk.com

14 hours ago

For years, pro football has allowed cut blocking. One type of cut blocking is chop blocking. And chop blocking now may be going the way of the dodo bird, Ray Rice, and the "how many fingers?" concussion test. At their Saturday meeting in Naples, Florida…

Upvote Share Tweet

Sunday morning one-liners

profootballtalk.com

15 hours ago

Perusing quarterback candidates for the Bills to add this offseason. Wayne Diesel has been named sports performance director for the Dolphins and Dennis Lock was promoted to director of analytics. What will the Patriots do regarding CB Darrelle Revis? D…

Upvote Share Tweet

Ex-Raider Kaluka Maiava serving 15 days in jail for assault

profootballtalk.com

16 hours ago

Kaluka Maiava, a free agent linebacker who started two games for the Raiders last season, is currently in jail in Hawaii for assault. Maiava turned himself in Monday afternoon to the Maui Community Correctional Center to begin serving a 15-day jail term…

Upvote Share Tweet

Lynch Was Expecting Ball On Pivotal SB Play

Mar 1

Herm Edwards reacts to Marshawn Lynch's comments to a Turkish sports network in which he said he was expecting to get the ball on the Seahawks' final offensive play, which resulted in the interception that sealed the Patriots' Super Bowl victory.

'I'm Just Here' Trademark May Cause Controversy

Mar 1

Mitch Albom breaks down Seahawks RB Marshawn Lynch's move to trademark the phrase "I'm just here so I don't get fined" and explains why it could lead to a fine.

Goodell Loses Another Legal Battle

Mar 1

Gene Wojciechowski sheds some light on NFL commissioner Roger Goodell and his inability to stay out of the headlines, most recently losing the legal battle over the reinstatement timetable involving Vikings RB Adrian Peterson.

Cowboys Intend To Franchise Bryant

Feb 28

ESPN Cowboys reporter Todd Archer breaks down the team's decision to use the franchise tag on wide receiver Dez Bryant.