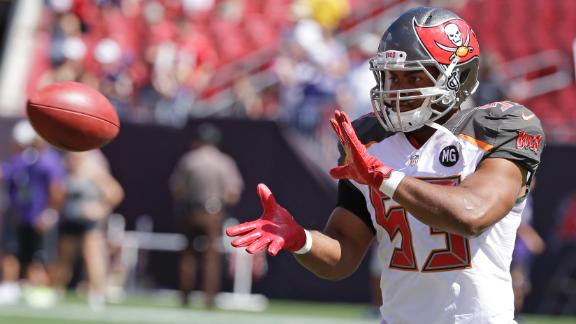 profootballtalk.com
ESPN.com
Updated 3 hours ago
Officially, former Buccaneers linebacker Brandon Magee remains committed to football. Unofficially, he's giving baseball a try — in spring training with the Red Sox. As he does, Magee is heeding advice from one of the last great two-sport stars, Bo Jack…
Share
Tweet
Agent: Seahawks re-sign Demarcus Dobbs

profootballtalk.com

39 minutes ago

The Seahawks have retained one of the NFL's more versatile backup defensive linemen. The club has re-signed defensive end Demarcus Dobbs, agent Wesley Spencer announced on Twitter. Dobbs (6-2, 282) appeared in four regular season games and three postsea…

Share Tweet

Draft status doesn't matter, Anderson tops Ball on Broncos' depth chart

profootballtalk.com

49 minutes ago

In 2013, the Broncos used a second-round draft pick on Montee Ball, and signed C.J. Anderson as an undrafted free agent. Two years later, there's little doubt which of them is the better running back — and it's not the one everyone thought heading into …

Share Tweet

Report: "Spirited debate" about where Koa Misi will play in Miami

profootballtalk.com

2 hours ago

The Dolphins parted ways with a pair of linebackers this offseason when they released Phillip Wheeler and traded Dannell Ellerbe and there's reportedly some difference of opinion within the organization about other changes at the position. Koa Misi move…

Share Tweet

Dixon accused officers of racial bias

profootballtalk.com

2 hours ago

Saints cornerback Brian Dixon was arrested early Sunday after an incident involving a moped. Specifically, he was arrested for resisting arrest. It still remains unclear what he was being arrested for when he allegedly resisted arrest. Nick Underhill of…

Share Tweet

NFL to begin research Monday into enhanced camera system

profootballtalk.com

5 hours ago

Whatever Patriots coach Bill Belichick said last week in Arizona, it worked. The NFL will soon be taking a closer look at the use of fixed cameras during games, at the goal line and elsewhere. Soon as in very soon. Albert Breer of NFL Media reports that…

Share Tweet

Tisch says St. Louis, Oakland, San Diego are "kind of in the fourth quarter"

profootballtalk.com

5 hours ago

When it comes to Los Angeles, the NFL has a tough balancing act on its hands. The desire to go to L.A. on one side, the importance of giving the cities where the potential L.A. franchises currently play a fair chance at keeping them on the other. Ultima…

Share Tweet

ESPN.com profootballtalk.com

6 hours ago

New Orleans Saints cornerback Brian Dixon was arrested in Miami early Sunday morning.

Share Tweet

Russell Wilson: Contract situation will work out

profootballtalk.com

6 hours ago

Seahawks quarterback Russell Wilson is heading into the final season of his contract, but he doesn't sound overly concerned about getting a new deal done. "In terms of my contract, I don't really talk about that kind of stuff," Wilson said, via the Ever…

Share Tweet

Packers to remain "smart" about how they use Eddie Lacy

profootballtalk.com

6 hours ago

The Packers wanted Eddie Lacy to show he could be an effective three-down running back in 2014 and Lacy was successful in that effort. Lacy averaged over 10 yards a catch on 42 receptions and did a solid job as a pass blocker in his second NFL season, l…

Share Tweet

League, Irsay still silent on Indiana law

profootballtalk.com

7 hours ago

The NFL still hasn't said a word about a law that passed last week in Indiana. Last year, when a similar law nearly passed in Arizona, the league said plenty publicly — and reportedly was privately considering moving Super Bowl XLIX, with Tampa Bay bein…

Share Tweet

profootballtalk.com

7 hours ago

Erin Henderson's search for a chance to resume his NFL career will be heading to New Jersey. Henderson met with the 49ers last week after sitting out the entire 2014 season following his release in Minnesota, but didn't sign a contract with the team. Th…

Share Tweet

Mike Tomlin: We have the goods to be NFL's best offense

profootballtalk.com

8 hours ago

The Steelers averaged 27.2 points per game last season, which was good enough for seventh place in the NFL and a first place finish in the AFC North. Things looked even better once wide receiver Martavis Bryant was plugged into the lineup after missing …

Share Tweet

Sealver Siliga still in walking boot after foot surgery

profootballtalk.com

9 hours ago

The Patriots played most of last season without defensive tackle Sealver Siliga in the lineup, but they made good use of him once he returned from injured reserve late in the year. Siliga started the final three games of the regular season and all three…

Share Tweet

Cardinals to give Logan Thomas "a ton of work" this offseason

profootballtalk.com

9 hours ago

When the Cardinals lost Carson Palmer and Drew Stanton for the season with injuries last year, they briefly considered starting Logan Thomas in the regular season finale before opting to stick with Ryan Lindley for that game and in their playoff loss to…

Share Tweet

Sunday morning one-liners

profootballtalk.com

10 hours ago

The Bills tried to leave themselves without much work to do in the draft. Winning more games is the next step in Dolphins QB Ryan Tannehill's development. Patriots QB Tom Brady put on his basketball shoes for a game with Michael Jordan. Todd Bowles had …

Share Tweet

profootballtalk.com

11 hours ago

Oregon quarterback Marcus Mariota is setting up visits and workouts with the teams at the top of the draft, including a stop in Virginia next month. Mariota will be at the Redskins' headquarters in April, a little more than a month after General Manager…

Share Tweet

Stevan Ridley close to medical clearance, lines up visits this week

profootballtalk.com

12 hours ago

Free agent running back Stevan Ridley is healing from a torn ACL and looking for work. Ridley has his first free agent visits of the offseason scheduled this week, Mike Reiss of ESPNBoston.com reports. A 2011 third-round pick of the Patriots who has spe…

Share Tweet

Bob McNair thinks Vince Wilfork won't be another Ed Reed

profootballtalk.com

16 hours ago

Two years ago, the Texans gave $5 million in guaranteed money to an 11-year veteran defender who had just won a Super Bowl. It didn't work out. This year, the Texans once again gave $5 million in guaranteed money to an 11-year veteran defender who had j…

Share Tweet

Donald Stephenson gets a clean slate in Kansas City

Last year, Donald Stephenson was expected to start at right tackle for the Chiefs. A four-game suspension for violating the league's PED policy derailed that plan. Entering 2015, G.M. John Dorsey says Stephenson gets a fresh shot at becoming the startin…

Share Tweet

Pete Carroll says Chip Kelly knows what he's doing

A rash of unpredictable offseason moves has caused many Eagles fans to question the acumen and/or sanity of coach Chip Kelly. Seahawks coach Pete Carroll believes they shouldn't worry. Instead, Carroll thinks they should be the opposite of worried. "I t…

Share Tweet

Desmond Bishop to visit 49ers on Monday

The 49ers need linebackers. The next one they add may be one that was on the team at the end of the 2014 season. Matt Maiocco of CSNBayArea.com reports that Desmond Bishop will visit the 49ers on Monday. He appeared the final two games of the season. Bi…

Share Tweet

Russell Wilson Honored To Visit Rangers

Mar 28

Seahawks QB Russell Wilson discusses his experience visiting the Texas Rangers at spring training.

Panthers Claim Jonathan Martin Off Waivers

Mar 27

ESPN Panthers reporter David Newton breaks down the teams decision to claim former 49ers offensive tackle Jonathan Martin off waivers on Friday.

McShay On QB Landing Spots

Mar 27

Todd McShay discusses the teams that could be interested in drafting quarterbacks Jameis Winston and Marcus Mariota in the 2015 NFL draft.

Not Signing Murray Best Chance To Get Better

Mar 27

Jeff Saturday, Sarah Spain and Jorge Sedano discuss Cowboys owner Jerry Jones' comments that not signing RB DeMarco Murray was the best chance for the team to get better.