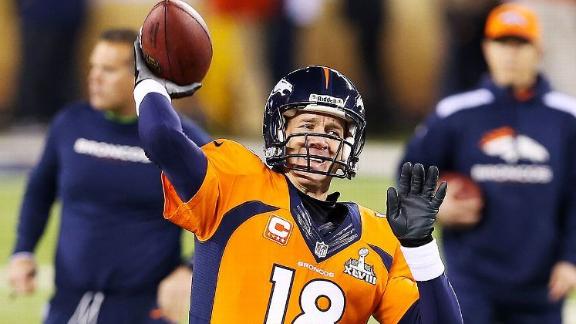 profootballtalk.com
ESPN.com
Updated 29 minutes ago
When Alabama coach Nick Saban revealed that Broncos quarterback Peyton Manning and Broncos offensive coordinator Adam Gase had visited the Crimson Tide, it raised eyebrows as a potential violation of the NFL rules preventing players and coaches from mee…
Upvote
Share
Tweet
SI Now: Why Adrian Peterson is happy to be alive

CNNSI.com

7 hours ago

Adrian Peterson discusses his battle with anaphylaxis, plus his thoughts on Minnesota's new coaching staff.

Upvote Share Tweet

Peyton gets paid $105,000 to speak at Oklahoma State

profootballtalk.com

8 hours ago

Alabama coach Nick Saban got Peyton Manning's time for free. Oklahoma State had to pay a bit more. According to the Tulsa World, Manning received $105,000 for a 30-minute speech and a 30-minute question-and-answer session in Stillwater. The money was pa…

Upvote Share Tweet

Newton in a boot, still recovering from ankle surgery

profootballtalk.com

8 hours ago

It's been a month since the surprise announcement that Panthers quarterback Cam Newton needs ankle surgery. So how's he doing four-plus weeks after having the procedure? Darin Gantt of PFT, who covered the Panthers 14 years before joining this establish…

Upvote Share Tweet

ESPN.com profootballtalk.com

9 hours ago

Two seasons after battling in the Super Bowl, the Baltimore Ravens and San Francisco 49ers will hold four joint practices after their preseason opener on Aug. 7 in Baltimore, John Harbaugh said Friday night.

Upvote Share Tweet

profootballtalk.com CNNSI.com

10 hours ago

Teddy Bridgewater isn't the only 2014 quarterback prospect who received a dire prognosis from former Buccaneers G.M. Mark Dominik on Friday. Via Rotowold, Dominik also had some bad news for Johnny Manziel. Dominik, who now works for ESPN, said on the ai…

Upvote Share Tweet

Reggie Wayne: If you say I'm over the hill, I'll prove you wrong

profootballtalk.com

12 hours ago

As Colts receiver Reggie Wayne recovers from last season's torn ACL, one thing is motivating him to work harder than ever: Knowing that people doubt he can do it. Wayne told Mike Chappell of the Indianapolis Star that "naysayers" in the media are pushin…

Upvote Share Tweet

Colts sign two fullbacks from Super Regional Combine

profootballtalk.com

13 hours ago

The Colts have added a pair of fullbacks who took part in last week's NFL Super Regional Combine in Detroit. The club said Thursday it had signed Stephen Campbell and Cameron White, each of whom was not in the NFL in 2013. Campbell (6-1, 245) played for…

Upvote Share Tweet

Report: League installing real-time fiber optics for replay review

profootballtalk.com

14 hours ago

One of the key ingredients for a centralized replay function is the latest in real-time fiber optic technology. The NHL has it. According to John Kryk of the Toronto Sun, the NFL will soon have it, too. Per Kryk, the league will have the ability this ye…

Upvote Share Tweet

Ex-Jag Richard Collier is "on cloud nine" nearly six years after being paralyzed

profootballtalk.com

14 hours ago

It's a slow Friday in the football world, which gives us a bit of time to catch up on some stories that don't have to do with the draft or the coming season. Vito Stellino wrote one of them in the Florida Times Union about former Jaguars offensive tackl…

Upvote Share Tweet

profootballtalk.com ESPN.com

14 hours ago

Former Louisville quarterback Teddy Bridgewater's draft stock has appeared to decline dramatically in recent weeks, as a disappointing Pro Day has led to talk that he's not the potential No. 1 overall pick that he was proclaimed to be during the 2013 se…

Upvote Share Tweet

Report: Rams to pick up fifth-year option on Robert Quinn

The Rams will reportedly add a fifth year to defensive end Robert Quinn's contract. According to Jim Thomas of the St. Louis Post-Dispatch, the club will pick up the 2015 option on Quinn, their 2011 first-round pick and one of the NFL's top pass rushers…

Upvote Share Tweet

Carr believes there's a "very good chance" he'll go in round one

Today's Pro Football Talk on NBCSN includes a visit from former Fresno State quarterback Derek Carr. The younger brother of 2002 first overall pick David Carr, some think Derek could be a first-rounder, too. Derek believes it could happen, based on ever…

Upvote Share Tweet

Dolphins thinking about shaking up linebackers

The Dolphins spent a lot of money on free agent linebackers last year, and they appear to be set to shuffle some of those guys around. According to Andrew Abramson of the Palm Beach Post, the Dolphins are planning to move outside linebacker Koa Misi to …

Upvote Share Tweet

Patriots, Browns, Steelers and Jets reportedly showing interest in Andre Williams

profootballtalk.com

16 hours ago

Running backs might not be a first round staple anymore, but teams are still going to be selecting the top collegiate runners from 2013 at some point over the three day draft process. One that should be off the board near the top of the list is Boston C…

Upvote Share Tweet

profootballtalk.com

16 hours ago

Dolphins receiver Brandon Gibson had his season ended by a torn patellar tendon last year, the kind of knee injury that often prevents a receiver from being ready to return for the start of the following season. But Gibson has no doubts that he'll be re…

Upvote Share Tweet

Cleaner Air, Smart Thermostats, Smarter Cars, No More Cable Bills

deadspin.com

17 hours ago

Today in Deadspin Deals: save money on your electric bill and your allergist bill, and stop paying your cable bill altogether. We've also got a 25% off coupon for one item at Sports Authority that you can apply to that expensive and/or rarely discounted…

Upvote Share Tweet

Henry Melton settles lawsuit regarding alleged bite of bar owner

profootballtalk.com

17 hours ago

Just before defensive tackle Henry Melton signed with the Cowboys, he was sued by a Texas bar owner for more than $1 million for allegedly biting the man in the back during an incident December of last year. Melton, who countersued with a claim that he …

Upvote Share Tweet

The SI 64, No. 14: CB Justin Gilbert

CNNSI.com

17 hours ago

He thinks he's the best CB in the draft. We don't agree, but Justin Gilbert still ranks No. 14 on our Big Board.

Upvote Share Tweet

Isaiah Crowell just hoping an NFL team gives him a chance

In 2011, although South Carolina defensive end Jadeveon Clowney immediately made his presence known in college football, the reporters who covered the SEC voted Georgia running back Isaiah Crowell as the conference's freshman of the year. Three years la…

Upvote Share Tweet

NFL draft: Q&A with UCLA LB Jordan Zumwalt

yahoo.com

18 hours ago

Jordan Zumwalt seemed destined to play football at Arizona State, considering his father was a scrappy, undersized pass rusher there and his mom also attended the school. Jordan, his parents and his brother and two sisters often would load up the family…

Upvote Share Tweet

On Sunday, we reported that the 49ers haven't decided whether to pick up the 2015 option on linebacker Aldon Smith's contract. Since then, more pessimistic accounts have emerged. Tim Kawakami of the San Jose Mercury News reported that it's "very unlikel…

Upvote Share Tweet

Rolando McClain's comeback attempt didn't get off to such a hot start, but the Ravens are apparently letting him continue to attempt it. According to Aaron Wilson of the Baltimore Sun, the plan is for McClain to join the Ravens "as soon as Monday" for t…

Upvote Share Tweet

Andrew Luck had to get away from football for a few

Some quarterbacks decompress over the offseason by burying themselves in football (and possibly violating the CBA). Others take a difference approach. Colts quarterback Andrew Luck spent a few months traveling the world, getting away from football befor…

Upvote Share Tweet

ESPN.com profootballtalk.com

19 hours ago

The New Orleans Saints announced Friday that they have re-signed veteran receiver Robert Meachem to a one-year deal. Terms were not disclosed.

Upvote Share Tweet

Making sense of Peyton Manning-Nick Saban meeting

Apr 18

Why did Denver Broncos quarterback Peyton Manning meet with Alabama coach Nick Saban earlier this week? The "NFL Total Access" crew shares their thoughts.

Meachem Staying With Saints

Apr 18

ESPN Saints team reporter Mike Triplett discusses what the Saints gain by re-signing wide receiver Robert Meachem to a one-year deal.

With enhanced receiving corps, can the Indianapolis Colts contend?

Apr 18

The Indianapolis Colts retooled this offseason, most notably in the receiving department. With wideouts like Hakeem Nicks and Reggie Wayne on the roster, can Indy contend for the AFC title?

Predicting a perfect St. Louis Rams schedule

Apr 18

The St. Louis Rams are offering $100,000 to a fan who can predict the season schedule, but what are the odds? Heath Evans and Jamie Dukes take a shot at predicting the Rams' schedule.