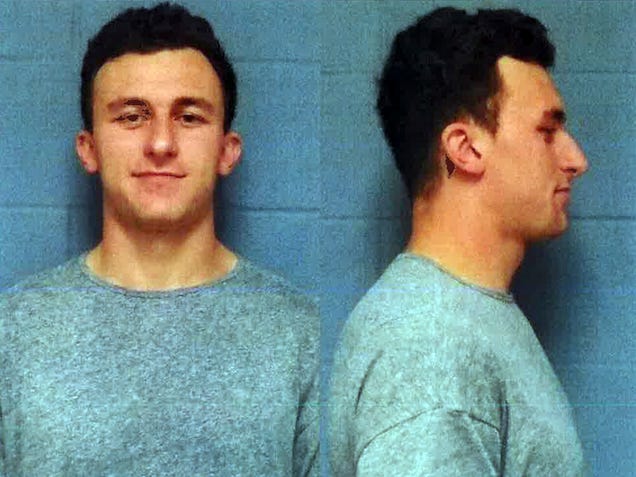 nytimes.com
deadspin.com
profootballtalk.com
yahoo.com
Updated 1 hour ago
Former Cleveland Browns quarterback Johnny Manziel is set to make his first appearance in a Dallas court on Thursday on a charge of assaulting his former girlfriend.
Share
Tweet
The Eagles took wide receiver Nelson Agholor in the first round of the 2015 draft and gave him plenty of snaps over the course of the season, but, much like everything else Eagles-related last year, Agholor's season was a disappointment. Agholor caught …

Share Tweet

Seahawks add former college basketball player George Fant

The Seahawks have a fondness for undrafted players as they had 24 of them on their 53-man roster at one point last season. They also showed a fondness for former college basketball players who decided to make the switch to football when they traded for …

Share Tweet

Russell Wilson advocates for return of NBA to Seattle

Seahawks quarterback Russell Wilson, whose carefully-manicured public persona steers him away from saying controversial things (except when hawking magic water), has taken a public stance against City Hall. Earlier this week, the Seattle City Council de…

Share Tweet

Bills RB Jonathan Williams thinks they can have the best backfield in the NFL. Former Dolphins coach Don Shula's hospitalization became a time to reflect on a legendary era. The Patriots have a number of big contract issues to deal with this offseason. …

Share Tweet

profootballtalk.com

2 hours ago

Browns coach Hue Jackson loves what he inherited at running back. Jackson said on 92.3 The Fan that last year's 1-2 punch of Isaiah Crowell and Duke Johnson are good enough that the Browns didn't need to sign or draft another running back. "Those two gu…

Share Tweet

Rams taking a look at former Auburn wideout Duke Williams

profootballtalk.com

2 hours ago

The Rams are going to take a look this weekend at one of the year's more talented wide receiver prospects, who didn't play much after getting kicked off his team in October. According to Rich Hammond of the Orange County Register, the Rams will try out …

Share Tweet

profootballtalk.com

3 hours ago

Having a Super Bowl MVP award in your back pocket apparently makes you confident. But while it didn't necessarily help Von Miller on "Dancing with the Stars," it does extend to his looming contract situation. Via Cameron Wolfe of the Denver Post, Miller…

Share Tweet

profootballtalk.com

9 hours ago

Marshawn Lynch cryptically announced his retirement during Super Bowl 50 with a tweet showing a pair of sneakers hanging from a telephone wire. However, he still hasn't officially filed the paperwork and the Seahawks haven't placed him on the retired li…

Share Tweet

Colts sign first-round pick Ryan Kelly

profootballtalk.com

11 hours ago

The Colts announced Wednesday night that they've agreed to terms with their first-round pick, Ryan Kelly. The Colts selected Kelly with the 18th pick last Thursday. He was a three-year starter at Alabama who did not allow a sack in his final two college…

Share Tweet

Mathis tutoring potential replacement as Colts switch DE to OLB

profootballtalk.com

12 hours ago

The Colts used four draft picks on offensive linemen last week, addressing one major area of need. That means the team still has a pretty glaring need for pass-rush help, and Zak Keefer of the Indy Star wrote Wednesday that one way the Colts are address…

Share Tweet

Adrian Peterson partners with Salvation Army to raise funds for Palestine, TX floods

profootballtalk.com

12 hours ago

The most famous native of Palestine, Texas is doing what he can to help his hometown in an hour of need. Flash flooding in Palestine over the weekend killed six people, including four children. Vikings running back Adrian Peterson, who went to school wi…

Share Tweet

ESPN.com

14 hours ago

Vikings' Peterson donating $100K to flood relief

Share Tweet

Eagles sign five picks

profootballtalk.com

14 hours ago

The bad old days when it took weeks or months to sign a draft class are long gone. The latest reminder of that came on Wednesday when the Eagles announced that they've signed five players they selected last week. Running back Wendell Smallwood is the hi…

Share Tweet

Lions add Andre Caldwell

profootballtalk.com

15 hours ago

As the Lions try to prepare for life after Calvin Johnson, they've added another receiver to the depth chart. Per a league source, Detroit has signed former Broncos receiver Andre Caldwell to a one-year deal. Caldwell, who actually is older than Calvin …

Share Tweet

profootballtalk.com

15 hours ago

Drew Nowak opened last season as the Seahawks' starting center, but he lost his spot to Patrick Lewis during the regular season. Now he's lost his spot on the roster altogether. The Seahawks made Nowak one of five cuts from the roster on Wednesday as th…

Share Tweet

yahoo.com

16 hours ago

The NFC champion Carolina Panthers are the toast of Charlotte. NASCAR is based in Charlotte. So it stands to reason that the two Queen City entities would cross paths every now and then. On Wednesday, Panthers kicker Graham Gano and driver Austin Dillon…

Share Tweet

Cowboys' team doctor is confident in Jaylon Smith's knee

profootballtalk.com

16 hours ago

The Cowboys took a big chance when they took linebacker Jaylon Smith in the second round of the NFL draft, as Smith is recovering from a very serious knee injury. Except that the surgeon who performed Smith's surgery also happens to be the Cowboys' head…

Share Tweet

Cardinals cut Aussie import Joel Wilkinson, three others

profootballtalk.com

16 hours ago

The Cardinals drafted six players last week and they agreed to terms with 16 undrafted free agents, leaving them with more players than they had room for on their 90-man roster. They began remedying that problem on Wednesday by parting ways with four pl…

Share Tweet

ESPN.com

17 hours ago

Cardale Jones thought Bills' draft call was a prank

Share Tweet

profootballtalk.com

17 hours ago

The Broncos didn't draft any tight ends last weekend, but they deemed one expendable Wednesday anyway. The team announced they had waived tight end Richard Gordon, who made a cameo appearance for them last season when they were short at the position. Go…

Share Tweet

NFL V.P. of security Jeffrey Miller resigns

profootballtalk.com

17 hours ago

The man who has been charge of NFL Security for nearly a decade is moving on. Per multiple sources, NFL V.P. of security Jeffrey Miller has resigned. The NFL has confirmed that Miller is leaving. "He informed the league last month that he was going to t…

Share Tweet

Four 2016 draft picks are now under contract. Only one was a first-round pick. Falcons safety Keanu Neal, the 17th overall selection in the draft, has agreed to terms on the standard four-year deal, with a fifth year option to be exercised by May 3, 201…

Share Tweet

Vikings get Mackensie Alexander under contract

The Vikings were the first team to sign its entire draft class in 2015 and they are pushing to finish first in 2016 as well. The latest pick to agree to terms is cornerback Mackensie Alexander, who, per multiple reports, will formally sign his contract …

Share Tweet

Teammate says Blaine Gabbert is taking control of 49ers' offense

Colin Kaepernick is throwing again in the 49ers' offseason program, but that doesn't mean he's the guy running the show in the offense. Instead, it's Blaine Gabbert, who usurped Kaepernick as the 49ers' starting quarterback last season, who has taken ch…

Share Tweet

Despite RB-heavy draft, expect Rawls to carry load for Seahawks

May 4

The Seahawks drafted three running backs last week, but Thomas Rawls is still in line to be the team's primary ball-carrier, says NFL Nation's Sheil Kapadia.

Raiders' flirtation with Vegas now full-blown, neon-hued romance

May 4

ESPN Raiders reporter Paul Gutierrez, who joined Raiders owner Mark Davis on his flight back to Oakland from a Las Vegas meeting, explains how a move can happen.

Manziel turns himself in to authorities

May 4

Mark Schwarz describes the scene at Highland Park jail in suburban Dallas, where Johnny Manziel turned himself in. Manziel faces a misdemeanor assault charge stemming from a complaint by his ex-girlfriend.

Dickerson was offered a new home, $50,000 during recruitment

May 4

Hall of Fame RB Eric Dickerson joins Highly Questionable to share the craziest offers he received while being recruited by colleges, as well as recounts why he decommitted from Oklahoma to go to SMU.