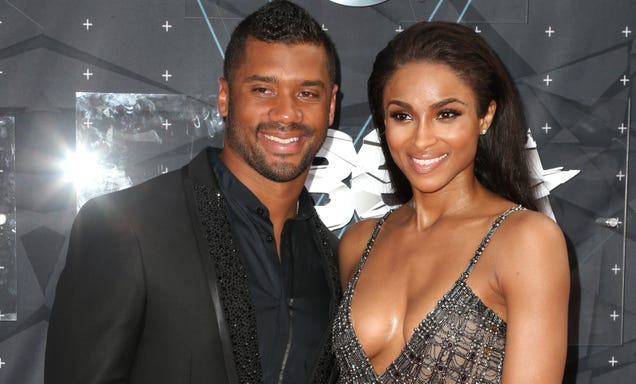 Just Like You, Russell Wilson Is Not Having Sex
deadspin.com
Updated 20 minutes ago
Just as you haven't known the touch of another person in seemingly forever, a star NFL QB is also going through enforced virginity. But that's where the similarities end: Russell Wilson is doing so as mandated by Jesus, instead of having it unilaterally…
Share
Tweet
Russell Wilson says God spoke to him right after Super Bowl interception

profootballtalk.com

22 minutes ago

That new Russell Wilson interview, nearly a full hour in all, contains plenty of interesting things. Along with multiple examples of Wilson hearing the voice of God, directly and audibly. The one that will get the most media attention undoubtedly comes …

Share Tweet

Rob Konrad rejects chance to make movie out of odyssey at sea

Former Dolphins fullback Rob Konrad's story seemed like it was something out of a movie, which is why a lot of people thought it would be one. But Konrad told Barry Jackson of the Miami Herald he had turned down a movie offer and several book deals, ref…

Share Tweet

Russell Wilson's preference between football and baseball? "Both"

Seahawks quarterback Russell Wilson continues to do a lot of talking, and he's talking more and more about baseball. Following last week's admission to Jimmy Kimmel that Wilson would consider playing football and baseball at the same time if his basebal…

Share Tweet

Graphic De'Andre Johnson punch video likely means no NFL for him

As noted earlier today regarding the lingering lack of interest in running back Ray Rice, we all know what an assault looks like. But when we can see it, that changes everything. For Florida State quarterback De'Andre Johnson, who in theory could have b…

Share Tweet

Bengals DC Paul Guenther impressed by Steelers offense

profootballtalk.com

2 hours ago

The AFC North has generally been a strong defensive division over the years, but 2015 saw things go the other way. None of the four teams ranked higher than 18th in total defense and the Steelers won the division thanks to their potent offense putting u…

Share Tweet

Three Colts linemen pose naked to show they're not fat slobs

profootballtalk.com

3 hours ago

Colts offensive lineman Todd Herremans is listed at 321 pounds. Anthony Castonzo is listed at 311. And Jack Mewhort is listed at 308. But unlike most 300-pounders, they have athletic bodies that they're happy to show off. The three linemen appear togeth…

Share Tweet

Teddy Bridgewater: We have high expectations, but a long way to go

profootballtalk.com

4 hours ago

Vikings offensive coordinator Norv Turner was among the people impressed by the way that quarterback Teddy Bridgewater wound down his rookie season in Minnesota. Turner said Bridgewater was "much more decisive" in his final six starts last season and co…

Share Tweet

yahoo.com nytimes.com profootballtalk.com

4 hours ago

Earlier we brought you the new of New York Giants defensive end Jason Pierre-Paul and his July 4 firework accident that injured his hand and later spun it forward to speculate if the team could pull his franchise-tag designation in light of this non-foo…

Share Tweet

Albert Haynesworth: Washington cost him his "passion for football"

profootballtalk.com

4 hours ago

Albert Haynesworth was happy to take the money. But in hindsight, he wouldn't have taken it from Dan Snyder. The former defensive tackle, who was known as differently motivated during his playing career, wrote a first-person letter to his younger self f…

Share Tweet

Trump compares Patriots to China, in a good way

profootballtalk.com

5 hours ago

Last month's campaign announcement from presidential hopeful Donald Trump made plenty of waves for his remarks about Mexico. He also said something about China. And the New England Patriots. Via Boston.com, Trump favorably compared the Patriots to China…

Share Tweet

UConn tight end Sean McQuillan hoping to convince an NFL team

profootballtalk.com

6 hours ago

Connecticut tight end Sean McQuillan has already earned his degree, and might have been a team captain if he had returned for his final year of eligibility. But an arrest this spring following a fight with his roommate cost him his entrance into school,…

Share Tweet

PFT Live: Frank Wycheck, Broncos talk with Mike Klis

We're kicking off the week of PFT Live with a guest host, but you'll still get your dose of Mike Florio. Paul Burmeister will be sitting in for Florio as host, which frees PFT's founder to join the show as a guest early in the program. They'll talk abou…

Share Tweet

Next year, the Vikings will have a new stadium next to the site of their old one. The next project could be a new team headquarters. For that, the Vikings could be moving to a new city. For 34 years, the facility known as Winter Park (named for team co-…

Share Tweet

Geno Smith: Brandon Marshall is "a quarterback's best friend"

Jets wide receiver Brandon Marshall recently left Jay Cutler, who threw Marshall passes in Denver and Chicago, off a list of his favorite teammates from his various stops around the NFL over the years. Geno Smith didn't make that list either, which isn'…

Share Tweet

Manti Te'o thinks he's becoming a playmaker under Mike Nolan

After entering the NFL following a high-profile college career (and an even higher-profile story surrounding his personal life), Manti Te'o has been relatively quite in his two years with the Chargers. A part-time starter, Te'o hasn't been a bust of a s…

Share Tweet

profootballtalk.com

8 hours ago

When training camps open in a little under a month, one of the most-watched storylines will be the progress of Eagles quarterback Sam Bradford, coming off a pair of torn ACLs. But some are wondering whether too much has been made of his arrival by trade…

Share Tweet

yahoo.com

8 hours ago

Green Bay Packers tight end Andrew Quarless was arrested in Miami Beach over the weekend for allegedly firing two gunshots in the air during an argument. The incident reportedly occurred around 5 a.m. Saturday outside of a parking garage and Quarless ha…

Share Tweet

profootballtalk.com

8 hours ago

The Broncos have nine more days left to hammer out a long-term deal with wide receiver Demaryius Thomas before the deadline to sign such contracts with players who received the franchise tag. However things wind up playing out with Thomas, the process c…

Share Tweet

profootballtalk.com nytimes.com

8 hours ago

Three years ago this month, running back Ray Rice signed a contract with the Ravens that paid him $24 million over the first eight months. In the eight months since Rice's indefinite suspension was overturned, Rice hasn't gotten a single sniff from any …

Share Tweet

As Mariota, Titans haggle over offsets, history says it's a non-issue

The Titans and first-round draft pick Marcus Mariota haven't come to terms because they haven't agreed on whether his rookie contract will include offset language. Which is an odd issue to become a stumbling block, because history says it will almost ce…

Share Tweet

Bengals quietly shifting Onterio McCalebb from corner to receiver

In college at Auburn, Onterio McCalebb played running back, becoming one of only two players in SEC history with more than 2,000 yards rushing, 500 yards receiving, and 1,000 yard returning kickoffs. And he wasn't drafted. The Bengals signed him, with a…

Share Tweet

With Pierre Thomas on his way out and Mark Ingram headed for free agency, Saints running back Khiry Robinson may have had moments early this offseason when he saw himself playing a prominent role in the Saints backfield in 2015. He'd performed well when…

Share Tweet

Golden Tate taking better care of his body

profootballtalk.com

10 hours ago

Lions receiver Golden Tate has finally beaten his donut habit. After a career season in 2014, Tate (whose rookie season in Seattle included the alleged theft of Top Pot donuts) has focused on taking better care of his body. "I've been doing some yoga, t…

Share Tweet

profootballtalk.com

10 hours ago

TE MarQueis Gray has found a home with the Bills. CB Zack Bowman looks like he's on the roster bubble heading into camp. What can the Patriots learn from their last Super Bowl repeat? The Jets are taking a look at Dakota Dozier at center. Breaking down …

Share Tweet

Tony Romo on Dez Bryant talks: "I think it will work out with Dez"

profootballtalk.com

11 hours ago

Maybe it's just because he's on vacation and back home in Wisconsin, but Tony Romo doesn't seem worried. Asked at his football camp back home about the Cowboys' ongoing negotiations with wide receiver Dez Bryant, Romo expressed confidence a deal would g…

Share Tweet

Should Demaryius Thomas get a long-term deal?

Jul 6

ESPN NFL Insider Mark Dominik discusses why he thinks it is important for the Broncos to sign WR Demaryius Thomas to a long-term contract before July 15th.

Giants pleased with Pierre-Paul's prognosis

Jul 6

ESPN NFL Insider Adam Schefter has the latest on Giants DE Jason Pierre-Paul, who has been treated for injuries to his hands after a fireworks accident, and his future in New York.

Jason Pierre-Paul injured in fireworks accident

Jul 5

ESPN national NFL writer Kevin Seifert talks about Giants DE Jason Pierre-Paul's hand injury that he sustained in a fireworks accident over the holiday weekend and breaks down the effect it may have on the team during the upcoming season.

ESPN The Magazine's 2015 Body Issue: Odell Beckham Jr.

Jul 5

Odell Beckham Jr. poses for ESPN The Magazine's 2015 Body Issue and talks about why he's been plagued by injuries.