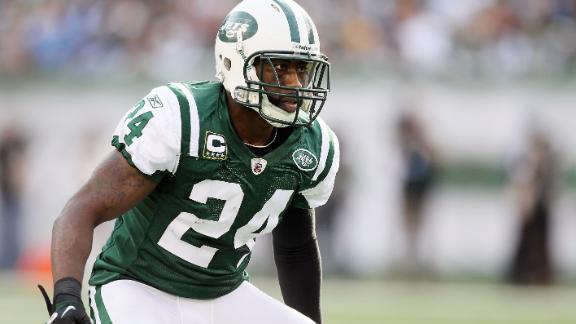 nydailynews.com
profootballtalk.com
ESPN.com
Updated Apr 17, 2013
Jets rookie GM John Idzik finally has final say for the first time in his 22 years in NFL front offices with four teams. Now all he has to do in the next seven days is decide whether the Bucs have offered enough for him to trade Darrelle Revis, one of t…
Share
Tweet
PFT talks Mt. Rushmore of broadcasters

Wednesday's edition of Pro Football Talk on NBC Sports Network allowed you to vote on the topic for the last segment of the show. And by the narrowest margin yet, the public requested a discussion regarding the Mt. Rushmore of NFL broadcasting. Here's

Share Tweet

The San Francisco 49ers have been in need of depth at the tight end position ever since Delanie Walker elected to sign with the Tennessee Titans in March. With only Vernon Davis and Garrett Celek as the only two true tight ends on the roster, the 49ers …

Share Tweet

The Packers wisely have decided to kick the tires on Steelers nose tackle Steve McLendon. Green Bay has nothing to lose by taking advantage of the opportunity to talk to a player who would be off limits if he were under contract. Former Patriots V.P. of…

Share Tweet

Ex-Cal WR Allen had medical recheck for ankle

Keenan Allen, the No. 1-rated wide receiver on some teams' draft boards, recently returned to Indianapolis for a medical recheck of his right ankle.

Share Tweet

CNNSI.com

Apr 17, 2013

RENTON, Wash. (AP) -- Once he was cut in Minnesota for cap reasons, veteran cornerback Antoine Winfield made it a point to have his representatives reach out to the Seattle Seahawks to see if he could fit with one of the more talented defensive back uni…

Share Tweet

Forget about the quarterback competition. Maybe there should be a quarterback-instructor competition?

Share Tweet

CNNSI.com profootballtalk.com ESPN.com yahoo.com

Apr 17, 2013

GREEN BAY, Wis. (AP) -- One big deal done for the Green Bay Packers, one to go.

Share Tweet

yahoo.com profootballtalk.com

Apr 17, 2013

Playing in the NFL is, for so many men, a lifelong dream. But there are times when your dreams have to take a back seat to your willingness to serve. Brandon O'Brien is 6'1", 220 pounds, a receiver built in the mold of Anquan Boldin. He's also 30 y…

Share Tweet

As Redskins quarterback Robert Griffin III recovers from his torn ACL, he wants to look forward, not backward. Which means that he doesn't want to spend any more time discussing the placement of blame in connection with his injury. In an interview with

Share Tweet

Interested teams receive photocopies of Ezekial "Ziggy" Ansah's passport.

Share Tweet

Receiver Stevie Johnson missed the Buffalo Bills' first two voluntary minicamp practices because of a sore back.

Share Tweet

According to Yahoo, a hotel room at the NFL combine that had been shared by two players was left trashed, with "urine and feces scattered about the bathroom, toothpaste on the mirror and garbage strewn about the room. Among the garbage was partiall…

Share Tweet

Quarterback Guru Says He Fixed Tim Tebow With Tai Chi

Steve Clarkson, a quarterback coach who has worked with Ben Roethlisberger, Matt Leinart, and Matt Barkley, believes that he has fixed Tim Tebow's elongated and terrible throwing motion. How has he fixed the major flaw in Tebow's game that other coaches…

Share Tweet

Quarterback Michael Vick said Wednesday that he finds new coach Chip Kelly's offense "very refreshing." That's not the only refreshing thing Kelly's brought with him from Oregon. Geoff Mosher of CSN Philadelphia snapped a picture (seen at right)

Share Tweet

One former player for all 32 teams will announce at least one second-day draft pick, the NFL announced on Wednesday. A fan of all 32 teams will also participate in the selection announcement, with one fan getting a chance to announce the pick with the N…

Share Tweet

Michael Vick called Chip Kelly's offense "refreshing" and said he still considers himself the Philadelphia Eagles' starting quarterback in an interview with ESPN's Sal Paolantonio on Wednesday.

Share Tweet

Carradine to run for scouts on Saturday, and Niners will be there

Florida State defensive end Bjeorn Werner ranks among the top prospects in the 2013 draft. His teammate at the same position would be there, too, but for a torn ACL suffered last November. Cornellius "Tank" Carradine is recovering from that knee injur

Share Tweet

Before the Bengals and linebacker James Harrison started talks on a new contract that appear to be heading nowhere fast, they had veteran linebacker Karlos Dansby in for a visit. They may be getting back in touch. Ian Rapoport of the NFL Network reports…

Share Tweet

Justin Smith, Aldon Smith to be ready for camp

San Francisco 49ers defensive tackle Justin Smith and linebacker Aldon Smith are working back from offseason surgeries, and general manager Trent Baalke expects each to be at full strength and ready for the start of training camp this summer.

Share Tweet

Gregg fighting Parkinson's, but not the NFL

Hall of Famer Forrest Gregg says that while he and his neurologist blame concussions for his Parkinson's disease, he's not going to sue the NFL like thousands of other former players.

Share Tweet

Charles Woodson hasn't generated the kind of interest on the open market that he hoped to see when the Packers released him earlier this offseason. There's been just one visit for Woodson, but the good news is that the team he visited with hasn't cl

Share Tweet

Team needs: Chicago Bears

Rarely does a 10-win team fire its head coach. The Bears did just that in January. So they've got more talent than most teams with new coaches. Which means they've got fewer needs. But they still have some. And our assessment of the needs that should

Share Tweet

We're making Pro Football Talk on NBC Sports Network more interactive. And we're doing that by giving you a chance to vote on the topic with which we'll close the show. Today's menu appears below. Make your selection, and then tune in at 5:00 p.m.

Share Tweet

Two offensive tackles, Luke Joeckel of Texas A&M and Eric Fisher of Central Michigan, are expected to be Top 5 picks in next week's NFL draft. But they may not be the only two. Lane Johnson of Oklahoma, widely regarded as the third-best tackle in the dr

Share Tweet

Offseason calendar change unlikely

The NFL hopes to extract further milk from the offseason cow by spreading out the major tent poles of the non-game portion of the calendar: (1) Scouting Combine; (2) free agency; and (3) draft. But change is unlikely, at least for now. According to Mark…

Share Tweet

profootballtalk.com ESPN.com

Apr 17, 2013

At this time last year, Peyton Manning was just getting to know his teammates on the Broncos offense. Everyone's more familiar with one another this time around and Manning would like to use that familiarity as a springboard to an offense that plays fas

Share Tweet

Brian Brohm signs with CFL's Hamilton Tiger-Cats

The Hamilton Tiger-Cats have signed former Packers and Bills quarterback Brian Brohm, the CFL club said Wednesday. The 27-year-old Brohm got a look from the New Orleans Saints last year, and he also has played with the UFL's Las Vegas Locomotives. Howev

Share Tweet

CNNSI.com

Apr 17, 2013

This may not be a star-studded draft, but that doesn't mean it won't be an eventful one. We may see a dizzying number of top-10 trades, Don Banks writes in his latest mock.

Share Tweet

Speculation about a quarterback's future after a regime change is natural. But Chargers quarterback Philip Rivers defended his record this week, saying he doesn't feel like his job's on the line. "As far as whatever the numbers say over the last f

Share Tweet

Two years ago, the Falcons made no secret in the days before the draft that they were looking to trade up to get a wide receiver, and they would eventually send two first-round picks, a second-round pick and two fourth-round picks to Cleveland so that t…

Share Tweet

PFT Live: Scott Pioli, mock draft picks 9-12

Scott Pioli won't be running a draft this year, but his years of experience in war rooms make him an interesting man to talk to with just more than a week to go before the draft gets underway. Pioli will join Mike Florio on Wednesday's edition of PFT

Share Tweet

Let's Gawk At Roger Goodell's Under-Construction Summer Home

In December, it was reported that NFL commissioner Roger Goodell was building a summer home in Prouts Neck, Maine. A reader who lives in the town recently went on a stroll near what he tells us is the construction site for Goodell's new home, and he too…

Share Tweet

Cosell's Take: Cornering the market

yahoo.com

Apr 17, 2013

In my last column, I focused on the wide receiver position in the 2013 draft. The recurring theme was size, a continuing trend both in college football and the NFL. I mentioned Justin Hunter, Keenan Allen, Deandre Hopkins, Chris Harper, Da'Rick Rogers,

Share Tweet

It only seems like Josh Cribbs has been a Cardinal for a month, but it appears it's getting closer to actually happening this time. According to Alex Marvez of FOXSports.com, Cribbs is scheduled to re-take his physical for the Cards "in a few weeks."

Share Tweet

Former Florida State quarterback E.J. Manuel says three teams with Top 10 picks are showing strong interest in drafting him. Manuel said on the Dan Patrick Show that the Eagles (who own the No. 4 overall pick), the Bills (No. 8) and the Jets (No. 9) hav…

Share Tweet

The Lions had a hard time finding a strong complement to Calvin Johnson at wide receiver last season, which explains why they're meeting with one of the top draft prospects at the position on Wednesday. West Virginia wide receiver Tavon Austin is in Det

Share Tweet

Ebersol joins NFLN's schedule-release show

The looming release of the 2013 NFL regular-season schedule contains an unexpected treat. Thursday night's three-hour special on NFL Network will include Dick Ebersol as a guest analyst. A legendary figure in TV and the long-time chairman of NBC Sports,

Share Tweet

Team needs: New York Giants

Discount the Giants' chances in a big game and risk feeling foolish. However, assuming they are postseason locks has been similarly dangerous in recent seasons. In the last four campaigns, the Giants have one Super Bowl title and three playoff misses. H

Share Tweet

As we reported earlier this week, Giants running back Andre Brown signed an injury protection agreement that allows him to work out with the team even though he hasn't signed his restricted free agent tender yet. When you hear Brown talk about his goals

Share Tweet

For all the changes they've made on defense this offseason, the Ravens are looking forward to getting a pair of their own back on the field as part of the makeover. Ravaens coach John Harbaugh said that cornerback Lardarius Webb and linebacker Jameel Mc

Share Tweet

It's easy, and correct, to refer to Joe Andruzzi as a hero after he was photographed carrying an injured victim of the Boston Marathon bombing Monday. But the former Patriots offensive lineman objected to that characterization, saying he was merely doin

Share Tweet

The Cowboys have been linked to free agent right tackle Eric Winston for a while now without much movement toward actually signing the veteran to a contract. Winston said that he is looking for $3-4 million, a salary that's been too rich for the blood o

Share Tweet

Two days left to sign restricted free agents to offer sheets

Any team interested in signing a restricted free agent to an offer sheet has only two days left to act. Don't hold your breath. Or any other bodily function. Teams simply don't do it. Sure, the Patriots signed receiver Emmanuel Sanders to a measly one

Share Tweet

Back in March, Giants coach Tom Coughlin said that he thought defensive end Jason Pierre-Paul suffered a drop in play from 2011 to 2012 because he gained too much weight between the two seasons. Pierre-Paul didn't address the question of his overall lev

Share Tweet

There are veterans the Bears might want to bring back, but general manager Phil Emery said he had no regrets over the handling of linebacker Brian Urlacher's contract situation. "Absolutely not," Emery said, via Chris Boden of CSNChicago.com. "It

Share Tweet

Jags using music at practice to enhance performance

The Gus Bradley era has begun in Jacksonville. And players may soon be holding lighters in the air during practice. According to the Associated Press, Bradley has incorporated music into football practice, with rock, rap, and pop songs playing during Tu…

Share Tweet

Wednesday morning one-liners

The Bills are moving Aaron Williams from cornerback to safety. Talk is heading up that the Dolphins may try to trade up from No. 12 to draft Oklahoma OT Lane Johnson. The Patriots still have high hopes for TE Jake Ballard, but they're taking it slowly 1

Share Tweet

As is often the case with aging cornerbacks, Denver's Champ Bailey has heard the questions about moving to safety. But he doesn't see any reason he should. Bailey told the Denver Post that he doesn't think the Broncos have two young cornerbacks bett

Share Tweet

David Nelson expected to be healthy in time for training camp

New Cleveland Browns wide receiver David Nelson played in just one game for the Buffalo Bills last season before an ACL tear ended his year. According to Nate Ulrich of the Akron Beacon Journal, Browns head coach Rob Chudzinski said Nelson is currently …

Share Tweet

Panthers release linebacker Kenny Onatolu

Linebacker Kenny Onatolu appeared in just four games for the Carolina Panthers in 2012. It's the only games he'll play for the franchise as the team released him on Tuesday. After playing the first three years of his career with the Minnesota Vikings,

Share Tweet

NFL hopeful Brandon O'Brien re-enlists in Marines following Boston attacks

In a move reminiscent of Pat Tillman's decision to enlist in the military following the attacks of 9/11 over a decade ago, a NFL hopeful is heading back to the Marines following the attacks at the Boston Marathon on Monday. Brandon O'Brien was trainin

Share Tweet

grantland.com

Apr 17, 2013

With the NFL offseason trudging along, there are plenty of questions for every NFL team. But for most, there's one issue that trumps the rest. This is...

Share Tweet

Matthews On Extension With Packers

Apr 17

Linebacker Clay Matthews talks about his five-year contract extension with the Green Bay Packers.

Green Bay Packers linebacker Clay Matthews on record NFL contract

Apr 17

Green Bay Packers linebacker Clay Matthews talks about his record-setting contract, which will keep him a Packer through the 2018 season.

Andrew Luck on Indianapolis Colts' new offense: 'It's a no-coast offense'

Apr 17

Jeff Darlington reveals how the Indianapolis Colts' offense will change under new coordinator Pep Hamilton.

Will the Miami Dolphins trade up?

Apr 17

The "Path to the Draft" crew breaks down the Miami Dolphins' options in the first round.