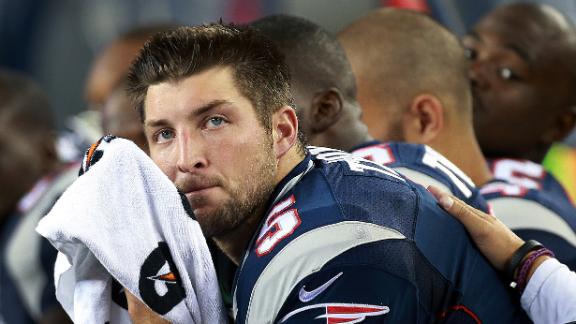 nydailynews.com
nytimes.com
ESPN.com
profootballtalk.com
yahoo.com
Updated Aug 31, 2013
Tim Tebow just can't throw the football, and not even Bill Belichick could fix him. So now that Belichick, who tossed Tebow a career lifeline by signing him in June, has given up on him in New England, it's quite possible Tebow's time in the NFL is over…
Share
Tweet
OTL: Players initially wanted $2B from NFL

The $765 million settlement between the NFL and players who sued the league ended up in court-ordered mediation only after the judge told players' attorneys that the bulk of their case was in "real danger of being dismissed."

Share Tweet

The Cowboys have acquired outside linebacker Edgar Jones from Kansas City, the Chiefs said on their website on Saturday night. Kansas City will receive a draft pick from Dallas, but the exact compensation has not been disclosed. Jones (6-3, 262) recorde…

Share Tweet

N.F.L. Scouting Report: Difference Makers? Could Be

A look around the league shows that each team has a player whose individual success could affect how things go in 2013.

Share Tweet

The Houston Texans officially removed safety Ed Reed from the physically unable to perform list on Saturday.

Share Tweet

Dolphins release Marvin McNutt, Antwan Applewhite, 20 other players

The Dolphins waived wide receiver Marvin McNutt and released defensive end Antwan Applewhite as they reduced their roster to 53 players on Saturday. A 2012 sixth-round pick, McNutt was claimed off waivers from Philadelphia in May. He caught four passes …

Share Tweet

Raiders keep two punters, too

Plenty of teams have half as many punters as they have quarterbacks. But those teams have only two quarterbacks. The Raiders have four quarterbacks on their 53-man roster — and two punters. The battle between Marquette King and veteran Chris Kluwe conti…

Share Tweet

The Cowboys got to 53 players before the league's deadline on Saturday afternoon, but they weren't done making moves. Nick Eatman of the team's website reports that guard Nate Livings has been placed on injured reserve, ending his 2013 season before it …

Share Tweet

With undrafted quarterback Matt McGloin outplaying fourth-rounder Tyler Wilson and Terrelle Pryor and Matt Flynn occupying the top two spots on the depth chart, the Raiders have opted to keep a quartet of quarterbacks on the 53-man roster. The Raiders h…

Share Tweet

B.J. Daniels, Jon Baldwin make 49ers initial 53-man roster

During training camp, the 49ers took a look at a lot of different quarterbacks but they wound up keeping a guy who they took in the seventh round of April's draft over veterans Seneca Wallace and Scott Tolzien. B.J. Daniels made the 53-man roster that t…

Share Tweet

The Jets have announced, two hours after the deadline for getting to 53 players, the moves they made to get there. As previously reported, here and/or elsewhere, quarterback Greg McElroy, defensive tackle Antonio Garay, and kicker Dan Carpenter are gone…

Share Tweet

ESPN.com profootballtalk.com yahoo.com

Aug 31, 2013

Tampa Bay Buccaneers kicker Lawrence Tynes said he plans to file a grievance against the team after it placed him on the non-football injury list Saturday.

Share Tweet

Rams finish the slide to 53 players

The St. Louis Rams made it to 53 players on Saturday by announcing 22 transactions. Of those transactions, 19 involved terminations. Gone are receiver Emory Blake, defensive end Mason Brodine, linebacker/defensive end Sammy Brown, quarterback Austin Dav…

Share Tweet

profootballtalk.com ESPN.com yahoo.com

Aug 31, 2013

The Packers confirmed the release of quarterback Vince Young on Saturday afternoon as they announced numerous moves to get their roster to the 53-player limit. The club also confirmed they had cut Alex Green, a 2011 third-round pick and a four-game star…

Share Tweet

Seahawks bail on 2013 fourth-round pick

The Seattle Seahawks have made their moves to get to 53 players. These moves include a decision to waive receiver Chris Harper, the team's fourth-round pick in 2013. Also waived by the Seahawks were receiver Phil Bates, defensive tackle Michael Brooks, …

Share Tweet

The San Diego Chargers released wide receiver Robert Meachem, whose signing in 2012 was a $14 million mistake by the A.J. Smith regime.

Share Tweet

One of the biggest roster questions for the Vikings centered on the status of Joe Webb. Drafted in 2010 as a receiver and quickly moved to quarterback, the Vikings decided after a disastrous playoff effort in place of injured starter Christian Ponder to…

Share Tweet

Defensive end Austen Lane penned a thoughtful piece about being cut for SI.com earlier this summer and he can now write a sequel if he's so inclined. Lane was one of the players cut by the Chiefs on Saturday as they made their way to 53 players. Ten of …

Share Tweet

Reports out of the various shit-stirring tabloids in New York are that Geno Smith will take over as the New York Jets starting quarterback. Depending on the report, the Jets either planned this all along, or only made the move because Sanchez is injured…

Share Tweet

Titans wrap up cuts, part ways with Fernando Velasco

The Titans finished up Saturday's cuts by getting rid of a guy who started every game for them last year In addition to the previously reported placement of Marc Mariani on injured reserve, and the release of quarterback Rusty Smith and some others, the…

Share Tweet

Tyrell Johnson, Chris White among Lions cuts

The Lions have had their troubles in the secondary in recent years, but that didn't create enough room for former Vikings second-round pick Tyrell Johnson on the 53-man roster they set on Saturday. Johnson was selected by the Vikings in the 2008 draft, …

Share Tweet

Quarterback David Carr, a backup to Eli Manning in four of the last five seasons and the No. 1 pick in the 2002 NFL Draft, was among the players let go as the Giants pared their roster to 53 players on Saturday, the club said on its website. The Giants …

Share Tweet

Redskins get to 53, keep four quarterbacks

With question of whether Robert Griffin III has been cleared clearly unclear and Kirk Cousins dealing with a sprained foot, the Redskins have decided — for now — to keep four quarterbacks on the roster. The Redskins have reduced to 53 players, and both …

Share Tweet

profootballtalk.com yahoo.com

Aug 31, 2013

Earlier on Saturday, a few notable Panthers cuts leaked out before the team made its official announcement. When the Panthers did release the full group, cornerback Drayton Florence, quarterback Jimmy Clausen and defensive tackle Sione Fua remained the …

Share Tweet

Buccaneers make moves to get to 53

Hopefully the Buccaneers actually asked 21 of the guys they got rid of to bring in their playbooks in person, since we know one of them got an e-mail. The Bucs announced the rest of their moves tonight, a group including safety Cody Grimm and defensive …

Share Tweet

yahoo.com profootballtalk.com

Aug 31, 2013

Nothing is permanent in the NFL, especially at quarterback, but Pat White apparently has made the Washington Redskins' initial 53-man roster. Let that sink in when you consider that Tim Tebow, Vince Young, Jimmy Clausen and Matt Leinart and others are o…

Share Tweet

The Patriots have announced their final cuts, several of which already had been reported. (Check the 53-man roster tracker for the full list.) While the names that previously hadn't made their way to the public eye contain no surprises, the Pats have in…

Share Tweet

Seattle Seahawks coach Pete Carroll tweeted Saturday that veteran cornerback Antoine Winfield has decided to retire.

Share Tweet

Veteran linebacker Robert James was among nine players released by the Falcons on Saturday, the club's website said. The Falcons are at the 53-player roster limit. James appeared in all 16 regular-season games in 2012 as a reserve, notching 11 tackles. …

Share Tweet

Browns have no kickers after final cuts

Here's how you can tell "final cuts" aren't final at all. The Browns now have no kickers, after terminating the contract of veteran Shayne Graham and waiving Brandon Bogatay. Sources indicate that they'll probably add one in the coming days. Or maybe no…

Share Tweet

Add the Cowboys to the list of teams who are down to the NFL's 53-man roster limit. According to ESPNDallas.com, the Cowboys' cuts included undrafted linebacker Brandon Magee, whom they liked so much that they guaranteed him $70,000 when they signed him…

Share Tweet

While we wait for more cuts to come in, here's the post script on tackle Max Starks' short stay in San Diego. Signed on May 22, Starks received a $160,000 signing bonus. Cut on August 30, Starks keeps every penny of it, and he can sign elsewhere with no…

Share Tweet

The Chargers confirmed the release of wide receiver Robert Meachem on Saturday, one of 11 moves the club made in setting its roster at 53 players, according to Chargers.com. San Diego released 10 other players: tackle Nick Becton, linebacker Frank Beltr…

Share Tweet

Ravens G.M. Ozzie Newsome, who'd be in the Hall of Fame as an executive even if he wasn't in the Hall of Fame as a player, is human, after all. We know this because a guy Ozzie drafted in the fourth round only two years ago has been cut. Gone is Tandon …

Share Tweet

nydailynews.com

Aug 31, 2013

No one could blame Pam Oliver for not wanting to talk about the most painful moment — literally — of her career as Fox's NFL sideline reporter. It happened on Sunday, Aug. 18, at the Meadowlands during pregame warmups when a pass thrown by Colts backup …

Share Tweet

As the Colts continue to remake their franchise around quarterback Andrew Luck, they continue to filter away parts from the previous administration. Among their moves Saturday, they released tackle Ben Ijalana and defensive tackle Drake Nevis, their sec…

Share Tweet

Plenty of Texans are now former Texans. Unless the guys fired by the Texans are from, you know, Texas. The Texans announced that the following players have been released: defensive end Keith Browner, tight end Jake Byrne, cornerback Roc Carmichael, full…

Share Tweet

Broncos cut ties with veteran center Lilja

Ryan Lilja's knowledge of the Denver Broncos' offensive scheme, his five years as Peyton Manning's teammate with the Indianapolis Colts weren't enough to outweigh concerns over the 31-year-old's long-term ability to stay healthy.

Share Tweet

The Bills have released quarterback Thaddeus Lewis and linebacker Bryan Scott, the club said Saturday afternoon. In other roster moves, the club released defensive tackle Torell Troup, defensive end Jamie Blatnick and defensive end Izaan Cross. The move…

Share Tweet

Ray Lewis thinks it was a conspiracy that turned the lights off at the Superdome during the Super Bowl last year. Lewis revealed his theory during filming for America's Game, an NFL Films series that discusses the previous Super Bowl with a few members …

Share Tweet

yahoo.com ESPN.com profootballtalk.com

Aug 31, 2013

Pittsburgh Steelers running Jonathan Dwyer is among the casualties during today's final cuts. Dwyer was released by the Steelers today after playing well this preseason. His release occurs eight days after Pittsburgh signed free agent running back Felix…

Share Tweet

One Fan's Life Lessons, From Heroes and Humans

A 10-year-old conflated one set of Super Bowl champion Giants with an idealized moral philosophy; his adult self realized later champions' human reality.

Share Tweet

The Broncos released a pair of this year's draft picks, as part of their 22 moves to get to the 53-man roster limit. The team waived fifth-round wide receiver Tavarres King and sixth-round tackle Vinston Painter, which might not be ideal but speaks to t…

Share Tweet

Brady Quinn is saying goodbye to Seattle. Quinn, the quarterback who was competing with Tarvaris Jackson to back up Seahawks starter Russell Wilson, wrote on Twitter that he's on the way out. "Want to thank the Seahawks organization, coaches, teammates …

Share Tweet

The Eagles have announced their roster moves to get them to the 53-man roster limit, but they appear to be far from finished putting Chip Kelly's roster together. After making their moves, they have just three outside linebackers on the roster: Connor B…

Share Tweet

Andy Staples ranks his best prospects for the 2014 NFL Draft

CNNSI.com

Aug 31, 2013

As the 2013 NFL Draft class settles in, it's time to look ahead to 2014's considerable talent pool.

Share Tweet

The Jets' Future Seems Haunted by Their Checkered Past

The Geno Smith era had to begin like this. Despite a regime change, they are still confronting underlying issues, issues illuminated by this quarterback saga.

Share Tweet

Packers waive Dezman Moses

The Packers are moving on from one of their surprise players of 2012. According to Ty Dunne of the Milwaukee Journal-Sentinel, the Packers are waiving second-year outside linebacker Dezman Moses, who started six games for them last season. Mozes, 24, ma…

Share Tweet

After one disappointing season, the Seahawks have cut their losses on 2012 fourth-round draft pick Jaye Howard. Seattle released Howard before today's 53-man roster deadline, a league source tells PFT. Howard, a defensive lineman from Florida, is a 6-fo…

Share Tweet

Danny Watkins, the Canadian firefighter who became a first-round draft choice, was released by the Philadelphia Eagles on Saturday.

Share Tweet

Add the Bengals to the growing list of teams going with two quarterbacks on their 53-man roster, as they waived John Skelton as part of their final cuts. That leaves just Josh Johnson behind starter Andy Dalton, and creates an immediate need for a pract…

Share Tweet

Chiefs tight end Tony Moeaki's stint with Kansas City appears to be coming to an end. Moeaki, via his verified Twitter account Saturday, indicated that the club is parting ways with him. Moeaki also retweeted notes of support from Chiefs players wishing…

Share Tweet

Rian Lindell wins Buccaneers kicking job

The Buccaneers made news today both by placing kicker Lawrence Tynes on the non-football injury list and by the manner they reportedly chose to inform him of the decision, but they still had a decision to make about who would be their kicker. Alex Marve…

Share Tweet

The Catch, the Quake, the Breeze, the Stick

The end of an era for San Francisco's ballpark by the bay begins with the 49ers' opener against Green Bay on Sept. 8 and ends in demolition after the N.F.L. season.

Share Tweet

Brophy: Concussion deal 'a good gesture'

Jay Brophy is 53. Doctors have told him his brain is 70.

Share Tweet

Brian Jennings did the long snapping for the 49ers for more than a decade, but he won't be doing it in 2013. Matt Maiocco of CSN Bay Area reports that Jennings is among the players that the 49ers are dispatching on their way to their initial 53-man rost…

Share Tweet

yahoo.com profootballtalk.com

Aug 31, 2013

It apparently now is a consensus: The New York Jets are set to name Geno Smith their starting quarterback, according to New York Daily News' Manish Mehta.After reports surfaced that offensive coordinator Marty Mornhinweg preferred Smith to Mark Sanchez,…

Share Tweet

Lions release CB Ron Bartell, S Amari Spievey

The Lions have parted ways with a couple of notable veteran defensive backs. According to Chris McCosky of the Detroit News, the club has released cornerback Ron Bartell. Also, the club is also cutting safety Amari Spievey, reports Dave Birkett of the D…

Share Tweet

The New York Jets have released Greg McElroy as they move toward their 53-man roster limit, paving the way for Matt Simms to remain as a quarterback behind Mark Sanchez and Geno Smith, according to team and league sources.

Share Tweet

As a rookie, Marc Mariani was one of the best stories in the NFL. A little-known prospect who caught the Titans' attention while he was a college teammate of coach Jeff Fisher's son at Montana, Mariani went from a seventh-round pick to a Pro Bowl return…

Share Tweet

Patriots QB Tim Tebow: A Remembrance

As we learned earlier today, the Patriots cut Tim Tebow. It appears there are stones even the Mad Genius of New England cannot phlebotomize. Please watch and remember the good times we had this summer. Read more...

Share Tweet

The Patriots have punted their punter of the last three seasons. Zoltan Mesko posted a statement thanking the Patriots and their fans as "I depart this great organization." Mesko was set to make $1.323 million this season and was coming off the lowest g…

Share Tweet

Eagles release draft-dodger Michael Bamiro

Eagles rookie Michael Bamiro dodged the draft, but he couldn't dodge The Turk. According to Jeff McLane of the Philadelphia Inquirer, the Eagles have released the offensive tackle, though he said the team has expressed interest in keeping him on the pra…

Share Tweet

The Lions have a bad track record of getting little talent out of late draft picks, and two more examples of that trend were demonstrated today. The Lions have released cornerback Chris Greenwood, a fifth-round draft pick last year, and receiver Corey F…

Share Tweet

Carolina Panthers running back Armond Smith was fined $15,000 by the NFL for kicking a Baltimore Ravens player in the groin during an Aug. 22 preseason game.

Share Tweet

Panthers release Fua, leaving one from 2011 Draft

The Panthers now have one player left from their 2011 draft class. Granted, that one guy is pretty good — first overall pick Cam Newton. He's just lonely. PFT has learned the Panthers have released defensive tackle Sione Fua, who was the previous next-t…

Share Tweet

The New England Patriots will keep recovering tight end Rob Gronkowski on their 53-man roster, and not place him on the reserve/physically unable to perform list, a league source tells ESPN NFL Insider Adam Schefter.

Share Tweet

Titans' cuts include Rusty Smith, Scott Solomon

After making several moves on Friday, the Titans are continuing the march toward 53. Among the cuts made by the Titans are quarterback Rusty Smith and linebacker Scott Solomon. The departure of Smith means the Titans will go with two quarterbacks on the…

Share Tweet

The New England Patriots have released polarizing quarterback Tim Tebow, a league source told ESPN NFL Insider Adam Schefter.

Share Tweet

Patriots released Tim Tebow. — Adam Schefter (@AdamSchefter) August 31, 2013Read more...

Share Tweet

The Patriots are saying goodbye to another one of their recent second-round draft picks. Jermaine Cunningham, the Patriots' 2010 second-round pick, has been cut, a league source tells PFT. The move comes days after the Patriots released Ras-I Dowling, a…

Share Tweet

Tampa Bay Buccaneers coach Greg Schiano expects star cornerback Darrelle Revis, recovering from a torn ACL, to play in the season opener against the New York Jets on Sept. 8.

Share Tweet

The once-promising career of wide receiver David Nelson has taken another hit. Nelson has been cut by the Browns, a league source tells PFT. As an undrafted rookie out of Florida in 2010, Nelson became a surprisingly effective receiver with the Bills, a…

Share Tweet

Jets QB Matt Simms was fined $7,875 for simulating a gunshot after throwing a touchdown pass. (To date, he has been largely unable to simulate an NFL quarterback.) Here's a look at the Bills' effort to get to 53. Former Dolphins QB Dan Marino threw out …

Share Tweet

Former 49ers quarterback Seneca Wallace says the only reason San Francisco signed him this preseason was to squeeze fellow backup quarterback Colt McCoy to get a pay cut. "I've been around this game long enough where I can see what's going on," Wallace …

Share Tweet

Maybe the Jets aren't as dumb as they seem. With quarterback Mark Sanchez looking less and less likely to be ready to play in eight days due to a shoulder injury suffered after he had won the starting job by default, the Jets have lucked into a way to m…

Share Tweet

New York Jets release backup quarterback Greg McElroy

Aug 31

Ian Rapoport has the latest news on the New York Jets' release of backup quarterback Greg McElroy and who will be the starting quarterback for the team in Week 1.

2013 New England Patriots season outlook

Aug 31

The demise of the New England Patriots' offense has been predicted by many, but have their troubles been greatly exaggerated? Terrell Davis and Charley Casserly discuss.

Could quarterback Tim Tebow join the Oakland Raiders?

Aug 31

Terrell Davis and Charley Casserly debate where quarterback Tim Tebow could play football next.

Tim Tebow moving on

Aug 31

Ian Rapoport and Albert Breer give us more insight into the New England Patriots' decision to release Tim Tebow and look ahead to potential opportunities for the quarterback.