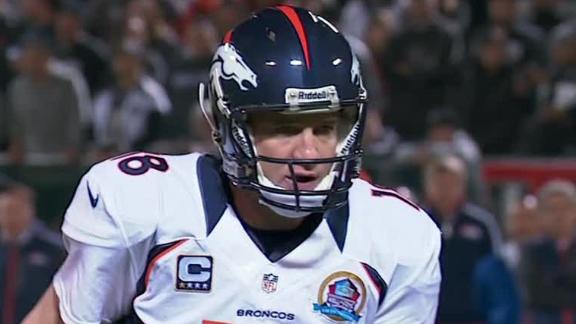 ESPN.com
profootballtalk.com
CNNSI.com
Updated Dec 6, 2012
Peyton Manning threw his 30th touchdown pass of the season on the game's opening drive and the Denver Broncos rolled to their eighth straight victory, beating the Oakland Raiders 26-13 on Thursday night.
Share
Tweet
Broncos, 26, Raiders 13: Raiders fans really do deserve better than this team, and I say that not as someone who lives among many of them but solely as an interested football observer. The Broncos didn't clearly put this game away early on, but whatever…

Share Tweet

CNNSI.com

Dec 6, 2012

The Broncos were clicking and that spelled bad news for the Raiders. Peyton Manning completed his 5,000th pass as Denver recorded its eighth straight victory, 26-13 over Oakland.

Share Tweet

Baltimore Ravens linebacker Terrell Suggs had to surrender several firearms stemming from a domestic case involving his girlfriend, Suggs' attorney told the Baltimore Sun on Thursday.

Share Tweet

ESPN.com profootballtalk.com CNNSI.com

Dec 6, 2012

Peyton Hillis lashed back at former teammate Joe Thomas on Thursday, comparing the Browns' offensive tackle to a "crazy ex-girlfriend" after he made disparaging comments about the Kansas City Chiefs running back.

Share Tweet

Jeff Fisher is "sure" possible elimination of kickoff will be addressed in February

In a TIME magazine article released on Thursday, NFL Commissioner Roger Goodell floated the possibility of eliminating the kickoff and using instead a fourth-and-15-from-the-30 scenario for the team that otherwise would be kicking. And now we start the …

Share Tweet

ESPN.com yahoo.com profootballtalk.com

Dec 6, 2012

Commissioner Roger Goodell said Thursday the NFL's competition committee would consider in the offseason replacing the kickoff. The league previously had moved the kickoff from the 30 to 35-yard line to cut down on violent collisions.

Share Tweet

Legal marijuana use begins in Washington State, but NFL policy still bans it

Last month, citizens in Colorado and Washington voted to legalize marijuana for recreational use.  Today, the law became effective in Washington. While a potential showdown is looming with the federal government, given that marijuana remains a controlle…

Share Tweet

NFL Commissioner Roger Goodell said Thursday the league is willing to contribute funding to help build a stadium in Oakland to keep the Raiders in town.

Share Tweet

The Broncos will have wide receiver Brandon Stokley on Thursday night against the Raiders. But they won't have guard Chris Kuper. Stokley was listed as questionable with hip and wrist injuries, but after pregame warmups he was declared good to go. Kuper

Share Tweet

Report: Issue of control could determine Heckert's fate

With rumors swirling that new Browns CEO Joe Banner plans to fire G.M. Tom Heckert and replace him with Mike Lombardi, a new report suggests that Heckert's future hinges on one thing. Control. According to Patrick McManamon of FOXSportsOhio.com, Heckert

Share Tweet

Rex likely will stay, Tannenbaum could be reassigned

Changes are likely coming to the Jets if (when) another season ends without a playoff berth.  Manish Mehta of the New York Daily News shed some light during Thursday's PFT Live on what could happen. Mehta firmly believes that coach Rex Ryan will be bac

Share Tweet

In response to the report from Kevin Acee of U-T San Diego that Chargers coach Norv Turner and G.M. A.J. Smith will get the boot, the man who would do the booting says the boot has not yet been broken out. The Chargers have issued a statement from owner…

Share Tweet

The Denver Broncos will be without their leading tackler on Thursday night as linebacker Wesley Woodyard did not accompany the team on their trip to Bay Area to take on the Oakland Raiders. Thrust into a starting role due to multiple suspensions of D.J.…

Share Tweet

Falcons refuse to play along with goading Panther

Give the Falcons credit for perspective, and kindness. A day after Panthers defensive end Greg Hardy said his 3-9 team was better than the 11-1 Falcons, the Falcons reacted the way you'd pat a child on the top of the head when they say something cute. â

Share Tweet

Seven Great Things About Fort Wayne, Indiana

We wrote earlier today about a law-enforcement raid on the Fort Wayne, Ind., homes of former NFL tackle Jason Fabini and his brother Mike. Apparently our sentiments in that article-we indicated there that we had no desire to visit Fort Wayne-offended

Share Tweet

Roethlisberger will wear special padding to protect rib

When Steelers quarterback Ben Roethlisberger returns to action on Sunday, nearly a month after injuring his shoulder and suffering a dislocated rib, he'll be carrying some extra baggage. Per the Associated Press, Roethlisberger will wear a "custom fit

Share Tweet

yahoo.com profootballtalk.com

Dec 6, 2012

The San Diego Chargers will fire both head coach Norv Turner and general manager A.J. Smith at the end of the 2012 regular season, reports Kevin Acee of the San Diego Union-Tribune. Smith has been with the club since the 2002 season. During that time, t…

Share Tweet

The Giants have been waiting most of the season for wide receiver Hakeem Nicks to get back to full health and resume his role as one of the more productive receivers in the NFL. The wait has been a frustrating one and it might have hit another snag on T…

Share Tweet

Patriots using racquetball paddles to prepare themselves for the J.J. Watt Swat

It's common practice for quarterback coaches to use brooms in practice to simulate defensive pressure for their quarterbacks on non-contact days, but as the New England Patriots prepare for their "Monday Night Football" tussle with the Houston…

Share Tweet

deadspin.com nydailynews.com nytimes.com profootballtalk.com

Dec 6, 2012

During Sunday's Fox telecast of Mark Sanchez's public flogging, in between the moments when Brian Billick repeated "jump street" and read copy for New Girl, a graphic popped up: Mark Sanchez, it read, had turned the ball over 81 times since hi…

Share Tweet

The Cowboys' offensive line will have a tough task protecting quarterback Tony Romo from Bengals defensive tackle Geno Atkins on Sunday. And that task will get even tougher if they're down a starting guard. But with starting guard Nate Livings out of

Share Tweet

The Steelers are getting Ben Roethlisberger back at quarterback on Sunday and we've got one of the guys he'll be throwing to on Pro Football Talk on NBC Sports Network on Thursday. Erik Kuselias will talk to Sanders about the return of Big Ben to the

Share Tweet

Falcons secondary battling injuries this week

Falcons safety William Moore was the NFC defensive player of the week for the job he did against the Saints in Week 13, but it doesn't look like he'll be at full speed if he's on the field to attempt making it two straight against the Panthers this

Share Tweet

CNNSI.com ESPN.com profootballtalk.com

Dec 6, 2012

PITTSBURGH (AP) Pittsburgh Steelers quarterback Ben Roethlisberger will start on Sunday against the San Diego Chargers.

Share Tweet

Vikings cornerback Chris Cook returned to practice Thursday, putting him on track to return for the Vikings Dec. 23 game against the Texans. Cook was placed on IR/designated for return, and today was the first day he was eligible to practice, according …

Share Tweet

deadspin.com profootballtalk.com

Dec 6, 2012

We're still getting new and revised details about the timeline of events leading up to Jovan Belcher's murder-suicide. Below is everything we know so far, based on a number of media reports, police statements, and other sources. More »

Share Tweet

In the wake of the abrupt termination of Eagles defensive line coach Jim Washburn, reports surfaced that Washburn openly disrespected former defensive coordinator Juan Castillo by calling him "Juanita" in front of players. Eagles defensive lineman Cul

Share Tweet

Kevin Kolb isn't completely healed

The Cardinals turned their offense over to John Skelton again this week, leaving Ryan Lindley to hold a clipboard and Kevin Kolb to keep healing from the broken ribs he suffered in Week Six. Kolb's been practicing in a limited fashion, but he's still

Share Tweet

Ravens linebacker Paul Kruger frequently wears his jersey tight and pulled up high, presumably because it makes it harder for opposing offensive linemen to grab it. But now that habit has proved costly for Kruger. The NFL has fined Kruger $5,000 for vio…

Share Tweet

Service held for woman slain by Chiefs LB

A relative of the slain girlfriend of Kansas City Chiefs linebacker Jovan Belcher says she was a loyal friend who brought joy to others with her smiles and laughter.

Share Tweet

Mike Westhoff, asked to describe the Jets?...

Mike Westhoff, asked to describe the Jets? "I don't know. Close the door on your head and tell me how bad it hurts." More »

Share Tweet

Many people are making fun of the New Orleans NBA team for the notion they're going to change their nickname from the borrowed-from-Charlotte Hornets moniker to the Pelicans. But at least one of the Saints is smart enough to not make too much fun, given

Share Tweet

profootballtalk.com yahoo.com

Dec 6, 2012

If there's been a story covered more fervently than the Jets' quarterback conundrum in the last few days, it is the efforts to find a legislative solution in the House and Senate to stop us from going over the "fiscal cliff." The two stories conve

Share Tweet

On Wednesday, the Vikings placed receiver Percy Harvin on injured reserve, due to an ankle injury he suffered last month. On Thursday, Harvin issued a statement regarding the circumstances that ended his fourth year in the NFL. "It certainly is disappoi

Share Tweet

Ravens lineman shaves head to honor Pagano

It's a testament to Colts coach Chuck Pagano, that not only cheerleaders are willing to shave their heads in a show of support for him, but players on other teams as well. Ravens defensive lineman Arthur Jones has shaved his head and all his facial hair

Share Tweet

deadspin.com ESPN.com

Dec 6, 2012

The surprising Minnesota Vikings are 6-6 right now and still in the hunt for a playoff spot in the NFC. Their make-or-break game is this weekend against the Bears at the MetroDome, and linebacker Chad Greenway wants fans to show their support by getting…

Share Tweet

We don't know what goes on in Fort Wayne, Ind. We've never been there and have no desire to visit. But we do know that today, in Fort Wayne, local, state, and federal officials carried out a raid on two homes owned by longtime NFL offensive tackle Jason…

Share Tweet

Still no timetable for Mark Anderson's return

Defensive end Mario Williams has picked up his game after a disappointing start to the season, but the Bills' other big free agent signing on the defensive line may not get a chance to make an improvement on his own slow start. Anderson remains out afte

Share Tweet

The NFL Is Still Holding Back Saturday Football Because The NFL Hates You

Drew Magary's Thursday Afternoon NFL Dick Joke Jamboroo runs every Thursday during the NFL season. More »

Share Tweet

The Bengals have signed kicker Josh Brown to fill in for the injured Mike Nugent, who hurt his right calf and didn't practice Wednesday.

Share Tweet

Vince Young vows to "fight hard" for another chance in the NFL

It sounds unlikely: A 29-year-old two-time Pro Bowl quarterback is openly begging for another chance in the NFL, and all 32 NFL teams are saying, "No. thanks." But that's exactly the situation Vince Young is in right now. Young, who has been a free

Share Tweet

Man Shoots At Police Because He Was Upset The Giants Lost To The Redskins

What could possibly possess a Florida man to beat up his wife, shoot at three deputies trying to arrest him, and hole up in his house for an hours-long standoff? RG3. Also, lots of alcohol and pills. More »

Share Tweet

Often, when a team that struggles to sell out its home stadium does, it's because the fans of the visiting team plan to put their butts in the seats. With the Eagles coming to Tampa on Sunday, that's definitely not the case. Instead, the Bucs have sol

Share Tweet

Jaguars offense looks like it will be more shorthanded than usual

One of the funniest things about the Jets pulling Mark Sanchez in the 7-6 victory over the Cardinals last week is that he wasn't even the worst quarterback on the field. Bad as Sanchez was, Ryan Lindley was worse and wound up playing the entire game. We

Share Tweet

There are many 49ers fans who would love a moment of contact with quarterback Colin Kaepernick. But the one with the deepest, yet most tortured connection is Heidi Russo, his biological mother who gave him up for adoption. When she watches him from the …

Share Tweet

Which NFL Exec Was Screwing Hookers? Let's Hear Your Guesses!

Anna Gristina, a New York madam who is currently serving a five-year probation stint after being convicted of promoting prostitution, told the New York Post that she is planning to reveal the names of some of her bigger clients on an episode of Dr. Phil…

Share Tweet

Rams receiver Danny Amendola is limited in practice as he continues to recover from a foot injury suffered on November 18. The St. Louis Post-Dispatch reports that Amendola has been doing individual work on the sideline in practice. When healthy, Amendo…

Share Tweet

Roger Goodell Was A Narc In High School, And He's Proud Of It

Whoa hey, loogit who's gracing the cover of this week's Time magazine: your friend and Peter King's, Roger Goodell. Sean Gregory has a lengthy profile of the NFL commissioner in this week's issue, and it contains the usual bits of hagiography (he keeps …

Share Tweet

Peter King: NFL Week 14 Picks

CNNSI.com

Dec 6, 2012

If the Pats get the AFC's No. 2 seed, they'll have earned it, thanks to a brutal two-game stretch that starts now. Can they slow the Texans' playmakers? Peter King picks Week 14.

Share Tweet

For years, basketball coaches have prepared their teams for shot-blockers by giving practice players tennis rackets. The Patriots are only facing J.J. Watt and the Texans this week, not Dikembe Mutombo, so they're using racquetball racquets. "I know c

Share Tweet

A Message From Mike Vrabel's Stitched-Up Forehead: Always Wear A Helmet When Head-Butting People Wearing Helmets

Mike Vrabel has been a retired football player for a little more than a year now. After 14 NFL seasons, he couldn't really stay away, transitioning immediately into a role as the linebackers coach at Ohio State, his alma mater, before staying on with Ur…

Share Tweet

Buffalo Bills offensive lineman Chris Hairston has been placed on injured reserve and will miss the rest of the season with a bone injury in his right ankle.

Share Tweet

New York Jets backup quarterback Tim Tebow returns to his hometown this weekend to face the Jacksonville Jaguars, but he's likely to be a spectator.

Share Tweet

Chicago Bears linebacker Brian Urlacher was fined $21,000 for his second horse-collar tackle in as many weeks, a source familiar with the situation confirmed.

Share Tweet

Which NFL Pundits Made The Least Terrible Predictions In Week 13? Grading ESPN, Yahoo, And CBS

Republished with permission from PunditTracker.com. More »

Share Tweet

PFT Live: Jets talk with Manish Mehta, Week 14 picks

The Jets have decided to turn back to Mark Sanchez at quarterback, a decision that will be a big part of the discussion on Thursday's edition of PFT Live. Mike Florio will talk to Manish Mehta of the New York Daily News about the Jets' choice, which c

Share Tweet

The Bengals took a look at three kickers Thursday while Mike Nugent recovers from a calf injury and they chose one of them to serve as a replacement until Nugent is ready to get back to work. The team announced that Josh Brown beat out Billy Cundiff and…

Share Tweet

Falcons and Texans still fighting for respect around the NFL, but key December matchups will give each team a chance to prove ea

nydailynews.com

Dec 6, 2012

There are two 11-1 teams with a month left in the NFL season and most years, the talk would be whether anyone can beat them (see last year's Packers). Not so with the Falcons or the Texans who don't have many people outside Atlanta or Houston believing …

Share Tweet

PFT's Week 14 picks

With four weeks to go, the lead is back to three. And we disagree on three games. In other words, MDS a/k/a the master of Raiders exacta, could catch me by 4:30 p.m. ET on Sunday. Last week, I went 11-5.  MDS was 10-6.  For the season, I'm now at 123-

Share Tweet

Steelers coach Mike Tomlin challenged Ben Roethlisberger to prove his sprained right shoulder is ready to go before handing the keys to the offense back to his franchise quarterback.

Share Tweet

The Redskins Were So Excited That Donald Trump Praised RGIII That They Slapped It On Their Facebook Page

So, everything about this is just powerfully loathsome: Trump's face, the fact that the Redskins are so historically starved for praise that they consider an endorsement from a vitamin-selling pyramid-schemer an important plug, and, oh, right, "You…

Share Tweet

When the Falcons finished off their dramatic comeback 30-28 win over the Panthers in Week Four, quarterback Matt Ryan was caught by television cameras sending a message to the visitors from Carolina. "Get the (expletive) off our field!" Ryan said. The

Share Tweet

The Chargers used the new injured reserve/designated for return list for wide receiver Vincent Brown, but it doesn't appear he's going to. Brown told Michael Gehlken of U-T San Diego the chances of him returning from his broken ankle in the next four

Share Tweet

On Sunday, the Jets had the ball deep in Arizona territory and a one-point lead. The directive came in from the Cardinals' sideline: Let them score a touchdown, so Arizona could get the ball back down eight with more than a minute remaining. Sound advic…

Share Tweet

Mike Zimmer: Dez Bryant reminds me of Michael Irvin

Cowboys wide receiver Dez Bryant has been on quite a roll lately. He has 29 catches for 475 yards and six touchdowns in his last four games, three of which have been Cowboys wins that have kept them in striking distance of the Giants in the NFC East. It…

Share Tweet

Nate Burleson hopes time on IR matures Titus Young

While Lions coach Jim Schwartz took a shot at Titus Young yesterday, saying the young wide receiver would have knee surgery "unless he doesn't show up for it," others are taking a more therapeutic approach. Veteran wide receiver Nate Burleson in par

Share Tweet

Buffalo resident ensures local broadcast of Bills game

With more than 10,000 unsold non-premium tickets available as of last week for Sunday's game between the Rams and the Bills, Buffalo was destined to have a second straight local blackout. Thanks to Russell J. Salvatore, that won't happen. According to

Share Tweet

Ndamukong Suh on Wednesday responded to accusations he celebrated an Indianapolis Colts player's concussion, saying he would never revel in another player's injury.

Share Tweet

Madam to name high-level NFL client on Dr. Phil

Someone at the league office is going to be getting coal in his stocking for Christmas. A woman who has admitted to running a Manhattan prostitution ring says she plans to disclose next week on Dr. Phil's show the names of big-name clients.  The first,

Share Tweet

In their last two games against the Giants, which came in 2009 and 2011, the Saints have put up 97 points on their way to two blowout victories. Despite that, defensive end Jason Pierre-Paul thinks this week's date with New Orleans will go better than M

Share Tweet

In this internet era, where everybody lives on blog time, we do have to pause to understand the concept of lead time. When you're creating tangible things one can hold in one's hands, it takes a bit longer to set things up. However, the company put in c…

Share Tweet

The Bills will be plugging in two first-time starters on the offensive line this week. Dolphins rookie Jonthan Martin is excited about switching from RT to LT after the injury to Jake Long. Jets backup QB Tim Tebow reached out to a teen who was injured …

Share Tweet

Week 13 Film Review, Horror Edition

nytimes.com

Dec 6, 2012

The Jets' Mark Sanchez deserved to be benched after his second interception in the opening quarter against Arizona.

Share Tweet

Jim Harbaugh hearing it from 49ers over "Saved by the Bell" cameo

In 1996, Jim Harbaugh, then the quarterback of the Colts, made a guest appearance on Saved by the Bell: The New Class. That episode was posted to YouTube and became a viral video recently, and Harbaugh hasn't heard the end of it. The first question at H

Share Tweet

Usama Young back at practice for Browns

Cleveland Browns safety Usama Young was back at practice Wednesday after missing last Sunday's game against the Oakland Raiders with a concussion. Young suffered the concussion two weeks ago against the Pittsburgh Steelers and wasn't cleared in time t

Share Tweet

The Cincinnati Bengals play host to the Dallas Cowboys this weekend in a match up that could determine the playoff fate for both teams. But to Bengals cornerback Adam Jones, there's even a little bit more on the line as well. Jones gets to play against

Share Tweet

NY Giants are the anti-NY Jets, a picture of stability at quarterback, despite another up-and-down regular season

nydailynews.com

Dec 6, 2012

Nobody troubled Tom Coughlin on Wednesday about whether Eli Manning or David Carr will be starting at quarterback against the New Orleans Saints. Taken out of context, it might be a reasonable question. After all, Manning ranks only 16th in the NFL quar…

Share Tweet

With wide receiver Earl Bennett possibly out for the Chicago Bears match up with the Minnesota Vikings on Sunday, the return of Alshon Jeffery and Devin Hester to practice on Wednesday was a tremendous positive for the battered Bears. Jeffery has missed…

Share Tweet

Weighing the Gravity of the So-Called Playoff Preview

grantland.com

Dec 6, 2012

Monday night's Patriots-Texans game is exciting for a number of reasons. You can spin it as a possible matchup between the league's best offense and i...

Share Tweet

Denver Broncos quarterback Peyton Manning 1-on-1

Dec 6

After the 26-13 victory over the Oakland Raiders, Denver Broncos quarterback Peyton Manning talks to Alex Flanagan after the game about connecting offensively, the AFC West rivalry, and his running back Knowshon Moreno.

NFL32OT: Cowboys Keeping Playoff Hopes Alive

Dec 6

Episode 232: Suzy Kolber and Chris Mortensen discuss the Cowboys chances to make the playoffs. John Clayton breaks down the impact of Brian Urlacher's injury on the Bears defense. The NFL32 discuss the return of Ben Roethlisberger.

NFL32OT Monday Night Football Preview

Dec 6

The NFL32 crew discuss the Monday Night matchup between the Texans and the Patriots.

How Are The Patriots Preparing For The Texans?

Dec 6

NFL Live looks at the Patriots are preparing for the Texans.