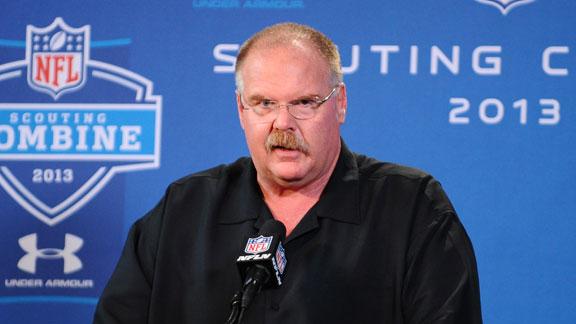 yahoo.com
ESPN.com
profootballtalk.com
Updated Feb 21, 2013
INDIANAPOLIS -- it was the first time in Andy Reid's 14-year career as a head coach that he spoke to the media at the scouting combine, and his podium session on Thursday started off with an interesting and emotional moment -- as current Philadelphia Ea…
Share
Tweet
profootballtalk.com yahoo.com

Feb 21, 2013

The Seattle Seahawks didn't appear to have a particular need to utilize the franchise or transition tag on any of their pending free agents. Now general manager John Schneider has agreed that it's unlikely they will use the franchise tag this off-seas

Share Tweet

Dimitroff, Pioli talk shop and reminisce

Falcons G.M. Thomas Dimitroff and former Chiefs G.M. Scott Pioli go way back, more than 20 years. They got together on Thursday to talk shop and reminisce. Coincidentally, the Pro Football Talk cameras were rolling.  And I was eavesdropping.  While also

Share Tweet

Ravens receiver Anquan Boldin recently said on Pro Football Talk, "Once a Raven, always a Raven." Ravens assistant G.M. Eric DeCosta agrees.  "Anquan's a Raven," DeCosta said during Thursday's edition of Pro Football Talk on NBC Sports Networ

Share Tweet

For NFL fans, the Scouting Combine is typically viewed as the kickoff of the offseason in February, the draft is the offseason's halftime in April, and the start of training camp is when football is back upon us at the end of July. But that could change

Share Tweet

The NFL is proposing to overhaul its offseason calendar, pushing back the combine to early March, the start of free agency to early April and the draft to early May, according to league sources.

Share Tweet

Greg Schiano made it clear at the combine that Josh Freeman is the Buccaneers' starting quarterback, writes John Clayton.

Share Tweet

Rex Ryan says Stephen Hill "needs to be a lot better"

At last year's Scouting Combine, few players were as impressive as Georgia Tech wide receiver Stephen Hill, who put on a show and shot up draft boards: Although the NFL draft advisory board told Hill at the end of his junior season that there was no way

Share Tweet

Ron Rivera on Combine interviews, Cam Newton

The Scouting Combine gives teams an opportunity to meet face to face with plenty of incoming rookies.  Through the formal interview process, teams can talk to up to 60 players for 15 minutes at a time. But there's a lesser-known (and less formal) appro

Share Tweet

ESPN.com profootballtalk.com yahoo.com

Feb 21, 2013

One month after upsetting Darrelle Revis by refusing to kill trade rumors for the star cornerback, New York Jets officials shifted into make-up mode Thursday at the NFL combine, saying they expect him to remain with the team for 2013.

Share Tweet

New Bears head coach Marc Trestman is filling out his coaching staff by hiring away a receivers coach from Alabama. Mike Groh has left his job as Alabama's wide receivers coach to take the same job in Chicago, BamaOnline.com first reported. Groh, the so

Share Tweet

From the combine: Coaches and GMs see bright - if limited - future for new read-option packages

INDIANAPOLIS -- Through read-option offensive schemes have been used in the NFL with success for at least the last decade, 2012 was the year that the general idea really took off. Between Robert Griffin III, Colin Kaepernick, and Russell Wilson (and let…

Share Tweet

Notre Dame linebacker Manti Te'o is trying to move on from the internet girlfriend hoax that landed him on Katie Couric's couch. Te'o is hoping to let his play on the football field do the talking for him, but he is expected to draw a large crowd for hi…

Share Tweet

CNNSI.com

Feb 21, 2013

Coaches made the biggest headlines on a slow first day at the combine. From newbie Chip Kelly to endangered Mike Munchak, Don Banks breaks down Thursday's key takeaways.

Share Tweet

The bad news for Patriots cornerback Alfonzo Dennard is that he could be sentenced to up to six years in prison after he was convicted of assaulting a police officer and resisting arrest. The good news is that other people convicted of the same crimes t…

Share Tweet

The 40-yard dash is the marquee event of the NFL Scouting Combine, but it's also often disparaged by those who say that a player's speed in running 40 yards in a straight line while wearing shorts and a T-shirt does not say much about what kind of foo

Share Tweet

The NFL executive heading up the league's effort to implement HGH testing said Thursday that the policy should have been in place for a year already and that the failure of the union to do its part to make testing happen has created a "disservice t…

Share Tweet

ESPN.com yahoo.com profootballtalk.com

Feb 21, 2013

Dallas Cowboys nose tackle Josh Brent was driving at least 110 mph at the time of the December car crash that killed teammate Jerry Brown, according to police reports obtained by Dallas-Fort Worth television station NBC 5.

Share Tweet

PFT on NBC Sports Network comes to you live from Indy

The combine is underway and Pro Football Talk on NBC Sports Network is there to bring you everything you need to know from the Underwear Olympics. Mike Florio and former Chiefs General Manager Scott Pioli are in Indianapolis and will speak with Falcons …

Share Tweet

If you have a spare, too-expensive backup quarterback, today's the day to tell the world you may or may not be interested in moving him. Even though the world already knows you would. After 49ers general manager Trent Baalke made sufficiently clear he w

Share Tweet

According to the Youtube description, Redskins defensive coordinator Jim Haslett went to the Apple Store Best Buy in Sterling, Va. As one does in an Apple Store, he played around with the electronics. He turned on an iPod Touch. He turned on the camera …

Share Tweet

ESPN.com profootballtalk.com

Feb 21, 2013

The San Francisco 49ers are "highly, highly, highly unlikely" to release quarterback Alex Smith, sources told ESPN's Chris Mortensen.

Share Tweet

The NFL Will Get Rid Of Its Dumbest Rule

On Thanksgiving, Jim Schwartz boned Jim Schwartz by throwing a challenge flag on Justin Forsett's 81-yard touchdown. But really, the NFL boned Jim Schwartz-the rule that you can't challenge a play that's automatically reviewed, and if you try, you're pe

Share Tweet

ESPN.com profootballtalk.com

Feb 21, 2013

Vikings general manager Rick Spielman can't say it enough: Percy Harvin will remain in Minnesota, and he's not going to discuss contracts in public.

Share Tweet

Jarvis Jones chooses not to run at the Scouting Combine

Georgia outside linebacker Jarvis Jones, widely viewed as one of the top players in this year's NFL draft, has decided not to work out at the NFL Scouting Combine. Jones has decided to put all his focus on peaking at Georgia's Pro Day on March 21, ESP

Share Tweet

ESPN.com yahoo.com profootballtalk.com

Feb 21, 2013

Chicago Bears general manager Phil Emery said Thursday that no decision has been made on the future of free-agent linebacker Brian Urlacher but stressed that the eight-time Pro Bowler "will never be slighted" by the franchise.

Share Tweet

Broncos head coach John Fox talked about how eager he was to see a healthier Peyton Manning next season, but keeping his quarterback that way might be more difficult given the current state of his offensive line. Four of the five projected starters on t…

Share Tweet

New Panthers general manager Dave Gettleman can't think too much about the draft at this point, as he has more immediate concerns. "The first thing we have to do is make March 12," Gettleman said from the NFL Scouting Combine. The Panthers are worki

Share Tweet

Brian Cushing: Defensive players have to be protected, too

The torn ACL suffered by Texans linebacker Brian Cushing when he was hit in the knee from behind by Jets guard Matt Slauson may have been the tipping point for a change in NFL rules to emphasize protecting the legs of defensive players. Cushing supports…

Share Tweet

Stanford TE Has Tiny T-Rex Arms; May Affect Draft Stock

As the NFL conquers the world, the draft combine has grown into a monster of its own. By one veteran's reckoning, an event that drew 50 reporters in 2003 now hands out 800 media credentials. (And yet, still, not a single important story will emerge. Thi…

Share Tweet

Calvin Johnson broke receiving record playing through broken fingers

Lions receiver Calvin Johnson broke the NFL record for receiving yards in a season in 2012. And that was even harder than previously known. Johnson played with at least two broken fingers most of the season and is still being seen around Detroit with hi…

Share Tweet

Cardinals coach Bruce Arians might not have his quarterback at the moment, but he doesn't sound like he's close to joining the mobile quarterback movement. Arians said this morning at the NFL Scouting Combine that he was a quarterback "traditionalis

Share Tweet

CNNSI.com

Feb 21, 2013

One season after winning the Super Bowl, the Giants missed the playoffs. What can New York do to fill its holes? Chris Burke takes a closer look at the Giants' offseason to-do list.

Share Tweet

ESPN.com profootballtalk.com yahoo.com

Feb 21, 2013

New York Jets quarterback Tim Tebow has backed out of an appearance at a Baptist mega-church in Dallas with a pastor who has created controversy with his remarks about other faiths.

Share Tweet

Bills don't sound sold on Fitzpatrick's future

The Bills have a decision to make soon on quarterback Ryan Fitzpatrick, and they're not ready to say he's part of their future. Bills president Russ Brandon declined comment when asked by Tim Graham of the Buffalo News if Fitzpatrick's roster spot w

Share Tweet

Mike Florio has taken the PFT Live show on the road to Indianapolis this week and he's got a pair of guests Thursday with a lot of interest in how the prospects look at the combine. Titans coach Mike Munchak would like to uncover a few players who will

Share Tweet

From the combine: 49ers ready to see more from 2012 draft class

INDIANAPOLIS -- It's the oldest rule in the book: In the NFL, you build through the draft. But the San Francisco 49ers, who were a few plays and a couple of interesting calls from a Super Bowl victory a couple of weeks ago, are still looking for a few m…

Share Tweet

Marvin Lewis: Bengals will use cap space to keep our own players

The Bengals lead the league in salary cap space, but that doesn't mean they're going on a spending spree on March 12. In fact, Bengals coach Marvin Lewis says that the team's priority is to keep the players it has, not to add a lot of high-priced ta

Share Tweet

Johnny Patrick was a popular waiver-wire name

For a recent third-round pick who couldn't get on the field for the league's all-time worst defense (as measured by yards allowed), cornerback Johnny Patrick was popular yesterday. After being released by the Saints, he was claimed off waivers by the

Share Tweet

Not many people can say they've lost a lot of weight to get down to 339 pounds, but not many people have the build of former Alabama offensive tackle D.J. Fluker. Fluker was among the first players to get weighed and measured as the Scouting Combine kic

Share Tweet

For NFL teams, Combine is all about the medical tests

For media purposes, the NFL Scouting Combine is a whirl of interviews and player availability. For television watchers, the 40-yard dashes and drills take center stage. But for the teams that come to Indianapolis to scout, the priority isn't anything th

Share Tweet

Red flag rule on track to be tweaked

The Texans-Lions game on Thanksgiving had everything.  Included a horrible call that led to a long touchdown run that wasn't reviewed via replay because Detroit coach Jim Schwartz threw the red challenge flag when he shouldn't have thrown it. The blu

Share Tweet

Doug Free might not be done in Dallas

When looking at ways that the Cowboys can solve their salary cap woes without causing too much damage to their chances of winning, it's hard not to turn your attention to right tackle Doug Free. Free was awful in 2011 as both a run and pass blocker whil

Share Tweet

London Fletcher still mulling his future

One of the two active leaders in consecutive games played is still deciding whether he'll be back for his 241st straight game come Week One of the 2013 season. The Washington Post caught up with Redskins linebacker London Fletcher at an appearance for a

Share Tweet

yahoo.com profootballtalk.com ESPN.com

Feb 21, 2013

INDIANAPOLIS -- Alabama cornerback Dee Milliner, projected by many to be the top defensive back selected in the 2013 NFL Draft, will undergo surgery to repair a torn labrum in his right shoulder after this week's scouting combine, according to ESPN's Ad…

Share Tweet

Add the Bills to the list of teams skeptical about the QB class in this draft, with assistant GM Doug Whaley saying: "There is no total package." As much as the Dolphins will be scouting WRs at the Combine, their answer at the position still figures t

Share Tweet

X-ray machine goes down at NFL combine

Players began arriving in Indianapolis on Wednesday for the first day of the NFL combine. The first group to make it to town included kickers, special teamers, offensive linemen and tight ends. While everyone made it to town in time to register for the …

Share Tweet

Report: Cowboys launch Romo negotiations

The Dallas Cowboys have been interested for months in extending the contract of franchise quarterback Tony Romo.  And after months of dragging their feet, it appears that Romo's camp at least is willing to listen. Cowboys executive V.P. Stephen Jones t

Share Tweet

The Only Field Goal Kansas Made In Two Overtimes Was The Game-Winner

Kansas beat Oklahoma State 68-67 Wednesday night in a double-overtime thriller that had Bill Self dancing like a mad man. Kansas won, remarkably, despite failing to make a field goal for about nine minutes and 45 seconds of the 10 minutes played in over…

Share Tweet

NFL to be more proactive regarding playing surface quality

After three players suffered season-ending injuries on a thoroughly worn out natural grass surface at FedEx Field during the playoff match-up between the Washington Redskins and Seattle Seahawks in January, the league has vowed to be more proactive in e…

Share Tweet

What We Know About Bruce Arians's Quest to Keep the Kangol Industry Afloat

grantland.com

Feb 21, 2013

Most of the news from the first day of this year's NFL combine has been standard podium fare. The Bears haven't started contract talks with Jay Cutler...

Share Tweet

NFL32OT: Who Will Shine At The Combine?

Feb 21

Episode 274: Mel Kiper Jr. breaks down the storylines in this year's NFL Scouting Combine. The NFL32 crew discuss the trade rumors surrounding Darrelle Revis.

Jets Combine Report

Feb 21

Rich Cimini and Ohm Youngmisuk deliver the latest news from the 2013 NFL Combine

Are the Jets mishandling Darrelle Revis?

Feb 21

Is Darrelle Revis' future with the New York Jets in jeopardy? His former GM Mike Tannenbaum and ex-teammate LaDainian Tomlinson weigh in.

How should New York Jets handle Mark Sanchez?

Feb 21

Should New York Jets quarterback Mark Sanchez be the starter in 2013? Former Jets running back LaDainian Tomlinson and former GM Mike Tannenbaum explain why Jets fans should be optimistic.