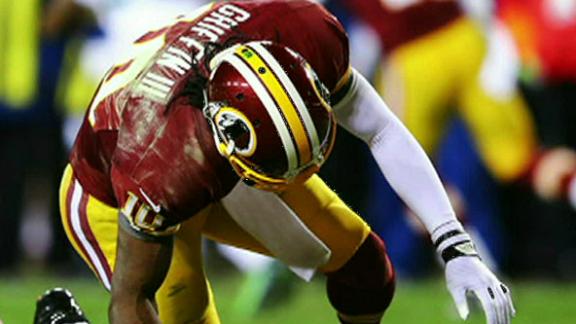 ESPN.com
profootballtalk.com
Updated Feb 22, 2013
Washington Redskins quarterback Robert Griffin III is "way ahead of schedule" in his recovery from surgery to repair a torn ACL and LCL, Dr. James Andrews told NFL Network on Friday.
Share
Tweet
If someone drafts Kansas State quarterback Collin Klein with the intention of making him a tight end, it won't happen because of his performance at the Scouting Combine in tight end drills. Klein's agent, Peter Schaffer, tells PFT that Klein will not

Share Tweet

Mrs. PFT and yours truly were having dinner at the Capital Grille in Indianapolis when I spotted Ravens V.P. of football administration Pat Moriarty and agent Joe Linta walking in and taking a seat at a nearby booth. Which meshes with our report from ea…

Share Tweet

profootballtalk.com yahoo.com

Feb 22, 2013

Quarterback Peyton Manning had a great year in his first year with the Broncos.  And in the eyes of his boss, V.P. of football operations John Elway, it can't get any better. Elway told Friday's edition of Pro Football Talk that Manning gets an A+ fo

Share Tweet

Matt Barkley answered some tough questions, showing the media-savvy needed to be an NFL QB. Chuck Pagano also impressed Don Banks, who is curious to see Manti Te'o.

Share Tweet

Andrew Perloff and Chris Burke debate some of the combine's most intriguing prospects, including Alabama's Eddie Lacy.

Share Tweet

The NFL is providing an iPad application to help team doctors diagnose whether a player has a concussion.

Share Tweet

Patriots starting right tackle Sebastian Vollmer, who is one of the team's top unrestricted free agents, underwent arthroscopic knee surgery Wednesday, a source confirmed.

Share Tweet

From the combine: Geno Smith, Matt Barkley try to shake the 2012 'Dream Team' hangover

INDIANAPOLIS -- It would be a tough act for anyone to follow. When you're in the wake of a quarterback class that featured three instant superstars in Andrew Luck, Robert Griffin III, and Russell Wilson, as well as many more possible long-term starters,…

Share Tweet

yahoo.com profootballtalk.com

Feb 22, 2013

There is zero doubt that the starting quarterback of San Francisco 49ers will be Colin Kaepernick, which makes the continued presence of backup Alex Smith on the roster an issue that the NFC champions will need to address in the offseason. After leading…

Share Tweet

After allowing Colin Kaepernick to set a new NFL record for rushing yards by a quarterback in a playoff loss to the 49ers, the Packers know they have to get better at stopping running quarterbacks. And so their coaches are making like Rodney Dangerfield…

Share Tweet

Jason Garrett erased any doubt as to whether Jay Ratliff will be with the Cowboys in 2013 with a one-word answer to a question about the defensive lineman's future. Asked if Ratliff would return, Garrett said, "Absolutely."

Share Tweet

Chris Canty set for visits with Packers and Jaguars

Defensive lineman Chris Canty has gotten an offer from the Titans since his release from the Giants, but he's not ready to stop looking for a new team to call his own. Mike Garafolo of USA Today reports that Canty will visit with the Packers and Jaguars

Share Tweet

Young read-option quarterbacks were all the rage in the NFL the last two seasons, but this draft class is full of traditional pocket-passers. Don Banks looks at this year's crop.

Share Tweet

Harbaugh leans on the lessons of Judge Judy for draft prep

The stories of the football influences on Jim Harbaugh were well told and often during the weeks leading up to the Super Bowl. But perhaps the biggest impact on his NFL Scouting Combine preparation isn't Bo Schembechler or Jack Harbaugh, but Judge Judy.

Share Tweet

Former Texas receiver Marquise Goodwin was an Olympic long jumper and may be the best athlete at this year's Scouting Combine. But he wants to be more than that: Goodwin wants to be the fastest man ever to run at any Scouting Combine. Goodwin told repor

Share Tweet

profootballtalk.com ESPN.com CNNSI.com

Feb 22, 2013

As a Harvard alum in the NFL, Matt Birk was used to doing things a little bit differently than most professional football players. So it was that his retirement press conference took place at Baltimore' Battle Grove Elementary School with 40 fifth-grade

Share Tweet

The Baltimore Ravens and the agent for Super Bowl MVP Joe Flacco will meet Friday in Indianapolis in their first negotiating session since August, according to a source.

Share Tweet

West Virginia quarterback Geno Smith hopes he can work himself into the mix for the top pick, and he thinks he can adjust to any NFL system. But he knows that things got tougher for him and the rest of the rookie class based on the success of last year'

Share Tweet

Doty shoots down collusion case, again

On the day after the 2012 regular season ended, Judge David Doty rejected an effort by the NFLPA to pursue a collusion case based on the notion that the NFL had a secret salary cap in the uncapped year of 2010. On the busiest Friday to date of the offse…

Share Tweet

As the Ravens and agent Joe Linta, representative of quarterback Joe Flacco, prepare to talk contract for the first time in months, there's another important factor to keep in mind regarding the seemingly no-brainer possibility that the Ravens would use

Share Tweet

Danny Amendola won't get the franchise tag

Reports out of St. Louis this offseason have been pretty consistent about wide receiver Danny Amendola hitting the open market when free agency opens next month. General Manager Les Snead pushed them closer to being correct on Friday by saying that the …

Share Tweet

Bill Polian, Television Personality, Found Himself Surprised To Be On TV Yesterday

deadspin.com

Feb 22, 2013

Veteran NFL executive Bill Polian has found new life in ESPN's arms as a pro football analyst, and he's part of the Bristol diaspora that's found its way to Indianapolis for the pro football combine that gets underway tomorrow. I don't know if it's poss…

Share Tweet

The Raiders drafted Taiwan Jones in the fourth round of the 2011 draft because of his skills as a running back. If he sticks beyond his third year with the team, it will likely be because he can play cornerback. Raiders General Manager Reggie McKenzie s…

Share Tweet

NFL eyes "signing day" for free agency

As the NFL attempts to reconfigure its offseason calendar in order to generate even more interest in the sport during periods when the sport isn't being, you know, played, the foundation for one important change already has been laid. As former Chiefs G

Share Tweet

USC quarterback Matt Barkley takes on his critics at the 2013 NFL Scouting Combine.

Share Tweet

Jags GM: Receiver Robinson medically cleared

New Jacksonville Jaguars general manager Dave Caldwell said Friday at the combine that Laurent Robinson has been medically cleared.

Share Tweet

Chuck Pagano joked with reporters at the NFL scouting combine that the only restriction his doctors have put on him pertains to very little media access.

Share Tweet

Giants cornerback Terrell Thomas recently said that he thought head coach Tom Coughlin had one more year left in him on the sideline. Coughlin met the media on Friday in Indianapolis and got the expected questions about his future. Coughlin said that he…

Share Tweet

Vikings coach Leslie Frazier didn't come out and say he was unhappy about the way his contract situation was handled. But the words he didn't say might have said as much, as he was careful in talking around the option being picked up on his deal in li

Share Tweet

South Carolina running back Marcus Lattimore, who tore three major ligaments and dislocated his right knee against Tennessee in October, may be ready for the 2013 NFL season.

Share Tweet

The Tennessee Titans have taken their first step toward improving their defense, agreeing to terms with safety George Wilson.

Share Tweet

Terrance Ganaway making sandwiches while Rams are off

Some NFL players own Jimmy John's outlets to help generate non-football income, but one player is working at one part-time in the offseason after his rookie year. Running back Terrance Ganaway played three games in St. Louis last season after the Jets w

Share Tweet

Chiefs are willing to trade draft's first overall pick

Share Tweet

Dallas Cowboys guard Nate Livings had right knee surgery two weeks ago, according to a source, but he should be ready to go for the beginning of the offseason program.

Share Tweet

Report: No franchise tag for Jermon Bushrod

It looks like tackle Jermon Bushrod is going to find out what kind of offers he can generate on the open market. Adam Schefter of ESPN reports that the Saints will not use their franchise tag to assure Bushrod's return as the starter on the left side of

Share Tweet

New Orleans Saints 2013 Offseason Preview

It was the D, not the bounty saga, that doomed the Saints in 2012. In comes Rob Ryan and his 3-4, but that won't be enough without upgrades to the roster, Matt Gagne says.

Share Tweet

Committee looking for Super volunteer effort

The Super Bowl XLVIII host committee is looking for 20,000 volunteers.

Share Tweet

Through the haze of confetti, trouble looms for the Ravens. The defending champions will look very different next season, but that doesn't mean all is lost, Don Banks writes.

Share Tweet

2013 NFL combine schedule

The schedule for the 2013 NFL combine, to be held Feb. 20-26 in Indianapolis.

Share Tweet

It's a busy day on PFT Live. Bengals coach Marvin Lewis will join Mike Florio to talk about how the offseason is shaping up for his team. Defensive end Michael Johnson and tackle Andre Smith have both been bandied about as candidates for the franchise t

Share Tweet

Giants guard Chris Snee put off hip surgery until after he played in the Pro Bowl and he finally got the operation done earlier this week. Ralph Vacchiano of the New York Daily News reports that Snee had a torn labrum and bone chips in his hip dealt wit…

Share Tweet

Left tackle Jared Gaither had a miserable 2012 season. A back injury before the season kept him sidelined for training camp and the preseason schedule. He made his season debut in Week Four, but hurt his groin in the next game and was done for the year …

Share Tweet

New Browns coach knows he's excited to be in charge of his childhood team, and is certainly glad to have gotten Norv Turner aboard to call his offensive plays. Who they'll be calling them for seems to be something he's less clear about. Chudzinski w

Share Tweet

When we noted on Thursday night that the NFL is considering overhauling the offseason calendar to start the Scouting Combine, free agency and the draft later in the year, we wondered aloud whether this move was an attempt to create breathing room for an…

Share Tweet

Buccaneers linebacker Quincy Black had surgery to repair nerve damage in his left shoulder last month, an operation he needed after suffering a scary-looking injury while hitting Chargers running back Ryan Mathews during a November game. Black missed th…

Share Tweet

Earlier this month, reports out of Miami indicated running back Reggie Bush was confused about the Dolphins' lack of interest in re-signing him this offseason. Bush can stop wondering. General Manager Jeff Ireland told Mike Florio on PFT Live Thursday t

Share Tweet

INDIANAPOLIS -- The 2013 NFL Draft may be a relative disaster if you're looking for a quarterback who can turn the lights up on a franchise, but things look a lot better on the offensive like this time around. At least four offensive tackles and two gua…

Share Tweet

Earlier this week, NFLPA president Domonique Foxworth complained about the lack of progress on the HGH testing issue that the players and the league seemingly agreed to already, saying the league was trying to force a test with no appeal on them. The le…

Share Tweet

Report: Jared Cook sees himself as a wide receiver

Jim Wyatt of the Tennessean reports that there's no expectation of significant progress on a long-term contract for Titans tight end Jared Cook before the March 4 deadline to use the franchise tag. The Titans were already expected to use the tag on Cook

Share Tweet

Panthers safety Haruki Nakamura takes a pay cut

Free safety Haruki Nakamura had a forgettable first season with the Carolina Panthers, surrendering a pair of big plays, including a 49-yard touchdown, during a 30-28 loss to the Atlanta Falcons on Sept. 30. By the end of the 2012 season, Nakamura was u…

Share Tweet

The Bills need to have a contingency plan if TE Scott Chandler isn't ready to go next season. A look at where the Dolphins will pick and how they acquired some of the picks. Will the Patriots be adding more help at tight end? Saying that you never know

Share Tweet

The Atlanta Falcons are likely to release running back Michael Turner, who is scheduled to make $6.9 million next season, league sources told ESPN's Adam Schefter on Friday.

Share Tweet

The Philadelphia Eagles will ask cornerback Nnamdi Asomugha to restructure his contract or they will release him, according to league sources.

Share Tweet

In his first national-stage appearance as the coach of the Eagles, Chip Kelly offered a warm endorsement of quarterback Nick Foles, but was something closer to tepid when asked about cornerback Nnamdi Asomugha. Kelly's glib, rapid-fire style (which incl

Share Tweet

INDIANAPOLIS -- There must be times when new New York Jets general manager John Idzik wishes he were still back in Seattle, working as the Seahawks' relatively anonymous salary cap expert. Certainly, the fallout from anything said in a press conference …

Share Tweet

Broncos safety Rahim Moore was the goat of Denver's playoff loss, allowing Ravens wide receiver Jacoby Jones to get behind him for a 70-yard touchdown. Broncos coach John Fox is hoping Moore uses that as motivation for a strong offseason and a better 20

Share Tweet

Tampa Bay head coach Greg Schiano was somewhat noncommittal about quarterback Josh Freeman's future with the team following the Buccaneers 7-9 season. Despite Freeman passing for 4,065 yards and 27 touchdowns for the Buccaneers last year, Schiano said h

Share Tweet

Detroit Lions wide receiver Nate Burleson has restructured his contract for a second straight year.

Share Tweet

Coach speak at the combine explained

Coaches tend to say a lot, and nothing all at the same time. So how to decipher the nuggets revealed Thursday about Darrelle Revis, Alex Smith and others? Andrew Perloff translates.

Share Tweet

grantland.com

Feb 22, 2013

Four years ago, Andre Smith got off a plane in Indianapolis as the best left tackle at that year's NFL combine. The previous season, he was awarded th...

Share Tweet

NFL32OT: Rising To The Occasion

Feb 22

Episode 275: Mel Kiper Jr. breaks down which player will gain the most at the NFL Scouting Combine. Robert Flores and Eric Mangini discuss Nnamdi Asomugha's future with the Eagles.

New York Giants head coach Tom Coughlin addresses his future

Feb 22

New York Giants head coach Tom Coughlin speaks to the media about his player's injuries, a rumor that he only has one year left and the difficulty of cutting running back Ahmad Bradshaw.

Giants Combine Report

Feb 22

Rich Cimini and Ohm Youngmisuk deliver the latest news from the 2013 NFL Combine

Patriots' Combine News And Notes

Feb 22

Mike Reiss delivers the latest Patriots' news and notes from the 2013 NFL Combine

Sports Columnists

Don Banks: Traditional pocket passers becoming extinct? Don't tell this QB…

Feb 22

INDIANAPOLIS -- Perhaps the irony of the NFL's incoming quarterback class on display here at the scouting combine is that while the read-option trend seems to be the wave of the future within the league, the future clearly isn't now. At least not in ter…

2013 NFL combine -- Friday observations about offseason, Weeden and more

Feb 22

Will the NFL push back the dates on the offseason? Not if the players' union has anything to say about it, writes John Clayton.

Don Banks: Baltimore Ravens 2013 Offseason Preview

Feb 22

SI.com is laying out offseason road maps for all 32 teams as they start their journey for the Lombardi Trophy -- two teams per day, from the teams that need the most work to contend in 2013 to the ones that are in pretty good shape. See them all.