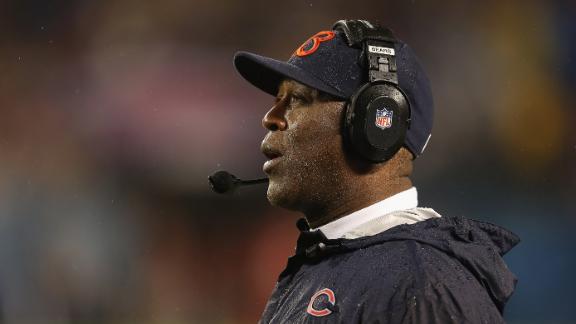 profootballtalk.com
ESPN.com
Updated Jan 3, 2013
Seven coaching vacancies currently exist.  (That number could soon be six.)  The guy whose termination created one of them - former Bears coach Lovie Smith - reportedly has drawn interest for only two of them. The demand should be higher. Smith led
Share
Tweet
The season for coaches changing jobs continues. According to Brett McMurphy of ESPN, Florida International University is set to name Tampa Bay Buccaneers quarterbacks coach Ron Turner as their next head coach. Turner had previously been a head coach at …

Share Tweet

yahoo.com

Jan 3, 2013

Feeling sorry for Las Vegas casinos is a tough proposition, we grant you. But this past NFL season, sports books across Vegas took an absolute bath thanks to a most unlikely scenario: good teams playing even better than expected. The Los Angeles Times i…

Share Tweet

profootballtalk.com ESPN.com deadspin.com

Jan 3, 2013

There have been various accounts and reports regarding the magnitude of the buyout necessary to extricate Bill O'Brien from his contract at Penn State after only one season.  Whatever it was, it played a role in O'Brien's decision to stay put. Per

Share Tweet

He has been a loyal and long-term employee of the Packers.  And he soon could be getting his shot. Packers director of operations John Dorsey is in demand, in at least two locations.  Per a league source, the G.M. position in Kansas City will be his if

Share Tweet

More news from the Irving, Tex. crash last month that claimed the life of Dallas Cowboys practice squad player Jerry Brown Jr.: the Dallas News is reporting that an autopsy has revealed that Brown's blood alcohol content was actually below the legal dri…

Share Tweet

Report: Nation's Top High School Football Coach May Step Down

If you're looking for a legendary coach amid today's high school football landscape, it's hard to top Bob Ladouceur's credentials. But after 399 wins over 34 seasons at De La Salle High School in the Bay Area and throughout a tenure that has produced mo…

Share Tweet

The New York Giants would like Michael Strahan to take a little time out from talking to Kelly Ripa and spend some time talking to Jason Pierre-Paul. Giants General Manager Jerry Reese said on WFAN that he wants Strahan, who set the NFL's single-season

Share Tweet

yahoo.com

Jan 3, 2013

Saturday, January 5, 2012 - 4:30 p.m. ET NBC For the second consecutive January, the Cincinnati Bengals and Houston Texans will meet in an AFC wild-card playoff game at Reliant Stadium. When the two clubs met on Jan. 7, 2012, the Bengals seemed to be in…

Share Tweet

CNNSI.com profootballtalk.com deadspin.com yahoo.com ESPN.com

Jan 3, 2013

KANSAS CITY, Mo. (AP) -- Andy Reid and the Kansas City Chiefs should be quite familiar by now.

Share Tweet

CNNSI.com profootballtalk.com

Jan 3, 2013

SANTA CLARA, Calif. (AP) -- San Francisco 49ers placekicker David Akers says he received death threats on Twitter and has closed the account.

Share Tweet

deadspin.com ESPN.com profootballtalk.com yahoo.com nytimes.com

Jan 3, 2013

If you believe the reports, one of the most captivating eras in recent college football history ends tonight. Chip Kelly will coach Oregon against Kansas State in the Fiesta Bowl, and then he'll interview for NFL head-coaching jobs (chats with Philly, C…

Share Tweet

profootballtalk.com deadspin.com ESPN.com yahoo.com CNNSI.com

Jan 3, 2013

It may seem like sheer sacrilege to criticize Ray Lewis as he heads into what will likely be his final game in Baltimore on Sunday. But amid all the talk of Lewis announcing his retirement this week, few have asked this question: At age 37 and coming of…

Share Tweet

CNNSI.com profootballtalk.com

Jan 3, 2013

INDIANAPOLIS (AP) -- The Indianapolis Colts want offensive coordinator Bruce Arians to stick around a little longer.

Share Tweet

CNNSI.com profootballtalk.com ESPN.com

Jan 3, 2013

PHILADELPHIA (AP) -- The Philadelphia Eagles will interview Broncos offensive coordinator Mike McCoy on Sunday in Denver.

Share Tweet

The Raiders and Lions pick third, and fifth, respectively in this year's draft. But they'll get the first up-close look at some of the top prospects at the Senior Bowl. While the "honor" of coaching in Mobile, Ala., usually falls to the teams at t

Share Tweet

Coughlin: Pain of missing playoffs indescribable

Four days after the New York Giants' season ended, Tom Coughlin said he's going stir crazy not being able to defend the team's title in the postseason.

Share Tweet

Justin Pugh declares for draft

Another underclassman threw his hat in the ring for consideration in April's draft. Syracuse left tackle Justin Pugh announced that he will forgo his final year with the Orange. Pugh started every game he played in his time at Syracuse and was All-Big E

Share Tweet

The 49ers had a welcome face back in uniform at practice on Thursday. Defensive lineman Justin Smith, out since December 16th with a torn triceps that will require surgery, took part in individual drills with the 49ers during their afternoon practice. M…

Share Tweet

Redskins' Adam Carriker tweets some trash talk to Romo, Vick, Eli

Ordinarily, it's not a good look for a player who hasn't seen the field in three months to talk trash. Unless it's legitimately funny. So on the "funny" exception, we'll pass along a good piece of trash talk that Redskins defensive end Adam Ca

Share Tweet

Brandon Browner didn't mind being forced to sit out the final four games of the regular season due to suspension because it was fun watching his Seattle Seahawks continue to roll toward the postseason.

Share Tweet

profootballtalk.com ESPN.com

Jan 3, 2013

On Wednesday, Cowboys owner Jerry Jones said that it would be "uncomfortable" around the team in the coming days and weeks as he tries to make changes that will break the team "out of that cycle" of finishing in the middle of the pack. When you'

Share Tweet

The Deadspin NFL Coach Challenge Challenge is a tournament pitting the throwing motions of 20 NFL coaches against one another. More »

Share Tweet

yahoo.com profootballtalk.com

Jan 3, 2013

There's no questioning the credentials of former NFL executive Bill Polian. When you build teams to a championship or near-championship level as Polian did with the Buffalo Bills (1986-1993), Carolina Panthers (1994-1997) and Indianapolis Colts (1998-20…

Share Tweet

With Andy Reid reportedly poised to become the next coach of the Chiefs (of course, it's been close for six hours now), plenty of names are bubbling up for the position of G.M., if/when Reid takes the job. Here's the most important thing to keep in mi

Share Tweet

PFT on NBC Sports Network: Golden Tate, Duane Brown

We're getting closer to the start of the playoffs and Pro Football Talk on NBC Sports Network has a couple of players from teams playing this weekend lined up for interviews on Thursday's episode. Seahawks wide receiver Golden Tate was involved in the

Share Tweet

Peyton Manning has nothing but love for the glove

Earning home field advantage through the AFC playoffs was huge for the Broncos. But even bigger might have been the results of quarterback Peyton Manning found while adjusting to the conditions in Denver. Dealing with weather was always an issue for him…

Share Tweet

Jordy Nelson has no doubts he'll play on Saturday

Packers coach Mike McCarthy said Wednesday that the team's medical staff still had some doubts that wide receiver Jordy Nelson's knee would be well enough to allow him to play on Saturday night against the Vikings. Nelson progressed to a full practice

Share Tweet

Potential Top 10 pick Bjoern Werner enters NFL draft

Bjoern Werner, a Florida State defensive end who is regarded as a potential Top 10 pick, has decided to leave school and enter April's NFL draft. The 6-foot-4, 255-pound Werner was born and raised in Germany and only began playing American football when

Share Tweet

The Jets won't be cooperating with the league's policy requiring the head coach to be made available to the media within one week after the last game of the season.  The Professional Football Writers of America won't be pushing the issue when it co

Share Tweet

Security Kicked Out An Entire Section Of Raiders And Chargers Fans

These seats are the absolute cheapest at Qualcomm Stadium: upper deck, behind an end zone, near the scoreboard. They're empty in this video, but not for a lack of tickets sold. This is the aftermath of a section-wide fight that went down in the fourth q…

Share Tweet

Earlier this week, Redskins coach Mike Shanahan answered a question about his son, offensive coordinator Kyle Shanahan, interviewing for head coaching jobs by saying he thought the time for that was after the Redskins' season came to an end. That sugges

Share Tweet

With Andy Reid no longer in the picture, the Arizona Cardinals have received permission to interview Pittsburgh offensive coordinator Todd Haley for their head coaching job, according to a person with knowledge of the situation.

Share Tweet

When head coaches get fired, their assistants are left to their own devices. But rather than wait for NFL jobs to get filled to try his luck, former Chargers special teams coach Rich Bisaccia just took a job at Auburn. Bisaccia was named assistant head …

Share Tweet

yahoo.com profootballtalk.com nydailynews.com

Jan 3, 2013

Some people might think Adrian Peterson may be deflated after coming up just nine yards shy of breaking Eric Dickerson's single-season rushing record, but Mike Florio thinks the opposite. Florio thinks Peterson could be motivated to try and break the re

Share Tweet

Your Coach Sucks At Managing The Clock. Does It Really Matter?

Drew Magary's Thursday Afternoon NFL Dick Joke Jamboroo runs every Thursday during the NFL season. More »

Share Tweet

Two years ago, the Titans hired Jim Skipper as their running backs coach and signed running back Chris Johnson to a gargantuan contract extension. Johnson hasn't quite lived up to his salary, and Skipper may be paying for that with his job. The Titans w

Share Tweet

The Brotherhood: A funny thing happened along the Bengals' way to …

A funny thing happened along the Bengals' way to stockpiling defenders no one else wanted: They built a dominant unit, one that will make its mark in January, Ben Reiter says.

Share Tweet

Still America's Team: An Analysis Of Twitter Behavior Before Cowboys-Redskins

It was a good year to be a Redskins fan. Seven straight wins to close out the season. First playoff appearance since 2007. First NFC East title since 1999. A rookie running back who set the team record for rushing yards. And, of course, Black Jesus. Mor…

Share Tweet

While the Vikings are freezing themselves in preparations for Saturday night's playoff game at Green Bay, one of their biggest names is in sunny Florida. But Vikings coach Leslie Frazier said he had no objections to injured wide receiver Percy Harvin do

Share Tweet

Giants' Cruz optimistic about getting an extension

Share Tweet

ESPN.com profootballtalk.com

Jan 3, 2013

Peyton Manning tied yet another NFL record Thursday when he won his sixth career Offensive Player of the Month award.

Share Tweet

If you were gambling on the pick for the December AFC special teams player of the month when the month began, there's not much chance you bet on the eventual winner. When December started, Josh Brown was on the veteran kicker tryout circuit, popping up

Share Tweet

Texans defensive end J.J. Watt finished the year the same way he started it, bookending his September AFC defensive player of the month award with the December version. He posted a league-high six sacks and four forced fumbles in December, along with 27…

Share Tweet

Days after they were named the PFT offensive and defensive rookies of the year, Seahawks quarterback Russell Wilson and Panthers linebacker Luke Kuechly have received a couple of less prestigious awards. The NFL has announced that Wilson and Kuechly are…

Share Tweet

One-minute drill: Peter King's team-by-team playoff previews

Share Tweet

Blair Walsh wins NFC special teams player of month

Vikings kicker Blair Walsh keeps not missing, so he keeps winning awards. The rookie was named NFC special teams player of the month for December. He was actually 11-of-12 on field goals for the month, but hit all five attempts from 50 yards or longer. …

Share Tweet

Bonnie Bernstein Explains Ray Lewis's Crimes With An Unfortunate Parable About Middle Schoolers Smoking

Somewhere along the line, we as a nation apparently chose to forgive/forget the fact that Ray Lewis was involved in a murder at a Super Bowl party in 2000. That Lewis and his friends got into a fight with another group, and two people in that other grou…

Share Tweet

The Redskins are riding a seven-game winning streak into Sunday's game against the Seahawks and one of the biggest reasons for their turnaround after a 3-6 start has been the improved play of the defense. They forced 15 turnovers and sacked quarterbacks

Share Tweet

Something's Gotta Give

Rookie QBs reviving non-playoff teams aren't the only thing the Redskins and Seahawks have in common, but who continues deeper into January? Peter King has the answer.

Share Tweet

Geno Smith selects Select Sports Group

Even in a draft class that is currently believed to lack high-end quarterbacks, the best quarterbacks in the class will attract plenty of attention and competition. West Virginia's Geno Smith has made his choice, hiring Erik Burkhardt and Jeff Nalley of

Share Tweet

Well, the regular season has ended, and I finished strong with a 13-3 mark.  More importantly, I went 4-1 in the five games on which MDS and I disagreed, pushing the final margin to 11 games. With only 11 postseason games and one agreement on the four w…

Share Tweet

Suspended defensive coordinator Gregg Williams won't return to the St. Louis Rams next season, according to sources.

Share Tweet

Ahmad Bradshaw: You never know who will be back

Giants running back Ahmad Bradshaw battled through a slew of injuries this season to post 1,015 rushing yards in 14 games, the second time that he's topped the 1,000-yard mark in his career. As he was cleaning out his locker and saying goodbye to his te

Share Tweet

Cowboys wide receiver Dez Bryant had to leave the stadium in a wheelchair after injuring his back during Sunday night's season-ending loss to the Redskins and he was still on crutches Tuesday, leading to tests over the last few days to determine the ext

Share Tweet

Robert Griffin III: What a Good Quarterback Means

nytimes.com

Jan 3, 2013

Do you have a top quarterback or not? Everything in the N.F.L. can change based on that question.

Share Tweet

Bills may have some degree of interest in Jim Haslett

The Bills are trying to get in on the Chip Kelly derby, but they're clearly putting together a Plan B. And one of the names on the Plan B (or maybe C) list seems to be Redskins defensive coordinator Jim Haslett. There was an item in the Washington Post

Share Tweet

Eli Manning and Michael Vick have done a lot to puncture the notion that Lambeau Field gives the Packers a home-field advantage that's impossible to overcome in recent years and now a member of the Packers is saying that he'd just as soon play on the

Share Tweet

The Buffalo News has an incredible package of stories and photos celebrating the 20th anniversary of the Bills' comeback playoff win against the Oilers. Dave Hyde of the South Florida Sun-Sentinel takes a look at the best and worst of the Dolphins' se

Share Tweet

Days after he was fired by the Cardinals, Ken Whisenhunt has had his second interview for a new job. Whisenhunt interviewed Wednesday with the Browns about their head coaching vacancy, ESPN's Chris Mortensen reports. Browns owner Jimmy Haslam and CEO Jo

Share Tweet

Two Florida Gators declare for NFL Draft following Sugar Bowl

Following their 33-23 loss to the Louisville Cardinals in the Sugar Bowl on Wednesday night, Florida junior safety Matt Elam and junior defensive tackle Sharrif Floyd announced their intentions to declare for the NFL draft. Elam was named a first-team A…

Share Tweet

NFL needs developmental league, for plenty of reasons

When the NFL pulled the plug on whatever the World League was known as in its final existence, the NFL likewise removed the ability of young players to get much-needed live reps. But it's more than players who benefit from a league that helps develop ta

Share Tweet

Colts Owner Jim Irsay Is Ready For The Playoffs: "Time To Let The Monster Feed!!!!!!!!!!!!!"

The Andrew Luck-led Indianapolis Colts, by some unexplainable circumstance, pulled off an 11-5 record this season and secured a wild-card playoff game against the Baltimore Ravens this Sunday. Colts owner Jim Irsay? Oh, he's ready to party, as you can s…

Share Tweet

nydailynews.com

Jan 3, 2013

Alabama coach Nick Saban arrived with his SEC championship team Wednesday afternoon to prepare for Monday's BCS national championship game against top-ranked Notre Dame in Miami amid a swirl of speculation that he may leave for the NFL at season's end

Share Tweet

Overrated Colts and Wild-Card Round Probabilities

nytimes.com

Jan 3, 2013

A good case can be made that Indianapolis's surprising 11-5 record was more a result of a weak schedule than anything else.

Share Tweet

Seahawks back to full strength entering playoffs

After 16 regular season games the Seattle Seahawks enter the playoffs with just about as healthy a roster as possible. Running back Marshawn Lynch was the only player listed on Seattle's injury report on Wednesday. He was limited with a back injury that

Share Tweet

nydailynews.com

Jan 3, 2013

Rex Ryan, bless his heart, is suddenly running scared of notebooks and microphones. Woody Johnson just hasn't been the same since his pal Mitt Romney did just about as well on Election Night as the Jets did on Thanksgiving Night, minus the Butt Fumble,

Share Tweet

About Last Night: Ray Lewis, Pregame Dance to Retire

grantland.com

Jan 3, 2013

In case you were busy explaining why your "flu-like symptoms" aren't just a cover for a two-day New Year's Eve hangover, here's what you missed in spo...

Share Tweet

NFL32OT: A Tough Task Ahead

Jan 3

Episode 242: Chris Mortensen discusses which rookie quarterback will have a tougher task this postseason. Merril Hoge makes his pick for MVP. The NFL32 crew discuss Adrian Peterson's desire to play on special teams.

Cold Hard Facts

Jan 3

Mark Schlereth shares which teams he believes are poised to win on Wild-Card Weekend.

How they got here: Green Bay Packers

Jan 3

The Green Bay Packers are heading into the 2012 playoffs with momentum and energy. Relive the memorable moments they experienced on their road to the postseason.