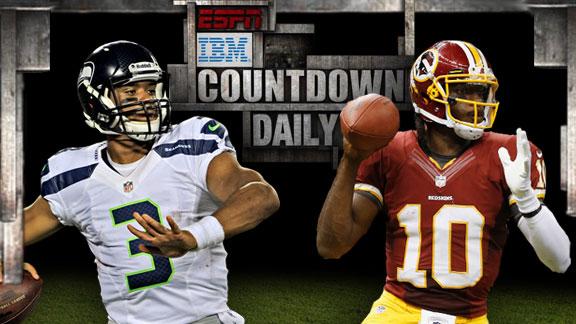 Cornerback Brandon Browner is expected to start for the Seattle Seahawks in the playoff opener Sunday at Washington despite just returning this week from his four-game suspension.
Share
Tweet
CNNSI.com yahoo.com profootballtalk.com

Jan 4, 2013

The Minnesota Vikings have listed quarterback Christian Ponder and cornerback Antoine Winfield as questionable for their playoff game on Saturday against Green Bay.

Share Tweet

ESPN.com profootballtalk.com yahoo.com CNNSI.com deadspin.com

Jan 4, 2013

Oregon coach Chip Kelly and the Cleveland Browns wrapped up seven hours of meetings Friday that were characterized as "very positive," though Kelly will proceed to interview with the Bills and the Eagles, sources said.

Share Tweet

profootballtalk.com ESPN.com

Jan 4, 2013

With Andy Reid never even going to Arizona for an interview, the Cardinals' search for a coach and a G.M. continues. Team P.R. guru Mark Dalton announced Friday night via Twitter that the team interviewed Redskins executive Morocco Brown in D.C. on Frid

Share Tweet

As if there weren't enough story lines to sustain Sunday's game between the Seahawks and the Redskins, a new angle has been added on Friday, courtesy of Washington defensive lineman Kedric Golston. As linebacker Lorenzo Alexander was being asked wheth

Share Tweet

Tate still says he caught the ball

The notorious "Fail Mary" play from the last game of Week Three didn't help the Seahawks make it to the playoffs, but it did help the 49ers secure a bye week that otherwise would have gone to the Packers. As the postseason approaches, the man who wa

Share Tweet

CNNSI.com profootballtalk.com

Jan 4, 2013

The New York Jets have begun their search for Mike Tannenbaum's replacement.

Share Tweet

CNNSI.com profootballtalk.com yahoo.com ESPN.com

Jan 4, 2013

Andy Reid pulled up to Arrowhead Stadium in a black SUV on Friday, stepped out of it wearing a dark suit and red tie, and walked briskly toward the doors of the Kansas City Chiefs' home.

Share Tweet

CNNSI.com ESPN.com profootballtalk.com

Jan 4, 2013

The Philadelphia Eagles will interview Colts offensive coordinator Bruce Arians and Seahawks defensive coordinator Gus Bradley for their coaching vacancy.

Share Tweet

A person familiar with the Buffalo Bills' coaching search says the team is still scheduled to interview Denver Broncos offensive coordinator Mike McCoy this weekend.

Share Tweet

A person familiar with the situation says Carolina Panthers owner Jerry Richardson has scheduled a meeting with Ron Rivera Saturday morning to discuss the coach's future with the team.

Share Tweet

Deadspin Up All Night: Wine And Roses

Thank you for your continued support of Deadspin. Go ahead and do something fun tonight. The usual weekend warriors will be here dive into the NFL playoffs with you tomorrow. More »

Share Tweet

ESPN.com nytimes.com profootballtalk.com

Jan 4, 2013

The New York Giants will not be going back to Albany and will instead hold their 2013 training camp at their Timex Performance Center.

Share Tweet

Redskins activate Cedric Griffin after suspension

The Redskins will have cornerback Cedric Griffin back in the lineup when they face the Seahawks in Sunday's playoff game. The team announced Friday that they removed Griffin from the exempt list he was on while serving a four-game suspension and placed

Share Tweet

Takeo Spikes, Mike Goodson fined $7,875 each after ejections

The Chargers and Raiders saw their seasons come to a close last Sunday with one player from each team departing the scene well ahead of the final whistle. Raiders running back Mike Goodson and Chargers linebacker Takeo Spikes were ejected from the game …

Share Tweet

49ers' Crabtree, Gore fined $10,500 each for throwing ball in stands

When 49ers receiver Michael Crabtree and running back Frank Gore scored touchdowns on Sunday, they decided to throw the ball into the crowd and let a San Francisco fan get a souvenir. That was an expensive decision. The NFL has fined Crabtree and Gore $…

Share Tweet

Unless you're firmly in Andrew Luck's corner when it comes to the NFL's Offensive Rookie of the Year nomination -- and there's certainly some weight to that argument -- the wild-card battle between the Washington Redskins and Seattle Seahawks presents p…

Share Tweet

A Season Of Miracles In Washington: The Redskins Reappear, And The Owner Vanishes

Dan Snyder didn't even show up to his team's annual turkey giveaway before Thanksgiving. Somebody clearly told Snyder, the Redskins' unbeloved owner, that he couldn't win until his team won. And dang if he didn't listen. And dang if the team didn't win.…

Share Tweet

yahoo.com profootballtalk.com

Jan 4, 2013

It probably isn't a good thing to make Adrian Peterson angry, but a bar in Green Bay is going ahead and doing it any way before the Packers' big wild-card playoff game against the Minnesota Vikings on Saturday night. The above picture was snapped in an …

Share Tweet

And Now, Donté Stallworth Blowing The Lid Off An H1N1 Vaccine Conspiracy

Donté Stallworth hasn't seen much playing time with the Patriots this year. He's only played in one game, and his 63-yard touchdown reception against the Texans marks the only time he's gotten his hands on the ball. This doesn't mean that Stallworth ha…

Share Tweet

CNNSI.com yahoo.com deadspin.com ESPN.com profootballtalk.com

Jan 4, 2013

NEW YORK (AP) -- With the ink not even dry on the New York Jets' dreadful season, Rex Ryan fled to the Bahamas only to be photographed lounging poolside at a resort hotel, book in hand, with an interesting tattoo gracing his right biceps.

Share Tweet

JACKSONVILLE, Fla. (AP) -- Jacksonville Jaguars assistant coaches are no longer in limbo.

Share Tweet

Mercifully, Tony Siragusa Will Not Appear On Your Televisions This Playoff Season

Tony Siragusa's book entertained us, even though he lied in the course of promoting it. But he consistently fails to entertain us on NFL telecasts. He also consistently fails to inform us, about football or, for that matter, anything else. This sweater …

Share Tweet

PFT on NBC Sports Network: DeAngelo Hall, Wild Card weekend preview

The Redskins make their return to playoff action on Sunday and cornerback DeAngelo Hall will join Erik Kuselias to talk about the game against the Seahawks on Friday's edition of Pro Football Talk on NBC Sports Network. Hall had an up-and-down regular s

Share Tweet

Colts starting G Reitz (concussion) ruled out

ESPN.com

Jan 4, 2013

Colts left guard Joe Reitz will not play in Sunday's playoff game at Baltimore because of a concussion. He will likely be replaced by Jeff Linkenbach.

Share Tweet

Asante Samuel joined the Falcons, in part, so he could be nearer to his ailing mother. (Here's a good piece on the bond between the two.) Christine Samuel died on Tuesday, and with the Falcons on a bye, Asante has been away from the team all week. More 

Share Tweet

Pro Football Hall of Fame exec Elliott dies at 86

ESPN.com

Jan 4, 2013

Pete Elliott, the longest-tenured executive director in the Pro Football Hall of Fame's history, has died. He was 86.

Share Tweet

For the second time this week, the Texans placed an inside linebacker on injured reserve. Tim Dobbins' season is over thanks to an ankle injury. The move leaves the Texans awfully thin at the position after placing Darryl Sharpton on injured reserve ear

Share Tweet

G.M. dominoes could start falling soon

Five teams are currently looking for General Managers.  Five days after the 2012 regular season ended, a loose sense is emerging as to how things will fall together. Here's the quick summary, as it's currently making the rounds in league circles. 1.

Share Tweet

Jacksonville Jaguars owner Shad Khan has given permission to all assistant coaches to speak to other teams about potential jobs, according to league sources.

Share Tweet

Brennaman and Billick get bumped up to a playoff broadcast

Playoff time is usually not a time when you opt to make big changes with the things that you didn't bother altering during the regular season, but FOX is throwing caution to the wind next weekend all the same. Neil Best of Newsday reports that FOX has s

Share Tweet

Joe Namath's Wild-Card Picks: Texans, Ravens, Seahawks, Packers advance

As he did last year for the playoffs, NFL Hall of Famer and New York Jets legend Joe Namath will join Yahoo! Sports and the Shutdown Corner Blog during the playoffs to break down the key games, players and moments each weekend. Make sure you like the Of…

Share Tweet

Baltimore Ravens linebacker Ray Lewis will make his return from a torn triceps in Sunday's wild-card game against the Indianapolis Colts, coach John Harbaugh said Friday.

Share Tweet

The NFL In Mexico Is The NFL Reduced To Its Essence

MEXICO CITY-Freedom Sports & Fun Bar is located in a neighborhood here called Del Valle, where many of the streets are named after American cities. Boston, Detroit, and Sacramento run east and west just outside the bar. But inside, the only city with an

Share Tweet

Broncos offensive coordinator Mike McCoy will apparently have a busy weekend

The New Year began with seven head coaching vacancies. One of those positions has been filled, as former Philadelphia Eagles head coach Andy Reid has reached an agreement with the Kansas City Chiefs. The news of Reid's agreement came as no surprise as h…

Share Tweet

The Bengals have released their final injury report for the week and it looks like they are going to be down a starting safety. Chris Crocker missed practice all week and he's been listed as doubtful for the Wild Card game against the Texans thanks to a

Share Tweet

Could Cowher become the coach in Carolina?

Now that we're mainstream (or something close to it), we're careful (or at least more careful) about trafficking in rumors.  But when there's a juicy rumor that is making the rounds in league circles, it's hard to ignore it. The latest isn't a

Share Tweet

yahoo.com nydailynews.com

Jan 4, 2013

Even though he doesn't act like he has a chip on his shoulder, Seattle Seahawks rookie quarterback Russell Wilson will have the chance to prove he belonged in the first round of the 2012 NFL Draft.  When Seattle faces Washington on Sunday in a NFC wil

Share Tweet

NFL will reconsider the tuck rule this offseason

NFL officials are talking about revamping the tuck rule. Dean Blandino, the league's director of officiating, said in a video distributed to the media that the NFL's Competition Committee plans to review the tuck rule, which was made famous on January

Share Tweet

Report: Univ. of Washington's Sarkisian turned down head coaching interviews

We've heard a lot about Chip Kelly this week, but it could have been two Pac-12 head coaches interviewing for NFL jobs if University of Washington head coach Steve Sarkisian decided to throw his hat into the ring. According to Albert Breer of the NFL Ne

Share Tweet

Washington fan commemorates her beloved Redskins on her very long fingernails

We're well on the way to establishing that the Washington Redskins have the most off-center fanbase in NFL football. First there was the loon diving into his Christmas tree to celebrate the win over the Cowboys, and now, well, this: Meet Pepper Cox, a D…

Share Tweet

Wild-card weekend preview: Steady diet of Ray Rice should end Colts' remarkable season

There will be no shortage of intriguing story lines when the Indianapolis Colts visit the Baltimore Ravens on Sunday. Following a 2-14 season in 2011, the Colts fired longtime assistant and then-head coach Jim Caldwell, hired Chuck Pagano away from the …

Share Tweet

Terrell Owens completed his court-ordered community service at an LA Goodwill store

You may not see Terrell Owens on the football field any time soon, but you may have run into him if you went to a southern California Goodwill store. According to TMZ, Owens fulfilled his community service requirement for falling behind on his child sup…

Share Tweet

Steve Spurrier: Clowney could have gone from high school to the NFL

I noted on New Year's Day that South Carolina defensive end Jadeveon Clowney looks like he's ready to be the first overall pick in the NFL draft, except that he's only two years out of high school and therefore ineligible for the draft. According to

Share Tweet

The Falcons don't even play this weekend, but they've already recorded a win. Cornerback Dunta Robinson has been cleared through the league's concussion protocol, and was back on the practice field Friday, according to D. Orlando Ledbetter of the At

Share Tweet

Jarvis Jones, a Georgia outside linebacker who is viewed as a potential first overall pick in the 2013 NFL draft, has made his decision: He's leaving school to go pro. That decision has been expected all year, as Jones has been discussed as one of the b

Share Tweet

PFT Live: John Elway, PFT Planet calls and tweets

It's not every day that a member of the Pro Football Hall of Fame stops by PFT Live, so Friday's a pretty big day for the program. Broncos executive vice president of football operations John Elway will be Mike Florio's guest on Friday, a little mor

Share Tweet

CNNSI.com yahoo.com ESPN.com profootballtalk.com

Jan 4, 2013

KANSAS CITY, Mo. (AP) -- Scott Pioli is out as general manager of the Kansas City Chiefs, who have been negotiating the past two days with Andy Reid to become their next coach.

Share Tweet

Florio mentioned last night how in-demand Packers director of football operations John Dorsey has become. But with multiple reports linking him to what seems like the inevitable Andy Reid hiring in Kansas City, there are multiple reasons that's the a po

Share Tweet

Bills Guard Andy Levitre Tweeted Out A Photo With Some Inadvertent Side Boob (NSFW-ish)

Andy Levitre has been a mainstay on the Buffalo Bills offensive line since being drafted in 2009. Since the Bills suck, however, it's unlikely that many people outside of Buffalo have any idea who he is. After tweeting out the photo you see above someti…

Share Tweet

Middle Men: Despite an influx of playoff rookies at quarterba…

Despite an influx of playoff rookies at quarterback, the story of Wild Card Weekend will be told by the men under center and those assigned to stop them, writes Peter King.

Share Tweet

Parcells says he's done with football

At a time when there has been plenty of talk regarding the possibility of Bill Parcells returning to the Jets and fixing what ails the franchise, Parcells says that will not happen. "No I wouldn't listen," Parcells told The Michael Kay Show on Thurs

Share Tweet

Lions undecided on Titus Young's future

Lions receiver Titus Young repeatedly caused trouble last season, doing everything from punching a teammate to purposely lining up in the wrong spot during a game, and he was ultimately sent home and told not to come back to the team facility. But the L…

Share Tweet

Jerry Brown's alcohol level was below legal limit

It's no surprise that Cowboys linebacker Jerry Brown, who died last month while riding in a car driven by Cowboys nose tackle Josh Brent (pictured), had alcohol in his system at the time of the crash. It's definitely a surprise that an autopsy reveale

Share Tweet

Ross Tucker shares his thoughts on the moves made (and not made) by the Bills this week. Patriots RB Danny Woodhead is playing a role similar to the one Kevin Faulk played for many years. A vote for Tom Gamble to be the next Jets general manager. LB Ter…

Share Tweet

Jeremiah Trotter played a total of seven seasons for Andy Reid in three different stints with the Eagles. And he thinks he lost a lot of games because Reid got out-coached. "If it came down to both teams were even, talent-wise, I think the opponent's

Share Tweet

nytimes.com

Jan 4, 2013

Some of what we're reading this morning: The agony of the Giants' coach, possible landing spots for Oregon's coach and the value of statistical analysis in football.

Share Tweet

The Buccaneers player grumbling about his bosses who said "Can we send these coaches back to college?" is getting his wish, a little at a time. According to Roy Cummings of the Tampa Tribune, Buccaneers quarterbacks coach Ron Turner is leaving to take

Share Tweet

nydailynews.com

Jan 4, 2013

There is another way of looking at Woody Johnson and Rex Ryan's decision to go into hiding and let the media cool their jets while waiting to grill them next week. While the pair violated NFL policy, they stand on solid ground when it comes to show busi

Share Tweet

nydailynews.com

Jan 4, 2013

Rex Ryan's loyalty to Mark Sanchez may not be set in stone, but it is etched in ink. From the category of "you just can't make this stuff up," Ryan will carry Sanchez around with him for the rest of his life.

Share Tweet

The last time the Seattle Seahawks and Washington Redskins squared off, the two teams nearly came to blows before the coin toss even took place. The Redskins traveled to take on the Seahawks last November in a game that featured Rex Grossman and Tarvari…

Share Tweet

San Francisco 49ers kicker David Akers revealed Thursday he has been dealing with the lingering effects of a hernia surgery throughout most of the season. According to Eric Branch of the San Francisco Chronicle, Akers underwent double sports hernia surg…

Share Tweet

grantland.com

Jan 4, 2013

Because I'm a Bears fan, and because my friends and I made a blood pact to never again discuss what transpired in the NFL on Sunday afternoon, I decid...

Share Tweet

Chiefs Hire Reid As Head Coach

Jan 4

John Clayton discusses the Andy Reid hiring in Kansas City and how Reid will fix the Chiefs' offense.

2012: Best of Houston Texans defensive end J.J. Watt

Jan 4

Houston Texans defensive end J.J. Watt flirted with history in 2012. Relive his epic season as he leads the Texans to their second consecutive AFC South title.

NFL Kickoff OT: Wild Card Weekend

Jan 4

NFL Live OT previews this weekends' NFL playoff games.