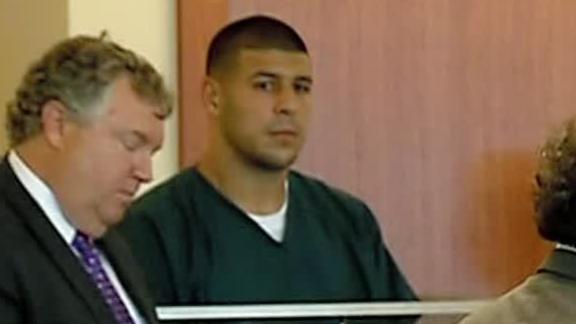 ESPN.com
profootballtalk.com
yahoo.com
Updated Jul 10, 2013
Should Carlos Ortiz testify in the Aaron Hernandez murder case, jurors will have to gauge his words against his drug-filled background.
Share
Tweet
nytimes.com yahoo.com profootballtalk.com ESPN.com

Jul 10, 2013

Raiders linebacker Kaluka Maiava and his brother Ilima were charged with assaulting two men at a bar in Hawaii.

Share Tweet

Dolphins defenders like what they're seeing from Ryan Tannehill

One cool recent NFL trend: team-run conference calls where fans interact with coaches, players and other club personnel. The Dolphins held a call with fans on Wednesday, and multiple Miami defensive players had praise for what they have seen from second…

Share Tweet

In 2009, former Bengals tight end Ben Utecht suffered a concussion during training camp. The Bengals put him on injured reserve, ending his season. In November, the Bengals decided he was healthy enough to play. But since, by rule, he couldn't play for …

Share Tweet

League intends to sideline players not following new padding guidelines

The National Football League has made it mandatory for players to wear knee and thigh pads beginning with the upcoming season. Many players, especially at the wide receiver and defensive back positions, have elected not to wear the padding in previous y…

Share Tweet

CNNSI.com ESPN.com profootballtalk.com deadspin.com

Jul 10, 2013

Report: Broncos to take lead in disciplining execs

Share Tweet

The second trial of the defamation lawsuit brought by former Bengals cheerleader Sarah Jones against website thedirty.com could end the same way the first one did. According to the Associated Press, a jury deliberated nearly six hours on Wednesday, with…

Share Tweet

yahoo.com profootballtalk.com ESPN.com

Jul 10, 2013

The New York Jets didn't draft Geno Smith in the second round to sit on the bench very long.Mark Sanchez doesn't care. In a comment to ESPNNewYork.com, Sanchez made it clear that he is prepared for a heated competition and he's ready to beat out Smith f…

Share Tweet

A Texas judge has reversed an earlier ruling and says NFL Commissioner Roger Goodell can be questioned by attorneys for ticket-holders who sued after they were displaced when seats weren't properly installed for the 2011 Super Bowl at Cowboys Stadium.

Share Tweet

Heckert's BAC was 0.162 percent, nearly seven hours after the arrest

As previously mentioned, Broncos director of player personnel Matt Russell's blood-alcohol concentration was 0.246 percent at the time of his arrest. The number generated in a separate DUI incident by Broncos pro personnel director Tom Heckert was signi…

Share Tweet

Haslam keeping in "close contact" with the league as investigation proceeds

While it's unclear if or when criminal charges will be filed against Browns owner Jimmy Haslam for customer fraud occurring at the billion-dollar truck-stop business he runs, Haslam is making sure he keeps the league office up to date on what's happenin…

Share Tweet

Judge orders Goodell to testify in Super Bowl seating case

Tuesday was a bad day for the case against the NFL arising from the seating fiasco at Super Bowl XLV. Wednesday was somewhat better. On Tuesday, a federal judge ordered that the proposed class action would not be certified, meaning that the individual c…

Share Tweet

OJ Simpson's Nevada criminal case goes to a parole board later this month for part of his 2008 conviction in the kidnapping and armed robbery of two sports collectible dealers.

Share Tweet

Dion Lewis deletes tweet regarding Hernandez "snitch"

Browns running back Dion Lewis learned the hard way on Wednesday that tweets can't be wiped clean by simply hitting the delete button. Regarding the murder charges pending against Aaron Hernandez, Lewis made this observation regarding the information pr…

Share Tweet

In a speech on the floor of the House of Representatives today, the Washington Redskins' name was decried as a racial slur and a term that causes pain to Native Americans. Eni Faleomavaega, the non-voting delegate to the House of Representatives from Am…

Share Tweet

Report: Matt Russell's BAC was 0.246 percent

As the Broncos deal with a flood of bad P.R. coming from a pair of front-office drunk-driving arrests, it has gotten a little worse. According to ABC 7 in Denver, director of player personnel Matt Russell's blood had an alcohol concentration of 0.246 pe…

Share Tweet

49ers waive LS-TE Kyle Nelson

The 49ers waived long-snapper / tight end Kyle Nelson on Wednesday, the club said. San Francisco claimed Nelson on waivers from San Diego in May. Nelson, 26, served as the Chargers' long-snapper for the final six games of 2012 after Mike Windt suffered …

Share Tweet

profootballtalk.com yahoo.com ESPN.com

Jul 10, 2013

The news of quarterback Matthew Stafford's contract extension with the Lions means that Stafford should continue quarterbacking the Lions through the 2017 season, but he wasn't the only player impacted by the deal. With Stafford's cap number more manage…

Share Tweet

The Bengals tried buying low with defensive end Jamaal Anderson, but eventually, the price became too high. The Bengals announced via Twitter they had released the former eighth overall pick in the 2007 Draft. He never lived up to his draft status with …

Share Tweet

The Ravens invested in several new defensive linemen this offseason, but one of their old defensive linemen is now a new man. Former defensive tackle Bryan Hall dropped 45 pounds to prepare for a switch to inside linebacker, which could help him hang ar…

Share Tweet

Quarterback Tony Romo has taken plenty of blame when things go wrong for the Cowboys over the years, but he's also heard a lot of people back him up by pointing out that the other 45 players in uniform every week also have a fair amount to do with wheth…

Share Tweet

The 49ers make a special teams addition

Sometimes when teams sign new players just before camp, existing players are shaking in their shoes. Sometimes, it means the incumbent players can put their feet up. According to Aaron Wilson of the Baltimore Sun, the 49ers have agreed to terms with pun…

Share Tweet

More Division Previews: Who is playoff bound in 2013?

More Division Previews: Who is playoff bound in 2013?

Share Tweet

Star-Studded: There's plenty of talent in the NFC North, but th…

There's plenty of talent in the NFC North, but three of its teams could still fall on their faces. Or they could shine. So which is it? Chris Burke takes a closer look at the division.

Share Tweet

Still some free agents Ravens are "in love with"

The Ravens have been busy this offseason, changing the face of their defense, signing their quarterback to a monster contract and getting rid of several name veterans. And they may not be finished making changes. Ravens coach John Harbaugh told the team…

Share Tweet

ESPN.com

Jul 10, 2013

Tight end Rob Gronkowski, who is recovering from back surgery, has returned to the New England Patriots' facility in Foxboro, Mass., where he is doing his rehab work under the guidance of the team's trainers.

Share Tweet

Kansas City Chiefs salary cap outlook: Jamaal Charles is a bargain

yahoo.com

Jul 10, 2013

The "Shutdown Countdown" is going full steam ahead. In addition to previewing each team, "Shutdown Corner" will be taking a brief look at each team's salary cap situation heading into the 2013 season and beyond. We continue the serie…

Share Tweet

yahoo.com profootballtalk.com

Jul 10, 2013

On the surface the Daily Mail story that Jacksonville Jaguars owner Shad Khan wants to buy the Premier League soccer club Fulham is not a huge deal. Khan has more money than he could ever spend and NFL owners have dabbled in soccer, most notably the Gla…

Share Tweet

The Seahawks were hoping to expand Bruce Irvin's role this year. But when he does get around to playing a maximum of 12 games (after being suspended four games for violating the league's policy on performance enhancing substances), he'll be doing so wit…

Share Tweet

NFL should take broader look at binge drinking issue

Many were surprised by the news that Broncos director of player personnel Matt Russell and Broncos pro personnel director Tom Heckert were both arrested in the past month for DUI. Plenty of people who understand the industry weren't. Binge drinking is, …

Share Tweet

ESPN.com

Jul 10, 2013

Retired Baltimore Ravens linebacker Rolando McClain pleaded not guilty to disorderly conduct and resisting arrest charges on Tuesday, according to a Baltimore Sun report.

Share Tweet

Picture This: Do the Bucs Stop Here?

deadspin.com

Jul 10, 2013

This summer in Pittsburgh, the Pirates are messing with peoples' hearts again. After countless seasons of sub-.500 finishes, occasional spurts of excellence followed by long stretches of crappy play and, saints preserve us, a decades-long slog of medioc…

Share Tweet

Brandon Flowers: We have pieces to be best secondary in NFL

With Andy Reid taking over as coach, wide receiver Dwayne Bowe signing a new contract and quarterback Alex Smith and tackle Eric Fisher joining the team, improvement on offense has been a popular topic around the Chiefs this offseason. They went shoppin…

Share Tweet

Lane Johnson doesn't want to hold out, doesn't want offset language

There aren't many unsigned 2013 draft picks left around the league, although you might not know it from looking at the players selected in the first round. Only 12 of the 32 first-round selections have signed contracts at this point, leaving open the po…

Share Tweet

As Eli Manning mentioned with what had to be a sigh of relief, the Giants are now through the Victor Cruz business portion of the offseason. Now they're back to football, and the realization that's what started this whole process. Giants safety Antrel R…

Share Tweet

Late in June, former Colts and Packers center Jeff Saturday signed with IMG as part of an effort to move into television now that his playing days have come to an end. He didn't have to wait long for a gig. Saturday will be joining ESPN as an analyst on…

Share Tweet

Some folks in Buffalo think the Bills will catch a vulnerable Patriots team in Week One. Former Dolphins coach Don Shula is speaking out in support of red-light cameras. Patriots owner Robert Kraft says Aaron Hernandez came across as "the most likable y…

Share Tweet

Eli Manning will throw to Victor Cruz for several more years after Cruz signed a long-term contract with the Giants this week. Manning is glad for that, but he may be even more glad that he doesn't have to talk about it anymore. Manning answered a quest…

Share Tweet

nytimes.com

Jul 10, 2013

The San Francisco 49ers signed the first-round pick Eric Reid to a four-year contract.

Share Tweet

Amid reports that the NFL and the Browns have a plan in place if owner Jimmy Haslam is indicted, the plan is there is no plan. According to WEWS-TV in Cleveland, NFL spokesman Brian McCarthy said there's "no plan in place" if Haslam faces formal charges…

Share Tweet

grantland.com

Jul 10, 2013

What's that? You were wondering exactly how many days until the start of the NFL season? Well, you're in luck! We here at the Triangle are set to spen...

Share Tweet

Quicker turnaround: Kansas City Chiefs or Philadelphia Eagles?

Jul 10

Who will have the bigger turnaround in the 2013 season, Andy Reid and the Kansas City Chiefs or Reid's former team, the Philadelphia Eagles? Shaun O'Hara and former Eagles quarterback Donovan McNabb debate.

Quicker turnaround: Kansas City Chiefs or Philadelphia Eagles?

Jul 10

Who will have the bigger turnaround in the 2013 season, Andy Reid and the Kansas City Chiefs or Reid's former team, the Philadelphia Eagles? Our experts debate.

Marcedes Lewis: Blaine Gabbert has taken next step for Jacksonville Jaguars

Jul 10

Jacksonville Jaguars tight end Marcedes Lewis joins "NFL Total Access" to discuss new coach Gus Bradley, QB Blaine Gabbert and the offense under new coordinator Jedd Fisch.

MMA Live Extra: DeMarco Murray on Weidman's Win

Jul 10

Dallas Cowboys RB DeMarco Murray reacts to his friend UFC middleweight champion Chris Weidman's win over Anderson Silva.