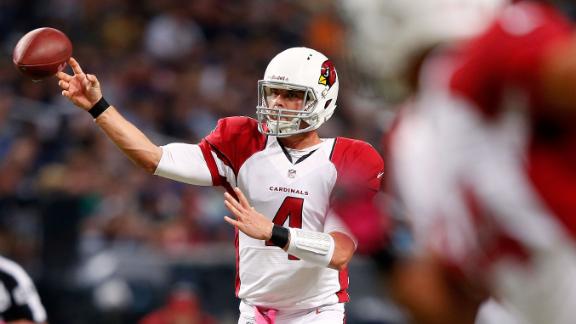 profootballtalk.com
ESPN.com
CNNSI.com
yahoo.com
Updated Mar 30, 2013
Sorry, Bills fans, but it's a done deal. Adam Schefter of ESPN previously reported that the Bills are finalizing a deal with quarterback Kevin Kolb. Schefter now reports that it's a two-year contract, worth a "maximum" of $13 million. The "maxim
Share
Tweet
While some teams picking in the top 10 may be blowing smoke about their interest in West Virginia quarterback Geno Smith, he's apparently willing to assume that at least one of them has rubbed the sticks together hard enough to make a flame. Per a sourc

Share Tweet

Crabtree says quarterback change divided locker room

When 49ers coach Jim Harbaugh decided to install Colin Kaepernick as the starting quarterback after a concussion suffered by Alex Smith (and a great Monday night performance from the 2011 second-round pick), plenty of people in the media thought he was …

Share Tweet

49ers expect Kendall Hunter, Kyle Williams to be ready for camp

On one disastrous play against the Saints in November, the 49ers lost both running back Kendall Hunter and receiver Kyle Williams to season-ending injuries. Four months later, both players have made enough progress that the 49ers are confident they'll b

Share Tweet

Irsay touts free-agent "pillaging"

When last we heard from Colts owner Jim Irsay, he was touting the acquisition of a receiver that never happened. Now, Irsay is bragging about the moves that actually were made. "We're FIRED UP about our free agent pillaging and the potential for 5-7 n

Share Tweet

ESPN.com

Mar 30, 2013

Pro football Hall of Famer and Minnesota Supreme Court Justice Alan Page has written a children's book about his odd pinkie, a finger that's permanently bent outward at a 90-degree angle.

Share Tweet

nydailynews.com

Mar 30, 2013

Victor Cruz earned his opportunity with the Giants in the summer of 2011 after Steve Smith suffered a serious knee injury late the previous season, but now Cruz risks losing a huge payday if he doesn't go to school on what happened with Smith.

Share Tweet

New York Super Bowl committee wants free labor

The most expensive city in America is looking for free help. Good luck with that. According to Peggy McGlone of the Newark Star-Ledger, the Super Bowl XLVIII host committee wants 15,000 to 25,000 volunteers to help put on the event. Workers must attend …

Share Tweet

Bucs agree with Derek Landri

The Buccaneers and Eagles free-agent defensive tackle Derek Landri have come to terms on a two-year, $3.25 million contract, Aaron Wilson of the Baltimore Sun reported Saturday. Landri (6-2, 290) gives the Buccaneers another option at tackle after start…

Share Tweet

yahoo.com

Mar 30, 2013

Gotta love this: J.J. Watt stepping into the batter's box during BP at Minute Maid Park on Friday afternoon. And while he started slow, he ended up belting five into the cheap seats, including three in a row. Watt played a little baseball in high school…

Share Tweet

CNNSI.com profootballtalk.com

Mar 30, 2013

Bills will reportedly give Barkley private workout

Share Tweet

Collin Klein thinks his draft stock is trending upward

Collin Klein, the Kansas State quarterback who was a star in a spread-option offense in college but whose abilities as a passer leave much to be desired in the eyes of NFL scouts, remains committed to playing quarterback at the next level. And he thinks…

Share Tweet

Maybe the NFL locker room actually isn't ready for an openly gay player. The real problem may not be that some players will object to the sexual orientation of a teammate, but that some will bristle at what will perceived to be a grab for attention. Tha

Share Tweet

At which point that Carson Palmer is available, and agreeable, it appears the Cardinals will have interest. But while there's little clear about the timetable of events that seem to be pointing Matt Flynn to the Raiders and then Palmer elsewhere, what"

Share Tweet

Initial reports regarding the new deal for quarterback Tony Romo hyped the fact that he'll get more guaranteed money than Ravens quarterback Joe Flacco. Technically, that's true. Romo's seven-year deal carries $55 million guaranteed; Flacco's six-

Share Tweet

profootballtalk.com CNNSI.com ESPN.com

Mar 30, 2013

After nearly three weeks as a free agent, cornerback Brent Grimes opted to leave the Falcons for the Dolphins. Why the Dolphins? "I picked Miami because I think they are building something great here and I would love to be a part of it," Grimes said S

Share Tweet

Saturday one-liners: New Dolphins DT Vaugn Martin says he had offers f…

New Dolphins DT Vaugn Martin says he had offers from the Pats, Eagles, Chargers, Chiefs, and Seattle. Former Bills QB Frank Reich will hold his annual Call to Courage Award Breakfast on April 6; this year's event includes a 20-year look back at the grea

Share Tweet

Chip Kelly has Eagles bracing for intense offseason work

Monday is the opening of the Eagles' offseason work, and players in Philadelphia are bracing for an intense experience under the strength and conditioning staff brought in by new coach Chip Kelly. One of Kelly's first acts as the Eagles' head coach

Share Tweet

Eagles add a very tall receiver

So much for all those small wideouts Andy Reid amassed in Philly. The new-look Eagles have gone old school, adding a Harold Carmichael-style receiver. The team has announced the addition of free-agent receiver Ifeanyi Momah, a six-foot, seven-inch recei…

Share Tweet

During the 2012 season, Patriots cornerback Devin McCourty became Patriots safety Devin McCourty. He'll remain at safety in 2013, and he'll have a healthier arm. McCourty has undergone "minor" surgery on his right shoulder, according to Shalise Ma

Share Tweet

Over-under for Austin could be pick 15

It's fitting that West Virginia receiver Tavon Austin and former West Virginia defensive end Bruce Irvin have been going back and forth regarding whether Austin will be drafted higher than Irvin was a year ago. For Austin, some perceive his over-under s

Share Tweet

Manchester United Hired "A Fleet Of Private Jets" To Shuttle Its Players Back From International Competitions

deadspin.com

Mar 30, 2013

Today in operating costs: because soccer's international competition schedule-as of late, World Cup qualifiers-interferes with the English Premier League's late-season schedule, one English Premier League team you may have heard of hired a bunch of pr

Share Tweet

Jason Campbell isn't getting paid like a starter, yet

When the Browns signed quarterback Jason Campbell, many assumed he'd potentially become the team's starter in 2013. And he'll definitely get a chance to win the job, since he's the first signal-caller signed by the new regime in Cleveland, after p

Share Tweet

The slow market for most free agents has resulted an extended period of time within which guys will be signing. Nearly three weeks into the process, for example, cornerback Mike Jenkins is focused on finding a new team. The 2008 first-round pick of the …

Share Tweet

profootballtalk.com ESPN.com

Mar 30, 2013

While the Buffalo Bills work on the big question of where to find a quarterback, they're handling some of the smaller business as well. According to the Buffalo News, Choice agreed to a new deal with the team Friday. Choice, 28, played the last season a

Share Tweet

Free agent cornerback Terence Newman will spend another year in Cincinnati. Newman revealed on Twitter that he has chosen the Bengals, saying that the Raiders actually offered him more money but that he felt more comfortable in defensive coordinator Mik…

Share Tweet

Despite the talk that a trade sending quarterback Matt Flynn from the Seahawks to the Raiders was imminent on Friday night, it still hasn't happened as of Saturday morning. And if it doesn't happen, the Raiders may have a Plan B in Kevin Kolb. Adam Ca

Share Tweet

NFL Daily Update - March 30

Mar 30

Omar Ruiz has the latest news and notes from around the league, including details on Tony Romo's new deal with the Dallas Cowboys.

Rodgers, Packers Close To Extension

Mar 30

John Clayton has the latest on QB Aaron Rodgers and the Packers' contract extension talks.

Justifying Romo's Contract Extension

Mar 30

John Clayton discusses Tony Romo's guaranteed money and how the Cowboys can justify paying him such a substantial amount of money with his playoff record.