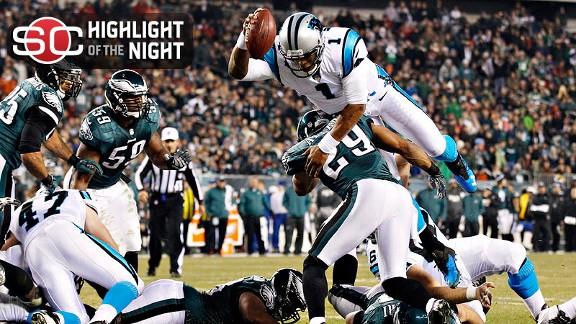 ESPN.com
profootballtalk.com
CNNSI.com
yahoo.com
Updated Nov 26, 2012
Cam Newton threw for two touchdowns and ran for two more to lead the Carolina Panthers to a 30-22 victory over the Philadelphia Eagles on Monday night in a matchup of teams with the worst records in the NFC.
Share
Tweet
These Are The Faces Of Philadelphia: Panthers-Eagles, In Two GIFs

Carolina 30, Philadelphia 22: As a fan, maybe you know the internal feeling that this man is expressing outwardly. Perhaps you've even been similarly confused, hurt, angry and vulnerable and you let yourself get a little silly. Luckily for you, though, …

Share Tweet

NY Giants defensive line shows up for Green Bay Packers, but has been treating being defending Super Bowl champions as part-time

nydailynews.com

Nov 26, 2012

End of the first half at MetLife Stadium on Sunday night, 24-10 for the Giants, Packers with the ball, still plenty of time left for them to score, make it a one-touchdown game knowing they were getting the ball to start the second half. A minute and ch…

Share Tweet

ESPN.com CNNSI.com profootballtalk.com

Nov 26, 2012

Titans coach Mike Munchak has fired offensive coordinator Chris Palmer and replaced the veteran with quarterbacks coach Dowell Loggains.

Share Tweet

Philadelphia wide receiver DeSean Jackson and defensive tackle Fletcher Cox both left the Eagles' game against Carolina with injuries and the team said they would not return.

Share Tweet

yahoo.com profootballtalk.com

Nov 26, 2012

Well, this just got interesting. On Sunday, ESPN's Adam Schefter reported that Seattle Seahawks cornerbacks Richard Sherman and Brandon Browner were facing four-game suspensions for violations of the NFL's substance abuse policy. The specific violation …

Share Tweet

ESPN.com nytimes.com profootballtalk.com

Nov 26, 2012

Jim Harbaugh has watched each of his two quarterbacks lead the San Francisco 49ers to big wins in hostile road environments.

Share Tweet

According to Neal Jones of KCTV-5, Dwayne Bowe also got in on the action and posed for some pictures with Manning following Kansas City's 17-9 loss to the Broncos. And he actually made some sense. When cameras caught the two Chiefs stars milling around …

Share Tweet

nydailynews.com

Nov 26, 2012

Woody Johnson can fire Rex Ryan and Mike Tannenbaum, refund all the PSL money to Jets fans and then sell the team, but ultimately the only way to make Jets Nation happy is to win and you can't win in the NFL without a quarterback.

Share Tweet

profootballtalk.com ESPN.com

Nov 26, 2012

On Sunday, Saints defensive tackle Brodrick Bunkley kicked 49ers offensive lineman Alex Boone in the back of the helmet. On Monday, the Associated Press reported that Bunkley won't be suspended. Boone was flagged and ejected for the maneuver, which occu

Share Tweet

Mike Holmgren's run as a team president is over, ending prematurely and before he planned.

Share Tweet

Despite losing at home to the Cowboys on Thanksgiving for the first time ever under Tony Romo and for the first time ever against the Redskins, the 5-6 Cowboys remain alive for a playoff berth. And executive V.P. Stephen Jones knows it. "We are just a g

Share Tweet

CNNSI.com ESPN.com profootballtalk.com

Nov 26, 2012

FOXBOROUGH, Mass. (AP) -- The New England Patriots lost their second defensive end in nine days on Monday when Jermaine Cunningham was suspended for four games without pay for violating the NFL policy on performance-enhancing substances.

Share Tweet

CNNSI.com profootballtalk.com ESPN.com yahoo.com

Nov 26, 2012

DETROIT (AP) -- Ndamukong Suh might lose some money for his low blow against Houston Texans quarterback Matt Schaub.

Share Tweet

profootballtalk.com ESPN.com

Nov 26, 2012

If Buccaneers cornerback Eric Wright is telling the truth that his four-game suspension is the result of merely taking Adderall for legitimate health reasons but failing to have the proper documentation, then those were some costly medical documents he …

Share Tweet

Browns linebacker Tank Carder has issued an apology after he used an anti-gay slur on Twitter. It started on Wednesday when Carder, a rookie who has played in 10 games this season, came across a comment he didn't like on Twitter and responded to the com

Share Tweet

Texans LB Reed has a 'significant' groin injury

The Houston Texans are hurting heading into the stretch run.

Share Tweet

The Cowboys lost linebacker Bruce Carter for the season with the elbow injury he suffered on Thanksgiving, but it doesn't sound like wide receiver Miles Austin's hip injury will be quite so serious. Austin, who left the game in the first quarter, said

Share Tweet

Bengals offensive tackle Andrew Whitworth was ejected on Sunday for going after Raiders defensive end Lamarr Houston when Houston took an unnecessary shot at Bengals quarterback Andy Dalton. On Monday, Dalton said that incident showed he has just the ki…

Share Tweet

Jay Cutler: The Antihero Who Looks A Lot Like A Hero

On Sunday, during ESPN's Sunday NFL Countdown, Tom Jackson went on a mini tirade about Bears quarterback Jay Cutler that was as needless as it was brainless. Here was a grown man dispatched into sputtering agitation by a 10-second clip of another guy wa…

Share Tweet

deadspin.com profootballtalk.com

Nov 26, 2012

The Philadelphia Eagles this afternoon fired someone named Tim McDermott. From a football standpoint, it's not a big deal. McDermott was the team's senior vice president and chief marketing officer, so it's not like he was responsible for, say, drafting…

Share Tweet

The House Committee on Oversight and Government Reform will convene a hearing next week to examine the science behind HGH testing and the health concerns surrounding its use, according to a government source.

Share Tweet

Robert Griffin III Is Basically The President Of The United States, Only Better, According To New York Times Columnist Maureen D

This incredibly stupid column, which was written by Maureen Dowd and published in Sunday's edition of The New York Times, and which compares rookie Redskins quarterback Robert Griffin III to President Barack Obama, does not prove that sports and politic…

Share Tweet

The Steelers offensive line has been a patchwork job since the summer and the job got a little harder on Sunday. Left guard Willie Colon was scratched just before the game, forcing Doug Legursky into the lineup. The depth was stretched even further when…

Share Tweet

ESPN.com profootballtalk.com yahoo.com

Nov 26, 2012

The New York Giants placed running back Andre Brown on the injured reserve "designated to return" after Brown suffered a broken fibula on Sunday night.

Share Tweet

profootballtalk.com CNNSI.com ESPN.com

Nov 26, 2012

Now that America has had time to grieve the loss of a celebrity fan, whose need for attention has to have now been met, we can move onto more pressing issues. Namely, the celebrity backup quarterback. Jets coach Rex Ryan said there's no change in Tim Te

Share Tweet

The bad news keeps on coming for the Cardinals offense. The Cardinals confirmed a report from Kent Somers of the Arizona Republic that center Lyle Sendlein will miss the rest of the season with a torn MCL in his left knee. Sendlein suffered the injury e…

Share Tweet

We've got one game to go until Week 12 is officially finished, but there's plenty to talk about while waiting for the Eagles and Panthers to start. Or talk about instead of watching the Eagles and Panthers. Erik Kuselias, Mike Florio and Rodney Harris

Share Tweet

Tonight's game between the Panthers and Eagles looked really good when the schedules first came out, but in reality, it will be a hot mess between two underachieving teams with no current playoff hopes led by coaches trying to save their jobs. Eagles' d…

Share Tweet

It seems we've reached the end of the "Stevie Johnson wants Chan Gailey to let Ryan Fitzpatrick call more plays" segment of the Bills season. Johnson spoke to the media again on Monday and clarified what he meant when he said "I think we need to l

Share Tweet

Holmgren on leaving: "I had already passed the baton"

Mike Holmgren said Monday there was no point hanging around Cleveland any longer, since he obviously wasn't in charge. "I was done," Holmgren said, via Mary Kay Cabot of the Cleveland Plain Dealer. "I had already passed the baton." More accurate

Share Tweet

Hook 'em Redskins: Robinson to IR, Muckelroy signed

The Redskins swapped out one fourth-round linebacker from Texas with another Monday. After putting Keenan Robinson on injured reserve with a torn right pectoral muscle, the Redskins signed Roddrick Muckelroy to replace him. Robinson was their own fourth…

Share Tweet

Faltering Raiders expect to get Darren McFadden back this week

Not much has gone right for the Raiders recently, but here's one piece of moderately good news: Oakland running back Darren McFadden is likely to return on Sunday against the Browns after missing the last three weeks with a high ankle sprain. The San Fr

Share Tweet

Breaking Down Ahmad Bradshaw's 59-Yard Screen

In a big game against Green Bay, the play increased the Giants' win probability from 55 percent to 67 percent in the blink of an eye.

Share Tweet

The man they call All Day got a late start on Sunday. Vikings running back Adrian Peterson took a cab to Soldier Field for the game against the Bears because the team's bus left the hotel without him onboard. Peterson arrived at about 10:30 a.m. CT for

Share Tweet

Chicago Bears coach Lovie Smith believes the NFL "could do without that play" from the club's win Sunday over Minnesota in which the Vikings' Jared Allen launched himself into Lance Louis on a devastating block that put the guard on injured reserve.

Share Tweet

It sounds like rookie quarterback Ryan Lindley will get another shot  to start for the Cardinals, after his four-interception debut. But as with all things Cardinals quarterbacks this year, that comes with an asterisk. Cards coach Ken Whisenhunt said Mo…

Share Tweet

ESPN.com yahoo.com profootballtalk.com

Nov 26, 2012

It won't go on the stat sheet, but the New York Giants' catch of Sunday night might have occurred after the final score was posted.

Share Tweet

Miami Dolphins defensive back Jonathon Amaya has been charged with battery after police say he choked a taxi driver.

Share Tweet

Florida State's likely first-rounder Tank Carradine suffers torn ACL

Cornellius "Tank" Carradine, a defensive end from Florida State who was viewed as a likely first-round pick in the 2013 NFL draft, has suffered a torn ACL. Carradine suffered the injury when his knee buckled under him on a play when he wasn't even t

Share Tweet

Cedric Benson Is Moonlighting As "DJ World Peace," Playing Gigs In Strip Clubs

Cedric Benson's been on the Packers' injured reserve list with a foot injury since early October, but he's been staying busy during his recovery by moonlighting as a DJ around Austin, Texas. More »

Share Tweet

The Broncos got a strong effort from Knowshon Moreno in their first game since losing Willis McGahee to a knee injury, but they still added another body at the position on Wednesday. Former Chargers running back Jacob Hester is headed to Denver. The Bro…

Share Tweet

Aldon Smith passes Reggie White as fastest NFL player to 30 sacks

If you're an NFL pass rusher, it doesn't get much better than hearing yourself compared to Reggie White. So consider this item the ultimate praise for 49ers linebacker Aldon Smith. On Sunday in New Orleans, Smith was credited with 1.5 sacks, which giv

Share Tweet

Jerome Harrison making progress, with thanks to his wife

Jerome Harrison found out he was in poor health last year when the Lions traded him to the Eagles, and the physical in Philadelphia revealed a brain tumor. Since then he's also found out just what a wonderful wife he has. Harrison went into surgery shor

Share Tweet

PFT Live: Lions talk with Dave Birkett, Browns talk with Tony Grossi

Thanksgiving created a little break for PFT Live, but it's back with a packed show this Monday. Mike Florio will talk to Dave Birkett of the Detroit Free Press about the Lions in the wake of their Thanksgiving loss to the Texans. The latest bit of footw

Share Tweet

The Cowboys will be without their top two tacklers for the rest of the season with Bruce Carter joining Sean Lee on injured reserve.

Share Tweet

Good News, Miami! There's More Stadium Work For You To Publicly Finance.

Miami has another outdated stadium that needs hundreds of millions of dollars worth of renovations. A politician instrumental in getting the Marlins taxpayer funding says the renovations are necessary. The Dolphins don't have the cash or the desire to p…

Share Tweet

Six Bears starters suffered injuries on Sunday.  Though details aren't yet available on all of them, there's good news as to one of the most important. Cornerback Charles Tillman, one of the candidates for NFL defensive player of the year, suffered a

Share Tweet

Dolphins sprinklers go off as stadium funding talk comes up

File this one under I, for "I'm certain it's all just a remarkably timed coincidence." On the very same day a local Miami politician said the Dolphins' stadium needs upgrades, but he doesn't know how to pay for them, the Dolphins' stadium be

Share Tweet

Sunday morning brought a report that Steelers quarterback Ben Roethlisberger would start soft tossing on Monday in hopes of getting on the field for next Sunday's matchup with the Ravens. That reports came before the Steelers turned the ball over eight

Share Tweet

Leading Off: New York's Goofus and Gallant

The Giants are inspiring. The Jets are so tiring even a longtime fan is hanging up his hat.

Share Tweet

If You've Ever Wanted To Hear Ed Hochuli Talk About Buttocks, Today Is Your Day | We're surprised this doesn't happen more often, and maybe it does-but hearing popular NFL referee Ed Hochuli do it has a special flair. Read » More »

Share Tweet

The Chargers did it again on Sunday. They built up a lead, put themselves in position to win a game and then watched as the Ravens scored 13 points in the fourth quarter and overtime to emerge with a victory. It's a recurring theme in San Diego, one tha

Share Tweet

Dear Fireman Ed: F-U-C-K Off! Off! Off!

In case you missed it, unofficial Jets mascot Fireman Ed, whose claim to fame is going to Jets games and spelling one word very loudly, "retired" yesterday. And the best part is that he retired because people at the stadium were just too darn …

Share Tweet

CNNSI.com

Nov 26, 2012

Looking for a crazy playoff race? Try the bizarro NFC, which has six teams fighting for the last spot. But huge news from Week 12 could shake everything up, Peter King writes.

Share Tweet

NFL censors Eisen's Thanksgiving special

The NFL's effort to maintain an independent media presence constantly will be undermined by suspicions that the league expressly and/or implicitly shapes the content and the message in a way that makes the effort anything but independent. Folks who work

Share Tweet

Yahoo! Sports, citing more than six sources, reported that Ravens linebacker Ray Lewis is expected to return sometime next month despite tearing his triceps against the Cowboys last month.

Share Tweet

The Bills gave up a return touchdown for the second straight week. Dolphins WR Davone Bess kept finding ways to get open in the fourth quarter. The Patriots will try to wrap up the AFC East this week. Speculating about possible coaching and personnel ca…

Share Tweet

profootballtalk.com yahoo.com

Nov 26, 2012

The last time the Giants manhandled the Packers, outside linebacker Clay Matthews made it worse by saying the Packers beat themselves in the playoff meeting. After last night's demolition, there was no doubt about who did what to whom. But the Packers t

Share Tweet

Peyton took every snap despite concussion test

Peyton Manning, slammed to the ground as he threw a touchdown pass near the end of the first half in the Broncos' win Sunday, never missed a snap after being put through concussion testing.

Share Tweet

yahoo.com profootballtalk.com

Nov 26, 2012

Bush and Bush score simultaneous touchdowns At exactly 54 seconds past 2:03 Eastern Time on Sunday, both Reggie Bush of the Miami Dolphins and Michael Bush of the Chicago Bears hit the end zone. Ray Rice's amazing fourth-and-29 conversion This might be

Share Tweet

Long-suffering Browns fans have faced a decade of hardship when it comes to games against the hated Pittsburgh Steelers. Clevelanders struggle mightily to respond to 'Burgher taunts with little to show for it, though yesterday's miracle win (thanks most…

Share Tweet

Given the rules in other sports, news that players have left the bench area to join a fight creates a sense that those players will be facing automatic suspensions. In the NFL, that's not how it works. "It's not automatic," NFL spokesman Greg Aiel

Share Tweet

Woodley's ankle injury currently isn't believed to be serious

As linebacker LaMarr Woodley joins the list of big-name Steelers players with injuries, the early word is that Woodley's ankle injury isn't believed to be serious, per a source with knowledge of the situation. Of course, beliefs can change after a nig

Share Tweet

Debunking the 'Same Old Jets' Myth

Focusing on perpetual Jets failure makes for a great narrative, and it's certainly an easy one, but there's one problem: the history and the reality don't support it.

Share Tweet

Not that the Seahawks don't have bigger problems, but they left Miami last night seething over a penalty they felt was unfairly called. Seahawks safety Earl Thomas was flagged for roughing the passer, after catching Dolphins quarterback Ryan Tannehill w

Share Tweet

Ed Anzalone, blaming the "boorish behavior" of fellow Jets fans, announced that he was retiring his Fireman Ed cheerleader routine.

Share Tweet

It's not often that the league's third-highest-rated passer and leader of a 7-2-1 team -- that's Alex Smith -- is benched for a second-year player from the Western Athletic Conference.

Share Tweet

nydailynews.com ESPN.com

Nov 26, 2012

Eli Manning put the E-l-I back into elite by completely outplaying Aaron Rodgers, allowing the Giants to take a deep breath knowing that their slumping quarterback had broken out of his slump and ending for now the hysteria about another second-half col…

Share Tweet

Week 12 MVPs: RG3 still leads the pack

yahoo.com

Nov 26, 2012

Robert Griffin III, QB, Washington Redskins: Yeah, we're going a few days back here, but could we really start out MVP list this time with anyone but the man who has thrown for eight touchdowns and just one pick in the last calendar week? In wins over t…

Share Tweet

yahoo.com

Nov 26, 2012

Denver Broncos quarterback Peyton Manning leads our Sunday night Rx report after undergoing a concussion test and x-rays after taking a shot to the head in Sunday's 17-9 win over the Kansas City Chiefs. Manning passed the test and the 11-time Pro Bowler…

Share Tweet

grantland.com

Nov 26, 2012

On any given Sunday (or Monday, or Thursday), your NFL Run & Shootaround crew will be gathered around multiple televisions, making inappropriate jokes...

Share Tweet

About Last Thanksgiving Break: A Giant Effort

grantland.com

Nov 26, 2012

In case you were out living a life of leisure, here's what you missed in sports over the weekend. Eli Manning threw for 249 yards and three touchdow...

Share Tweet

Week 12: Cam Newton highlights

Nov 26

Quarterback Cam Newton reclaimed his rookie prestige by tallying four touchdowns (two in the air and two on the ground), leading the Carolina Panthers to a victory over the Philadelphia Eagles.

Carolina Panthers LB Luke Kuechly: 'We played as a team'

Nov 26

Carolina Panthers LB Luke Kuechly speaks to Kim Jones after the game about the impressive performance by QB Cam Newton and explains why his team is still thinking about the playoffs.

Week 12: Nick Foles highlights

Nov 26

In his second career start, Philadelphia Eagles quarterback Nick Foles threw for 119 yards with no turnovers in the 30-22 loss to the Carolina Panthers.

Carolina Panthers vs. Philadelphia Eagles highlights

Nov 26

Carolina Panthers QB Cam Newton puts on a show, throwing for two touchdowns and passing for two more to help the Panthers defeat the Philadelphia Eagles 30-22 on Monday night.