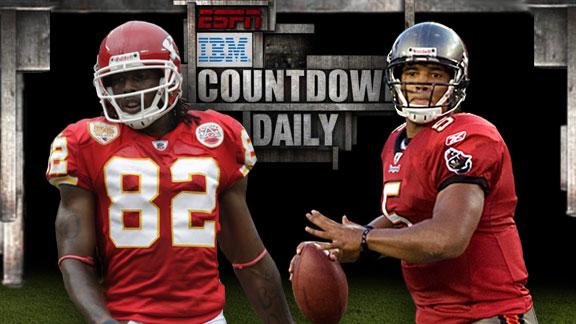 profootballtalk.com
CNNSI.com
ESPN.com
Updated Oct 13, 2012
Aqib Talib has been a trouble maker from the start of his career in Tampa Bay, dating back to the time he got in a fistfight with a teammate at the rookie symposium, two months after the Bucs took him in the first round of the 2008 NFL draft. And some i…
Share
Tweet
ESPN.com

Oct 13, 2012

Rookie linebacker Dont'a Hightower and fourth-year wide receiver Julian Edelman have been ruled out for Sunday's game against the Seahawks.

Share Tweet

yahoo.com profootballtalk.com

Oct 13, 2012

Drew Brees has been through a lot in his NFL career, but nothing could have prepared him for a 2012 season in which he would lose his head coach, general manager, and two defensive teammates to an NFL suspension process that many people still question. …

Share Tweet

nydailynews.com

Oct 13, 2012

Somewhere over the last two years, the Jets have lost their way. GM Mike Tannenbaum has lost his touch with personnel. Coach Rex Ryan has lost his bravado. Quarterback Mark Sanchez has lost his confidence as the offensive line has lost its ability to pr…

Share Tweet

Ravens linebacker Ray Lewis isn't quite the player he used to be at the age of 37, but don't even think of telling him he should retire. Asked by Ed Werder of ESPN if this could be Lewis's final season, Ravens quarterback Joe Flacco said in no uncer

Share Tweet

profootballtalk.com ESPN.com

Oct 13, 2012

The Week Six availability of Patriots tight end Aaron Hernandez, who is listed as questionable with an ankle injury, has been an ongoing mystery all week. Until now. Greg Bedard of the Boston Globe reports that Hernandez is expected to be active for Sun…

Share Tweet

ESPN.com

Oct 13, 2012

While other teams are scuffling at quarterback, the Colts are more than pleased with what they've seen from rookie Andrew Luck.

Share Tweet

Maurkice Pouncey not likely to miss much time, if any

At a time when the Steelers are dealing with almost as many injured players as healthy one, they've gotten some good news regarding one of their best linemen. Center Maurkice Pouncey exited Thursday night's loss to the Titans with a knee injury.  Per

Share Tweet

Texans wide receiver Andre Johnson's snaps are down this season. He's also seen fewer targets in the passing game than tight end Owen Daniels through five weeks. There has been some chatter that Johnson is losing a step at age 31. Texans quarterback M

Share Tweet

With the Eagles struggling on punt returns this season, there's been some speculation about DeSean Jackson replacing Damaris Johnson as the returner. Jackson has a career average of 10.6 yards per return and he has taken four punts back for touchdowns o

Share Tweet

In what arguably says more about the team's history than its present, Falcons coach G.M. Mike Smith is one win away from tying the all-time franchise, in only the sixth game of his fifth season. As explained by the Atlanta Journal Constitution, Smith li

Share Tweet

Bills G.M. predicts breakout game for Stevie Johnson

Bills wide receiver Stevie Johnson has had a relatively slow start to the season. Although Johnson scored touchdowns in each of Buffalo's first three games, he's on pace for three-year lows in receptions and yards. Bills G.M. Buddy Nix, who signed off

Share Tweet

Injuries force Bills to add two from practice squad

The Bills are limping into Sunday's game with the Cardinals without three offensive linemen and defensive end Mark Anderson, a state of affairs that necessitated a pair of roster moves on Saturday. Buffalo promoted guard/center David Snow and defensive

Share Tweet

The Chargers likely won't be giving tackle Jared Gaither another chance to fail to tap out in a key moment. Gaither is doubtful with a groin injury that helped seal San Diego's loss at New Orleans on Sunday night.  Gaither, clearly injured before the

Share Tweet

Matchup: Giants (3-2) at 49ers (4-1)

nytimes.com

Oct 13, 2012

Eli Manning was knocked down often in the last meeting between these teams, and containing Aldon Smith will be the key if the Giants hope to avoid a similarly difficult day for Manning.

Share Tweet

Matchup: Colts (2-2) at Jets (2-3)

nytimes.com

Oct 13, 2012

A shaky performance by Mark Sanchez against Indianapolis - after regaining his favorite receiver, Dustin Keller, and another outside threat, Stephen Hill - would be a disaster heading into next week's game at New England.

Share Tweet

The war of words that erupted between Giants offensive coordinator Kevin Gilbride and 49ers coach Jim Harbaugh over whether or not 49ers defensive end Justin Smith gets away with holding left Smith asking just one question: Who's Kevin Gilbride? Gilbrid

Share Tweet

This Week's Signs Of The Apocalypse

deadspin.com

Oct 13, 2012

For nearly two decades, Sports Illustrated has stirred the tea leaves to discern a weekly Sign of the Apocalypse. Deadspin salutes the magazine's ongoing effort to cover the end of times but declines to cede the scoop on the biggest event in world histo…

Share Tweet

As Peyton Manning tries to improve on a 1-5 record against the Chargers since 2005, he'll have two of his key offensive weapons. Or, more accurately, there's a virtual certainty that he'll have them. Coach John Fox told the media on Saturday that al

Share Tweet

Weeden explains his "ego" remark

Friday's edition of Pro Football Talk on NBC Sports Network featured an interview with Browns rookie quarterback Brandon Weeden.  You know, the "rookie" who'll turn 29 on Sunday. Weeden explained to cohost Erik Kuselias the recent remark that the

Share Tweet

nydailynews.com

Oct 13, 2012

Victor Cruz was handed a piece of paper last week with the quote from 49ers safety Donte Whitner over the summer that added him to the group of players who have discredited the Giants amazing Super Bowl run last season.

Share Tweet

profootballtalk.com ESPN.com

Oct 13, 2012

For the first time since Week Two, Giants receiver Hakeem Nicks appears ready to play. Nicks is on the Giants' flight to San Francisco for Sunday's game against the 49ers, which is a strong sign that he will play. Nicks has been listed as questionable

Share Tweet

NFL scout on Landry Jones: "He looks like a mid-round pick"

It was considered a surprise in some circles when Oklahoma quarterback Landry Jones didn't declare for the 2012 NFL draft following his junior season. Jones is a big-name player annually on Heisman Trophy watch lists. He's been a very productive passe

Share Tweet

Carson Palmer struggling on the deep ball

Oakland Raiders quarterback Carson Palmer has done well to cut down his interceptions this season. Through four starts, Palmer has compiled five touchdowns compared to two picks and is completing 61.1 percent of his throws. A heavy majority of Palmer's

Share Tweet

The outlook for players who exit games due to injury and do not return is often ominous. Steelers running back Rashard Mendenhall exited Thursday night's game against the Titans with an Achilles' injury, and did not return. Mendenhall was in just his

Share Tweet

During last week's Cardinals-Rams game, St. Louis cornerback Janoris Jenkins was about to intercept a pass when Arizona receiver Larry Fitzgerald grabbed Jenkins by the facemask to stop him. It worked, but it cost Fitzgerald. The NFL fined Fitzgerald $7

Share Tweet

Back in 2007, Chargers quarterback Philip Rivers earned the ire of Broncos cornerback Champ Bailey after Rivers engaged in trash talk with then-Broncos quarterback Jay Cutler during a Chargers win. After the game, Bailey called Rivers "classless" and

Share Tweet

The ability of RB Lamar Miller to crack the Dolphins' two-back rotation hinges on his ability to pass block. Pats coach Bill Belichick recently sold his Brooklyn townhouse for $2.75 million. With Bills DE Mark Anderson out, DE Kyle Moore will get a chan

Share Tweet

Reggie Wayne's lesson: Drink water, not soda

Colts receiver Reggie Wayne is coming off the best game of his career in Sunday's win over the Packers, but he had to fight through severe cramps to finish the game. And Wayne says there's a simple reason for that: He was consuming soft drinks. Wayne

Share Tweet

Lions safety Louis Delmas didn't practice on Friday, but that doesn't appear to be an issue with him making his 2012 debut against the Eagles this Sunday. Dave Birkett of the Detroit Free Press reports that Delmas looked fine running around the practi

Share Tweet

Kevin Greene: NFL can't control accidents

When Packers linebacker Nick Perry found out about his $15,750 fine for a hit on Colts quarterback Andrew Luck, he said that he needs to be "more focused on making a play without the head." Watching the play that earned Perry the fine, it doesn't se

Share Tweet

Anthony Wayne Smith, the 11th overall pick in the 1990 NFL draft who spent eight years with the Raiders, has been ordered to stand trial for four murders and could face the death penalty. A Los Angeles County judge ruled after a four-day preliminary hea…

Share Tweet

Texans linebacker Brian Cushing suffered a torn ACL when Jets guard Matt Slauson dove at Cushing's knee on Monday night.  Asked whether Cushing regards the hit as a dirty play, Cushing opted to avoid the debate. "Whether it was or it wasn't, I'm

Share Tweet

Andrew Luck and Bruce Arians building a rapport

Oct 13

Indianapolis Colts offensive coordinator Bruce Arians talks about having a close relationship with Pittsburgh Steelers quarterback Ben Roethlisberger, and then working with the Colts and establishing a relationship with Colts quarterback Andrew Luck.

Dwight Freeney on Chuck Pagano

Oct 13

Indianapolis Colts defensive end Dwight Freeney talks with Jay Glazer on head coach Chuck Pagano getting diagnosed with cancer, along with what he thinks of his new rookie quarterback in Andrew Luck.

LaDainian Tomlinson on New York Giants running game vs. San Francisco 49ers

Oct 13

LaDainian Tomlinson talks on what the New York Giants running back needs to do to succeed against the San Francisco 49ers.

Monday Night Football Preview

Oct 13

Jon Gruden and Mike Tiricio preview Broncos at Chargers, Monday 8:30pm ET.