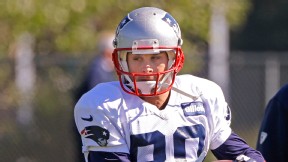 profootballtalk.com
ESPN.com
Updated Oct 25, 2013
The oft-injured Patriots receiver Danny Amendola believes he'll be ready to return to the field on Sunday after missing last week with a concussion. And he doesn't believe he's injury-prone. Although Amendola has now missed 24 of his teams' last 38 game…
Share
Tweet
nytimes.com

Oct 25, 2013

The manufacturer has had an exclusive license since 1989 preventing the name of any other company from appearing on N.F.L. helmets.

Share Tweet

Greg Cosell's Look Ahead – The Colts took advantage of Denver's weakness

Last week was a perfect negative storm for the Denver Broncos, and the Colts took advantage of it. It started with the poor pass protection of the Broncos' offensive line. That affected Peyton Manning in a few ways. Then the receivers struggled to win a…

Share Tweet

Pro Bowl defensive tackle Gerald McCoy said Friday that some Tampa Bay fans have been stepping out of bounds in their treatment of coach Greg Schiano.

Share Tweet

profootballtalk.com yahoo.com CNNSI.com

Oct 25, 2013

St. Louis coach Jeff Fisher would rather not discuss this week's news that the Rams reached out to Brett Favre to see if he would be interested in coming out of retirement. Asked by reporters about the Favre news, Fisher said team policy was to confirm …

Share Tweet

Reggie Rogers, a first-round NFL draft pick whose career stalled after he was sentenced to prison for a car crash that killed three teenagers, has died. He was 49.

Share Tweet

yahoo.com profootballtalk.com

Oct 25, 2013

Detroit Lions running back Reggie Bush said sitting out Friday's practice prior to Sunday's matchup with the Cowboys was for precautionary reasons. But Bush's previous knee injury — this is a separate leg injury. Still, Bush hopes to be able to go this …

Share Tweet

Week Eight injury report roundup

Our own Josh Alper usually does the work of poring through all the injury reports to bring you the most significant injury news of the week in one easy-to-digest post. Unfortunately, this week Alper is on the injury report himself. Alper is probable for…

Share Tweet

Fumbling gets Ronnie Hillman deactivated

For every NFL game, seven of the 53 players on the roster end up not dressing. For the Broncos on Sunday, running back Ronnie Hillman will be one of the seven. According to Mike Klis of the Denver Post, Hillman's habit of fumbling will get him deactivat…

Share Tweet

Freddie Mitchell was a NFL receiver for just four seasons, but it seemed like more. His "4th and 26" catch in the playoffs for the Eagles is one of the top plays in NFL history, and he was always brash and entertaining. Now Mitchell is back in…

Share Tweet

Kevin Vickerson fined $10,000 for unnecessary roughness

Broncos defensive tackle Kevin Vickerson was fined $10,000 for unnecessary roughness on a special teams play in Sunday's loss to Indianapolis. The NFL confirmed Vickerson's fine to PFT on Friday. According to the league, Vickerson was fined for striking…

Share Tweet

Josh Freeman won't be on the field on Sunday night when the Vikings play the Packers because of a concussion, but he feels confident that things will be better the next time he takes the field with the Minnesota offense. Freeman was making his first sta…

Share Tweet

profootballtalk.com deadspin.com

Oct 25, 2013

On Sunday night in Indy, one of the biggest hits of the game came from Colts punter/kickoff specialist Pat McAfee. Specifically, McAfee applied his helmet to the helmet of Broncos return specialist Trindon Holliday while pushing Holliday out of bounds a…

Share Tweet

Old Guy Who Refused To Shave Till The Vikings Won A Super Bowl Dies

On Jan. 12, 1975, the Minnesota Vikings lost Super Bowl IX, their third Super Bowl defeat in six seasons. That very day, Vikings fan Emmett John Pearson vowed not to shave his beard till the team broke through and won a title. He did just that for the n…

Share Tweet

CNNSI.com profootballtalk.com

Oct 25, 2013

PHILADELPHIA (AP) -- Michael Vick has been listed as probable and is expected to start when the Philadelphia Eagles host the New York Giants on Sunday.

Share Tweet

The St. Louis Rams and Carolina Panthers drew a total of $47,250 in fines from the NFL for their chippy game last Sunday.

Share Tweet

Broncos corner Bailey (foot) out vs. Redskins

ENGLEWOOD, Colo. (AP) -- Champ Bailey's sprained left foot will keep him on the sideline Sunday when Mike Shanahan returns to Denver.

Share Tweet

PFT on NBCSN: Jared Odrick, Week Eight storylines

The Dolphins will try to win a game for the first time since Week Three on Sunday, one of many storylines we're tracking heading as Week Eight unfolds around the league. Dolphins defensive lineman Jared Odrick will help us set the stage for that game wh…

Share Tweet

During the third quarter of last Sunday's 19-16 loss to the Steelers, Ravens defensive end Elvis Dumervil was flagged for three penalties on one drive. He was penalized for jumping offside and a late hit on Steelers quarterback Ben Roethlisberger on the…

Share Tweet

CNNSI.com profootballtalk.com ESPN.com

Oct 25, 2013

ALBANY, N.Y. (AP) -- Oneida Indian officials who oppose the Redskins nickname as a slur are set to meet with NFL officials next week in New York City.

Share Tweet

Redskins linebacker Brian Orakpo gave the Redskins an early lead last Sunday with an interception return for a touchdown, but his day wasn't entirely positive. Orakpo was penalized for roughing Bears quarterback Josh McCown in the third quarter of the g…

Share Tweet

New Orleans Saints tight end Jimmy Graham returned to practice on a limited basis Friday for the first time since suffering a foot injury in Week 6 at New England.

Share Tweet

Jelani Jenkins fined $15,750 for striking Thad Lewis with helmet

Dolphins reserve rookie linebacker Jelani Jenkins has been fined $15,750 for a roughing the passer penalty against Bills quarterback Thad Lewis, the NFL confirmed on Friday. Jenkins hit Lewis on a blitz in Miami's 23-21 loss to Buffalo on Sunday, striki…

Share Tweet

EDEN PRAIRIE, Minn. (AP) -- Christian Ponder will be Minnesota's starting quarterback again on Sunday night.

Share Tweet

profootballtalk.com yahoo.com

Oct 25, 2013

Ernie Sims denied ever giving Louis Delmas an egg which hatched and grew into a six-foot alligator which had to be removed this week. It was, Sims insists, already out of its shell. The Cowboys linebacker told Tim McMahon of ESPNDallas.com that the futu…

Share Tweet

The Kansas City Chiefs went through their final practice session of the week without wide receiver Dwayne Bowe, who has a groin injury.

Share Tweet

Arizona Cardinals defensive end Calais Campbell is far too modest for a player so dominant. As he sat talking near his locker Thursday night, Campbell told Shutdown Corner by phone that he's happy to let his play do the talking for him. "I'm not su…

Share Tweet

Schefter: Five trades that make sense

WR Nicks is just what Carolina needs; Vikings should ship Ponder to St. Louis

Share Tweet

Dallas Cowboys running back DeMarco Murray is officially listed as questionable, but the team has some optimism that he will be able to play Sunday against the Detroit Lions.

Share Tweet

Brandon Weeden could point to injury as the reason why Brian Hoyer was starting ahead of him a few weeks ago, but there's no such excuse at the ready this time around. Jason Campbell will start at quarterback for the Browns this Sunday because the team …

Share Tweet

New York Giants running back Brandon Jacobs (hamstring), defensive tackle Shaun Rogers (knee) and cornerback Jayron Hosley (hamstring) have all been listed as doubtful for Sunday's game against the Philadelphia Eagles.

Share Tweet

The Cowboys have two of the requisites for being involved in deadline trades — immediate needs, and the willingness to make a move. What they lack is salary cap room to pay the guy they're bringing in, and that could quell their best intentions of addin…

Share Tweet

The Packers have been ravaged by injuries this season, but they appear close to be getting one key part back sooner than expected. According to Wes Hodkiewicz of the Green Bay Press-Gazette, Packers outside linebacker Nick Perry could return this week. …

Share Tweet

Can RGIII upend the Broncos? Plus inside every Week 8 matchup

Peyton Manning is a future Hall-of-Fame QB, but RGIII is the face of the next generation. Who prevails?

Share Tweet

Well, it was fun while it lasted. Even though it only lasted a few minutes. The Redskins have forwarded the following statement to PFT in response to the item regarding the registration of the name "Washington Bravehearts" for federal trademark protecti…

Share Tweet

The Bears won't have linebacker Lance Briggs in the lineup for the next six weeks, which means it is time for them to start looking for someone to fill out the depth chart at the position during his absence. Several linebackers worked out for the Bears …

Share Tweet

Jeff Garcia talks his desire to return to the NFL, Brett Farve and young QBs

It's hard to be around the game and not want to play, especially when you still might offer something.

Share Tweet

Donald Driver reflects on lifelong career with the Green Bay Packers

I didn't know where Green Bay was when I got drafted. I soon found out why I'd stay my entire career.

Share Tweet

Atlanta Falcons wide receiver Roddy White has been ruled out for a second consecutive game due to hamstring and knee injuries, head coach Mike Smith said following Friday's practice.

Share Tweet

In January of 1975, after the Vikings lost to the Steelers in the Super Bowl, Emmett Pearson made a promise. He wouldn't shave his beard until the Vikings won a Super Bowl. He kept that promise, too. Most likely, Pearson never figured he'd live another …

Share Tweet

Buffalo Bills running back C.J. Spiller is listed as doubtful for Sunday's game against the New Orleans Saints but remains a game-time decision, head coach Doug Marrone said Friday.

Share Tweet

Metrodome staff won't block use of Redskins

Minnesota stadium operators won't create a new policy barring the use of the Washington Redskins name and logo during a game against the Vikings in the Metrodome next month.

Share Tweet

Great seats for Seahawks-Rams MNF game can be had … for under $8!

NFL games can be quite pricy for fans. Except when you're in St. Louis, and the World Series is in town. It's a perfect storm of events, and the St. Louis Cardinals' victory in Game 2 of the World Series ensures that it will go at least five games. And …

Share Tweet

Falcons release latest new stadium drawings, and it looks like an origami crane

The Falcons are going to set a different standard in stadiums. Truth is, most new NFL stadiums are pretty similar. There are quirks here and there, but for the most part they aren't that indistinguishable from the next one, not like baseball stadiums. T…

Share Tweet

The Panthers appear to have avoided a scare late in last night's game, the kind of thing that could have ruined the good feelings built in a three-game winning streak. Panthers coach Ron Rivera told reporters a few moments ago that MRIs on defensive end…

Share Tweet

There's been too much on Mario Williams' mind. Now that he can focus on football, he's found harmony.

Share Tweet

Eight in the Box: Single-season records that could fall in 2013

An offensive explosion put the NFL record book under assault, and eight marks could fall this year.

Share Tweet

The Patriots have made trades before the deadline in recent seasons, including last year's acquisition of cornerback Aqib Talib, and they have some obvious areas of need with this year's deadline looming on Tuesday. Vince Wilfork is out for the season a…

Share Tweet

Saint Ignatius High School is a football powerhouse in Cleveland. The Cleveland Browns are a football powerhouse nowhere. And nowhere is that more evident than at the quarterback position, where Jason Campbell will become the Browns' 20th starting QB si…

Share Tweet

WSB-TV in Atlanta has gotten a look at some of the newest renderings of the new Atlanta Falcons stadium, tentatively set to open for the 2017 season. Once again, be aware these designs will change somewhere, but the current plan is for an arena that loo…

Share Tweet

Nate Jackson goes deep on a player's complicated relationship with safety: "I've come to understand

Nate Jackson goes deep on a player's complicated relationship with safety: "I've come to understand the NFL's priorities—protecting the shield from bad publicity—and so I don't trust them." [MMQB/Buy the book]Read more...

Share Tweet

Where has JPP been? Giants pass rusher admits he's searching for his old self

The New York Giants' troubling season has been dissected a thousand different ways. The most disturbing part is the inconsistent play from the super stars, chief among them: Jason Pierre-Paul The electric edge rusher, who looked to be embarking on a Hal…

Share Tweet

Which NFL Pundit Has Made The Worst Picks Through Seven Weeks?

Originally published on Pundit TrackerRead more...

Share Tweet

The Bills released cornerback Brandon Burton on Friday, the club said. There was no corresponding transaction announced, which leaves an open roster spot. On Friday, coach Doug Marrone indicated the Bills could potentially activate rookie running back R…

Share Tweet

PFT Live: Buccaneers talk with Rick Stroud, PFT Planet calls and tweets

The Buccaneers slipped to 0-7 on Thursday night and they looked barely competitive while doing so, a result that is sure to add more people to the already long list calling for coach Greg Schiano to be fired. Rick Stroud of the Tampa Bay Times will tell…

Share Tweet

The 49ers pop up anytime there's discussion about a wide receiver getting traded before Tuesday's deadline, but General Manager Trent Baalke said Friday that the team will be counting on the return of Mario Manningham and Michael Crabtree to bolster the…

Share Tweet

On Monday night, Kellen Clemens makes his debut at the Rams' starting quarterback. But most folks in St. Louis will be paying attention to the sport once played by Roger Clemens. By winning at Fenway Park on Thursday night, the Cardinals have guaranteed…

Share Tweet

Seahawks coach Pete Carroll is used to defending his guys for big hits, since they're one of the most physical teams in the league. But this week, he sent a videotape to the league office not to complain, but to point out some textbook hits. The twist w…

Share Tweet

Why Are NFL Statheads Struggling So Much With Their Picks This Year?

It's still relatively early in the NFL season, but signs point to this being one of the worst seasons ever for simulation & statistics based predictors of game results. In fact, having followed several websites for the last few years, this is by far…

Share Tweet

Jets defensive coordinator suggests prayer as way to stop A.J. Green

The Jets face the Bengals this weekend, which means they will have to try to come up with an answer to the question of how you stop Bengals wide receiver A.J. Green. Jets defensive coordinator Dennis Thurman has likely been coming up with several option…

Share Tweet

Washington Redskins coach Mike Shanahan said the NFL's appeal process needs to change, saying even if a player wins his case it makes it difficult for him to play well that week.

Share Tweet

Rarely-used Tampa Bay Buccaneers cannon spooks everybody still left in the stadium

One of Raymond James Stadium's defining features is its large pirate ship, which features cannons that blast when Tampa Bay is in the red zone and after every Buccaneer touchdown. As you can imagine, said cannons have been rather silent in this 0-7 year…

Share Tweet

In the NFL, things that work for one team get borrowed by another. The copycat concept applies not only to X's and O's, but also to the men responsible for the X's and O's. After Pete Carroll's success in Seattle, the pendulum swung back toward college …

Share Tweet

The Cardinals are coming up on next week's bye week with a quarterback who's second in the league in interceptions (13), 29th among starters in passer rating (69.5) and a 3-4 record. That's a confluence of events that could spell change for some, but Ca…

Share Tweet

yahoo.com profootballtalk.com

Oct 25, 2013

In falling to 0-7, the Tampa Bay Buccaneers are an abject failure with issues nearly across the board. Atop that list is the coaching situation. To say that head coach Greg Schiano is embattled is to say that Congress has an image problem. When the stre…

Share Tweet

Washington Redskins defensive coordinator Jim Haslett said he wasn't concerned with Brandon Meriweather's fines or suspension. It's the penalties that bother Haslett.

Share Tweet

Raiders avoid Black Hole blackout

The NFL continues to move toward completing eight weeks of the 2013 regular season without a single blackout. According to the Contra Costa Times, the Raiders have sold out the reduced-capacity Oakland Coliseum for Sunday's visit from the Steelers, whic…

Share Tweet

If you're a New York football coach, yesterday was the day for an endorsement from your bosses. First Jets owner Woody Johnson said he was "happy with Rex" Ryan after the Jets are off to a surprising 4-3 start. But even though their neighbors are 1-6, G…

Share Tweet

Ed Reed is an eight-time All-Pro, a former Defensive Player of the Year and was voted one of the Top 100 players in NFL history. That's the player the Texans hoped they were getting when they signed Reed as a free agent this year. But it hasn't been the…

Share Tweet

The weekly NFL spread picks; two of the toughest teams to figure out square off

Like so many teams in the NFL right now, we have mixed signals on the Dallas Cowboys. Dallas is 4-3 and an overwhelming favorite to win the NFC East. That's mostly because the East is horrendous. And the Cowboys have taken advantage of that. Dallas is 3…

Share Tweet

Bucs' Cannon Scares The Shit Out Of Cam Newton And Steve Mariucci

The Tampa Bay Buccaneers got trounced by the Carolina Panthers last night, but they did succeed at making Cam Newton and Steve Mariucci nearly die of fright. Read more...

Share Tweet

Logan Ryan apologizes for his crotch grab

Cornerback Logan Ryan will involuntarily apologize for his homage to Marshawn Lynch via a fine in the amount of $10,000. But Ryan nevertheless opted on Thursday to apologize for his transgression voluntarily. "First off, I just want to apologize to all …

Share Tweet

Getting accurate injury information about Santonio Holmes, even from his own mouth, can be difficult sometimes. So while he's sent reporters down the wrong trail before, the Jets wide receiver indicated Thursday he could need another two weeks prior to …

Share Tweet

DE Mario Williams has had one of the more prolific starts of any Bills pass rusher in history. The Dolphins need to execute better late in games. DE Chandler Jones has become a vital part of the Patriots defense. The Jets running backs are feeling good …

Share Tweet

In the NFL this season, seven punts have been returned by touchdowns. Three of those touchdowns were allowed by the Giants. Giants special teams coach Tom Quinn knows that it's totally unacceptable that his team has given up almost as many punt return t…

Share Tweet

profootballtalk.com nytimes.com

Oct 25, 2013

Cam Newton is playing the best football of his career right now. The Panthers won their third straight game on Monday night, and Newton was outstanding, throwing for 221 yards and two touchdowns and running for 50 yards and another touchdown. During thi…

Share Tweet

49ers General Manager Trent Baalke is in London with his team as they prepare for Sunday's game against the Jaguars, but his mind isn't totally focused on the happenings on that side of the pond. Baalke is also thinking about linebacker Aldon Smith, who…

Share Tweet

nydailynews.com

Oct 25, 2013

Jets owner Woody Johnson sounds an awful lot like a guy who wants Rex Ryan back as his coach next season even if he said Thursday he will not make any statements on his status until after the season.

Share Tweet

yahoo.com CNNSI.com grantland.com

Oct 25, 2013

TAMPA, Fla. – The Carolina Panthers seemed finished after the first four games of this season.Carolina was expected to compete for a playoff spot, but began the year 1-3. Panthers quarterback Cam Newtown threw six touchdowns and five interceptions durin…

Share Tweet

Week 8 N.F.L. Matchups

nytimes.com

Oct 25, 2013

The Cowboys' Dez Bryant and Detroit's Calvin Johnson are not the only similar elements in a matchup of teams that are strong on offense and terrible on defense.

Share Tweet

Week 8 NFL Viewing Guide: Diamonds in the Rough

grantland.com

Oct 25, 2013

There's no use in deluding ourselves — this week's slate of games is pretty terrible. After maybe the most anticipated prime-time matchup of the...

Share Tweet

Adrian Peterson's Trade Value

Oct 25

Mark Schlereth and Tedy Bruschi discuss the return the Vikings would have to get in order to consider trading Adrian Peterson.

Harrison Doubts Freeman's Injury

Oct 25

Max Kellerman and Marcellus Wiley discuss the comments made by Rodney Harrison about Josh Freeman's injury.

'Playbook': Miami Dolphins vs. New England Patriots

Oct 25

Can the Miami Dolphins and QB Ryan Tannehill take the next step in the AFC East by taking down the New England Patriots? "NFL Playbook" explains who prevails Sunday.

'Playbook': Washington Redskins vs. Denver Broncos

Oct 25

How can the Washington Redskins defense keep QB Peyton Manning and the Denver Broncos offense down? The "NFL Playbook" crew breaks it down.