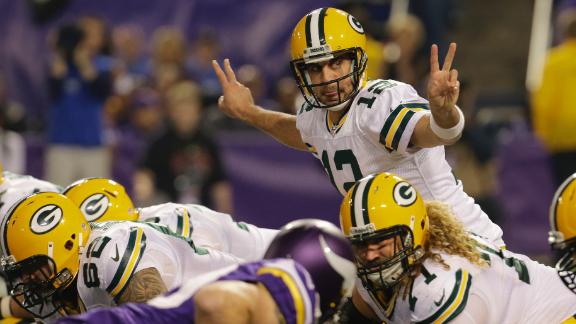 ESPN.com
profootballtalk.com
Updated Oct 27, 2013
Aaron Rodgers threw for 285 yards and two touchdowns to lead the Green Bay Packers to a 44-31 victory over the Minnesota Vikings on Sunday night.
Share
Tweet
NFL Week 8 Winners and Losers: Officials' exuberance costs the Dolphins a shot at a win

More and more, when you watch a NFL game, you end up noticing the officials. A lot of times, the flags that change the course of games are thrown in the name of player safety. An iffy roughing the passer penalty here, an arguable defenseless receiver hi…

Share Tweet

Rare Giants Takeaway Alters Game

A Giants defense that has forced few turnovers got a big play from Terrell Thomas, who ended an Eagles drive when he forced quarterback Matt Barkley to fumble.

Share Tweet

Dalton dazzles, Megatron dominates, more snaps from Week 8

The Bengals have back-to-back early playoff exits. After routing the Jets, Cincy looks like a contender.

Share Tweet

profootballtalk.com ESPN.com yahoo.com

Oct 27, 2013

On the first play of the fourth quarter, the Broncos trailed Washington 21-14 and faced a 4th-and-goal from the Redskins' one-yard-line. The Broncos converted, with Peyton Manning throwing a TD pass to reserve tight end Joel Dreessen. It was the first o…

Share Tweet

The Cowboys thought the Lions' Matthew Stafford was going to spike the ball. Instead, he lunged for a score, giving Calvin Johnson, who had 329 receiving yards, another reason to celebrate.

Share Tweet

yahoo.com profootballtalk.com

Oct 27, 2013

Oakland Raiders defensive coordinator Jason Tarver was quick to let NFL officials know what he thought about their call against his team during a 21-18 victory against the Pittsburgh Steelers on Sunday.The NFL office will likely let Tarver know its opin…

Share Tweet

The New England Patriots shook off a dismal first half and another mediocre performance by Tom Brady to beat the Miami Dolphins 27-17 on Sunday.

Share Tweet

Top 5 Must-See Plays from Week 8

1. Pryor's mad dashThe Oakland Raiders might have gained only 279 yards in their 21-18 victory against the Pittsburgh Steelers, but 93 of them came right off the bat. Backed up to his own 7-yard line, Raiders quarterback Terrelle Pryor ran a QB-record 9…

Share Tweet

profootballtalk.com yahoo.com

Oct 27, 2013

From the early indications, it appears Redskins quarterback Robert Griffin III's left knee injury is not serious. According to Grant Paulsen of 106.7 The Fan in Washington D.C., head coach Mike Shanahan said Griffin was given the OK to return to the gam…

Share Tweet

profootballtalk.com yahoo.com

Oct 27, 2013

The way the Packers did it wasn't quite as exciting, but the result was the same. After the Vikings jumped out to an early lead on Cordarrelle Patterson's 109-yard return of the opening kickoff for a touchdown, the Packers just evened it up in a more me…

Share Tweet

ESPN.com deadspin.com profootballtalk.com yahoo.com CNNSI.com

Oct 27, 2013

Mike Pouncey of Miami Dolphins was approached by Massachusetts police after a loss to the New England Patriots and given a grand jury subpoena related to the investigation into the Aaron Hernandez case.

Share Tweet

Bengals 49, Jets 9: Jets' Up-and-Down Pattern Holds, and Crumples Them

Andy Dalton passed for 325 yards and 5 touchdowns as the Bengals crushed the Jets, who were seeking their first winning streak of the season but instead fell to 4-4.

Share Tweet

Terrelle Pryor ran 93 yards on the first play from scrimmage for the longest touchdown run by a quarterback, and the Oakland Raiders won following a bye week for the first time since 2002, beating the Pittsburgh Steelers 21-18 Sunday.

Share Tweet

Minnesota used a special teams TD to keep it close early, but the Packers have pulled away 41-17 on the road.

Share Tweet

So what's the long-term goal for the NFL in London? Commissioner Roger Goodell said Saturday that he wants to put a team in both London and Los Angeles. If that happens, it won't entail expansion of the league. The NFL, we're told, has no plan to grow b…

Share Tweet

The Seahawks travel to St. Louis for Monday Night Football.

Share Tweet

Buffalo's Thad Lewis misses out on the tuck rule, surrenders fumble

All you've got to do to get a Boston sports fan riled up is say two simple words: "tuck rule." Almost 11 years ago, in the waning seconds of a playoff game against the Raiders, a young Patriots quarterback by the name of Tom Brady got swarmed …

Share Tweet

Last year, the Falcons were the No. 1 playoff seed in the NFC. This year, we can rule them out of playoff contention just seven games into the season. The Falcons traveled to Arizona and took a good, old-fashioned butt-kicking from the Cardinals, losing…

Share Tweet

The Steelers had shown signs of getting things back together during their recent two-game win streak. But any momentum they might have built was lost Sunday, in a ridiculous 21-18 loss at Oakland. The amazing part might have been that the Raiders were a…

Share Tweet

Disbelieving Raiderfan Reaction Somehow Appropriate

That this is a reasonable and expected response from a Raiders fan whose team still has a three-point lead and the ball with 90 seconds left tells you how truly wacky the 2013 NFL season has been.Read more...

Share Tweet

Andy Dalton is the red-headed stepchild of the high-drafted slew of quarterbacks in recent years. OK, that works on a few levels because of the pigment of Andy's hair. But it's euphemistically true, as well, with much of the football-watching country do…

Share Tweet

ESPN.com deadspin.com yahoo.com profootballtalk.com

Oct 27, 2013

Dallas Cowboys wide receiver Dez Bryant described his passion as "all positive" after a pair of sideline confrontations with teammates during Sunday's 31-30 loss to the Detroit Lions.

Share Tweet

On Wednesday, senior NFL execs will listen to Oneida Indian Nation's concerns

The long-awaited meeting between the NFL and Oneida Indian Nation will occur on Wednesday. So who will be there, and what will transpire? According to the NFL, at least two executive Vice Presidents will attend, along with other senior league executives…

Share Tweet

On their way to losing a game to the Patriots, the Dolphins lost wide receiver Brandon Gibson to a left knee injury on Sunday. It doesn't sound like they'll be getting him back any time soon. Gibson will have an MRI to discover the extent of the injury,…

Share Tweet

Denver shrugs off two-TD deficit, leads Washington in fourth quarter

For a brief window in the second half, Washington looked like it might be capable of giving Denver a real challenge on Sunday. Then, that window slammed shut. After falling behind by 14 with 11:34 left in the third quarter on Redskins CB DeAngelo Hall's…

Share Tweet

The Packers knew they would be without several regulars well in advance of Sunday night's game against the Vikings. Linebacker Clay Matthews and tight end Jermichael Finley never had a chance of playing this week, but there was some hope that linebacker…

Share Tweet

profootballtalk.com CNNSI.com

Oct 27, 2013

Anywhere you looked on Sunday, there was a Bengals player making a big play. There was A.J. Green with a pair of 53-yard receptions and Marvin Jones scoring four touchdowns in a coming out party. Andy Dalton threw five touchdowns, a career best, and thr…

Share Tweet

No timetable for Aldon Smith's return

In recent days, multiple things have been said about 49ers linebacker Aldon Smith. G.M. Trent Baalke has said that he's "hopeful" Smith could return after the Week Nine bye. Commissioner Roger Goodell has said that Smith's decision to enter rehab will b…

Share Tweet

Here's something you don't see often: Peyton Manning gets called for holding

Before Sunday, it would have been tough to figure out how a quarterback could get called for holding.Peyton Manning showed the way.The Broncos quarterback got pressure from his right side, and Ryan Kerrigan of the Redskins got a hand on the ball. The ba…

Share Tweet

profootballtalk.com yahoo.com ESPN.com

Oct 27, 2013

Eagles quarterback Michael Vick didn't look 100 percent early in Sunday's 15-7 loss to the Giants and he wound up leaving the game before halftime as a result of the hamstring injury that had kept him sidelined for the two previous games. Vick said afte…

Share Tweet

Two Saints fans dress up as Sean Payton and Rob Ryan, win every costume contest ever

New Orleans is famous for its Mardi Gras wear, but we're betting these two guys could win any costume contest in town — no matter what time of the year. Yes, that's the goateed fan on the left going as New Orleans Saints defensive coordinator Rob Ryan w…

Share Tweet

Linebacker Rey Maualuga was carted off with what the Bengals diagnosed as a left knee injury.

Share Tweet

profootballtalk.com CNNSI.com

Oct 27, 2013

The Patriots had a miserable first half offensively on Sunday and trailed the Dolphins 17-3 at the half after gaining just 25 yards. Making matters worse was apparent swelling on quarterback Tom Brady's right hand, which had been the source of interest …

Share Tweet

Pro Football Now: Previewing Sunday night's Packers-Vikings matchup

Greg Jennings will lead his new team against his old one when the Vikings host the Packers on Sunday night.

Share Tweet

The Saints' passing game was just too much for the Bills on Sunday. Quarterback Drew Brees threw five TD passes as New Orleans scored a 35-17 victory against visiting Buffalo on Sunday. Rookie wide receiver Kenny Stills hauled in TD receptions of 69 and…

Share Tweet

profootballtalk.com yahoo.com deadspin.com

Oct 27, 2013

An old school rivalry is producing a surprisingly old school beatdown. After Terrelle Pryor took the first snap of the game for the longest touchdown run by an NFL quarterback (93 yards), the Raiders continued to pile onto their margin, leading the Stee…

Share Tweet

LeBron Does His Best Heat Fan Impression During Cowboys Game

What happened? I just left my tv to use the restroom — LeBron James (@KingJames) October 27, 2013Read more...

Share Tweet

Calvin Johnson's monster day helped Detroit to an improbable 31-30 comeback win over the Cowboys.

Share Tweet

Brian Billick Called The Game For The Cowboys With 1:24 Left

The Lions may have had more than 500 total yards, but Matthew Stafford couldn't connect to Kris Durham on fourth down very late in the fourth quarter. "That's the story of the game," Brian Billick said. Ballgame. The Lions "are gonna come…

Share Tweet

Jaguars mascot goes streaking at Wembley

The Jacksonville Jaguars didn't do a very good impression of a NFL team over in London, getting steamrolled by the San Francisco 49ers on Sunday by a score of 42-10. However, the team's mascot, Jaxson De Ville, did a pretty nice impression of a soccer s…

Share Tweet

Lions Shock Cowboys With An 80-Yard Drive In Less Than A Minute

With 1:03 left in the fourth, Calvin Johnson had accrued 290 receiving yards, sixth-best in NFL history, but the Lions were still losing 30-24. Over the next minute, a ridiculous game would get even more ridiculous, with Detroit engineering an 80-yard d…

Share Tweet

Devin McCourty tips ball Marquice Cole for insane volleyball-style interception (Video)

Interception of the year? Sure, we'll nominate it. The New England Patriots' defense didn't have a great first half against the Miami Dolphins, but it was an eventful second half, highlighted by a circus interception by Marquice Cole. But Cole was only …

Share Tweet

ESPN.com profootballtalk.com yahoo.com deadspin.com

Oct 27, 2013

Matthew Stafford's 1-yard lunge over a pile of linemen with 12 seconds left and Calvin Johnson's 329 yards receiving lifted the Detroit Lions to a 31-30 comeback win over the Dallas Cowboys on Sunday.

Share Tweet

The 2008 Detroit Lions should be very nervous after watching the Jacksonville Jaguars play on Sunday. Jacksonville was defeated by San Francisco, 42-10, at Wembley Stadium. The Jaguars proved they could lose in London just as easily as they can drop gam…

Share Tweet

nytimes.com profootballtalk.com

Oct 27, 2013

The Giants used efficient offense, solid defense and five field goals to stop an eight-game road skid and hand Philadelphia its 10th straight home loss.

Share Tweet

ESPN.com profootballtalk.com yahoo.com

Oct 27, 2013

Alex Smith threw for 225 yards and two touchdowns, and the Kansas City Chiefs held off the scrappy Cleveland Browns late in the fourth quarter to preserve a 23-17 victory Sunday and remain the NFL's lone undefeated team.

Share Tweet

London's probably getting an NFL team one day. Unless, of course, they see enough Jaguars games and decide to pass. The "home" Jaguars looked as much like a professional team as The Monkees resembled The Beatles, as they were thrashed 42-10 by the 49ers…

Share Tweet

As the Buccaneers prepare to head to Seattle in Week Nine before welcoming the Dolphins and the spotlight of Monday Night Football to Tampa in Week 10, the status of coach Greg Schiano remains murky. According to Jay Glazer of FOX Sports, Schiano told t…

Share Tweet

Two more big catches from Josh Gordon have helped the Browns get back within three points in the third quarter and the Chiefs may have to protect what's left of their lead without running back Jamaal Charles. The Chiefs say that Charles is questionable …

Share Tweet

The Giants are still up 12-0 in Philadelphia, but their smiles are a little less wide in the third quarter. Wide receiver Victor Cruz has returned to the locker room after he was slammed to the ground by Eagles cornerback Bradley Fletcher after a catch.…

Share Tweet

Cleveland Browns get tricky, turn old-school flea flicker into touchdown

Even in the modern, sophisticated NFL, there's always room for an old-school trick play.The Browns pulled one out of the bag against the Chiefs. With the offense struggling to move the ball in the second half, Cleveland dialed up a basic flea flicker.Ja…

Share Tweet

Patriots' offense sputtering early vs. Miami

The Patriots' offense underwhelmed as Miami surged to a 17-3 halftime lead at New England on Sunday. Patriots quarterback Tom Brady completed 6-of-8 first-half passes, but for just 25 yards. Also, the Dolphins capitalized on his first-quarter intercepti…

Share Tweet

The Browns ran nine plays on their first three offensive drives while the Chiefs ran up 13 points to grab an early lead that seemed pretty secure against a Browns team starting Jason Campbell at quarterback for the first time this season. Then Josh Gord…

Share Tweet

License Plate Guy trolls Eagles fans' Super Bowl record with a brutally effective number: zero

Wearing the opposing team's colors into their stadium is a brave move. But openly taunting them with their lack of Super Bowl success? That's trolling as fine art. That brave fellow above is License Plate Guy, for reasons which are as obvious as the tea…

Share Tweet

Patriots right tackle Sebastian Vollmer was taken off the field via cart after suffering a right leg injury in Sunday's game vs. Miami. Vollmer was blocking on a running play when injured. While engaged in blocking, the back of Vollmer's legs were rolle…

Share Tweet

CNNSI.com profootballtalk.com

Oct 27, 2013

Report: Vikings would trade Allen for 'right price'

Share Tweet

Four-for-four 49ers rolling Jaguars 28-0

Greg Roman, the 49ers offensive coordinator, always said it didn't bother him that the Jaguars didn't wait to interview him for their vacant head coaching job last offseason. He's taking it out on them anyway. The 49ers have scored touchdowns on all fou…

Share Tweet

A trade for Arizona Cardinals Pro Bowl wide receiver Larry Fitzgerald will be in play this offseason, multiple league executive sources said, in the likely event a deal is not completed before Tuesday's trade deadline.

Share Tweet

Michael Irvin Urges Jason Campbell To Lead A "Scalping" Of The Chiefs

Michael Irvin's NFL Network segment was an attempt to inspire Jason Campbell and the Browns to beat the Chiefs in a "scalping." OK. (If Irvin really wants to go with violent imagery, how about he stay closer to home and call for the Browns to …

Share Tweet

Kolb won't be playing this year, for anyone

With Bills quarterback Kevin Kolb on injured reserve with his latest concussion and plenty of teams needing plenty of help at quarterback (e.g., Austin Davis or Davis Austin, we've explored the question of whether Kolb could be released from injured res…

Share Tweet

NFL: Jets Should Have Been Called For Same Pushing Penalty As Pats

There was a lot of bitter back-and-forth between the Jets and Patriots about last week's controversial overtime pushing penalty. At first, Bill Belichick didn't seem to know what the penalty was. (He made a big deal about the "second level" in…

Share Tweet

The Cowboys are going to be down four starters for Sunday's trip to Detroit. Safety J.J. Wilcox was ruled out during the week after injuring his knee in practice and he'll be joined on the inactive list by wide receiver Miles Austin, running back DeMarc…

Share Tweet

Sources: NFL warns coaches against 'push'

The NFL sent a videotape to all 32 head coaches this week, warning that it will work with officials to pick up more penalties like the controversial one called last Sunday that helped the Jets beat the Patriots, league sources told ESPN.

Share Tweet

Saints tight end Jimmy Graham was active and played Sunday against the Buffalo Bills.

Share Tweet

ESPN.com yahoo.com profootballtalk.com

Oct 27, 2013

Dwayne Bowe will start Sunday for the Chiefs against the Browns at Arrowhead Stadium despite a slight groin pull he suffered Thursday.

Share Tweet

After a one-game absence, Patriots wide receiver Danny Amendola is back in the lineup for New England. Amendola, who missed the Week Seven loss to the Jets with a concussion, is active for Sunday's game vs. Miami. Amendola has caught 16 passes for 159 y…

Share Tweet

Lions defensive tackle Ndamukong Suh does not plan to visit the league office, as he was invited to do, during the bye week. But he does plan to have a chat with league officials. Suh told Merril Hoge of ESPN that he will have a videoconference with the…

Share Tweet

The NFL has admitted that Patriots coach Bill Belichick was right and the officials on the field were wrong about the Jets breaking the rule against pushing a teammate into the line while trying to block a field goal. Belichick complained after his own …

Share Tweet

Peyton has two ankle sprains, sources say

Peyton Manning suffered two ankle sprains, including a high ankle sprain, against Jacksonville on Oct. 13, league sources confirmed.

Share Tweet

Report: Both of Manning's ankles are sprained

When Broncos coach John Fox was asked this week which of quarterback Peyton Manning's ankles are sprained, Fox didn't hesitate to answer with a non-answer. "I don't have to tell you that," Fox said, laughing. The joke's on whoever assumed that Peyton ha…

Share Tweet

Marcus Lattimore thinks he'll start practicing soon

The 49ers have several players on the physically unable to perform and non-football injury lists that they hope will be able to contribute to the team in the next few weeks. Rookie running back Marcus Lattimore is one of those players. Lattimore is comi…

Share Tweet

Taking a look at players who could be traded by Tuesday

The annual trading window, which opened in March, closes on Tuesday at 4:00 p.m. ET. As one league source explained it, the next 48 hours will have some intrigue. If history holds, it also will include a trade or two that we're not thinking about. With …

Share Tweet

RB Ronnie Wingo may do more than just come close to making his Bills debut this week. Dolphins coach Joe Philbin says the team hasn't changed directions in the wake of three straight losses. DE Andre Carter is trying to learn the Patriots' defensive pla…

Share Tweet

Cards RB Mendenhall won't play vs. Falcons

Arizona Cardinals running back Rashard Mendenhall will not play Sunday against the visiting Atlanta Falcons because of a lingering toe injury and will be replaced by rookie Andre Ellington, who will now start.

Share Tweet

nydailynews.com

Oct 27, 2013

Geno Smith is in Cincinnati today and so are the Jets, who try to do something they have not yet done this season, which means win two games in a row. They try to do that with the Saints coming into MetLife Stadium next week and before they go on the ro…

Share Tweet

GameDay: Dallas Cowboys vs. Detroit Lions highlights

Oct 27

Detroit Lions wide receiver Calvin Johnson puts together a day to remember, while quarterback Matthew Stafford shows creativity to give the Lions a 31-30 win over the Dallas Cowboys.

Johnson's Monster Day Sparks Lions

Oct 27

SportsCenter Highlight of the Night: Calvin Johnson set a Lions franchise record with 329 yards receiving and caught a touchdown in the Lions' 31-30 come-from-behind win over the Cowboys.

Mike Pouncey Handed Subpoena

Oct 27

ESPN legal analyst Lester Munson discusses the subpoena given to Dolphins center Mike Pouncey related to the Aaron Hernandez investigation.

GameDay: Green Bay Packers vs. Minnesota Vikings highlights

Oct 27

The Green Bay Packers display a balanced attack on offense, defense, and special teams as they defeat the Minnesota Vikings 44-31 in Week 8 of NFL action.