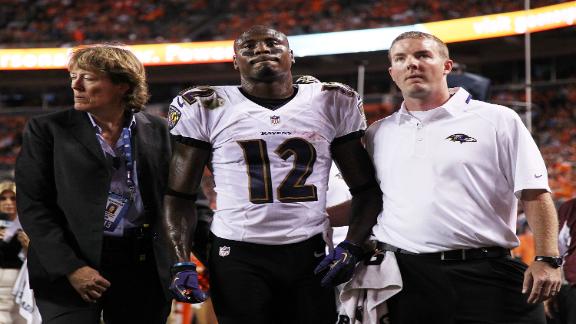 ESPN.com
profootballtalk.com
Updated Sep 6, 2013
Baltimore Ravens wide receiver/returner Jacoby Jones could miss four to six weeks with a sprained medial collateral ligament in his right knee, according to a Baltimore Sun report.
Share
Tweet
Sports Briefing | Football: Aaron Hernandez Pleads Not Guilty

The former New England Patriots star Aaron Hernandez pleaded not guilty to a first-degree murder charge Friday in the death of Odin Lloyd.

Share Tweet

Monte Kiffin has returned to the N.F.L. after spending the last four seasons working with his son in the college ranks.

Share Tweet

profootballtalk.com yahoo.com

Sep 6, 2013

In the NFC South, one young quarterback has become a team captain for the first time. And another fairly young quarterback has lost his "C" after three seasons of serving in that role. Via Joe Smith of the Tampa Bay Times, quarterback Josh Freeman won't…

Share Tweet

nytimes.com profootballtalk.com

Sep 6, 2013

The Giants' leading receiver, Victor Cruz, was listed as probable for the season opener, but defensive end Jason Pierre-Paul was questionable.

Share Tweet

Browns have nine undrafted rookies entering Week One

The Browns will begin the 2013 season with a roster teeming with youth. At present, 27 of the Cleveland Browns' 53 roster spots belong to rookies, second-year players and one first-year pro. One-third of those players are undrafted rookies: defensive ba…

Share Tweet

The Chargers hope that the preseason helped them prepare for the regular season in more ways than one. Otherwise, their so-called "White Hot Monday Night" could be blacked out. After receiving a 24-hour extension of the deadline for allowing both presea…

Share Tweet

We're only one game into the NFL season, and we've already seen Major League Baseball affect the schedule, as the Ravens opened on the road instead of at home because of a scheduling conflict with the Baltimore Orioles. Now baseball may cause another ch…

Share Tweet

Jim Harbaugh didn't get his way. But Friday he got the final word on the interpretation of what is a legal hit on a quarterback in the read-option offense, saying a league ruling was "flawed and a bit biased."

Share Tweet

One of the NFL's more productive defensive linemen was added to his club's injury report on Friday. Browns left defensive end Ahtyba Rubin missed practice with a calf injury Friday and is listed as questionable for Sunday's game vs. the Dolphins. Rubin,…

Share Tweet

The first time the coaches at Portland State realized they might have stumbled upon the next Antonio Gates, Julius Thomas was playing in just his fifth football game since middle school.Montana State was in the ideal defense to cover the post route Thom…

Share Tweet

profootballtalk.com yahoo.com

Sep 6, 2013

The NFL attempted to clarify its rules about how defenses can attack read-option quarterbacks by saying publicly that those quarterbacks are treated as runners unless it is clear that they are no longer in a running posture. But 49ers coach Jim Harbaugh…

Share Tweet

Archie worried neck would end Peyton's career

The day after his son tied an NFL record with seven touchdown passes, Archie Manning said he was concerned Peyton Manning would never play again after his neck surgeries and that Peyton's throws in the early days of rehab were limited to "a 10-yard…

Share Tweet

Week One injury report roundup

We've finally made it to the start of the regular season, which means both the return of Sundays filled with NFL football and Fridays full of injury reports updating us on the status of players around the league. Over the course of the week, there are a…

Share Tweet

The Buffalo Bills want to do everything they can to help their rookie quarterback, E.J. Manuel, in his first NFL start against the New England Patriots. But the bigger concern might be assisting a secondary that will be without perhaps its two best play…

Share Tweet

Vikings defensive tackle Kevin Williams will miss the team's game in Detroit on Sunday as he continues to recover from a hyperextended right knee, coach Leslie Frazier said on Friday.

Share Tweet

Seattle Seahawks coach Pete Carroll said starting cornerback Brandon Browner and defensive end Cliff Avril both will be game-time decisions Sunday against the Carolina Panthers in Charlotte.

Share Tweet

The All-22: 'Do Your Job,' and why Cam Newton is far more than an option afterthought

The read-option QB era has glossed over its originator, Cam Newton. The Seahawks aren't so forgetful.

Share Tweet

Broncos' season-opening win viewed by 25.1 million people

The NFL's dominance over the American television landscape continues. Thursday night's Ravens-Broncos NFL opener was watched by 25.1 million viewers, a 5 percent increase over the Cowboys-Giants game that kicked off the season last year. The 25.1 millio…

Share Tweet

This week, The Guardian released an excellent interactive graphic on the salaries (technically, the cap hit) of NFL players by team and position. Franchises that look like cheapskates are generally heavy in rookie contracts–nothing in the NFL is as cost…

Share Tweet

profootballtalk.com ESPN.com

Sep 6, 2013

It looks like the 2013 debut of tight end Rob Gronkowski will not happen in Week One. Gronkowski has been practicing in a limited fashion with the Patriots this week, but he was listed as doubtful on Friday's final injury report before Sunday's game aga…

Share Tweet

Jets wide receiver Santonio Holmes (foot) is listed as questionable for Sunday's game against the Buccaneers on the club's injury report. After not practicing Thursday, Holmes was a limited participant in practice on Friday. He also practiced on a limit…

Share Tweet

PFT on NBCSN: What to watch for in Week One

Two teams have already started their season and it's just about time for the other 30 to stop talking about the year to come and start playing it as well. Before it's time to completely wrap up the talk, however, Pro Football Talk on NBCSN has a few las…

Share Tweet

Saints are approaching health on defense, finally

After an offseason of wondering whether they'd have any degree of pass-rushers, the Saints are approaching health just in time. According to Larry Holder of the New Orleans Times-Picayune, outside linebackers Junior Galette and Martez Wilson are both pr…

Share Tweet

Buccaneers cornerback Darrelle Revis (knee) practiced fully on Friday and is probable for Sunday's game at the Jets, according to the club's injury report. Revis, who's returning from an ACL tear suffered last season as a member of the Jets, has practic…

Share Tweet

The signs were all pointing toward the Raiders needing to find a left tackle to replace Menelik Watson for the opener against the Colts on Sunday and coach Dennis Allen confirmed it on Friday afternoon. Watson has been ruled out of the contest, which wi…

Share Tweet

Follow the pick 'em showdown this season between Anwar Richardson vs. Shaun King

Until now, the bragging rights between Shaun King and Anwar Richardson haven't been public. The two have known each other for years. King, the former NFL quarterback and current NBC Sports Network analyst, is the godfather to the eight-month-old son of …

Share Tweet

Ryan calls negative Jets talk 'pretty comical'

Two years ago, New York Jets coach Rex Ryan guaranteed a Super Bowl. That didn't work out. On Friday, Ryan took it down a few notches, vowing his team won't stink this season.

Share Tweet

Dallas Cowboys defensive end Anthony Spencer is officially listed as doubtful for Sunday's game against the New York Giants with a knee injury, but Spencer is thinking more about the big picture than the first game of the season.

Share Tweet

In what is either a sign that a man can truly change or a reading of the last rites for irony, Ndamukong Suh told his teammates they needed to grow up. According to Dave Birkett of the Detroit Free Press, the Lions defensive tackle, who was voted team c…

Share Tweet

profootballtalk.com ESPN.com

Sep 6, 2013

Lions rookie defensive end Ziggy Ansah is good to go for Sunday's opener against the Vikings. Ansah, who suffered a concussion on August 24, was a full participant in practice today and is listed as probable. Ansah's concussion happened when he and a te…

Share Tweet

No matter where the 2013 Chicago Bears go from here, let the record show they began the regular season with pretty close to a full deck from a roster perspective. According to Larry Mayer of ChicagoBears.com, the Bears don't list anyone on their Friday …

Share Tweet

Worker's Comp Could Cost The NFL More Than The Concussion Settlement

The headline on and main talking point from this L.A. Times article is almost distracting, but it's fun: It turns out that moron and/or hypocrite Deion Sanders, who criticized former players are just "trying to make money" off of concussion la…

Share Tweet

Peter King won't use "Redskins": "I'm not going to sit here and try to preach about it and tell you

Peter King won't use "Redskins": "I'm not going to sit here and try to preach about it and tell you if you like the name you're wrong or if you hate the name you're wrong. I can just tell you how I feel." [The MMQB]Read more...

Share Tweet

The Patriots have plenty of questions. Tom Curran of CSNNE.com has plenty of answers. So we put the two together, resulting in a comprehensive and insightful segment on Friday's PFT Live. If you missed it live, you can watch it now. If you don't watch i…

Share Tweet

The Texans won't open their season until Monday night, giving safety Ed Reed an extra day to convince the team that he's healthy enough to play. Coach Gary Kubiak said Friday that there's a chance that could happen. Kubiak said that Reed was able to do …

Share Tweet

yahoo.com profootballtalk.com ESPN.com CNNSI.com

Sep 6, 2013

Aaron Hernandez has pleaded not guilty to a charge of first-degree murder in the death of Odin Lloyd. Hernandez, the former New England Patriot, was present at an arraignment on Friday at Fall River (Mass.) Superior Court in which he spoke for himself. …

Share Tweet

The Eagles will enter the regular-season opener at Washington in fairly good shape from an injury perspective. While reserve cornerback Brandon Hughes (hand) and backup right tackle Dennis Kelly (back) are now listed as out for Week One, no other player…

Share Tweet

Week 1 N.F.L. Matchups

The Packers' motivation to avenge their embarrassment from in the divisional round playoffs is the X factor in a game that otherwise appears decidedly in San Francisco's favor.

Share Tweet

It's been a decade since Eli Manning entered the NFL. Now the two-time champ's taking on more leadership.

Share Tweet

Jacksonville Jaguars tight end Marcedes Lewis will miss the season opener against Kansas City after aggravating a left calf injury.

Share Tweet

Pat Angerer diagnosed with concussion a week later

Colts linebacker Pat Angerer may not play this week against the Raiders, after a slow-developing concussion. According to Mike Chappell of the Indianapolis Star, Angerer said he suffered a concussion on the first play of the preseason finale against the…

Share Tweet

Mikell likely to go from street to starting lineup

Veteran safety Quintin Mikell was unemployed earlier this week. He's probably going to start Sunday. Panthers coach Ron Rivera said after practice that Mikell would likely start at safety if Mike Mitchell isn't able to go, and that Mitchell was ruled do…

Share Tweet

Kelly: No fallout from Cooper-Williams fight

Chip Kelly saw no evil and heard no evil during the practice altercation between Eagles teammates Riley Cooper and Cary Williams.

Share Tweet

The Chargers are taking care of a little housekeeping before kicking off their season against the Texans on Monday night. Michael Gehlken of UT San Diego reports that the team has reached an agreement with quarterback Philip Rivers to restructure his co…

Share Tweet

Schefter: Running still matters

Sure, it's a passing league, but having a productive ground game is still important

Share Tweet

The Browns will have to wait at least another week for their first-round pick to make his regular season debut. Mary Kay Cabot of the Cleveland Plain Dealer reports that Browns coach Rob Chudzinski said Friday that Mingo will not play against the Dolphi…

Share Tweet

There's an old football-ism, folly or not, that goes like this: You can't lose your starting job to an injury. And as far as Chicago Bears linebacker Lance Briggs is concerned, you certainly can't lose your job to a rookie. When asked about the performa…

Share Tweet

Cowboys have dwindling options on defensive line

The Cowboys defensive line situation was already a mess. And then it got worse. After defensive tackle Ben Bass suffered a dislocated shoulder in practice Thursday which will cost him a month, the Cowboys have one true backup defensive tackle in Landon …

Share Tweet

Patriots linebacker (and Florida grad) Brandon Spikes won over pretty much everyone during media availability this morning with his choice of sweatshirt, which he clearly got at a shop on the boardwalk in every beach town everywhere.Read more...

Share Tweet

Bengals left tackle Andrew Whitworth, who sat out practice on Wednesday and Thursday with a knee injury, was not participating in on-field team activities in the portion of practice open to media on Friday, according to Geoff Hobson of Bengals.com. Acco…

Share Tweet

Randy Moss is a member of the FOX Sports team this year, but he was a wide receiver for the 49ers in 2012 and he shared some thoughts about two of his former teammates during a conference call earlier this week. Moss said that he didn't think quarterbac…

Share Tweet

Butt Fumble retired as ESPN's weekly "Worst of the Worst"

Mark Sanchez will no longer be ridiculed each week on SportsCenter. Well, at least not for anything he did last season. ESPN has announced that Sanchez's infamous "Butt Fumble" has been retired as its weekly "Worst of the Worst" highlight. ESPN allows f…

Share Tweet

Jonathan Vilma Sues Marlins For Allegedly Ruining His Barbecue Stand

Baseball season's almost over, so we've got precious few chances left to make fun of the Miami Marlins organization before it disappears from our consciousness for the winter. What are the Marlins up to today? Oh nothing, just getting countersued by NFL…

Share Tweet

Everything you need to know for Week 1 including previews of each matchup.

Share Tweet

Panthers could go guard-by-committee

The Panthers cut their projected starting right guard a week into training camp, and their projected starter at left guard's hurt. So going into Sunday's opener against the Seahawks, the Panthers are looking at a guard-by committee situation. According …

Share Tweet

Deion Sanders, who bashed players in concussion suit, seeking workers' comp for football injuries

Deion Sanders is a former NFL player, and one of the best all time. Sanders also is an NFL Network analyst, essentially paid my the league and its properties for his opinions. Sanders also is unquestionably a hypocrite. No ifs, ands or buts. At the Supe…

Share Tweet

You're never going to make money regularly taking the Dallas Cowboys. Mock the Cowboys all you want, but like the Lakers and Yankees, there's always someone willing to put their hard-earned cash on them. Likely someone with a big belt buckle. Dallas is …

Share Tweet

Why Deadspin Sucks, By NFL Free Agent Chris Kluwe

Some people are fans of the website Deadspin. But many, many more people are NOT fans of the website Deadspin. This 2013 website preview is for those in the latter group. You can read last year's preview here.Read more...

Share Tweet

Mike Tomlin Unfollowed Cut Steelers Players On Twitter

This is pretty much the perfect 21st century NFL story, pairing the coldly impersonal nature of personnel moves with the vapidity of social media relationships. After the Steelers made their final roster cuts, head coach Mike Tomlin promptly unfollowed …

Share Tweet

NFL Week 1 betting odds and analysis

The NFL is back. Here's what you need to know for your Week 1 bets.

Share Tweet

Tim Tebow, looking for a job after being released by the New England Patriots, refused to change positions after an NFL team expressed interest in him, according to a report by Peter King of Sports Illustrated.

Share Tweet

Marvin Austin works out for Seahawks

Defensive tackle Marvin Austin was a major disappointment for the Giants after the team made him a second-round pick in the 2011 draft and his brief stay with the team ended last month when the team cut him on the way to 53 players. Austin played in jus…

Share Tweet

Newspaper says John Elway, not Peyton Manning, threw seven touchdown passes against Baltimore Ravens.

Share Tweet

One of the first signs that things might not wind up going the Ravens' way on Thursday night came in the second quarter when Jacoby Jones was wiped out by teammate Brynden Trawick while trying to field a punt. Jones immediately went to the locker room, …

Share Tweet

The Patriots continue to shuffle the bottom of the roster, plugging old parts in for new. The team announced they had re-signed fullback James Develin to the roster, after releasing him Monday. Develin was cut when they signed tight end Matthew Mulligan…

Share Tweet

yahoo.com profootballtalk.com

Sep 6, 2013

New England Patriots cornerback Alfonzo Dennard appears to be playing pretty good bump-and-run with the legal system. For the second time, Dennard's court date stemming from a probation violation in his home state of Nebraska has been delayed. It initia…

Share Tweet

Even After Seven TDs, Peyton Manning Can't Escape John Elway's Shadow

According to the Columbus Dispatch, it was ol' No. 7 who put a historic hurting on the Baltimore Ravens last night. There's never really a good excuse for mistaking John Elway for Peyton Manning, but this definitely shouldn't happen the morning after a …

Share Tweet

Jets General Manager John Idzik says coach Rex Ryan did the right thing by taking some time off to see his son last weekend. Ryan, whose son is a Clemson walk-on receiver, has taken some heat for attending the game rather than working at the team facili…

Share Tweet

Smaller-than-normal crowd for Orioles last night

Even with the enticement of a free Keith Urban concert (googles Keith Urban, realizes he's a thing), the crowds in Baltimore weren't quite what they could have been last night. With the Ravens playing their first game since winning the Super Bowl nearly…

Share Tweet

Bills DE Mario Williams said the defense was "definitely going to get after it" this season. It will be a Big 12 reunion when Dolphins QB Ryan Tannehill meets up with Browns QB Brandon Weeden this weekend. The Patriots released TE Matthew Mulligan and O…

Share Tweet

While it's hard to imagine Dennis Pitta coming back from a dislocated hip this season, we may have found out last night why the Ravens are willing to wait for him. They opened the door for Pitta to return by placing him on IR/designated for return inste…

Share Tweet

profootballtalk.com yahoo.com deadspin.com

Sep 6, 2013

Broncos linebacker Danny Trevathan became an early candidate for the Bonehead Play of the Year Award (not an official NFL award) when he intercepted a Joe Flacco pass on Thursday night, raced toward the end zone, then dropped the ball before crossing th…

Share Tweet

Terrell Suggs guarantees a rematch

The beating the Ravens took last night was thorough and convincing. And they're ready for another shot. After allowing a record-tying seven touchdown passes from Broncos quarterback Peyton Manning in a 49-27 loss, the Ravens weren't backing down. "The g…

Share Tweet

Baltimore Ravens couldn't have looked much worse in first step of title defense

DENVER – The last time the Baltimore Ravens were in this stadium, many of them sprinted off the field and through the tunnel with joy, to find some warmth and celebration in the locker room after a frigid double-overtime playoff win. This time, they onc…

Share Tweet

ESPN.com nytimes.com

Sep 5, 2013

Nothing will stop Peyton Manning and the Broncos from going to the Super Bowl, writes Jeffri Chadiha.

Share Tweet

After a brutal playoff loss, Peyton Manning was firing on all cylinders as the Broncos routed the Ravens.

Share Tweet

Another day, another lawsuit alleging that 49ers linebacker Aldon Smith and former 49ers (now Titans) tight end Delanie Walker created a situation that resulted in a shooting. OK, the lawsuits weren't actually filed on consecutive days. Still, Smith and…

Share Tweet

People will be talking about Peyton Manning's ridiculous performance against the Ravens the rest of this week, the rest of this season and probably decades from now.Manning wants no part of the discussion.Manning had 462 yards and seven touchdowns as th…

Share Tweet

nydailynews.com ESPN.com profootballtalk.com yahoo.com

Sep 6, 2013

With each touchdown pass Peyton Manning was trying or setting another NFL record. His fourth equaled Brett Favre with 23 four-TD games, his fifth tied Drew Brees with his seventh of five or more and his sixth – for the third time in his career – gave Ma…

Share Tweet

Denver 49, Baltimore 27: Peyton Manning was still furious over last season's playoff loss to the Ravens, apparently, because he absolutely demolished Baltimore tonight. Manning threw for 462 yards and seven touchdowns, becoming the sixth person in NFL h…

Share Tweet

The Seattle Seahawks released veteran fullback Michael Robinson during their final cuts last weekend. Now the Seahawks' former special teams captain is getting a look from a new team. According to Ian Rapoport of the NFL Network, Robinson is scheduled t…

Share Tweet

For Giants' Top Pick, Talent Outweighs Nerves and Nausea

Right tackle Justin Pugh, drafted 19th over all out of Syracuse, will have a starting role in the Giants' season opener at Dallas.

Share Tweet

Pass Atlas: A Map of Where NFL Quarterbacks Throw the Ball

It's very rare for an NFL quarterback to complete a pass in which the intended receiver is standing more than 45 yards from the line of scrimmage. In ...

Share Tweet

Cousin Sal's Week 1 Prop Bets

Hello, degenerate gamblers! We are back and I could not be more excited. For the past week, I've been salivating at the thought of a new NFL season, w...

Share Tweet

Week 1 NFL Viewing Guide: It Was Never About Revenge

I want to hate Aaron Rodgers. I really do. As a Bears fan, it's actually my duty, but for whatever reason, I can never muster the requisite anger. Eve...

Share Tweet

Well football returned last night, and in case you missed it, Peyton Manning went and set the entire Ravens defense on fire. Seven touchdowns and 462 ...

Share Tweet

Bill Simmons ranks the teams in the NFC

The Sports Guy finishes up his look at the 2013 NFL season by ranking the teams in the National Football Conference.

Share Tweet

'Playbook': Cincinnati Bengals vs. Chicago Bears

Sep 6

Can the Cincinnati Bengals roar into Chicago and take the home opener away from the Bears? See who the "Playbook" team picks to win this Week 1 game.

Harbaugh: Read-Option Ruling 'Flawed'

Sep 6

ESPN 49ers reporter Bill Williamson breaks down Jim Harbaugh's reaction to the ruling that a QB can be hit like a runner until he's clearly out of play.

Megatron's legacy

Sep 6

Detroit Lions WR Calvin Johnson expresses the importance of a Super Bowl as he chats with Michael Irvin. Check out the full interview on "NFL GameDay Morning" at 9 p.m. ET on NFL Network.

'Playbook': Tampa Bay Buccaneers vs. New York Jets

Sep 6

Will New York Jets rookie quarterback Geno Smith lead his team to victory against the Tampa Bay Buccaneers? Or will his receivers get stuck on Revis Island? The "Playbook" team makes their picks for this Week 1 matchup.