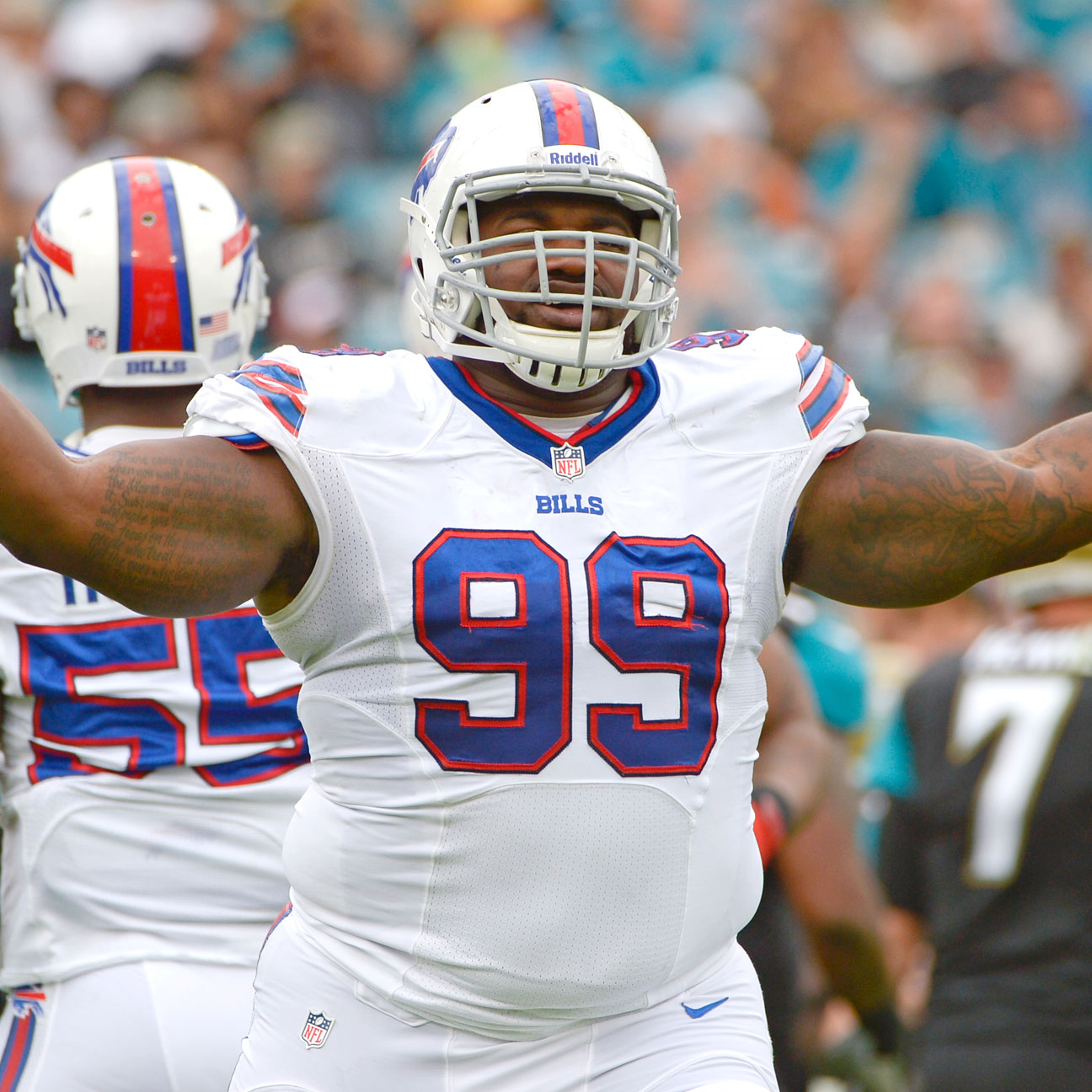 Bills meeting with Michael Buchanan

profootballtalk.com

1 hour ago

The Bills are huddling with a player who has spent the last two seasons with a division rival. Outside linebacker/defensive lineman Michael Buchanan, whom the Patriots waived earlier in May, is meeting with Buffalo on Friday, the club announced. The 24-…

Share Tweet

PFT Live: DeVante Parker, Tevin Coleman

profootballtalk.com

3 hours ago

Another week of PFT Live comes to an end on Friday and we'll close things out with a pair of guests who are just getting started in the NFL. Dolphins first-round pick DeVante Parker will join Mike Florio to talk about his first days as part of Miami's r…

Share Tweet

Patriots DL Malcom Brown: What we learned this week

ESPN.com

6 hours ago

Patriots DL Malcom Brown: What we learned this week

Share Tweet

profootballtalk.com

6 hours ago

CB Leodis McKelvin likes the schematic changes to the Bills Defense. Before heading to the Dolphins, Mike Tannenbaum helped Steve Kerr and David Blatt land the coaching jobs that have them in the NBA Finals. Rookies Geneo Grissom and Trey Flowers are tr…

Share Tweet

profootballtalk.com

21 hours ago

Mt. Peterson finally erupted. And it went about as well as Peter Brady's volcano. (Timely reference, I know.) Arguably he last man who should be painting himself as a victim but who nevertheless tried to shift blame to the Vikings for a predicament crea…

Share Tweet

profootballtalk.com

22 hours ago

Former NFL quarterback Chris Simms recently shared his opinion that his younger brother Matt hasn't gotten a serious shot to be a starting quarterback in the NFL because he's the son of Phil Simms and, therefore, a victim of "the politics of the NFL." S…

Share Tweet

profootballtalk.com

23 hours ago

The Bills, who made multiple high-profile moves in the offseason, will commence training camp on Friday, July 31 at St. John Fisher College in Pittsford, New York, the club said Thursday. Seventeen practices are open to the public, with six requiring fa…

Share Tweet

profootballtalk.com

24 hours ago

Maybe now all the people who went to the Tim Tebow rally in Jacksonville can divert their attention to buying airplane banners. Because the Jaguars have hired a man who created far more of a grassroots effort among his former fanbase. According to Ryan …

Share Tweet

profootballtalk.com

24 hours ago

Wide receiver Mike Wallace caught just 12 passes of 20 or more yards over two season with the Dolphins, which wasn't what most people expected after he averaged 11 such plays a season in his four years with the Steelers. That inability to make plays dow…

Share Tweet

With each team able to carry 90 players this time of year, the idea of not being one of the top 2,880 players in the league is tough for Michael Vick to accept. And he admitted to his hometown newspaper that it's hard realizing he might be out of the le…

Share Tweet

yahoo.com profootballtalk.com

May 28 (yesterday)

Since he was traded from the Philadelphia Eagles to the Buffalo Bills, LeSean McCoy has had plenty to say about Chip Kelly, his former head coach. Most notably, in an interview with ESPN.com, McCoy basically insinuated that Kelly is racist. "The re…

Share Tweet

The Ravens recently signed former Patriots cornerback Kyle Arrington and it appears that wasn't the end of their plans to increase their depth in the secondary after scrambling for healthy bodies as the 2014 season drew to a close. Aaron Wilson of the B…

Share Tweet

yahoo.com profootballtalk.com

May 28 (yesterday)

Brandon Marshall has only been with the New York Jets for a few months, but he has gone the extra mile to establish a connection with Geno Smith, his new quarterback. According to the New York Post, Marshall and Smith have been living together at Smith'…

Share Tweet

PFT Live: Chad Greenway, Jets talk with Manish Mehta

We spent time on Wednesday listening to Vikings coach Mike Zimmer talk about running back Adrian Peterson and then we heard Peterson's response to the coach saying that Peterson could play for the Vikings or not play at all in 2015, but Thursday will br…

Share Tweet

The Saints are coming back to West Virginia. And this year, they'll have company. Per multiple sources, the Patriots intend to join the Saints for three days of practices at the Greenbrier resort in West Virginia. The practices will occur prior to the A…

Share Tweet

Could Tyrod Taylor win the starting job in Buffalo?

On Tuesday, all four Bills quarterbacks got reps with the first-team offense. By Wednesday, the quartet of guys taking snaps with the starters had been cut to EJ Manuel and Matt Cassel. But that doesn't mean Tyrod Taylor is giving up on his chance to wi…

Share Tweet

NFL Cold Hard Facts

May 28

Cold Hard Facts looks at the quarterback situation for the Eagles and Jets and what will happen with Adrian Peterson's contract.

Jets will have QB competition

May 27

Rich Cimini discusses the news that Jets coach Todd Bowles said QB Geno Smith is the No. 1 quarterback, but will face competition from Ryan Fitzpatrick and Bryce Petty.

Steelers' thoughts on Brady-less Patriots

May 26

ESPN reporter Jeremy Fowler discusses what several Steelers had to say about the prospect of facing the Patriots in September without Tom Brady at New England's helm.

Brady appeal date a scheduling formality

May 26

Ed Werder says whether or not the NFL and the NFLPA schedule Patriots QB Tom Brady's appeal in formal compliance within the 10-day deadline required by the CBA is strictly a formality at this point.