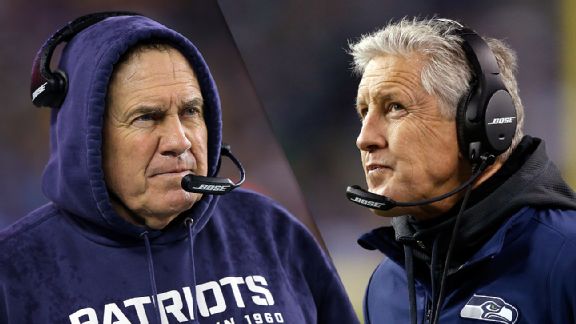 ESPN.com
Updated 1 hour ago
PHOENIX -- New England Patriots quarterback Tom Brady said he never felt as if head coach Bill Belichick put him in a tough spot last week during a news conference on the NFL's investigation into the team's footballs from the AFC Championship Game. On T…
Upvote
Share
Tweet
Monday morning one-liners

profootballtalk.com

1 hour ago

Looking back at one of the Bills' unsuccessful trips to the Super Bowl. It's apparently not too early to predict all seven rounds of the Dolphins draft. What kind of impact can Patriots RB Shane Vereen have in the Super Bowl? Longtime Jets beat writer P…

Upvote Share Tweet

ESPN.com

3 hours ago

PHOENIX -- Russell Wilson is undefeated in his career when he faces Super-Bowl winning quarterbacks, including the 24-23 victory over Tom Brady and the New England Patriots in Wilson's rookie season of 2012. But a victory over the Patriots in the Super …

Upvote Share Tweet

Jets players enjoy seeing Patriots in another controversy

profootballtalk.com

3 hours ago

We've found someone more skeptical of Bill Belichick's #DeflateGate claims than Bill Nye the Science Guy. Jets Pro Bowlers Nick Mangold and Sheldon Richardson said after the Pro Bowl they weren't surprised to hear their division rivals involved in anoth…

Upvote Share Tweet

profootballtalk.com

4 hours ago

In his first of two press conferences about the NFL's investigation into the use of under-inflated footballs during the AFC Championship game, Patriots coach Bill Belichick said that he had no knowledge of the way footballs were prepared for games. He w…

Upvote Share Tweet

Brent Grimes makes insane, back-to-the-ball interception in Pro Bowl

yahoo.com

9 hours ago

GLENDALE, Ariz. — In a game with 1,063 combined yards of offense, it was a defensive play that was the highlight of the Pro Bowl. Miami Dolphins cornerback Brent Grimes — aka "Optimus Grimes" — was one of the few defenders who really showed up…

Upvote Share Tweet

nydailynews.com nytimes.com ESPN.com profootballtalk.com

10 hours ago

Richard Sherman's left elbow may still be hurting, but his mouth is off and running at the Super Bowl.

Upvote Share Tweet

ESPN.com profootballtalk.com nytimes.com yahoo.com

11 hours ago

Richard Sherman doesn't think the NFL will discipline the Patriots if they're found to have adjusted the air pressure in 11 footballs prior to the AFC Championship Game, because of the relationship between Roger Goodell and Pats owner Robert Kraft.

Upvote Share Tweet

yahoo.com

11 hours ago

For those expecting swift and harsh justice for the New England Patriots over the deflate-gate issue, with huge suspensions for the Super Bowl, you're likely out of luck. Patriots quarterback Tom Brady reiterated during a remote Pro Bowl halftime interv…

Upvote Share Tweet

Sports of The Times: It Doesn't Take a Scientist to Sense a Shift in Momentum

nytimes.com

12 hours ago

Heading into the Super Bowl, an us-against-the-world theme is emerging for the New England Patriots.

Upvote Share Tweet

N.F.L. Roundup: In Phoenix, the Seahawks Push Distractions Aside

nytimes.com

12 hours ago

As Seattle arrived Sunday in the host city for the Super Bowl, the team's players and coach mostly played down discussions of the footballs used in New England's A.F.C. championship game victory.

Upvote Share Tweet

yahoo.com

13 hours ago

The Super Bowl means special footballs for both the New England Patriots and the Seattle Seahawks, and that means a repeat of deflate-gate is unlikely to occur. Unlike the regular season and playoffs when teams provide their own balls for their offense …

Upvote Share Tweet

Jim Irsay compliments Patriots, says he's "confident" in NFL's investigation

profootballtalk.com

13 hours ago

While complimenting the Patriots on their rout of his club in last week's AFC title game, Colts owner Jim Irsay expressed support Sunday night for the league's investigation of the Pats' alleged under-inflation of footballs. Via his verified Twitter acc…

Upvote Share Tweet

Rob Gronkowski favored to score a touchdown in Super Bowl 49

profootballtalk.com

15 hours ago

We've entered the third day of PFT's Prop Challenge, our daily look at a Super Bowl proposition bet. The first two props studied were Over-Unders — bets that require choosing whether a given statistic will finish above or below a given number. On Day On…

Upvote Share Tweet

ESPN.com

15 hours ago

PHOENIX -- I spent some time at Seattle Seahawks' media availability on Sunday, as they arrived a day earlier than the New England Patriots. One of the topics that came up was the Seahawks' view of the underinflated football issue as it relates to a dis…

Upvote Share Tweet

Patriots' Browner Gets a 2nd Chance at a Super Bowl Ring

nytimes.com

17 hours ago

Brandon Browner received a Super Bowl ring last year even though he was watching from home 3,000 miles from the Seattle Seahawks when they won the title.

Upvote Share Tweet

Even QVC Is Making Jokes About The Patriots' Footballs

deadspin.com

19 hours ago

Shut it down. All that can be said about Ballghazi has been said.Read more...

Upvote Share Tweet

During Saturday's impromptu meeting with reporters, Bill Belichick said more than once that he wasn't a scientist. But he sure sounded like someone who had been buried in his lab conducting experiments when detailing measures he and members of his staff…

Upvote Share Tweet

Julian Edelman says Bill Belichick's words about team are meaningful

ESPN.com

19 hours ago

FOXBOROUGH, Mass. -- New England Patriots coach Bill Belichick publicly lauded his players on Saturday, saying, "The team was the best team in the AFC in the regular season. We won two games in the playoffs against two good football teams. The best…

Upvote Share Tweet

Akeem Ayers: Titans did me a favor trading me to Patriots

profootballtalk.com

20 hours ago

Akeem Ayers is in the Super Bowl because he was traded from the Titans to the Patriots during the 2014 season. He's thankful for that. Ayers said he appreciates the Titans for getting rid of him and getting him to a place where he could succeed. "They m…

Upvote Share Tweet

W2W4: New York Jets in the Pro Bowl

ESPN.com

20 hours ago

If you need a football fix, a bridge from the conference championship games to Super Bowl XLIX, check out the Pro Bowl at 8 p.m. Sunday (ESPN) from Glendale, Arizona. No, it's not overflowing with players from the New York Jets -- welcome to the 4-12 re…

Upvote Share Tweet

Patriots have perfect attendance at final practice before trip

ESPN.com

21 hours ago

FOXBOROUGH, Mass. -- The New England Patriots had perfect attendance in their final practice before heading to Arizona for Super Bowl XLIX. The Patriots practiced inside the Dana-Farber Fieldhouse for the fourth consecutive day Sunday as they are prepar…

Upvote Share Tweet

Jets making a couple of hires in personnel department

profootballtalk.com

23 hours ago

The Jets said goodbye to Rex Ryan at the end of the regular season, but they'll have another Rex in the organization for the 2015 season. Albert Breer of NFL Media reports that the team will hire Rex Hogan to be their director of college scouting. Hogan…

Upvote Share Tweet

Hue Jackson thought he was "right fit" for Bills head coach

profootballtalk.com

23 hours ago

Bengals offensive coordinator Hue Jackson has a year of head coaching experience with the Raiders and got a chance to interview for another shot at a top job in Buffalo this year. The Bills opted to hire Rex Ryan instead of Jackson, but Jackson left his…

Upvote Share Tweet

Serena: 'I Would Love To Be A Linebacker'

Jan 26

Serena Williams, partial owner of the Miami Dolphins, talks about the top players in the men's and women's tennis circuits and picks which NFL position they would be best suited for.

Bill Nye Deflates Patriots

Jan 25

Bill Nye talks about Bill Belichick's explanation for the Patriots' underinflated footballs.

Sport Science: Deflategate

Jan 25

As the Deflategate debate rages on, we turn to John Brenkus and the "Sport Science" team for some scientific perspective.

OTL Deflategate Talkback

Jan 25

Bob Ley hosts a discussion on Deflategate with ESPN Business Analyst Andrew Brandt and USA Today NFL columnist Jarrett Bell.