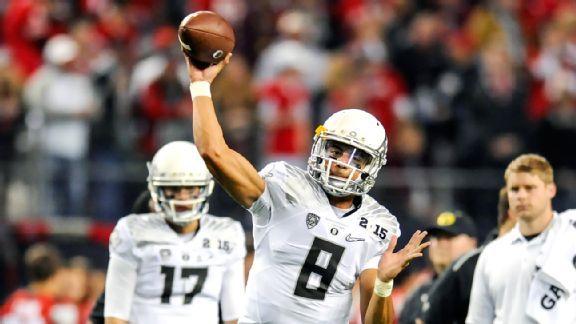 profootballtalk.com
ESPN.com
Updated 13 hours ago
Barring a surprising move in the next six days, the sixth-picking Jets won't have much of a shot at either of the top two quarterbacks in the 2015 NFL Draft. But they're doing their research, just in case. Via Brian Costello of the New York Post, the Je…
Share
Tweet
Jets safety Jaiquawn Jarrett signs RFA tender

profootballtalk.com

51 minutes ago

A former second-round pick of the Eagles who's rebuilt his career with the Jets has officially re-signed with New York. Safety Jaiquawn Jarrett, a restricted free agent, inked his one-year tender with the Jets on Friday, the club said. The 25-year-old J…

Share Tweet

Dolphins sidestep questions about Dion Jordan

profootballtalk.com

6 hours ago

Dolphins pass-rusher Dion Jordan is skipping the team's offseason conditioning workouts. Which is certainly his right, they're voluntary. But the tone Dolphins officials took today regarding the 2013 No. 3-overall pick was certainly interesting. Via Arm…

Share Tweet

Restricted free agency draws to a close on Friday

profootballtalk.com

8 hours ago

Restricted free agency is usually to excitement as the library is to partying and Mobile, Alabama is to unsweetened iced tea. Nevertheless, the 2015 RFA signing period, which ends Friday, has had a couple bursts of action. Most notably, the Bills signed…

Share Tweet

profootballtalk.com

9 hours ago

The Jets are currently slated to pick sixth in the first round of the draft, but General Manager Mike Maccagnan said Friday that teams are about to start having serious talks about moves up and down the board. Maccagnan said at a Friday press conference…

Share Tweet

PFT Live: Greg Jennings, Chance Warmack, Thomas Dimitroff

profootballtalk.com

9 hours ago

Wide receiver Greg Jennings landed a new job with the Dolphins this week and we'll talk to him about it on Friday's edition of PFT Live. Jennings signed a two-year deal with Miami after visiting a few teams following his release from the Vikings and he'…

Share Tweet

profootballtalk.com

12 hours ago

Should the Bills draft a quarterback? Assessing the pros and cons of the Dolphins making a trade in the first round. Said Patriots DE Chandler Jones of seeing former teammates at the White House, "Seeing those guys again, seeing Darrelle Revis, seeing S…

Share Tweet

profootballtalk.com ESPN.com

13 hours ago

It's easy to view Patriots coach Bill Belichick as a football automaton, a man so focused on his job that saying "We're on to Cincinnati" isn't a tactic, it's a way of life. But in a pair of acts yesterday, Belichick established himself as a man with an…

Share Tweet

profootballtalk.com nytimes.com yahoo.com ESPN.com

20 hours ago

Even though the NFL waited to issue a ruling on #DeflateGate before the Patriots visited the White House, President Barack Obama found a way to poke fun at the team absent a recent reminder of the scandal. Now, the wait for a report from Ted Wells and a…

Share Tweet

Linemakers have variety of opinions on Colts-Bills

profootballtalk.com

21 hours ago

Of the 16 Week One games on the board for betting at Nevada sports books, no matchup has a wider range of point spreads than Colts-Bills. While the AFC South-champion Colts are consensus favorites across Nevada, they are favored by as little as 1.5 poin…

Share Tweet

Bills may cap season tickets, for the first time ever

profootballtalk.com

Apr 23 (yesterday)

It's been a great year for the Bills, even without a game being played yet. According to Tim Graham of the Buffalo News, the Bills are considering placing a cap on season-ticket sales for the first time in team history. Current sales have surpassed, per…

Share Tweet

ESPN.com

Apr 23 (yesterday)

Greg Jennings comfortable taking leadership role in Miami

Share Tweet

yahoo.com profootballtalk.com

Apr 23 (yesterday)

Your browser does not support iframes. If you're in South Florida, you request an Uber driver and you're getting picked up by A.J. in a Dodge Charger, you might be in for one heck of an interesting ride. That's because it could be the automobile of Miam…

Share Tweet

Doug Whaley: Bills' middle class could get 'squeezed out'

ESPN.com

Apr 23 (yesterday)

Doug Whaley: Bills' middle class could get 'squeezed out'

Share Tweet

Failure to communicate at root of Cowboys/high school snafu

profootballtalk.com

Apr 23 (yesterday)

The scheduling conflict that put a Cowboys-Jets game and a Texas high school state championship game on the same field at the same time seems to be a case of miscommunication. And it sounds like somebody's going to find out where they fall in the Pope F…

Share Tweet

Problem with Obama's Patriots jokes?

Apr 24

Skip Bayless and Stephen A. Smith debate whether they should have a problem with President Obama making jokes about deflated footballs.

Obama jokes around with Rob Gronkowski

Apr 23

President Barack Obama humorously warns New England Patriots tight end Rob Gronkowski to keep his shirt on during the team's visit at the White House.

Patriots visit White House

Apr 23

President Barack Obama welcomes the Patriots to the White House to congratulate them on their Super Bowl victory.

NFL draft worst-case scenarios

Apr 23

Todd McShay and Mel Kiper Jr. break down their worst-case scenarios for the Jets and Rams in the NFL draft.