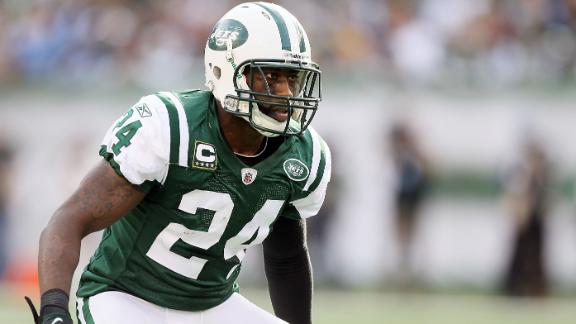 profootballtalk.com
ESPN.com
deadspin.com
yahoo.com
nydailynews.com
Updated Apr 21, 2013
Last week, when the Jets pressed "pause" on the Darrelle Revis trade talks, some thought that another team or two could try to jump into the fray. It didn't happen. In fact, it never happened. Per a source with knowledge of the process, it was alway
Share
Tweet
ESPN.com

Apr 21, 2013

The New York Jets brass held a conference call with the media Sunday evening following the trade of star cornerback Darrelle Revis. The Jets shipped one of their top players in franchise history to the Tampa Bay Buccaneers for a first-round pick this ye…

Share Tweet

The much-discussed potential trade of Branden Albert from the Chiefs to the Dolphins doesn't appear likely at the price Albert is currently seeking. Although the Chiefs and Dolphins can probably agree on compensation - the Dolphins sending a second-ro

Share Tweet

Jets' Antonio Cromartie on Darrelle Revis trade: 'It sucks'

yahoo.com

Apr 21, 2013

When New York Jets cornerback Darrelle Revis suffered a season-ending knee injury against the Miami Dolphins last September, it put Antonio Cromartie in place as the team's top pass defender. Cromartie responded well, ranking 16th overall in Pro Footbal…

Share Tweet

Team needs: New England Patriots

With just five picks currently in hand, the Patriots don't enter this year's draft with a lot of ammunition. It's a good thing, then, that the defending AFC East champions don't have a whole lot of holes that need filling. As in most other years o

Share Tweet

The former equipment manager of the Bills is suing the team and claiming he was fired because of his age. Ben Volin of the Palm Beach Post suggests the Dolphins may look to move on from K Dan Carpenter. S D.J. Swearinger could be a player the Patriots t…

Share Tweet

Jets Trade Revis To Bucs

Apr 21

Darrelle Revis signs an extension with the Buccaneers after the Jets trade him for the 13th overall pick in this year's NFL draft and a conditional selection for 2014.

Revis Traded Pending Physical

Apr 21

John Clayton discusses the reports that the Jets have agreed to trade Darrelle Revis to the Buccaneers pending a physical.

Revis Given Permission To Negotiate

Apr 21

Adam Schefter discusses the reports that the Jets have given Darrelle Revis permission to take a physical and negotiate with the Buccaneers.