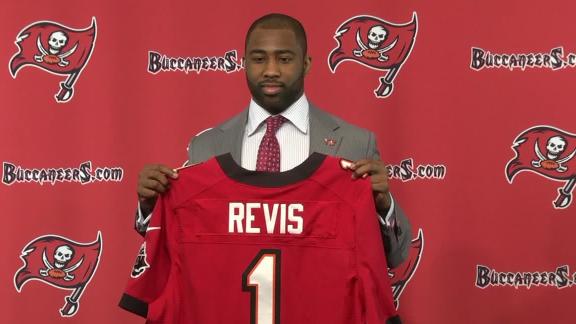 ESPN.com
yahoo.com
profootballtalk.com
nytimes.com
Updated Apr 22, 2013
The New York Jets pulled off a blockbuster trade over the weekend by shipping star cornerback Darrelle Revis to the Tampa Bay Buccaneers for a first-round pick this year and a conditional third-rounder in 2014. The natural train of thought is New York a…
Share
Tweet
profootballtalk.com ESPN.com

Apr 22, 2013

Now that linebacker James Harrison has agreed to a contract with the Bengals, Karlos Dansby has to find another place to call home for the 2013 season. It could be Buffalo. Adam Schefter of ESPN reports that Dansby will visit with the Bills on Monday an…

Share Tweet

ESPN.com

Apr 22, 2013

ESPN draft analyst Todd McShay provided his latest mock draft just days before the real thing takes place in New York City on Thursday. A blockbuster trade also took place involving New York Jets cornerback Darrelle Revis in exchange for the No. 13 over…

Share Tweet

Lost in the upcoming uniform adjustments planned by the Dolphins and Vikings is that the Jaguars will be unveiling a new look, too. The Jags get a head start on the other two teams by pulling the sheet off their new stuff on Tuesday. Apparently, it will…

Share Tweet

ESPN.com grantland.com

Apr 22, 2013

The New York Jets completed a blockbuster trade with the Tampa Bay Buccaneers on Sunday. New York shipped star cornerback Darrelle Revis to the Buccaneers for a first-round pick in this week's NFL draft and a conditional third- or fourth-round pick in 2…

Share Tweet

Monday morning one-liners

C Eric Wood has moved into a leadership role with the Bills. Armando Salguero of the Miami Herald wonders if Dolphins G.M. Jeff Ireland will panic when it comes to making a trade for Chiefs T Branden Albert. Adding some beef to the interior of the defen…

Share Tweet

Jets can now focus on fixing Sanchez (or at least playing out the string)

Now that the New York Jets have exorcised Darrelle Revis, they can focus on the "demons" that have haunted quarterback Mark Sanchez. Or they can watch the clock until the time comes that they can get rid of him. The "D" word came from ESPN analyst

Share Tweet

Moving back seems less likely

buffalobills.com

Apr 22, 2013

The Bills spend the last few days prior to the draft mapping out potential scenarios of what could happen in front and behind them in the draft. Those exercises will have a different look to them following the Jets trade of Darrelle Revis over the weeke…

Share Tweet

Darrelle Revis: 'New Chapter For Both Of Us'

Apr 22

Sal Paolantonio sits down with CB Darrelle Revis to talk about the Jets trading him to the Buccaneers.

Rex Ryan's Future

Apr 22

Adam Schefter discusses New York's long-term plan following the trade of CB Darrelle Revis and how the trade impacts Rex Ryan's future with the Jets.

Chances Jets Select QB In 1st Round

Apr 22

Todd McShay and Mel Kiper Jr. discuss whether the Jets should pick a quarterback with either their 9th or 13th pick in the first round and how they can upgrade their offensive line.