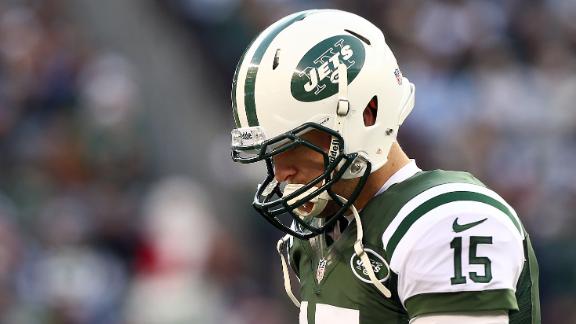 nydailynews.com
ESPN.com
CNNSI.com
buffalobills.com
Updated Dec 26, 2012
Rex Ryan will continue to run his three-quarterback monte for the Jets' final game of the 2012 season in Buffalo on Sunday. Hey, when you've got a good con game going, you don't want to let the suckers off the hook until you have to. Once characterize
Share
Tweet
AFC Pro Bowl Snubs: The Offense

yahoo.com

Dec 26, 2012

Quarterbacks Made it: Peyton Manning, Denver Broncos/Tom Brady, New England Patriots/Matt Schaub, Houston Texans Should have made it: Ben Roethlisberger, Pittsburgh Steelers No argument against Manning and Brady here -- they're among the best in statist…

Share Tweet

profootballtalk.com deadspin.com

Dec 26, 2012

An image of what appears to be a new helmet logo for the Dolphins recently emerged, via the fan site DolfansNYC.com. On Wednesday, Dolphins CEO Mike Dee addressed the rumored logo leak on Twitter, without specifically denying that the leaked image is th…

Share Tweet

Let The Debate Begin

Peyton Manning over Tom Brady. No Ndaumkong Suh. Eight teams shut out, but five players from the 2-13 Chiefs. Chris Burke shares his thoughts on the Pro Bowl selections.

Share Tweet

Manning, Matthews, Slater following their fathers to the Pro Bowl

For three players on this year's Pro Bowl rosters, making it to Hawaii is a family tradition. Broncos quarterback Peyton Manning, Packers linebacker Clay Matthews and Patriots special teams coverage ace Matthew Slater have all been selected to the Pro B

Share Tweet

yahoo.com profootballtalk.com

Dec 26, 2012

Here's a look at the key injury situations we'll be monitoring in Week 17: The New England Patriots listed 21 players as "limited" for Wednesday's practice. That list includes tight end Rob Gronkowski (forearm/hip), who has yet to receive medi…

Share Tweet

NEW YORK (AP) -- Sensational comebacks have Peyton Manning and Adrian Peterson headed for the Pro Bowl.

Share Tweet

Perfect sense: Most of the seven New England Patriots were easy calls. Quarterback Tom Brady and receiver Wes Welker were immensely productive, as usual, and defensive tackle Vince Wilfork was stout once again. Even Patriots tight end Rob Gronkowski mad…

Share Tweet

Position statement: Bush a goner in Miami?

yahoo.com

Dec 26, 2012

As the Dolphins look to build a multiple-running back scheme in Miami, will they be willing to sign Reggie Bush to a mega-deal that will ensure him the No. 1 running back spot? Coming off a monster game against the Bills in front of the home crowd, Mik

Share Tweet

buffalobills.com

Dec 26, 2012

Here is Buffalo's injury report for Sunday's game against the Jets, with Jairus Byrd a new addition with an ankle injury.  Did not practice FS Jairus Byrd — ankle TE Scott Chandler — knee G Andy Levitre — knee WR Ruvell Martin — not injury re

Share Tweet

buffalobills.com ESPN.com

Dec 26, 2012

Seven Bills players were limited in practice Wednesday. Dorin Dickerson was back at practice just three days removed from being carted off late in the loss to the Dolphins last weekend with an ankle injury. Mark Anderson was also on the practice field o…

Share Tweet

Patriots may have late-game dilemma

The New England Patriots, for the most part, will know what they are playing for by the time they take the field Sunday against the Miami Dolphins. New England (11-4) has the late, 4:25 p.m. ET game this week, while the Houston Texans (12-3) will face t…

Share Tweet

Will Miami Dolphins defensive end Cameron Wake make the Pro Bowl? What about tailback C.J. Spiller of the Buffalo Bills? Also, how many New England Patriots will get the nod? Find out Wednesday at 7 p.m. ET when the Pro Bowl rosters are announced. The A…

Share Tweet

Bills' Williams donates pickup truck to veterans

Buffalo Bills defensive end Mario Williams has donated one of his pickup trucks to make the holidays happier for two Marine Corps veterans.

Share Tweet

buffalobills.com profootballtalk.com

Dec 26, 2012

The Jets will have Greg McElroy start again this week at quarterback Sunday against the Bills. Head coach Rex Ryan told the Buffalo media that this afternoon on his conference call. "We'll start Greg," said Ryan. "The type of beating he took last

Share Tweet

The New York Jets were not only beaten by the San Diego Chargers — they were beaten up. As a result, New York will travel to face the Buffalo Bills with several injury concerns. The biggest injury is to starting defensive end Muhammad Wilkerson, who is

Share Tweet

On Patriots' potential playoff opponents

The New England Patriots are not sure who they will prepare for next week in the AFC playoffs. With one game remaining, New England could be the No. 1, No. 2, No. 3 or No. 4 seed. But if the Patriots finish with the third or fourth seed, they will play …

Share Tweet

PHILADELPHIA (AP) - The Philadelphia Eagles have placed quarterback Nick Foles on injured reserve and signed defensive tackle Antonio Dixon to a two-year contract.

Share Tweet

NY paper suggests Bill Parcells as right man to fix Jets

When the Jets went 1-15 under Rich Kotite in 1996, they reached out to Bill Parcells to take over the team's football operation and get them headed back in the right direction. Parcells did that, taking the team to the AFC Championship Game two years la

Share Tweet

Patriots trying to keep Ridley's confidence up

The Patriots have proven they need Stevan Ridley. But he had to prove he could hang onto the ball first. After coughing it up three times in his previous two games, Ridley kept a firm grip on his responsibilities last week against the Jaguars. "That's

Share Tweet

BDC 12/26: Bills Prepare for Jets

buffalobills.com

Dec 26, 2012

DAILY REPORT —The Bills will take the practice field at 2:00pm today in preparation for their season finale with the NY Jets this Sunday at Ralph Wilson Stadium.  This week's match-up will be the 104th meeting between the two teams in the regular se

Share Tweet

The Bills have gotten some good contributions from their draft class. Has there been more discovery or disappointment for the Dolphins this year? Young players have had a good impact on the Patriots this season. A deeper look at the 11 sacks allowed by …

Share Tweet

Let's take a look at whose stock is up and down in the AFC East. Falling 1. New York Jets offensive line: The Jets' offensive line didn't bother showing up in Week 16. This embattled group allowed 11 sacks to the San Diego Chargers. It is mind-boggling …

Share Tweet

Tim Tebow Defends His Character

Dec 26

John Clayton on Tim Tebow defending his character, insisting he didn't ask out of Wildcat package.

Countdown Daily AccuScore: NYJ-BUF

Dec 26

Cary Chow goes inside the numbers for the Jets-BIlls

Are Broncos The Best Team In NFL?

Dec 26

Damien Woody, Christian Fauria and Chris Mannix discuss which is the best team in the NFL.

Countdown Daily AccuScore: MIA-NE

Dec 26

Cary Chow goes inside the numbers for the Dolphins-Patriots

Sports Columnists

Adrian Peterson inspires a list of the top 10 individual seasons in NFL hi…

Dec 26

Where does Minnesota Vikings star Adrian Peterson rank among the 10 best NFL seasons of all time?