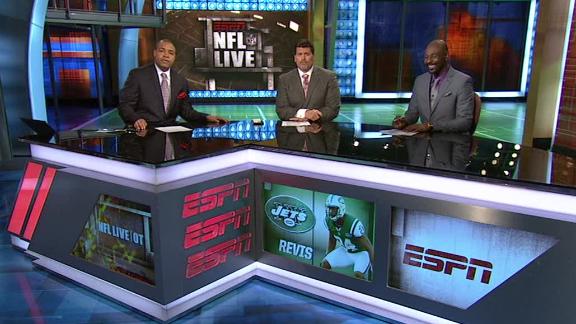 ESPN.com
profootballtalk.com
yahoo.com
Updated Feb 21, 2013
One month after upsetting Darrelle Revis by refusing to kill trade rumors for the star cornerback, New York Jets officials shifted into make-up mode Thursday at the NFL combine, saying they expect him to remain with the team for 2013.
Share
Tweet
When New York Jets general manager John Idzik met the media a month ago during his introductory news conference, he would neither confirm nor deny reports that star cornerback Darrelle Revis would be on the trading block this offseason. But after four w…

Share Tweet

New Bears head coach Marc Trestman is filling out his coaching staff by hiring away a receivers coach from Alabama. Mike Groh has left his job as Alabama's wide receivers coach to take the same job in Chicago, BamaOnline.com first reported. Groh, the so

Share Tweet

The bad news for Patriots cornerback Alfonzo Dennard is that he could be sentenced to up to six years in prison after he was convicted of assaulting a police officer and resisting arrest. The good news is that other people convicted of the same crimes t…

Share Tweet

Dolphins GM on 'closing gap' with Patriots

We write about it all the time in the AFC East blog. This remains the "Brady and Belichick" division until another team proves otherwise. For the second straight year, the New England Patriots were the only AFC East team to finish with a winni…

Share Tweet

yahoo.com

Feb 21, 2013

The Miami Dolphins have a lengthy list of starters headed toward unrestricted free agency. Left tackle Jake Long headlines the group, which consists of cornerback Sean Smith, safety Chris Clemons, defensive tackle Randy Starks, wide receiver Brian Hartl…

Share Tweet

Brian Cushing: Defensive players have to be protected, too

The torn ACL suffered by Texans linebacker Brian Cushing when he was hit in the knee from behind by Jets guard Matt Slauson may have been the tipping point for a change in NFL rules to emphasize protecting the legs of defensive players. Cushing supports…

Share Tweet

Do Wonderlic scores matter?

The NFL combine is upon us. That means this is the one time of year people focus on the scores and merits of the Wonderlic test. The Wonderlic is a timed test (12 minutes) that asks 50 questions aimed at measuring a players smarts or cognitive ability. …

Share Tweet

Chandler ACL forcing Bills hand

buffalobills.com

Feb 21, 2013

When Scott Chandler sustained an ACL tear late last season against the Miami Dolphins, it added a need to Buffalo's list heading into the offseason. Bills GM Buddy Nix, who acknowledged last week that tight end was on their list of positions to address

Share Tweet

We have our first big injury news from the NFL combine. University of Alabama's Dee Milliner, the draft's top-rated cornerback, has a torn labrum in his shoulder that will require surgery, ESPN's Adam Schefter reports. We haven't discussed Milliner's ch

Share Tweet

New York Jets quarterback Tim Tebow has backed out of an appearance at a Baptist mega-church in Dallas with a pastor who has created controversy with his remarks about other faiths.

Share Tweet

Bills don't sound sold on Fitzpatrick's future

The Bills have a decision to make soon on quarterback Ryan Fitzpatrick, and they're not ready to say he's part of their future. Bills president Russ Brandon declined comment when asked by Tim Graham of the Buffalo News if Fitzpatrick's roster spot w

Share Tweet

Tim Tebow was at the center of controversy for most of last season with the New York Jets. He continued that trend in the offseason by previously agreeing to speak at a controversial church in Dallas, Texas. However, Tebow wisely backed out of his speak…

Share Tweet

The New England Patriots could be without one starting cornerback next season. Alfonzo Dennard was found guilty this week on three charges in Nebraska, including felony assault of a police officer, and faces a maximum of six years in jail. At the very l…

Share Tweet

Add the Bills to the list of teams skeptical about the QB class in this draft, with assistant GM Doug Whaley saying: "There is no total package." As much as the Dolphins will be scouting WRs at the Combine, their answer at the position still figures t

Share Tweet

NFL32OT: Who Will Shine At The Combine?

Feb 21

Episode 274: Mel Kiper Jr. breaks down the storylines in this year's NFL Scouting Combine. The NFL32 crew discuss the trade rumors surrounding Darrelle Revis.

Jets Combine Report

Feb 21

Rich Cimini and Ohm Youngmisuk deliver the latest news from the 2013 NFL Combine

Are the Jets mishandling Darrelle Revis?

Feb 21

Is Darrelle Revis' future with the New York Jets in jeopardy? His former GM Mike Tannenbaum and ex-teammate LaDainian Tomlinson weigh in.

How should New York Jets handle Mark Sanchez?

Feb 21

Should New York Jets quarterback Mark Sanchez be the starter in 2013? Former Jets running back LaDainian Tomlinson and former GM Mike Tannenbaum explain why Jets fans should be optimistic.