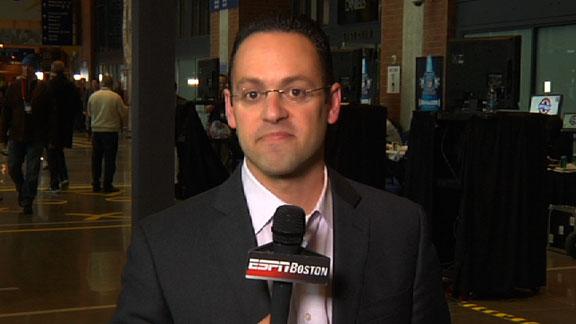 ESPN.com
profootballtalk.com
Updated Feb 22, 2013
Patriots starting right tackle Sebastian Vollmer, who is one of the team's top unrestricted free agents, underwent arthroscopic knee surgery Wednesday, a source confirmed.
Share
Tweet
Previewing AFC East draft picks

The Miami Dolphins are at the top, the New England Patriots are on the bottom, and the New York Jets and Buffalo Bills are somewhere in between. That pretty much sums up the 2013 draft capital in the AFC East. Here are the total draft picks for each div…

Share Tweet

Terrance Ganaway making sandwiches while Rams are off

Some NFL players own Jimmy John's outlets to help generate non-football income, but one player is working at one part-time in the offseason after his rookie year. Running back Terrance Ganaway played three games in St. Louis last season after the Jets w

Share Tweet

Is Rex Ryan destined to fail?

Rex Ryan addressed the media at the NFL combine Thursday as only a shell of the brash, supremely confident coach he once was. Just two years ago, Ryan stepped to the podium and guaranteed the combine media in Indianapolis that the New York Jets would wi…

Share Tweet

Bills pick order round by round

buffalobills.com

Feb 22, 2013

The NFL released their round by round order prior to the addition of compensatory picks, which will be awarded some time next month. Buffalo has six total draft choices. They will be part of a three team rotation round by round with the Bills, Jets and …

Share Tweet

George Wilson, the safety who was sent packing by the Bills last week, has landed in Tennessee. The Titans announced today that they have signed Wilson, who was a team captain for the last five years in Buffalo but was released when the Bills decided he…

Share Tweet

Welcome to Eight in the Box, an NFL Nation feature that will appear each Friday during the offseason. This week's topic: Who will be each team's biggest salary-cap casualty this offseason? Buffalo Bills: Quarterback Ryan Fitzpatrick is the prime candida…

Share Tweet

Earlier this month, reports out of Miami indicated running back Reggie Bush was confused about the Dolphins' lack of interest in re-signing him this offseason. Bush can stop wondering. General Manager Jeff Ireland told Mike Florio on PFT Live Thursday t

Share Tweet

The Bills need to have a contingency plan if TE Scott Chandler isn't ready to go next season. A look at where the Dolphins will pick and how they acquired some of the picks. Will the Patriots be adding more help at tight end? Saying that you never know

Share Tweet

Former Indianapolis Colts defensive end Dwight Freeney says it would be great to play in New York, either as a member of the Giants or the Jets. "Big Blue" seems reasonable, considering the Giants' love for pass-rushers. But Freeney to the Jets is nothi

Share Tweet

yahoo.com

Feb 22, 2013

INDIANAPOLIS -- There must be times when new New York Jets general manager John Idzik wishes he were still back in Seattle, working as the Seahawks' relatively anonymous salary cap expert. Certainly, the fallout from anything said in a press conference …

Share Tweet

Patriots' Combine News And Notes

Feb 22

Mike Reiss delivers the latest Patriots' news and notes from the 2013 NFL Combine

Will Reggie Bush return to Miami Dolphins?

Feb 22

Is Miami Dolphins running back Reggie Bush set to return in 2013? Ben Volin of the Palm Beach Post discusses Bush's possible return, the future of Jake Long and the team's draft needs.

Jets Shopping Tim Tebow?

Feb 22

Skip Bayless, Stephen A. Smith and Jemele Hill discuss Tim Tebow's future in the NFL.