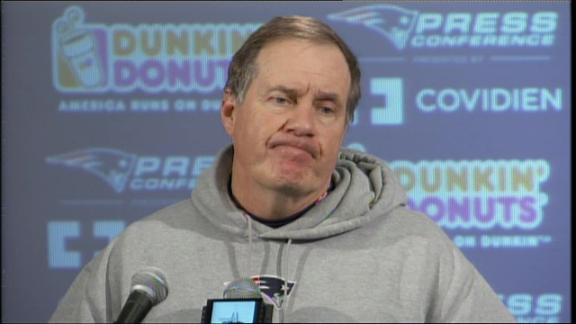 ESPN.com
Updated Jan 13, 2013
FOXBOROUGH, Mass. — Joe Flacco. … Matt Ryan. … Colin Kaepernick. Tom Brady. If you're looking for a clear-cut favorite among the NFL's final four teams, look no further than the quarterbacks. The disparity between Brady and his counterparts makes the
Share
Tweet
nytimes.com ESPN.com

Jan 13, 2013

A preview of the A.F.C. championship game between the Baltimore Ravens and the New England Patriots.

Share Tweet

While New England was defeating Houston on Sunday to set up an AFC Championship Game rematch with Baltimore, Ravens linebacker Brendon Ayanbadejo ripped the Patriots on Twitter, particularly criticizing their no-huddle offense.

Share Tweet

Stepping It Up: When Rob Gronkowski and Danny Woodhead were hurt …

CNNSI.com

Jan 13, 2013

When Rob Gronkowski and Danny Woodhead were hurt in the first quarter, the Patriots turned to their reserves and ripped the Texans 41-28. It is the Patriot Way, says Don Banks.

Share Tweet

Attack Mode: Tom Brady found an edge, and the Texans never adj…

CNNSI.com

Jan 13, 2013

Tom Brady found an edge, and the Texans never adjusted, says Chris Burke, who weighs in on the Patriots' 41-28 win that set up a rematch with the Ravens in the AFC title game.

Share Tweet

Texans receiver DeVier Posey suffered a torn Achilles tendon injury in Sunday's loss to the Patriots. Posey went down in pain and had to be carted off the field, and he confirmed the diagnosis after the game. "It felt like I got shot. I've never fel

Share Tweet

During Patriots win, Brandon Spikes shows off his sweet dance moves (VIDEO)

During the New England Patriots' divisional win over the Houston Texans, Owen Daniels was dropped for a one-yard loss. He dropped the ball, but the play was whistled dead before the fumble. It didn't matter to Brandon Spikes. He used the chance to plead…

Share Tweet

Though Texans quarterback Matt Schaub had a solid game on Sunday against the Patriots, plenty of his yards and both of his touchdown passes came after Houston had fallen into a 25-point hole.  Regardless, a season of high expectations ended with the Tex…

Share Tweet

Bill Belichick is not impressed by another touchdown on the way to Patriots win (VIDEO)

New England Patriots coach Bill Belichick has been to the playoffs before. His teams have won Super Bowls. He isn't going to be impressed just because Shane Vereen got his third touchdown. Yeah, it's business as usual for Belichick. He just has to get b…

Share Tweet

CNNSI.com profootballtalk.com ESPN.com

Jan 13, 2013

There they go again. Tom Brady threw for three touchdowns and the Patriots outlasted the Texans 41-28 to reach their seventh AFC Championship Game in the past 12 years.

Share Tweet

ESPN.com profootballtalk.com

Jan 13, 2013

Tom Brady became the winningest quarterback in postseason play, throwing for three touchdowns Sunday to beat Houston 41-28 and lift the New England Patriots into the AFC Championship Game.

Share Tweet

ESPN.com yahoo.com profootballtalk.com CNNSI.com

Jan 13, 2013

New England Patriots tight end Rob Gronkowski will miss the remainder of the postseason after breaking his arm in Sunday's divisional playoff game against the Houston Texans, sources confirmed to ESPN NFL Insider Adam Schefter.

Share Tweet

Pats push lead back to 11

Yep, the Texans should have deployed an onside kick to start the third quarter. Instead, they kicked away.  And Pro Bowler Matthew Slater returned it to the New England 31.  And the Patriots then drove 69 yards in seven plays, with Stevan Ridley capping

Share Tweet

Brandon Lloyd gets a 15-yard penalty for throwing the ball at an official

Brandon Lloyd had a big impact on a Patriots playoff game, but it won't exactly thrill Bill Belichick. After a pass to Lloyd was short-hopped to him and incomplete, he got up, took a few steps and in frustration flipped the ball at a game official, hitt…

Share Tweet

FOXBOROUGH, Mass. -- The New England Patriots lead the Houston Texans, 17-13, at haltime. Here are some notes at intermission: Patriots Pro Bowl receiver Wes Welker is on a roll with six receptions for 120 yards. Welker set a new Patriots record with 59…

Share Tweet

Yesterday's AFC divisional-round playoff game ended up being much better than anyone had expected.  Perhaps today's will be, too. Per multiple reports and accounts, Texans defensive end J.J. Watt spit on the Patriots logo in the middle of the field a

Share Tweet

Combined, the Houston Texans and New England Patriots listed 20 players as "probable" on Friday's injury report. The Patriots removed 15 players from the injury report entirely, therefore, it's no surprise that there are no surprises on either…

Share Tweet

FOXBOROUGH, Mass. -- Here are the New England Patriots you will not see in Sunday's playoff game against the Houston Texans: Patriots DE Jake Bequette OL Nick McDonald WR Kamar Aiken OL Markus Zusevics DB Malcolm Williams S Derrick Martin TE Daniel Fell…

Share Tweet

Sparano to interview for offensive line coach position in Kansas City

Andy Reid could be bringing to the Chiefs a long-time offensive line coach who failed in his only stint as a coordinator.  And the coach's name isn't Juan Castillo. According to Chris Mortensen of ESPN, former Jets offensive coordinator Tony Sparano

Share Tweet

Intense media scrutiny looms over Jets G.M. job

With FOX's Jay Glazer declaring earlier today that the Jets "can't give . . . away" their General Manager job, it'll be interesting to see how the team reacts. Will they simply offer the job to someone with no further discussion?  Or will they

Share Tweet

deadspin.com

Jan 13, 2013

Seattle at Atlanta 1:00 p.m. (FOX): Well, it's put up or shut up for the "Falcons stink in the playoffs" narrative. It really could not have shaken out any worse for them, though, as the white-hot Seattle Seahawks come into town. While Atlanta…

Share Tweet

Jason Taylor Went Through Absolute Hell To Play Football

deadspin.com

Jan 13, 2013

If it wasn't already obvious that football players are bad at diagnosing their own injuries-and that football is an immensely brutal game-Dan LeBatard's story about Jason Taylor in today's Miami Herald drives the point home in graphic detail: More »

Share Tweet

profootballtalk.com ESPN.com

Jan 13, 2013

Maybe the Jets eventually will just bring back Mike Tannenbaum. Something has to happen at some point, because Jets owner Woody Johnson is having a hard time finding a new General Manager.  Per Jay Glazer of FOX, the team "can't give the position awa

Share Tweet

Kenny Mayne examines the "heated" exchange of blows between the hometown newspapers of the Patriots and Texans.

Share Tweet

New York Jets quarterback Tim Tebow took the high road last year after he was traded by the Denver Broncos. Tebow said he understands Peyton Manning is a legend, and it made sense for the Broncos to acquire the future Hall of Fame quarterback at his exp…

Share Tweet

Have the stars aligned for Patriots?

FOXBOROUGH, Mass. -- Just two weeks ago, we were discussing the New England Patriots hosting a wild-card game, then potentially traveling to Houston and Denver in order to advance to the Super Bowl. But thanks to some good fortune, the reigning AFC cham…

Share Tweet

Looking ahead to what the Bills offense might look like next season. Dan Le Batard of the Miami Herald writes about the toll a long NFL career took on former Dolphins DE Jason Taylor. Patriots T Sebastian Vollmer's taken an unusual journey from Germany

Share Tweet

Texans Don't Matchup Against Patriots

Jan 13

James Walker and Paul Kuharsky of ESPN.com on the Texans troubles this season against the Patriots.

Patriots Expecting Tough Game

Jan 13

Bill Belichick and Tom Brady comment on the Patriots' upcoming matchup against the Ravens in the AFC Championship game.

Patriots Moving On Without Gronkowski

Jan 13

Mike Reiss looks ahead to next Sunday's AFC Championship game, in which the Patriots will face the Ravens without TE Rob Gronkowski

Patriots Headed Back To AFC Championship

Jan 13

Shane Vereen combines for three touchdowns and over 160 yards of offense as Patriots put away Texans and advance to their seventh AFC Championship under Bill Belichick.