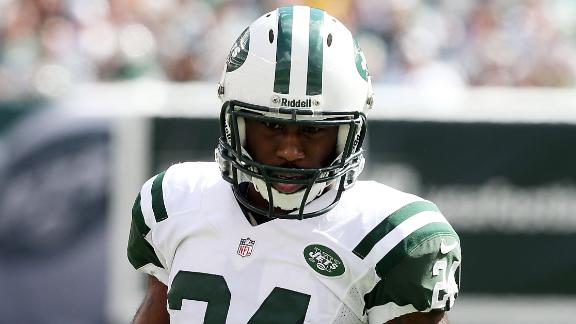 The New York Jets are open to trading cornerback Darrelle Revis, and the Tampa Bay Buccaneers might be willing to part with their first-round pick to make it happen.
Share
Tweet
ESPN.com CNNSI.com profootballtalk.com

Mar 18, 2013

The Tennessee Titans have agreed with quarterback Ryan Fitzpatrick on a two-year contract, a league source told ESPN NFL Insider Adam Schefter.

Share Tweet

The Miami Dolphins entered the offseason with more draft picks (nine) than any team in the AFC East. It turns out Miami's draft capital further increased Monday when the NFL announced its 2013 compensatory picks. Miami was awarded two additional picks i…

Share Tweet

Ross says Dolphins "are going to stay in South Florida"

Dolphins owner Stephen Ross hopes to renovate SunLife Stadium via a project that relies in part on taxpayer dollars. But he lacks the leverage of an express or implied threat of relocation, which has helped plenty of other teams shake taxpayer dollars o…

Share Tweet

yahoo.com ESPN.com CNNSI.com profootballtalk.com

Mar 18, 2013

New England Patriots owner Robert Kraft met with the media on the opening day of the owner's meetings in Phoenix, Arizona and one of the main subjects of conversation was the departure of wide receiver Wes Welker to the Denver Broncos in free agency. Ac…

Share Tweet

ESPN.com profootballtalk.com

Mar 18, 2013

The rebuilding New York Jets, continuing to shop for bargain free agents, agreed to terms Monday with former San Diego Chargers linebacker Antwan Barnes on a three-year contract, according to a league source.

Share Tweet

ESPN.com profootballtalk.com

Mar 18, 2013

The Buffalo Bills are desperate for a starting quarterback after cutting Ryan Fitzpatrick and will turn over nearly every rock this offseason to find one. Could 37-year old Matt Hasselbeck be a possibility? The Tennessee Titans released Hasselbeck on Mo…

Share Tweet

We all know that Kellen Winslow Jr. is a soldier, but could he also be a Raider? Ian Rapoport of the NFL Network reports that Oakland has expressed interest in the tight end, who was given an honorable discharge from the Patriots after catching one pass…

Share Tweet

The market for free agent defensive ends has been weaker than anticipated, which isn't great news for Osi Umenyiora. Umenyiora huffed and puffed for years to get out of his contract with the Giants, finally succeeding when the team restructured his cont

Share Tweet

Revisiting Jake Long-Matt Ryan debate

It has been an ongoing debate in South Florida since the 2008 NFL draft. The Miami Dolphins and former president Bill Parcells held the No. 1 overall pick and took left tackle Jake Long over quarterback Matt Ryan, who went to the Atlanta Falcons at No. …

Share Tweet

Joey Porter faces foreclosure on Miami home

Joey Porter, a former NFL linebacker who made tens of millions of dollars in his career, is once again facing financial problems. Porter is facing a foreclosure lawsuit on a home he bought in Broward County shortly after signing with the Dolphins in 200…

Share Tweet

ESPN.com nydailynews.com

Mar 18, 2013

New York Jets owner Woody Johnson continues to push his somewhat confusing company line on star cornerback Darrelle Revis. "If somebody wants to make an offer, for any of our players, we'd always listen. [But] we're not actively beating the bushes," Joh

Share Tweet

profootballtalk.com ESPN.com yahoo.com

Mar 18, 2013

The Dolphins are going to introduce a new logo, and they're doing their best to remake their locker room in free agency. But five years ago, they had the best chance to change the course of the franchise, and they whiffed. With Jake Long's departure f

Share Tweet

Outlining the role Doug Marrone and the rest of the Bills coaches play in draft scouting. Dolphins owner Stephen Ross thinks his team has gotten younger and faster. Adding to the receiving corps remains on the Patriots to-do list. Gary Myers of the Dail…

Share Tweet

The recent, periodic flurries of tweets from Colts owner Jim Irsay have made it clear that the Colts are and have been pursuing a receiver. As Irsay said Sunday, it's not current Giants receiver Victor Cruz. As a source with knowledge of the situation t

Share Tweet

Offensive tackle Jake Long has agreed to a deal with the St. Louis Rams.

Share Tweet

Loss of Long completes Dolphins defection Trifecta

The good news for the Dolphins in free agency came from their ability to re-sign receiver Brian Hartline and quarterback Matt Moore, and then to add receiver Mike Wallace, receiver Brandon Gibson, tight end Dustin Keller, linebacker Phillip Wheeler, and…

Share Tweet

Mint Condition: Pawn Stars March Madness

Mar 18

Rick Harrison and Austin "Chumlee" Russell of "Pawn Stars" discuss some of the unique items, including NCAA Tournament memorabilia, that are in their store.

NFL32OT: Best Fit For Revis

Mar 18

Episode 290: Wendi Nix and Darren Woodson discuss where Darrelle Revis, if traded, could fit best. John Clayton breaks down Elvis Dumervil's snafu with his contract to the Broncos. The NFL32 crew discuss which NFC team improved the most this offseaso

Robert Kraft Reacts To The Departure Of Welker

Mar 18

Robert Kraft on Wes Welker leaving the Patriots and signing with the Broncos.

Arena Team Ready To Offer Tebow A Job

Mar 18

Darren Woodson, Mike Hill and Ryen Russillo discuss the options Tim Tebow has available.