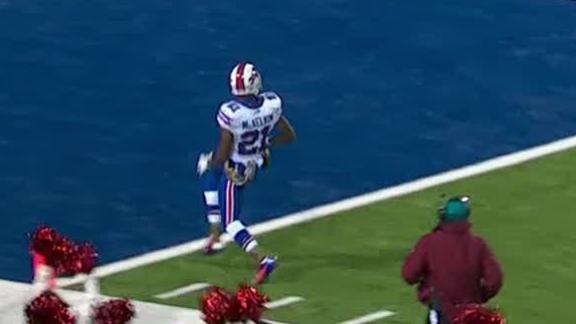 profootballtalk.com
ESPN.com
CNNSI.com
buffalobills.com
Updated Nov 15, 2012
It might be time to put the Miami Dolphins offense on the side of a milk carton because it continues to be missing in action. Their playoff hopes may have disappeared as well. Buffalo Bills safety Jairus Byrd and linebacker Bryan Scott each intercepted …
Share
Tweet
Offensive Touchdowns Are So Overrated: Bills-Dolphins, In Two GIFs

deadspin.com

Nov 15, 2012

Bills 19, Dolphins 14: Oh, this game. From the get-go, it didn't look very promising that these AFC East foes would light up the scoreboard, although a nifty special teams moment early on gave up all some brief flicker of hope. More »

Share Tweet

ESPN.com profootballtalk.com

Nov 15, 2012

Leodis McKelvin scored on a 79-yard punt return, and the Buffalo Bills' defense finally flexed its muscles in a 19-14 victory over the Miami Dolphins on Thursday night.

Share Tweet

nydailynews.com ESPN.com

Nov 15, 2012

Woody Johnson showed up at practice and said he wasn't happy with his 3-6 team. That said, he still has every reason to smile over the media's obsession with Tim Tebow.

Share Tweet

nydailynews.com profootballtalk.com

Nov 15, 2012

Jets owner Woody Johnson said that he green-lighted the trade for the most popular backup quarterback in the NFL to win football games and not "to sell hot dogs."

Share Tweet

ESPN.com nytimes.com

Nov 15, 2012

New York Jets owner Woody Johnson declined Thursday to give a vote of confidence to coach Rex Ryan and general manager Mike Tannenbaum, saying it's not his policy to give evaluations during the season, but he left no doubt that he's bitterly disappointe…

Share Tweet

ESPN.com deadspin.com

Nov 15, 2012

The Buffalo Bills lead the Miami Dolphins, 19-7, at halftime. Here are some notes at intermission: It's been a great first half for special teams. Buffalo defensive back Leodis McKelvin got things starting with a 79-yard punt return, and Miami backup ta

Share Tweet

Earlier this week, Chiefs quarterback Brady Quinn said he'd been cleared to play after suffering a concussion against the Raiders last month.  The next day, Chiefs coach Romeo Crennel said otherwise. Now, the player and the team apparently are on the s

Share Tweet

ESPN.com profootballtalk.com buffalobills.com yahoo.com

Nov 15, 2012

Miami receiver Jabar Gaffney is sitting out the Dolphins' game against the Buffalo Bills on Thursday night because of a knee injury.

Share Tweet

Maybe at this point, we should just call the roll. First, Jets linebacker Bart Scott said he wasn't the unnamed teammate who said Tim Tebow was "terrible," refuting a suggestion by former teammate LaDainian Tomlinson. Now, the other suspect Tomlinso

Share Tweet

Cornerback Aqib Talib met the media on Thursday for the first time since the Patriots traded a fourth-round pick to the Buccaneers to acquire him just before the trade deadline. Talib said all the expected things about being excited to join the team and…

Share Tweet

Spiller a hometown hero

Here's the piece that aired on tonight's NFL Network pre-game show for tonight's Bills-Dolphins Thursday night game on C.J. Spiller, and how he's followed in the footsteps of his late uncle. Spiller's uncle was slain at age 19 and was a high sch

Share Tweet

Another chance for big plays?

Last week the Bills faced a New England defense that had given up more 20-plus yard pass play than any other team in the league. Buffalo had five pass plays of 20 yards or more against the Patriots in last week's 37-31 loss. Miami's defense isn't mu

Share Tweet

Join our ESPN.com NFL experts as they break down the AFC East match up between the Buffalo Bills and the Miami Dolphins. Contribute your thoughts and questions beginning at 8:30 p.m. ET. See you there. Countdown Live: Bills-Dolphins

Share Tweet

The Colts and Patriots seem to play every year, but this will be the first time they've clashed since Andrew Luck hit the scene. Erik Kuselias will ask Colts defensive end Dwight Freeney about that change when Freeney stops by Pro Football Talk on NBC S

Share Tweet

A while since Miami has run for 100

After rushing for over 100 yards in two of their first three games this season, the Dolphins haven't done it since. Miami hasn't hit the century mark rushing as a team in six games. Bills head coach Chan Gailey is naturally hoping that continues, kno

Share Tweet

As expected, Jets running back Shonn Greene took a step back from his "Something's got to change," remarks made to Yahoo's Mike Silver when he addressed the rest of the assembled media Thursday. Via Manish Mehta of the New York Daily News, Greene

Share Tweet

Ryan, Tannenbaum deserve one more year

New York Jets owner Woody Johnson dropped the verbal gauntlet Thursday. "I didn't sign up for a 3-6 season," Johnson told New York reporters. "We haven't had one of these in a while. I'm not happy about it, yet I'm optimistic that some of…

Share Tweet

Walker's AFC East picks

We're baaaaaack! After another solid week -- we only missed the Dolphins -- the AFC East blog returns for another round of stellar predictions. We are 23-7 overall picking division games. Week 11 starts early with a Thursday night game. So let's get to …

Share Tweet

For many teams, the reports about player participation in practice serve as a pretty good guideline about their chances of playing on Sunday. The Patriots are not one of those teams. Tight end Aaron Hernandez has been a perfect example of that this seas…

Share Tweet

I remember sitting in Lucas Oil Stadium two weeks ago watching Indianapolis Colts rookie quarterback Andrew Luck carve up the Miami Dolphins for 433 yards. Andrew Luck #12 QBIndianapolis Colts 2012 STATS Att362 Comp208 Yds2631 TD10 Int9 Rat79.1 Luck was…

Share Tweet

PFT Live: Shaun King, Week 11 Picks

Between the injuries suffered by four starting quarterbacks last weekend and the conflagration with the Jets over the last couple of days, there's plenty going on with the league's signal callers right now. It's a good time to get the impressions of

Share Tweet

In a week when much of the talk around the NFL has centered on the criticism that Tim Tebow took from an anonymous source in the Jets' locker room, another one of the most polarizing players in the NFL has also taken some heat from an unnamed source. In

Share Tweet

Seeking Bills tailgating photos

The Buffalo Bills have arguably the best tailgating in the NFL. I've walked through the Bills Mafia many times the past two seasons on my way to Ralph Wilson Stadium. You can smell the good food and hear the sounds of optimism coming from Bills fans. Bu

Share Tweet

Peter King: Week 11 picks

CNNSI.com

Nov 15, 2012

The Chargers are playing for more than their last playoff hopes this week, they're playing for jobs. Can San Diego beat Denver to stay alive in the AFC West? Peter King makes his picks.

Share Tweet

Former Jets enjoy the peace of Rams locker room

From a thousand miles away, former Jets tackle Wayne Hunter knew exactly what was happening in his old locker room. He didn't like it then, and he doesn't like it now. Now with the Rams, Hunter said the culture that creates anonymous rip jobs like yes

Share Tweet

The Bills are an awful 2-13 in AFC East games under Chan Gailey. For the Dolphins, tonight brings a test of whether they're legitimate playoff contenders or not. The Patriots' league-best turnover margin could get a boost against a Colts team near the

Share Tweet

Jets Are Given 8.9 Percent Chance to Make Playoffs

nytimes.com

Nov 15, 2012

The Jets are a bad football team, but there are a lot of bad teams in the A.F.C., and Tim Tebow has overcome odds greater than this.

Share Tweet

Buffalo Bills QB Ryan Fitzpatrick: 'We had a lot of urgency'

Nov 15

Buffalo Bills QB Ryan Fitzpatrick discusses his team's victory and explains why the Bills were able to hold off the Miami Dolphins.

Miami Dolphins vs. Dolphins Bills highlights

Nov 15

The Buffalo Bills and Miami Dolphins each get a special teams touchdown, but Bills K Rian Lindell's four field goals turn out to be the difference in a 19-14 Bills victory.

Tough Times In New York

Nov 15

Lomas Brown gives his opinion on players anonymously ripping Tim Tebow and whether Jets general manager Mike Tannenbaum is on the hot seat.

Ranking The Patriots

Nov 15

Lomas Brown discusses the Patriots' rank among the NFL's elite as well as the impact that Aqib Talib will have on New England's defense.